Divas and Cheaters
Wednesday, October 6, 2010
It's been a while since we led with the Monkey of the Day. This one comes from a bag that appeared in our training room.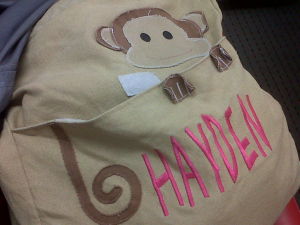 Tomorrow the Dawgs take the show on the road for the first time in a few weeks as we head west to Oxford, MS for a duel with the Rebs of Ole Miss. Yeah, there will be some undeniable subplots in play this weekend, but we're going to do our best to ignore them and focus on playing the best game we can play and letting things fall where they may. But before we get into all that, there's some catching up to do.
On Sunday the Dawgs desperately needed and thankfully got three points out of our match against the Vanderbilt Commodores. The match was nationally televised on ESPNU. It's always a big deal for the players when the Worldwide Leader in Sports makes an appearance.
At noon we put on a clinic for about 120 Brownies and Girl Scouts which was just spectacular. I'm not sure how the whole Girl Scout branch of our armed forces works, but somehow their participation in our event earned them a badge. I'm guessing it's a little tougher to become a Navy Seal, but probably not much.
I love when we get to work with the young-ins, because oh my, the things that come out of their mouths. Completely priceless. For example, part of their badge-earning was to learn a little bit about the keeping of statistics. This will come in handy when it's cookie-selling time. So Robin was explaining to them that the most obvious statistic that is kept is the score. Then she asked the girls to name other statistics that might be kept. Their answers? Aggression. Hard Work. Flexibility.
Okay, so they weren't exactly hitting the nail on the head but I liked where their heads were at. So to help them along Robin asked, "What's it called when the goalkeeper goes the whole game without giving up a goal?"
"Cheating!"
Ha! You just can't make this stuff up.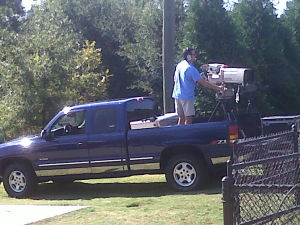 When ESPN comes to town, it's really quite a production. They roll in with some real big trucks and cameras and wires and chords and a cherry-picker that reaches the sky and lots of men lugging around big pieces of equipment. I got into the office around 8:30 on Sunday morning and the crew was already busy setting up. I gotta tell ya, it's pretty cool when you pull up to the office and the ESPN worker bees are already in action. It makes that day seem just a wee bit more… special.
We couldn't have dialed up a more perfect day for our guests. The sun was shining bright but the temp stayed in the low 70s. It was one of those days that players dream of because it feels like you could play forever.
Vandy came in on a bit of a slide, most notably because they hadn't scored a goal in four games, going 0-3-1 in that stretch. The 'Dores have been hammered by the absence of some key personnel and that goalless drought can be traced directly back to those absences. Vanderbilt's top weapon over the past few years is Molly Kinsella who had some injuries to deal with, but she's been on the mend and we didn't know how much of her we'd see on Sunday but if she chose to sit it out we weren't going to mind. Her twin sister causes enough problems on her own and as far as we knew her health was just dandy.
As for the game… well you've heard me on several occasions mention a game of two halves. Well, this was a weekend of two games. For as physically combative as the Kentucky match was, the Vandy game was disturbingly relaxed and peaceful. There weren't many bone-crunching tackles. I don't recall any bad fouls. Heck, there were only two fouls in the first half and only six over the entire 90 minutes. It felt a little bit like an intra-squad scrimmage… in the spring. Just two teams out there playing soccer. Ten minutes in I felt like ordering an iced-tea.
The game did feature one notable anomaly – the Dawgs took an early lead, something that hasn't happened since Stanford. In the 15thminute Traci Dreesen curled a flawless pass over Vandy's left back and dead into the stride of Marah Falle. Marah didn't have any teammates supporting her so as two Vandy defenders closed down on her, from 20 yards she lifted a delightful chip over the goalkeeper to put us up 1-0. It was Marah's second goal of the year. Want to know the other one? Yep. Stanford.
So the best I can deduce, Marah is a goal-scoring diva, finicky and unflappable, picking her moments with a discerning prejudice for dramatic panache. She's scored twice: against the #1 team in the nation, and on national television. Really? I mean why buy scratch off tickets every week when you can hit the Powerball a few times a year, right?
Okay, before I mislead you any further and we have one very distrsught player... Marah is anything but a diva. She's super, super nice and kind and modest and very unassuming. She works hard - always, and she cares a whole lot about her teammates. She's one of those people who you just can't imagine someone not liking. I can't imagine Marah ever having an enemy. And she just happens to have a knack for scoring some timely goals. So good for her!
We couldn't pad our lead but not for a lack of chances. Lex had a clean look at a 12 yard volley that she sizzled just wide, and early in the second half Vandy's goalkeeper did well to snuff out her breakaway. Simmo nearly gave us a cushion but her header from a corner kick was cleared off the line by a Vandy defender.
There was one other strange reoccurrence that I've never seen in 35 years of soccer. Vandy's shots had this wild predilection for hitting our defenders in the arm when they were standing inside the 18. First it was Nicole who stepped out to pressure a shooter who was squaring up on a ball that had set itself with an inviting bounce. Nicole was maybe five yards away, jumping and spinning, when the attacker smacked a full volley into her triceps.
About ten minutes later we had the same situation from a wider angle but our defender had actually spun around and the ball hit her in the back as well as the back of her arm.
Well, Vandy wanted the first call, and they reeeeaaaalllly wanted the second one, but the referee waved play on as he certainly should have. However, the protests, as they often do, set the table for an incident in the second half. Replace Nicole with Pollock and you have an almost identical situation. The kid blasts a shot that Pollock couldn't have avoided if she was standing thirty feet further away. The ball pings off her arm which was tucked against her body and the referee couldn't possibly have blown the whistle any faster. Penalty kick. And Vandy's scoreless drought was 12 yards away from its untimely conclusion.
The shooter went to Baker's left… a few inches too much so as it turns out, and her effort ricocheted off the post and out of danger. Baker guessed correctly and I thought she had actually gotten a glove to it but that wasn't the case. But I tell you what… based on the video, had that ball been on frame I think Baker makes the save. I'm glad I don't know that for certain, but she sure did play it well.
In the end we played some good soccer and as much as I would have liked the goals-for column to have swelled a little, I was also very happy to see that we could make Marah's goal stand up for 75 minutes against a good team. Baker went the whole game without giving up a goal.
Cheater.