Good Passers Gone Bad
Monday, September 20, 2010
Happy Belated Birthday Katmo!
Have you ever started cleaning, like, just intending to straighten up your room a little bit, maybe put some socks in their designated drawer, just to feel like you're taking on some semblance of responsibility before you move onto doing something enjoyable with your day, and then the next thing you know it's a few hours later and you're scrubbing the tile grout with a tooth brush, you can see your reflection in the dresser, your kitchen floor is shinier than the first period ice at the Wachovia Center and your house smells like it was disinfected by the Lemon Pledge Hazmat Team? Ever get carried away like that? Yeah, that's pretty much what creating this website has been like. All I wanted to do was put away some socks and next thing you know – BAM! – Lemon Pledge. Point being, I'm in a lot deeper than I ever thought I'd be.
It's weird. With my last blog I didn't often have access to stats about the amount of hits the site was getting so I didn't stress about the timeliness of posting new material. Heck, if we're splittin' hairs here, I wasn't all that concerned about the quality of the material either. Now that I have access to that statistical information with one click of a mouse, well, now it seems I've painted myself into a nice little corner of obligation. If you've never done something like this, let me tell you, it's a little awe inducing. The moment when you realize a few thousand people are reading what you write, well, I can't really explain it other than to say my hobby has elbowed its way into a bigger chunk of my daily time pie.
Let me ask you this… do you own a Finnish flag? Have you ever owned a Finnish flag? Do you even know of someone who does? Of course not. So the other day Steve was saying to Robin how nice it would be to have a Finnish flag. Robin responded that she actually had one. Naturally. Why? Because Robin's a superstar and she played against Finland. And thus we have another entry in the things that Steve and Dan can't say but Robin can.
Hey, while you're here, check out Joe Doiron on the Things I Dig page in the Tunes category. His song 'Picture This' won the Grand Prize in the Nashville Songwriters Competition, so he's sort of a big deal.
Monkey of the Day sightings have been occurring with alarming consistency. Today Scott Sappington submitted his recent encounter and it has inspired me to introduce the Monkey of the Year Contest. My panel of judges will select a winner around Christmas and yes, there will be some type of prize at stake. To be honest, I really don't know how you can top Scott's entry without incurring serious bodily harm but if you got the gumption, I look forward to seeing your entry (which will most likely be forwarded to me by your widow).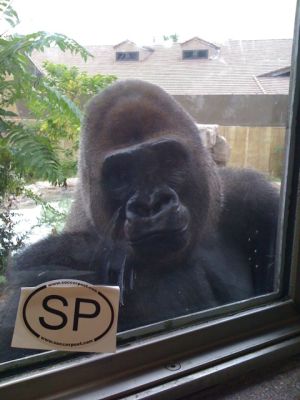 Okay… onto soccer.
It was a one-game weekend for the Dawgs as we played host to the College of Charleston Cougars on Friday night. My good friends John Mark and Candace made the drive up from Daytona Beach to catch the game, a sure-fire indicator that the team I am coaching would play pretty poorly. That's just how it's been for the past 20 years. I get so excited to show off my team to a visiting friend or relative and then my team kindly responds with a stinker.
To be fair, part of our stinker was Cougar induced. C of C had a great game plan and they executed it well. And hats off to them for coming to Athens and playing to win and not building an 11-person bunker. Nope, they did quite the opposite. The Cougars often played in a 3-4-3 and jammed up our center midfielders so tightly that they rarely had the chance to play forward in the first half. They were rewarded with the first real chance of the night and probably should have carved out a 1-0 lead. Fortunately for us the striker misfired and hit a pretty tame roller into Baker for an easy save.
After the Santa Clara debacle I met with the corps of defenders and we watched a lot of video. One of the main topics we covered was being more patient and composed with the ball at our feet. We didn't have to panic when pressure was ten yards away. And we didn't have to turn every free kick into a 50-50 ball sixty yards down the field. We were allowed to keep some of those.
One of the things coaching has taught me is that when you have a team of players who are serious about improving, and when those players put trust in their coach, they will often think in absolutes. They bank on their coaches to have the answers so when we give them an answer, they expect that answer to be the right answer to all of the questions. So I began the meeting by warning them about absolutes and urging them not to think in absolutes. I wanted them to think about a balance between keeping the ball and going forward. Ya see, I had this exact same meeting with another team about six years ago. We talked about not giving up the ball so easily. We talked about being patient and making the other team chase and not taking so many risks with the ball. And the next night we put on a display of passing that may never be surpassed in college soccer. Our opponent (who wasn't very strong) just couldn't get the ball from us. The problem was that we didn't actually go anywhere. It was like watching Italy against Italy in the group stage. It was basically a 90 minute game of keep-away and one of the most boring soccer matches ever played. In the end we won 1-0 against a team we were four goals better than. And that night is when I added the note about 'thinking in absolutes' into my little 'Coaching as a Career' handbook. So on this night I spoke of balance.
How'd we do?
Well, if we made a scale of 1-10 and taking way too many risks was a 10 and not taking any risks was a 1 and a perfect balance was a 5, I'd say we came in somewhere between a 3.5 and 4. Yes we could have been a little more aggressive but that's okay. It'll come. What we did show was a marked improvement in our composure with the ball and that's going to make us better. So the problem wasn't our decision making, it was our technical execution of connecting a pass. And not just from the defenders. It was an epidemic. We just couldn't get the ball from Point A to Point B.
The upside was that even though we gave the ball away entirely too easily, there was often a run of 5,6, or 7 good passes leading up to the botched pass. Fortunately the Cougars didn't know exactly which pass would be the awful one, so they had to chase them all. And all that chasing began to add up.
As has often been the case this year, our depth carried us.
In hindsight the coaches have come to believe that the trip to the west coast took a little heavier toll on the players than we thought it would. The best evidence of that for me was when Steve made an observation with about ten minutes left in the first half. We had already gone deep into the bench because a lot of our starters just weren't on their game, and Steve said, "All the players who didn't play last weekend are our best players tonight." And I thought, Holy cow, he's right. The players who saw a lot of minutes in Palo Alto, their legs just looked dead. Their minds wanted to do the right things but their legs just couldn't get the job done.
Thankfully our bench holds a lot of very good soccer players waiting for their chance. On Friday night, Simmo and Traci got a lot of minutes in the center of midfield and changed the game for us.
We went to half-time tied at 0-0 and looking uninspired. We made one tactical adjustment at half-time and then we basically laid it out on the table for the girls… "Look, if you want to play in November, you have got to find a way to win this game. If we're sitting at home during the NCAA tournament, you're going to look back at this game as the reason why."
Ever heard the soccer expression, 'It was a game of two halves'? Well, games like this are the reason for a saying like that. For as bad as we were in the first half, in the second half we just sorta caught fire. It may have been the sense of desperation about getting into the NCAA tournament. It may have been all the good passes before the bad passes that had taken their toll on the Cougars' legs. Probably it was a combination of both. Whatever it was, it worked. The second half looked nothing like the first. Allow me to illustrate this to you.
On Sunday I broke down the video of the match. I was particularly interested in one very subjective yet critically important category: Giving the ball away cheaply. I took note of every time we had clear possession of the ball yet did not connect on a pass we should have and were perfectly capable of completing. I didn't include things like clearances because there is definitely a time and a place for them. I didn't include crosses into the box. I didn't include those difficult final passes that require a player to thread the needle to play a teammate in behind the defense. And I didn't include any time we simply lost the ball going 1v1. Every time I marked a bad pass it was because it was just that – a really bad pass.
I've never seen a study on this category, but my guess is that on average a good team will give it away cheaply between 15 and 20 times during the course of a half. Between 10 and 15 is very good. Less than 10 is fantastic. More than 20 is horrendous and by any measure unacceptable. Want to take a guess at how many times the #21 team in the nation gave the ball away cheaply in the first half?
Try 40!
40 stinkin' times we had the ball and just flat out gave it to the opponent. IN. ONE. HALF!
Are you serious? Are you freaking serious?
The best coach I've ever known is a guy named Graham Ramsey. The man has forgotten more about soccer than I'll ever know. Anyway, when he was coaching us in college he would chart the passing percentage for every player in every game (the amount of passes you successfully completed divided by the total number of times you passed the ball). He expected the forwards to be above 70 percent, the midfielders above 80, and the defenders above 90. And if your passing percentage was below 50%, Graham said you were playing for the other team. Think about it. Makes sense, right?
Well no wonder we couldn't score a first half goal. Charleston was playing with like 18 players. Okay, I didn't do everyone's passing percentage. I actually didn't do anyone's. All I know is that we gave the ball up 40 times and those were just the no-brainer type passes. We also gave up plenty of the ones that are supposed to be risky. So percentage or no percentage, 40 is a bad, bad number. But like I said, the second half was a different story.
Know how many times we gave it away cheaply in the second half? Go on. Take a guess.
Seven! Yep, seven. That's better than great. That's freaking phenomenal! In the first half we had 8 bad giveaways in the first six minutes. In the second half we didn't give it away cheaply until the 12thminute and then not again until the 24thminute. And when you're putting up numbers like that, you're probably playing some pretty good soccer. We definitely were.
Because Charleston now had to earn the ball back from us, they were doing a lot more chasing. The more you chase, the more energy you expend, the harder it becomes to chase and the easier it becomes for your opponent to keep the ball and thus starts a nasty cycle. Then when your team wins the ball you're less likely to get involved in the attack because you need to rest. This is how Stanford grinds its opponents down. The more you can keep an opponent chasing, the less dangerous they are going to be when they take possession.
The one problem we were still having was getting in behind them so we decided to stick Nikki Hill up on the wing and try to get her into some foot races. It was a good move and a few well placed balls from Simmo and Corless over the top had Nikki wreaking havoc with a tired defense. Nikki's mad sprints in behind started to pull apart their shape and we were quickly becoming more of a threat to score goals.
In the 64thminute Shultis turned the corner on the right side and fired a low pass to Locandro who stood seven yards from goal. Locandro steered a one-time finish just inside the far post and we had ourselves the lead and a lot of momentum.
The chances kept coming but we weren't cashing in so it's stayed at 1-0 until the final five minutes. (Big 5 junkies get out your pencils.) With five minutes left we put Gibbo in up front. Gibbo has an amazing knack for scoring late goals so as she was taking her place on the field I said to Robin, "C'mon Gibbo. Go score a goal. You're the closer."
Locandro's pass split a pair of defenders and found Gibbo in stride. Gibbo's first touch evaded the charging keeper and she calmly potted her shot into an open net and we had a 2-0 lead. Gibbo had literally been on the field for 22 seconds.
Three minutes later from the top corner of the 18, Hooker cut her dribble back onto her left foot to shake a defender then bent a shot high into the near post and we had a 3-0 lead.
I think I only have one real superstition and that's to not count any chickens before they've hatched. I know better. On my honor I believe that the gods of soccer are acutely aware of the pea-headed things that come out of my mouth and when I tempt fate they always, always, ALWAYS make me pay. You would think that I'd have learned my lesson by now. Apparently not. Because with 30 seconds left and Charleston about to take a throw-in just on our side of midfield, I said, "Sure'd be nice to get a shutout for a change."
I had the presence of mind to think about not saying it, but because sometimes I'm stupid I said it anyway. 10 seconds later the ball was in our 18 and a comedy of errors was in progress. Goalkeeper Ashley Baker somehow put herself into a situation where she was chasing the ball around our 18 from one Cougar to another. Remember the scene in Rocky II when Balboa is trying to catch the chicken? Yeah. Looked kinda like that. It was so bad yet so comical that as it was happening, even as I knew how it would end, I couldn't stop myself from laughing.
And then they scored. We blew the shutout with 17 seconds left in the game. And I stopped laughing. Fantastic.
Anyway, it was a game that offered something for everyone. I laughed, I cried, I learned. You know how that goes.
Hope you can make it out this Friday night as SEC play opens when we welcome LSU to Athens. Go Dawgs Sick 'Em!