Duke
Sunday, August 22, 2010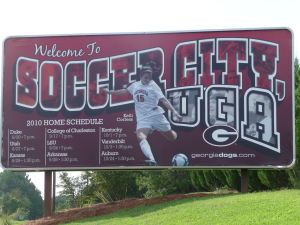 It's Sunday. Preseason has officially ended which means the lives of coaches across the country finally fall back into a rhythm with some semblance of normalcy, relatively speaking. To be fair, not having a Sunday game made today the least hectic Sunday I'll see for a while, but I wasn't worrying about that when I walked barefoot onto the back deck and threw that ribeye on the grill. For the first time in a long time, today there was no rush to do anything. Today offered up a peaceful sliver of what an every-man's Sunday might look like. And I liked it a lot. `

Okay, let's go back to Friday and our game against Duke.

Friday just wasn't meant to be my day. My demise began when I opened my water bill for July. It was the third water bill I've received since the move to Athens. The first one was $10.75. The second one was $11.26. Pretty standard for a live-alone single guy with no washing machine. So imagine my surprise when the third bill came in at a whopping $534! I about passed out. The bill stated that my water consumption for that billing cycle averaged 135 gallons per day! Per day!!

Here's the thing… somewhere, someone made a mistake. Because unless you're running a water park, that bill is completely absurd. But experience has taught me that regardless of who got what wrong, my life just got certainly more difficult and potentially much worse. I don't know why, but I have this hopeless feeling that one way or another, Dan is going to end up paying $534. So it's a really good thing I come from a long line of old money. Oh wait…

My head stopped spinning long enough to phone the water company. On hold for 7 minutes before being transferred, at which point the call naturally got disconnected. If I had a dollar for every time a phone call of mine to a customer service department has died during the transfer process, I could pay that bill three times over. Called back and after a successful transfer got to speak with a woman. I explained how it was my third bill and how the first two were roughly eleven dollars, and now I got one for $534. She asked if I had a pool.

I said, "Lady, I don't even have a hose." (That's true by the way.)

She asked about my washing machine. Don't have one of those either.

Running toilet? First of all, no. Second of all… a running toilet? Exactly how far would a toilet have to run for 135 gallons per day. And here's the truly funny part, I was only in town for about 20 days during that billing period. If I spent those twenty days standing in the shower I still couldn't go through that much water.

Steve and Nooj assure me that the meter was misread. I assured them I'm not that lucky. Robin believes there's a leak in the pipe. Freaking Robin. Of course she'll be the one who's right.

So while I may have a leak that's siphoning off a third of the city's water supply, the water company will send someone out… Tuesday.

As for the soccer part of my Friday…

Soccer at UGA is a lot different than Ole Miss or anywhere else I've hung my hat. Game day in Athens is more than just a game – it's an event. I mean people are just into it here. There's a buzz around our program and I never saw it coming. When training ended Thursday morning there were television cameras and newspaper reporters and even some fans. Everyone was excited about the start of the 2010 season. Okay, I get it. That's pretty cool.
Well then Friday came and from lunch time on, Steve was deluged by media. I had no idea that UGA soccer got so much attention. I had no idea any team did. But sure enough, the gaffer's afternoon was spent fielding questions on the telephone, giving a chalk talk for a TV crew, and generally speaking, doing a lot of speaking.

Duke is a tough way to open anyone's season. A lot of teams prefer to sorta ease their way into the scrum. Not the Dawgs. Nope. First game, new coach… ummmm…. Duke.

The girls were very fired up. There's a great new spirit in this team and they couldn't wait to unveil it. Besides, they've been kicking each other for the better part of three weeks. They were looking forward to kicking someone who you know, wasn't a friend or roommate.

We knew there'd be a big crowd for the opener, and holy smokes did our sports promotions people deliver! 2100-plus turned out to cheer on the Bulldogs. It was the biggest crowd of my college soccer career. By a lot.

Okay, little sidebar. There's been a lot of excitement about the new coach at UGA. More than one media outlet has announced the beginning of 'The Holeman Era.' So since we arrived in Athens, every part of the support staff has done back-flips to help us out. It's been pretty amazing.

One day I'm just looking at our soccer complex and I'm a little overwhelmed by its enormity… the training field, the stadium and the incredible Turner Soccer Center. And I think, Man, this is like a city. Hmmmm… Soccer City. Got a nice ring to it, right?

So I mention it to Brenton Shiver, our lead promotions guy, and he tacks 'UGA' on the end of it. Now it's a way cooler: Soccer City, UGA.

Well I didn't know what was going to become of it until one day I'm driving into work and I reach the driveway that leads back to the Turner Center. And the billboard at the edge of the drive, which has been a softball promo since my arrival, now proclaims: Welcome to Soccer City, UGA!

Yeah, it's a pretty big deal.

Brenton and his peeps are all over it, and to ring in the Holeman Era a decision is made to commemorate the event and christen Soccer City. So prior to kicking off with Duke, Steve presents the key to the city to Hairy Dog. And I mean why not, right? Hairy dog is our 'other' mascot. He's a six foot dog costume with some fella inside of it. Now he's also the mayor of Soccer City.

Let me be perfectly clear on this - Steve was dreading this little ceremony. Especially when he was told that in addition to the key, he would also have to put a sash on Hairy Dog, you know, in front of 2100 people. This gave me, Robin and Nooj much joy. Some days it's just better to be an assistant.

Okay, so eventually the game kicked off and the 2010 soccer season was under way. Duke entered 2010 as the #24 choice in the preseason poll. I assure you they will climb from that ranking. They are talented and athletic and their Back 4 is superb. They have a couple of players who are terrific at holding the ball. I didn't notice any single 'game-breaker' player - you know the type who can get the ball and just shred a defense on the dribble. What I did notice is a team with no holes. All over the field they are just plain sound, and that's going to make them difficult to beat.

By now you know that Duke won 1-0. It was a fair result. Although we outshot them 21-14, our chances were more in the 'could've scored' category. Duke probably had two more in the 'should've' column.

The margin of victory came in the first half and believe it or not, there's a legal pad in my office that literally, and I mean literally diagrams their goal. The thing is, that diagram was drawn on Thursday, a full 33 hours before the match kicked off. I was meeting with our left back Kelly Corliss and discussing how I felt her and center back Bailey Powell were often too far apart – that there was a big seam between the two of them and that it could get exploited, particularly if we lost the ball in the center of midfield.

So how did Duke's goal happen? About 45 yards out in front of our goal, Eddy loses possession. Their kid starts dribbling laterally toward our left side. Their right midfielder who can absolutely fly comes streaking down just wide of Corliss. Their ball carrier plays a diagonal ball that splits Powell and Corliss and finds the flyer in stride. Her finish from an acute angle was clinical. She had about a six inch window to work with and she put the ball exactly where it need to go, sliding her first-time shot low and just barely inside the back post. Great goal for them. Bad defending for us.

That goal drives me mental because had our positioning been correct, it never would have happened. One of our defensive commandments is: Don't Get Split. Not ever.

Now we know why.

Not getting split is something we talk about a lot. We work on it a lot. And we need to work on it more.

The half ended 9-9 in shots but Duke had the territorial edge. We made a defensive adjustment at the break and were took back a lot of territory in the second half. We opened the half with three shots in the first three minutes. The best chance was Mara's side-foot half volley that careened off the crossbar. Our next shot was an 18-yarder from Lex who forced a strong save from Duke's keeper.

Bakes made a great save, smothering a 1v1 to keep us within striking distance, but we never could find that equalizer.

The game was end to end and played at a very fast pace. I'm not sure I've ever been a part of a game that was so fast. It was physical but not dirty, and despite only serving up one goal, it was pretty darn entertaining.

Our girls were understandably upset afterward. They had sky-high hopes for that match. But they cannot be faulted for their work-rate or courage. They certainly brought the fight. We just couldn't unlock a very good Blue Devil defense.

I bumped into both Bailey and Kelly after the game, each separately, and they didn't need me to tell them about getting split. As a matter of fact, they told me. Bailey said she was so mad about that goal because we had worked on that exact situation. Yep. Sure did.

So today we had an 11v11 intra-squad scrimmage and Nikki was playing left back beside Bailey. At one point Bailey was screaming at Nikki to pinch in tighter. When I complimented Bailey on organizing Nikki like that, Bailey said (referring to Duke's goal), "That'll never happen again."

I hope not.

Next Friday the Dawgs play host to Utah. Hope you can make it out!
Got a comment about this blog? Contact me.