Lessons for Free
Saturday, September 4, 2010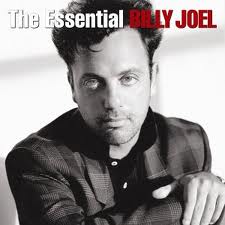 Today's Monkey of the Day goes to the Piano Man from Oyster Bay, Long Island... Billy Joel. On my pre-dawn drive to Atlanta I heard We Didn't Start the Fire, which incidentally holds the world record for most non-repeating lyrics in a song. Here are a few of them:
Buddy Holly, Ben Hur, Space MONKEY, mafia…
Now, if I could only get him to subscribe.
Okay. Onto our show….
Here's the thing… I don't like being a public figure. Yeah, strange thing coming from a guy who keeps a blog. But if I could blog in anonymity, I most certainly would. Point being, in the world of college sports, that's one thing about soccer… we're not real high profile. We're certainly not SEC football high profile. So I like that. Plus, I enjoy the relative obscurity of being an assistant, so I like that too. Steve's the one with the photo opps and media obligations and that's exactly how I like it. Besides, he's good at it. I mean look at the man – he still can pass for 25. Plus he's an eloquent speaker. Looks and oratory - it's a winning combination. He's TV friendly. Me? Notsomuch.
If it was up to me I would just sorta exist in a little bubble coaching my team and not dealing too much with life beyond that. I don't like being 'known.' I'm not comfortable in any environment where people know who I am but I don't know who they are. On Game Night inside a soccer stadium that's fine. It's just everywhere else that I get a little freaked out.
So what got me going about this? Well, the past 24 hours. It includes last night's near upset at the hands of Mercer then a quick turnaround (I'm talking like 5 A.M. quick) to check out some games at the Atlanta Cup as part of my recruiting responsibilities. Naturally a coach wears his colors when he's out recruiting. You gotta represent. And I'm proud to don my red and black. But you see,
those colors mean one thing in New Jersey or Vegas or Houston or San Diego. In Atlanta on the other hand, it's a whole different level. Talk about a lot of people knowing who you are when you don't know who they are… yeah, a recruiting tournament in Atlanta would qualify.
You gotta remember, these people are passionate about UGA. They're invested. Plenty of them are proudly wearing their colors. They are Georgia fans and Georgia graduates and they expect us to uphold a seriously high standard. And if we don't? Well, they're not going to be shy about espousing their opinions.
They may not even know my name, but they sure as heck know I'm an assistant for the Bulldogs. When they see me approach, they tug the sleeve of the person in the folding chair next to them. When I walk behind a row of parents, a vapor of whispers trails me. And that feels a lot like living under a microscope.
Last night the Dawgs were fortunate to leave Macon, GA with win #3. We were down 2-0 at the half, tied it with less than 3 minutes to play, and then won it in the second overtime.
Going back to preseason, Mercer was the first opponent we faced that doesn't have what you might call a high profile. So far we've played schools called Duke, Kansas, Utah and Florida State. Three are named after entire states, and well Duke is just Duke. Point being, everyone has heard of all four. Mercer's reputation just isn't as large. And we knew that could pose a problem for us if our players didn't come out of the gate focused and intense. Naturally they didn't.
We tried every way imaginable to get one message across to our players: This was Mercer's game of the year. If we didn't show up, we were gonna get stung.
Yeah, not our first day on the job, ya see?
Fair play to the Bears. The whistle blew and they just plain outworked us. We were lazy and careless and made mistakes that are beneath the talent level of those who made them. We couldn't turn the volume up past seven. And Mercer made us pay.
They scored in the 25thminute and we saw it coming. I was hoping that might be the wake-up call we needed but, ya know… naaaaah.
In previous entries I've celebrated our depth. Well last night our depth was no better than our shallows. Instead of playing with an enthusiasm to change the game, our reserves were as flat and disinterested as our first eleven. We were a top-to-bottom disaster.
So instead of us answering, Mercer doubled their lead in the 42ndminute and you know what? We saw that one coming, too. We were sloppy, sloppy, sloppy. And they made us pay.
The one thing our depth did provide was some rested legs. And more importantly, many of the starters were given extra time on the sideline to quietly reflect on the game that they were badly botching. The shot total at the end of the half was 6-5 for Mercer. No disrespect to the Bears, but we took nine first-half shots against Duke and they're going to be a Top 10 or 15 team. That we only mustered five against Mercer was not only a testament to their effort, but also an indictment of our own.
How can I say this??? Hmmm…. Let's just say that tactics weren't high on the half-time agenda. Fire-starting was. Affecting an attitude adjustment – that got top billing. So we dug into the girls about their first-half effort and about the responsibility of wearing that Bulldog jersey. Win or lose, our university deserved better.
So we left the half-time huddle and I thought we did a good job of getting our point across. But here's the thing… you just don't know. Until the second half kicks off and you can see what actually transpires, as a coach, all you can do is sit there and hope and pray that the players deliver.
Here's the rub. No matter what we said at half-time, the fact of the matter is that in the first half we just weren't dangerous. I expected our energy level would rise, but I really didn't know if that would be enough. It just seemed like it wasn't our night.
As a coach, when you're down 2-0, you're not hoping to score three second-half goals. You're hoping for two. Get two and then win it in overtime. If you happen to get the third in regulation, well then you're just livin' right. We've proven that we can get goals in bunches, so the one glimmer of hope was that two goals was not an unreachable summit.
There was one phrase that I was certain would be making its way through the coaching staffs of both teams: 'early goal.' We knew if we got one, the tide would swing in our favor and we could effectively ride a momentum avalanche. Having been on the other side of this same coin, I would wager that the Mercer coaches were thinking that if they could avoid giving away an early goal, their chances of hanging on 'til the end were substantially better. And if they didn't, well, that could mean big problems.
Sometimes a soccer game is described as a 'game of two halves.' This game warrants exactly that description. Mercer was the better team in the first half. The Dawgs snatched that title away in the opening seconds of the second half and never gave it back.
A desperate and inspired Georgia team got out of the blocks before the referee's whistle to commence the half had fully faded into the night. Pollock's entry pass into their 18, intended for Lex, was toe-poked by a Mercer defender directly into the path of Nicole Locandro. Locandro's first touch of the half zipped past their goalkeeper and cut the Bears lead to 2-1.
34 seconds had elapsed.
We played downhill for almost the entirety of the second stanza. Mercer was in preservation mode and was content to lump the ball long to relieve pressure and I sure as heck couldn't blame them. We kept coming in wave after wave, had several near misses in large part due to the play of their goalkeeper, and with three minutes remaining we were still in search of the equalizer.
We threw bodies forward. We kept dumping the ball into dangerous places, but the Mercer defenders always seemed to be a hair quicker in getting to it. The crowd of 700 got louder with each narrow escape, urging their Bears to the finish line, hoping to be a part of the moment when David slayed Goliath. Then finally…
Locandro got hold of a ball about 25 yards out in front of the Mercer goal. She spun to her right then feathered a pass that sprung Lex in behind on the left side. Lex exploded past the defender with her first touch then calmly slid her shot past the charging goalkeeper to level the game at 2-2 with 2:39 left in regulation. We had clawed back and with overtime on the horizon, we had bought ourselves 22 minutes to finish the job.
The first overtime session passed without incident but I think a neutral soccer person would have surmised that by that point there were only two likely, if not solely possible, outcomes – either Georgia would win or it would finish as a 2-2 draw. We were pressing for the winner. Mercer was hanging on for dear life.
In the sixth minute of the second OT, Pollock did what Pollock does best. She battled. Down in the corner on our attacking left side, Pollock outfought a pair of opponents then smacked a heavy cross that cleared the goalkeeper and landed in the bread-basket of Alex Hooker who ran it into the goal from a yard off the line.
The next second was among the longest I've known. I was waiting for some bizarre decision to nullify the goal. I think we all were. I was certain the ref would conjure up a handball or we'd be flagged for offsides. But the flag stayed down. And that was that. And as if someone had flipped a switch, that stadium, all at once, got eerily quiet. 700 fans just went dead silent.
Maybe there was some confusion because the finish was a little bit unorthodox. Most goals don't look like that. Normally an OT win commands a bench-clearing pitch invasion. But even our own players just kinda meandered their way over to Hooker. It was a really odd moment. No one seemed to know what to do. You'd never have known that we just came from 2-0 down to win 3-2 in double overtime.
After the match we reminded the players about the bulls-eye on their backs, especially against our in-state competitors. We reminded them that urgency cannot be dictated by the reputation of our opponent. I reminded them of two lines from my pregame speech:
Do not wait to be inspired.
Do not wait for the spirit to move you.
But we had waited, and it almost cost us dearly. And to make sure the point got hammered home that our first half effort was in fact lacking, Steve read out the shot total. From half-time on the shot total favored Georgia by a 17-1 margin. It's not like we became more talented players in the second half. Nope. We just decided to play like it mattered.
Our hope is, and we expressed this to the team, that we learned the lesson without paying the price. As our bus-driver Mickey keenly observed, "That one was for free."
Last night taught me that we have to mature as competitors. Our effort thus far has been directly proportional to the reputation of our opponent. That means we're measuring ourselves against the wrong standard. We need to measure ourselves against our own standards. And we need to start each game with much greater urgency. If we don't, we're going to be in for a season of unfulfilled potential.
And just in case you're keeping track... four of tonight's five goals are 'Big 5' qualifiers. I asked Steve and he assures me that equals 80%.
So I got home around 1 A.M., jumped into bed and got up four hours later to prepare for my trip to Atlanta. It was a long, long day.
Plenty of people at the tournament commented about last night's game, and that's what got me to thinking about my affinity for keeping a low profile. Because as uncomfortable as I was nodding about last night's win, the one thought that kept popping into my head was... What if we lost?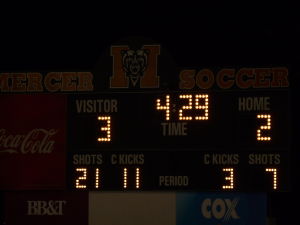 Got a comment about this blog? Contact me.