10 In The East
Sunday, September 19, 2010
I'm starting this entry on Sept. 15, 2010. Sorry it's a little tardy. The trip to California has popped a spring in my body clock and for the past two days I've been mostly sleeping or, when my eyes were open, just mostly asleep. Beginning with our 10:25 P.M. return flight out of San Jose (that's 1:25 A.M. in the east), I got 3 hours of good-for-little plane sleep. We touched down at the ATL at 6 A.M. then got on the bus to Athens. On the bus I stayed awake playing Name that 80s Tune with DJ Nooj, arrived in Athens around 7:30 A.M. I finally got home at 8 and promptly fell asleep for the next five hours. Woke up a little past 1 P.M. and just could not shake out the cobwebs and went back to bed from 5-10 P.M. When I woke from that little slice of heaven I figured there was no way I'd fall asleep again. Except in reality, I still couldn't escape the fog and fell back asleep around 1:15 A.M., then up at 5:30 A.M. to get ready for our 7 A.M. training. Made it until about 4 o'clock this afternoon and then took another 3 hour haymaker. And now here I am at a little past midnight and if it not for clocks, I would have no idea what time it is, what day it is, or what meal is supposed to be next. Point is, I don't feel tardy.
As for our trip…
The flight to San Fran was delightful. The plane came equipped with TV/Game monitors on every seat back, so the Dawgs had a rousing game of mile-high trivia where our Sports Info Officer Kate, a dark horse entry, just completely dominated. A little competition was a big help in passing the four hour flight I can assure you. Then Corliss and Eddy introduced me to a brain-teaser website called www.sporcle.com. And thus another hour dissipated. To be fair, the last thing I need in my life is something that will suck me in. That's why I do my best to avoid the TV shows that most people love. When I find a show that grabs me, I become a devotee pretty quickly. I'll start planning my week around it and I just don't have the time to take on a new hobby. That's why I'm thankful the West Wing isn't in reruns on Bravo any more. I've watched every episode of that show enough times that I feel qualified to submit my name as an at-large bid in the federal line of succession. Unfortunately, I'm a sucker for brain games and I can see a good bit of my future devoted to Sporcle.
Moving right along…
We met our bus driver, Jim, at the San Fran airport and the man was just phenomenal. Jim was a large and jolly fellow who reminded me of those little guys in that Disney movie... I think one was a candlestick… and they went around singing that song 'Be Our Guest, Be Our Guest…" Know what I'm getting' at there? MaybeBeauty and the Beast? Cut me some slack I'm tired. Anyway, back to Jim. Jim is a very proud resident host of Northern California and the whole team took to him right off the bat. I knew I'd like him when after 15 minutes we pulled over for lunch at the brass ring of fast food joints, In N Out Burger. Want to see a happy Poet? Throw a double-double with fries my way. I was so hungry I had two of them, which we promptly dubbed 'the quad.' And oh yeah, a chocolate shake for good measure. (Just now beginning to see why I'm feeling so crappy.)
In N Out came into my life in tenth grade when I somehow inherited an In N Out t-shirt. I had no idea that there actually was such a place, only that I had acquired a very cool shirt. But in the end, I guess it was prophecy. I loved the shirt and it was one of the very few material possessions that miraculously remained with me through college, unlike those super cool Dead or Alive CDs. But I never had the actual In N Out experience until 1995 when I was visiting San Diego and realized that my favorite t-shirt came from a real place. One time was all it took. One bite and I was hooked. I don't know why their burgers are so good, only that they are, and that whenever I get out west, if I see an In N Out, they're getting some of my money and I couldn't be happier about the transaction.
Okay, so while Robin, our trainer, Mandy, and I indulged in burger heaven, Steve and most of the players had lunch at a Panerathat was across the parking lot. Panera or In and Out? I don't even really see a choice there but whatever. Steve's absence was the genesis for a little wager. Steve is fascinated by a lot of things, but as far as I can tell, none more than time zones. He loves translating the time of any new time zone we visit into Eastern Standard, or visa versa. For example, in the weeks leading up to our Stanford match, he regularly mentioned that we would be playing at, "10 o'clock our time." Having travelled extensively with my boss, I knew his affection for Time Zone Math (TZM). So I proposed an over-under for the entire weekend. I said he would make at least seven references to TZM. Robin couldn't resist and predicted nine references for the weekend. Well, Robin was right. Sort of. Steve did make nine references to Eastern Time. By dinner. When we got back to Athens the count was 21 or 22. Like I said, the man loves his time zones.
We had a light training at Stanford on Thursday afternoon where we inducted our equipment manager Olivia West into our coaches One-Touch juggling troupe. One-Touch juggling is something the coaches do to pass the time while the players are warming up. The best part about it is that we always end up doubled over in fits of laughter. Steve and I are charter members from our days in Oxford. In Athens we added Robin. Nooj gave it a shot but apparently we weren't satisfied with his performance and banished him. As he tells it, he's been excommunicated from the group. I don't remember it happening exactly that way but how often do you get to use 'excommunicated' in conversation? That's reason enough to keep him out. So Liv joined us and now Robin suspects that we're covertly auditioning Liv as her potential replacement.
Our preparation for Stanford focused on how we dealt with their backs when they had possession. If you like a team that passes the ball and you haven't seen Stanford play, well, you should. They keep the ball better than any team I've ever seen. And I mean EVER. We had two videos of their recent matches and one was against Duke – a fine team by any measure. Stanford tapped off to start the game and proceeded to string 22 consecutive passes together before Duke even touched the ball. Scary, right? Tell me about it. In the second half they scored a goal that was the end-product of a 14 pass run. A lot of teams never string 14 consecutive passes in a game against a bad opponent. Stanford did it against freaking Duke. Ummm Hello.
The bottom line is that they're very good and all of their players are technical enough to solve pressure so if you're not smart about how you press, you're gonna end up doing a lot of chasing. And even if you are smart about it, you're still going to chase more than you like. So we developed a game plan to try to minimize the damage that all their possession would do to us. Then we loaded up the bus and concluded our day with dinner at the Cheesecake Factory. (There really is something to this Division I thing.)
I don't do this intentionally, but there are certain moments where I can't help but remember my roots, coaching at and against small schools that most folks have never heard of and playing in front of 23 fans on a field that I mowed and lined and did neither very well. Kicking off against Stanford, the #2 team in the country, on an absolutely perfect Friday night in front of 1200-plus in Northern California was decidedly one of those How Did I Get Here moments.
(Okay, it's now Sept. 19 and I promise I'm hurrying to get this entry finished.)
So the game kicked off and Stanford did what Stanford does best – pass the ball. Our organization was good enough to keep them from being too dangerous too often. And regardless of who devised our game plan or how well we executed it, we knew that we would need to dodge some bullets. You can translate that last sentence into us coaches praying that our goalkeeper would have a banner night. Thankfully she did. Baker made two huge first half saves, one from point-blank range and another to stymie a breakaway. When The Cardinal finally put one past Baker, Chewy was there to clear it off the line. Yes, we dodged some bullets.
Stanford hasn't lost at home in three years so I'm sure most people were surprised to see the Dawgs jump out in front in the 12thminute. Corliss curled in an early cross that skipped across the penalty spot. Marah outdueled her defender and lobbed a volley over the charging keeper. Marah's shot got a lot of air underneath it and took an eternity to come back to earth. It took so long in fact that three times during its flight I said, "Get down ball!" It was difficult to tell from our angle, but it looked like it had a chance. If I tilted my head just right it appeared as if the ball had a shot at coming down under the bar, which it most certainly did. Dawgs up 1-0.
At first I thought Marah may have gotten a little bit lucky. But then I watched the video and sure enough, Marah did exactly as she wanted. Okay, maybe she didn't plan on the ball coming down with stardust, but she most definitely intended to lob that ball over the keeper. It was her first goal of the year and we couldn't have been happier about her timing. We had a lead on Stanford. Who knew?
Stanford is a sensational team but Marah's goal calmed our nerves and we began to realize that the Cardinal wasn't the only team that could pass the ball for long stretches. That first half saw some of the best soccer we've played all year and we got to the break up 1-0.
We held the lead until the 88thminute when Stanford equalized with a very well-placed bender from 25 yards that negated Marah's goal. 12 minutes later we were in overtime.
The strangest thing happened in the first overtime. After 2 or 3 minutes Stanford suddenly looked very un-Stanford-like. They started just clearing balls in situations that they would normally pass their way out of. Their off-the-ball movement ground to a halt. And I'm thinking, Holy smokes! They're done! I half expected to hear harps and see a bright white light. The Cardinal seemed to have run out of gas and as if someone had flipped a switch we suddenly had the run of the park. I was pretty sure there were now only two realistic outcomes: either we win or it ends as a 1-1 draw, and to be honest, I liked our chances.
One of the things we talked about on Thursday was the importance of not giving the ball away cheaply. We knew Stanford was good enough without us helping them. It was critical that we didn't give them more of the ball than they earned because we knew it might take a while to get it back.
So one of the Cardinal defenders launches a fairly aimless clearance that we clean up and start to ping around about 40 yards out in front of our goal. We string four passes together and then one of our passes, completely unpressured, badly misses its mark and goes out for a Stanford throw-in. This is the definition of giving it away cheaply and that was the last time we would ever have possession of the ball.
Stanford swung the ball into their central players, both of whom narrowly escaped thundering tackles from Sooz, and moved the ball to the other side. We managed toe-poke the ball over the opposite sideline for another throw-in. That throw-in set up a cross into an unmarked striker whose header from seven yards took a most unfortunate bounce off our defender's hip, wrong-footing Baker, and merrily bounding its way across the goal line with about forty seconds left in the first OT. Game over.
It was a heart-breaking and somewhat anti-climactic way to end a pretty entertaining game. It was a fair result, but the game deserved a better finish. But apparently the soccer gods had other things to tend to. After all, it was already after midnight in the east

Saturday was my birthday and was highlighted by a visit from my best friend Scott who made the drive down from Berkeley. Of the things I am most thankful for in my life, and there are many, my 30-year friendship with Scott is right there at the top of the list. Mark my word on this… one day he will write a book and it will be a best seller and it will be the funniest thing you've ever read. Think hetero Augusten Burroughs if Burroughs was, ya know, a whole lot funnier.
On Sunday we faced #9 Santa Clara. It's strange to think that you could be emotionally catatonic heading into a match against a perennial national power and a program that can lay claim to one of the few national championship trophies not residing in Chapel Hill, but sure enough, the Dawgs were F-L-A-T flat.
We expended a lot of emotional and physical energy against Stanford and it's hard to recover from that, especially on a Sunday in a relatively empty stadium. Well, if you ever make a list of teams you don't want to be flat against, you'd want to include Santa Clara. Just sayin'.
The long and short of it is that they were very good and we just plain stunk. Remember a few paragraphs ago when I talked about not giving the ball away cheaply? Apparently our players didn't remember either. Our passing was horrendous. I mean we couldn't hit water from the beach. I don't know why, but a lot of very good soccer players simply couldn't execute a 15 yard pass. And to be quite frank, we had a couple of players who just didn't show up. After the match I made the comment that we started the game playing 9 against 11 and I stand by that. Some players just didn't seem interested.
Baker played well again between the pipes and we got lucky that a Santa Clara attacker drilled a rebound chance off the crossbar from 3 yards off the line. We had a couple of good looks at their goal in the first half, but when our passing didn't let us down, our finishing did.
Okay, so if our first half was graded an F, the second half had to be a G or H. And holy cow did Santa Clara look good! I mean they ran the show and in the 63rdminute they had a kid get free down the left side, whip in a low cross that was finished at the near post. It was a quality goal and one they wholly deserved.
As for the Dawgs… well, as bad as we had been we were still only down by one which was at least a glimmer of hope. With nine minutes left Corliss drove in a free kick from 40 yards. Pollock went up for a brave header that she flicked past the fists of the charging goalkeeper and because sometimes the soccer gods are kind, we were knotted at 1-1.
That's how the game finished and we got out of the weekend with a win and a tie against two superb teams.
The mood after the match was very subdued. The girls knew that our emotional unpredictability was revealing itself as a habit. And they are smart enough to know that an emotional problem is a lot harder to fix than a soccer one. Regardless of the circumstance, we have got to find a way to be better – consistently better. We can't stash away our best performances and only reveal them when the game has an 'event' attached to it. Nobody gets to only play under the lights on Friday nights against marquee opponents in front of 1500 fans. Even Les Mis does matinees. To win in the SEC you have to grind it out on some very hot Sundays in front of small crowds after a long couple days of travel. If you can't do that, you ain't winnin' trophies. We've got to find a way to dig a little deeper just because there's a game to win and not because we might look cool doing it.
After the match we had a bunch of time to kill before our flight so Jim drove us up to Fisherman's Wharf in San Fran and we spent a couple hours being tourists. For as great as our job is, the really fun part is getting to experience a lot of things that the typical college student might not, and a trip to Pier 39 with a team full of college soccer players definitely qualifies.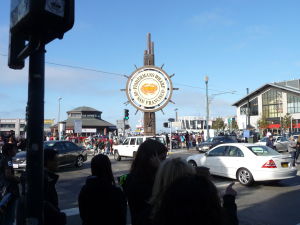 Pier 39 is a tourist Mecca bustling with foot traffic and offers a view of Alcatraz and lot of other very cool distractions. One of my favorites is the "Bush Man." He's a black fellow with long dreadlocks and a sharp tongue that sits propped up against a trash bin, obscuring himself with a bush limb in each hand, then startling unsuspecting passersby with a well-time scream. People will line the sidewalk near him to watch as he puts a jolt into pedestrians. He's carved out a pretty neat niche market for donations, mainly because spectators get to feel as if they are in on the joke. I've seen reports that for his services (which include photo opps) the Bush Man rakes in over $60,000 a year, which unfortunately in the Bay Area, probably still puts him below the poverty line. Regardless, only in America can someone make that kind of money doing what the Bush Man does.
There were plenty of other talented street performers to amuse us and they were all very happy to pose for a picture in exchange for a small donation. Steve, Nooj and I also visited a couple of interesting shops. In one we were entertained by a magician and in another we got hooked up to portable electric stim machines for massages. Have you tried these things? Oh they are fantastic! And the muscle spasms they induce make for great comedy. I was in tears watching Nooj's head twitch from the jolts of electric coursing through his spinal column.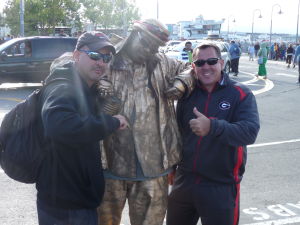 The massage shop was amazing. There wasn't a product in there I didn't want to buy. Everything in the place is designed to make your body feel spectacular. Once in a blue moon I'll wander into a store that makes me wish I was a wealthy man. This was one of those shops.
You can't get seafood any fresher than they serve on the wharf, so my crab sandwich was also fantastic. But the unparalleled highlight of the trip came just before we boarded the bus when Maddie, Bay and Woody danced to Beyonce's 'Single Ladies' to the delight of a crowd of spectators. And yes, we have video!
After that it was just one long trip home, a lot of very tired people, some fantastic memories and hopes for a better result next Friday.