Redemption Song
Sunday, September 5, 2010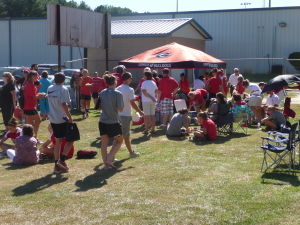 Today's Monkey of the Day was mailed in by subscriber Reggie and it's a beaut! You can see his contribution on the Things My Phone Saw page. Thanks Reg!
Friday was a good night for SEC soccer. The Dawgs survived the Mercer mayhem; Kentucky upended Virginia Tech; Arkansas topped Miami; and Auburn upset Florida State. Good for the SEC!
There are days when, even four hours before kick-off, you know your team is going to play well. When one of those days settles upon you, life is just a giant ice cream sundae. Today was a heapin' helpin' of Rocky Road.
While I was off recruiting yesterday, Steve surprised the team by announcing that instead of our normal 22-person travel party, we would be taking everyone on the trip to Georgia State. It was a smart move and the timing couldn't have been better. Friday night a lot of pointed questions were asked and answered. That makes Saturday a day of healing. And when Saturday is a day of healing, Sunday typically becomes a day of celebration. That's exactly what happened.
Disappointed with our Friday performance, the players did a little soul searching and committed to righting our ship. And you could see the effect before the bus even started to roll. There was a positive vibe that was impossible to miss. It was like the senior class trip to Six Flags. The players wanted to make amends for our Mercer disaster, and they wanted to do it together, as a team, as a family, with everyone being a part of it. I couldn't tell you how long it would last, but on this day, our collective head was on straight.
There was a sense of rededication in our camp. Nooj reinforced it on the bus by having each player jot down three personal goals for the Georgia State game on index cards. The cards were then collected and redistributed randomly to teammates who read aloud the goals of whichever player's card had ended up in their hands. It's a very cool exercise and the girls did an excellent job with it. What excited me was how some of the players took ownership of their shortcomings on Friday night and commited to not repeatng the same mistakes.
Yes, Mercer still made it into our pregame speeches. Steve mentioned that if the players wanted a do-over, Georgia State was as close as we could get – an in-state school (that went to OT with Mercer themselves) who would have us penciled in as their game of the year. Beat the Dawgs and no matter what else happens with your season, you'll always have that milestone moment.
Ironically, the worst thing that happened to Georgia State was also the worst thing that happened to us – namely Mercer. Had Mercer not pushed us to the limit we might not have been quite so fired up for the Panthers. But Mercer had pushed us. And yes, we were fired up. And Georgia State was in the wrong place at the wrong time.
On my honor I would have bet you my house that we were going to be fantastic today. And had you taken that bet, I would still be a proud home-owner.
The whistle blew and our energy level was off the charts. We swarmed. Our pressure immediately caused them problems. Miller and Lex both had clean looks from 18 yards in the first three minutes but sailed their shots just wide. Regardless, it was clear that on this day we would generate our fair share of scoring chances and that we wouldn't wait 'til the second half to get our pistons firing.
The biggest problem we encountered was, oddly enough, the game ball – the same one that was used in the World Cup that all the players were moaning about. Now we know why. When that ball went into the air it was pretty much a circus for us. It would take off like a helium balloon and then suddenly dip. This team has some of the best headers I've ever coached. So it goes without saying that they are pretty darn good at judging the flight of a ball. But when Pollock jumps for a header that clears her by three feet, something is clearly amiss. Eddy, another very strong header, poised herself for an unchallenged punt and ended up taking the ball off her nose. And our back four… well they spent the better part of the first half watching every Georgia State long ball fly over them because the ball carried so much farther than the balls we typically train and play with. This was a legitimate concern because the Panthers game plan centered around banging the ball over the top. They had a bona fide flyer up front and she was getting dangerously close to getting onto the end of one of those home run passes.
It took us a little while but we made the adjustments. Once we got the heading thing sorted out, there wasn't much that was going to stop us today. I don't know how else to put it, but we were just sharp.
I don't like singling out players, but Ashley Miller was superb as our attacking center mid. She's so soccer savvy. With her back to goal and a defender right up her rear, she has an uncanny ability to peel herself away from pressure and find the next pass. A lot of players can find an open seam when it's sitting there in front of them like a canyon. But Miller can see the seam before it opens and weight a pass that casually rolls through the spot where just a second earlier a defender had stood. She can play with any surface and thread passes through traffic as well as anyone I know. These are excellent qualities in a playmaker, and today Miller was an exceptional playmaker.
Nicole Locandro had an interesting Friday night. She was a charter member of our missing persons club in the first half. Then she scored 34 seconds into the second half and went on to have a sensational performance the rest of the way. After the game I pulled her aside and said that although it might be difficult for her to understand this yet, even as a freshman she is a critical piece of our team. I told her that she needed to understand her value and how we couldn't afford for her to make her arrival after 45 minutes were already in the books. So one of her goals for today's game was to play with intensity right from the start. She can now, with a clear conscience, cross that off her to-do list. Mission accomplished.
In the 25thminute Nicole cleaned up the pieces of a Pollock tackle near the center circle, took two long dribbles and from 30 yards cracked a low shot that skipped just inside the post to stake us to a 1-0 lead. Life was good. Life was very, very good.
Of course, into each life some rain must fall.
Two minutes later the Panthers answered with a spectacular finish. Their right wing darted into our penalty area to get under a long cross from the far side. She timed her run perfectly, won her race, and with the outside of her laces gently flicked a full volley past Baker to bring the score level.
The goal gave Georgia State a burst of energy, but unlike Friday night, this time I was genuinely not bothered. Maybe it was the postcard weather. Maybe it was the Reggae Festival just beyond the stadium. Whatever it was, I couldn't have been more relaxed about a 1-1 game.
Yes they scored a great goal, but it was their only chance to that point and we were just playing too darn well. Honestly, I was enjoying the show. It was a beautiful day, the Dawgs looked fantastic, and even Georgia State had scored a world-class goal. We had hit the bar, forced some great saves, had one cleared off the line and had a goal called back for reasons that will forever defy explanation (although the A.R. insists it was offsides). Regardless, there was no way we were losing this game.
In the 42ndminute Gibbo took a feed from Eddy that left her standing in the Panther goal box, about 15 yards out, and just wide of the left post. Her first touch deadened the ball underneath her – hardly ideal. To strike it with the laces or the inside of her foot would have required another preparation touch and by then her window to shoot would have closed. Instead Gibbo cleverly let herself fall away from the ball while simultaneously jamming a toe-banger into the far side netting. It was a renaissance goal - crafty and pragmatic - a goal-scorer's goal all the way. And it got us to half-time with a 2-1 lead.
At the break we made a point to the backs about dropping off a little further than normal to account for the flight of the lighter ball. Other than that it was pretty much, 'keep doing what you're doing and let's finish them off.'
The Panthers were the more energetic side to open the second stanza, but we survived their initial burst and took hold of the ball and the game fell into the familiar rhythm of the first half, with the Dawgs keeping hold of possession and probing for chinks in the Panther defense.
In the 58thminute Miller picked out Locandro with a low cross and Nicole calmly potted it to stretch our lead to two. And for all intents and purposes, that was the death rattle. That goal deflated the Panthers' will to fight and we more or less had a stranglehold on the remainder of the match.
As has been a critical component of our early success, again today our depth reaped huge dividends. The Panthers could compete when their first eleven was matched up with ours. But we kept bringing the fresh legs and the level never dipped and when a team can grind away at you like that, it's difficult to maintain the fight.
Gibbo struck again in the 68thminute and then completed the hat-trick in the 73rd. We coasted the rest of the way into a comfortable 5-1 win. (And for those of you scoring at home, 3 of the game's 6 goals were Big 5 material.)
It was a lovely afternoon made even lovelier by the parade of Bulldog parents who set up a tailgate tent for a delicious post-game meal (special thanks to whoever brought the brownies J). Good soccer, good food and a win for the Dawgs. That's my kinda Sunday.
Incidentally… if you haven't done this yet, you should visit www.georgiadogs.com and check out some of the stuff we're doing. Kevin Kopp does an amazing job piecing together video for the website, and as the talent in front of the camera, the guy is top-shelf. Today's game also debuted a live blog where fans could send in questions and comments in real-time and get answers from our S.I.D. Kate Burkholder. A bunch of folks participated and it was pretty cool to check out the interaction. I think Kate had it easy today as the Atlanta location made it convenient for our fans to see the game for themselves. I have a feeling she'll be a lot busier next weekend when the Dawgs travel to Palo Alto to square off with the 2009 national runner-up Stanford on Friday, then clash with the nation's #8 team Santa Clara on Sunday.
So log on and interact. All the cool kids are doin' it.
Got a comment about this blog? Contact me.