On The Board
Friday, August 27, 2010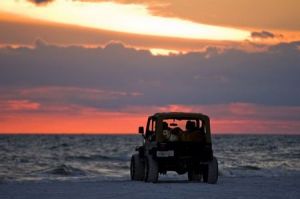 The drive home on Friday night is so much more enjoyable after a win. Sincerely. Top down, cool breeze and the feeling of satisfaction from a job well done. It's a little slice of heaven I tell ya.
Tonight was our first win of the season and for Steve and me, our first as coaches at Georgia. And from the moment we potted our third goal, my life has been the most wonderful and relaxing thing a coach could hope for. I'd guess that 90% of the games I've been involved with since moving to Division I have been decided by one-goal, so there's no peace until the final whistle. Two-goal leads are rare and prone to disappearing so they don't offer much solace until the final two minutes or so. But when you take a three-goal lead, and you score all three goals in the second half and your team is showing no signs of breaking down, well then you can sorta relax a little and enjoy the view.
This feeling reminds me of Nuke LaLoosh's first interview in Bull Durham when he tells the reporter that, "Winning… it's like so much better than losing." Sounds silly, but there's some real wisdom in those words.
We heard the Utes would be big and athletic, and they were as advertised. I just think the Dawgs were a little better technically and our ability to connect wore them down one pass at a time. By design the Utes want to knock the ball around and possess, but our press forced them to abandon that style pretty early and they fell into a pattern of banging it long to relieve pressure. It's difficult to build when you're constantly forced into lumping it long.
Although we controlled most of the first half, we weren't pleased with our performance. We weren't sharp. We lacked energy and bite. And for whatever reason we kept donating the ball back to them for no real good reason. We took some shots from absurd distances and we hit some very long services that could be labeled hopeful at best. When their two very sizeable center backs get factored into the equation, hopeful becomes a euphemism.
We made two significant adjustments at the break. First we asked our wingers to start serving low crosses as opposed to lobbing them in high as the first half was basically heading practice for the central defenders. And then we talked about stepping up our urgency and our speed of play. We needed to keep the ball on the deck and play at a faster pace. Despite being lackluster in the final third, our passing was wearing them down and by the end of the first half the Utes looked a little gassed. Steve told the team that if we got the first one, numbers 2 and 3 would follow.
As I mentioned, we scored three second-half goals. Know how I know that the players were tuned in at the half? All three goals were one-time volleys from low crosses. Nice adjustment, right?
And some good news for the long-term prospects of Bulldog soccer… two of our three goals and all three of those assists went to freshmen. Five minutes into the second half Nicole Locandro volleyed home our first goal from a Carly Shultis cross. In the 77thminute Alexa Newfield nabbed the second from Locandro's cross, and sophomore Sooz Dennis volleyed home Newfield's cross about forty-seconds later to round out the scoring. That's when my night got a lot better.
Okay, those of you who followed my previous blog have heard me make mention of a little phenomenon that in soccer circles is known as the Big 5. The Big 5 premise refers to the five-minute windows when a spectacularly high percentage of goals are scored. I'm not sure of the latest data, but when I was first introduced to the Big 5 years ago, the studied data revealed that nearly 70% of goals are scored in the first or last five minutes of a half, or within five minutes of a preceding goal.
I actually charted a World Cup (either '98 or '02… can't remember) to see how the Big 5 fared at the highest level. I don't know why I thought it would be any different because it wasn't. And when I charted the goals from some of my previous college seasons I found that the Big 5 also held true.
So just before we were about to kick-off the second half Steve remarked to us coaches, "Let's get a Big 5 goal." From his mouth to God's ears. And of course our third goal was also Big 5 material. Do some quick math and you'll see that 66% of last night's goals were Big 5 qualifiers. Spooky, right?
We needed a win and we desperately needed to get on the scoreboard. Mission accomplished.
Incidentally, Friday's Monkey of the Day came from the Larry's Subs that is next door to Jason's deli where we have our pregame meals. Larry's logo? A gorilla. If there's one thing more reliable than the Big 5, it's the Monkey of the Day.
On Sunday we square off with a very good Kansas team coached by our good friend and all-around great guy Mark Francis. Steve and I will also get to have a little reunion with Brittany King, one of our two sensational center-backs from last year's Ole Miss side. BK transferred to Kansas shortly after we resigned and she'll be making the trip with the Jayhawks.
Kick-off is at 1:30. Hope to see you there… in red of course!
Got a comment about this blog? Contact me.