Making a Pro
Saturday, January 1, 2011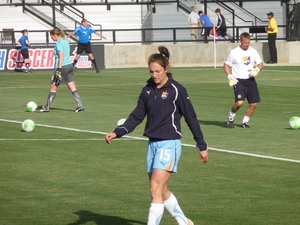 A year ago I was living in Oxford, MS and one of our graduating Ole Miss seniors, Danielle Johnson (Dee), was a candidate to continue her playing career as a professional in the WPS. We had talked about her post-college career only once while she was still playing. It was early in her senior season and the conversation was brief. I told her that if she wanted to make a run at the pros, I would be happy to help her train. She said she'd like that. And then we agreed we wouldn't talk about it again until after the season had ended.
When the time came, we sat down and addressed her strengths and weaknesses, not just as a player, but as a professional prospect. And trust me, there is a difference. Dee was plenty talented enough to play professionally. I never doubted that for a moment. But college women's soccer isn't like NCAA football or basketball where the players are constantly on television for professional coaches to evaluate. And teams in the WPS don't have the budgets for scouts to scour the country looking at players. So a lot of their draft decisions are done blindly and depend heavily on consultations with college coaches who know the players they are considering.
Naturally, the big hope was that Dee would get drafted. That was the first hurdle and would save her from the grind of travelling from city to city to attend player combines and open tryouts. But even if the draft dream came to fruition, there was no guarantee that Dee would be on a WPS roster. She would still have to try out for whichever team had selected her.
We couldn't control whether or not a franchise would use a draft pick on her. But we could at least be prepared if that moment came along. So in January we went to work preparing for the best. Dee was a sensational center back and that was her preferred position, but as a pro, her size would likely dictate a move to outside back. So that's what we focused on in training.
In mid December Coach Holeman and I started taking calls from a couple of WPS coaches asking for evaluations on Dee. This was how I summed her up:
For starters, Dee's one of the best all-around people you will ever meet. She's a fantastic person and teammate. She's always cheerful and she's got a fantastic sense of humor. Her teammates will love her. She'll never give you any problems. She'll work her tail off every single day and you won't have to chase her out of the clubs. She's serious about soccer and she's dedicated to improving.
The problem you'll have with Dee is that her two best soccer qualities are probably the two most difficult things for a coach to notice in a short period of time: Her 1v1 defending and her consistency.
Dee is the best 1v1 defender I've ever seen. She never gets beat. I mean NEVER. Sometimes I'll see an opponent in a 1v1 situation against her and I can see the wheels turning in that forward's head and I'll think, 'Aw, that girl thinks she can beat Dee. Isn't that cute?' Three seconds later Dee will have the ball and be dribbling up the field. I've seen that movie a hundred times over.
Technically she doesn't have any notable weakness. She's just plain very good at everything. She's got very good speed. She's very sound technically. She's very good in the air. She can play with any surface of either foot. It doesn't matter what exercise you do, Dee may not be the best in any one of them, but she'll be in your top five in all of them. And she almost never loses the ball.
In Mid-January the WPS held its draft. I was in Birmingham that morning, glued to a computer watching the WPS Twitter feed. The conversations Coach Holeman and I had with WPS coaches had us feeling fairly confident that Dee would get selected, by either New Jersey or Boston. When Boston passed on her in the fourth round of a six-round draft, I was a little on edge. But a few picks later, still in the fourth round, the defending WPS champion, NJ Sky Blue, selected Danielle Johnson from Ole Miss. I couldn't have been any happier if I had been drafted by the Phillies. Step #1 was accomplished. Believe it or not, that was the easy part. The real challenge for Dee would be making the roster.
We did the math. There were a limited number of roster spots – 22 to be exact. We figured that no established professional player was leaving the Sky Blue roster voluntarily, so to be a pro, Dee would have to beat out some pros – not to mention three girls who had been drafted ahead of her and whoever else might magically appear as players are wont to do. Dee was a dark horse at best.
Complicating matters was Dee herself. As I said in her evaluation, she's tough to notice in just a few days. She's a phenomenal player, but she's got no 'POP.' She's sound and dependable and unlikely to make a mistake. What she won't do is make your head spin by weaving through 3 players on the dribble. Defensively, she's a pickpocket. She's not going to turn heads with thundering tackles. At the professional level, it would take a while for a coach to notice how much Dee had to offer. But Dee didn't have a while.
Once Dee was drafted we shifted into a higher gear with her training. Dee continued to train with the Ole Miss team, we arranged some small-sided games with some of the Ole Miss men's club players, and we added a few sessions each week where it was just she and I. One of Dee's goals was to be at peak fitness when she reported to camp. I didn't worry much about that. Dee is one of those people who is naturally blessed with a deep fitness tank. She can run forever.
It's funny how many players make fitness their #1 priority, as if they are joining a track team. But it makes sense. Ultimately it's about confidence and fitness is the one thing a player can take absolute control over. For Dee, because she is so competent technically, fitness is something she'll gravitate toward because it can never be mastered. You can't always measure whether or not you're getting better technically. But you can measure fitness, and you can always see some improvement from week to week.
My goals were a little bit different. Technically I wanted her to get a little bit better with long balls, particularly low, driven balls that would serve as 30-40 yard passes that got from Point A to Point B as quickly as possible. This is an important quality in defenders that a lot of players lack. I figured it might be one technical thing that would catch the attention of her new coaches. If she switched fields with a 40 yard waist-high laser, even once, someone would notice.
Beyond that, I wanted Dee to report to that camp with a surplus of confidence, which is easier said than done. In two months Dee would be on the field with legitimate international superstars and I didn't want her feeling star-struck and overwhelmed. I wanted Dee to be so comfortable with the ball that it would seem an extension of herself. So each day I would try to create technically challenging exercises that were more difficult than anything she had seen. I tried to design exercises where she would fail initially but would master over a few sessions. Each time she took one of my mountains and ground it into a molehill her confidence would grow.
Let me tell you something about Dee. When you're trying to design a technical exercise to make her fail, you better bring out the heavy artillery because that girl adapts quicker than a cockroach. After our first two sessions I had to step back and reevaluate my strategy because she wasn't just turning my mountains into molehills – she was vaporizing them into dust. So I went back to the drawing board and started designing exercises that were one click below impossible, exercises that no one in the world could master on the first go-'round. And that's where we found some chinks in her armor.
Nothing determines a player's level of confidence more than her first touch. When Dee got to NJ I didn't want her to see a single ball that she hadn't already seen and mastered in Oxford, MS, so we began doing some drills that can only be described as absurd. In one of these drills Dee stood facing me from three yards away. I would gently punt a ball that would land 8-10 yards past where she stood. When the punt came off my foot, Dee would have to spin, chase the ball down at full sprint and before it hit the ground, cradle it on her instep and turn the ball back toward me, then return it with a pass. Dee struggled for the first few reps but after that, it was a sight to behold. She was chasing those balls down like Willie Mays and executing that turn effortlessly with either foot. First with the right foot, then with the left. One after another – flawlessly.
But my favorite confidence building game is Ping. In Ping, Dee would stand about two yards in front of the goal facing the field (the goal was only there to collect balls after bad reps). I stood at the penalty stripe with a bag of balls. Ping is a really simple game. I would blast a ball at Dee, aiming for knee-high or lower, and her job was to bring the ball down in front of her no more than a step away. Sometimes I would strike the ball off the ground. Sometimes I would half-volley it. Either way, that ball was movin'!
As you might imagine, when you're the player in Dee's spot, playing Ping takes a great deal of trust in your server. When someone inadvertently wallops a half-volley at your sternum from ten yards away, there isn't a lot of time to get out of the way. And occasionally we had our mishaps (It really helps if your player is the forgiving sort). But by and large Ping was a great confidence builder. Dee got more comfortable each time we played to the point where I began to put restrictions on her. By the end of our time together I could dictate that Dee could only receive the ball with the outside of her foot. Then I would absolutely bomb half-volleys at her and watch her just clean them up, one after another, like she had been doing it her whole life. And it seemed like each day, after we had put the equipment away, I would walk into Coach Holeman's office and say, "Man. Dee is so freaking good."
Our fitness sessions were gruesome. Again I set out to create exercises designed to make her fail – no small feat, mind you. So I constructed these obstacle courses from hell that would leave one of the fittest people I've ever seen on wobbly legs, hunched over gasping for breath. And just in case you're ever thinking about training a player with similar goals, I hope she is blessed with Dee's work rate and determination which cannot possibly be overstated. Reading about these sessions does no justice at all to Dee's intestinal fortitude.
Dee never, not once coasted through a single repetition of anything we did. If anything, there were times when I had to command her to slow down. She has high gear, exclusively. And she brought that high gear day after day after day. Most days it was just Dee and I and a couple bags of balls on a big empty field. There was no atmosphere. There were no teammates cheering her on. Some days it was rainy and below freezing. But Dee never shrank. Nothing muffled her work ethic. She trained with a frenetic urgency to arrive to New Jersey as prepared as humanly possible. It didn't matter how grueling our session was on Monday, on Tuesday Dee was right back out there begging for more, like a prizefighter inviting another haymaker from his opponent. A coach would be lucky to experience even one player like that in a career. When you do, it changes your expectations of every other player you will ever coach.
When it was time for Dee to go I told her she was ready; that she belonged playing at that level – because she was. Then I gave her a Bruce Springsteen CD and wished her well.
Sky Blue held a preseason like every other team. But they also held a pre-preseason. They brought in some of the holdover bubble players from the 2009 roster, some other players they had identified but not drafted, and their 2010 draft picks. In total, about 25 players reported for Preseason 1.0. Of that group, a dozen or so would advance to Preseason 2.0 where they would meet up with the team's regular starters and marquee players and the real fight for roster spots would begin. Dee needed to advance through both rounds to be legitimately considered a pro.
Dee survived that first cut and a series of others and was eventually included in Sky Blue's 22-woman roster as a 'developmental player', a tag hung on players 18-22. And in their first game of the 2010 season, Dee came off the bench to help seal a victory. Dee, the dark horse with no POP, was officially a pro.
A month or so after the WPS season began I got to meet Sky Blue's assistant coach, Rick Stainton. Rick was the guy I had been speaking with before the draft. He told me a great story about how Dee survived all the cuts. He said she was on the board as a potential cut every time. There was nothing about Dee's play that warranted a cut. It wasn't like she was playing poorly. But just as we suspected, Dee was hard to notice. She was flying under the radar – definitely not a good thing when you're trying to get noticed. If Dee was going to be cut it wasn't going to be because of her game. It was going to be because they had to cut someone. But then the coaches would go through the records they kept of their 1v1 battles and discover that Dee never got beat. Even the superstars couldn't get past her. And they realized that there was something about this kid from Baton Rouge that was worth hanging onto.
So why am I driving this entry down Memory Lane? Because Dee has to go through it all over again in a few months. And her first move, literally, is to Athens, GA so we can reconvene her training. There are some logistical wrinkles we still need to iron out, but if all goes well, I'll document our training sessions and all you soccer junkies out there can get your fix. And maybe one day you'll have the chance to train a player and see her on national television, maybe playing against the world's very best player.