Two in Minnesota
Thursday, September 8, 2011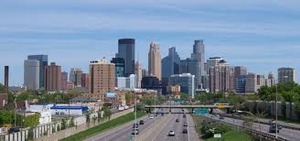 "Winning solves a lot of problems."
-Everyone who has ever coached
After a spectacularly bad weekend at home, the Dawgs took the show on the road to Minneapolis for a four-team tournament at the University of Minnesota. The trip held all types of potential – both bad and good. We were going to open against the hosts on Friday night, and the Golden Gophers are a very strong program. If we took a third straight defeat, we were going to be contending with some morale issues. A win on the other hand would be a tremendous boost for our spirits and set us up for an away sweep – something that is much easier said than done. So at 6 A.M. Thursday we set off for the ATL and a flight for the Land of 10,000 Lakes.
We got a light training session in on the practice field on Thursday afternoon and realized that the grass up north wasn't going to do us any favors. It was longer than the Bermuda we play on, but more than that, it had a spongy thickness that tended to swallow the ball – sorta like playing on flypaper. So we spent some of training trying to adjust to the new surface, and not doing it all that well I might add. Still, it was nice to have a day to prepare on the new pitch and after a while we felt we could possibly maintain the style of soccer we wanted to play.
That night we had a team dinner at Macaroni Grill, a nice but otherwise innocuous event had it not been for the two casualties that meal may or may not have claimed. Two hours later Jon Harvey was sick as a dog. The next morning at breakfast, Robin, who had sampled Jon's plate, wasn't looking too much better. Thankfully, if we had to take on more casualties, it was the coaches and not the players. We're running too low on them as it is.
Friday was a long hotel day as we counted down the hours to kick-off against Minnesota. I was bored enough to join Mandy on a trip to a Cub Foods pharmacy to pick up some medicine – just for the thirty minute change of scenery. I saw the bus pull up outside and was like Field Trip! I'm outta here!
Initially we went to the wrong Cub Foods location (naturally) before getting the navigation sorted out and reaching our actual target. That is typically how these field trips go which is one more reason why I never pay attention to the route we take to anywhere. Bailey Powell came along as well which proved to be the real highlight of the trip once we arrived at our intended destination. As we walked into the supermarket, Bailey caught the eye of a young male clerk who immediately came down with a very bad schoolboy case of love at first sight. The kid was star-struck enough to look like he'd never even seen a girl before. His eyes got wide as flapjacks and I half expected him to pass out. As we strolled by his cigarette kiosk, he couldn't have been more ecstatic about having the honor of pointing us toward the pharmacy. But he was also desperate to prolong the moment with Bay. So in what I'm certain must have been some type of panicked say-anything-but-say-it-now verbal upchuck, he asked Bay was interested in the special they were having on flu shots.
Huh?
Holy crash and burn. Flu shots? Really? The cigarette kid was asking about flu shots? Ahhhh…. young love gone awry.
I couldn't help but feel for the boy but my word, flu shots? Not really sweep-her-off-her-feet material, ya know?
We politely declined but as we passed by I noticed the boy was suddenly tethered to Bailey by some twenty feet of invisible rope. It reminded me of Deadliest Catch when they throw the hook overboard and snag the trap line. It looked like the boy was literally yanked from behind his counter and was being towed in Bailey's wake. Mandy and I had a good laugh at Bay's hold on the smitten young man. Unfortunately for his sake, Bay hadn't even noticed. That moment made the whole excursion worthwhile.
After a late lunch, Steve and I went on to the stadium to scout the Iowa State v Wisconsin-Milwaukee match. The match seemed exceptionally slow and we began to wonder how big of an affect the longer grass was actually having. Those players didn't look any less athletic than ours, but the game surely lacked the pace we were accustomed to watching. And we still hadn't set foot on the game field where the grass was potentially longer than on the practice surface. We began discussing the possibility of having to play a more direct style of soccer.
At half-time our bus rolled up and we shifted our focus onto the game at hand against Minnesota. In my pregame remarks I reminded the team of how blessed we were to have opportunities like these; that our university flew us halfway across the country just to play some soccer and that we got to do that surrounded by our best friends. And I reminded them that these days won't last forever and that they'd surely miss them when they had gone, so we needed to make the most of these opportunities we'd been given.
Minnesota is a strong program from the Big 10 and we were expecting Big 10 type players – namely blue-collar, corn-fed kids who would run and work all game long. And that's precisely what we got – a whole roster full of grinders.
Our style of play fits SEC field surfaces. Likewise, Minnesota's style fits their surface. And in the beginning, their style was killing ours. As we tried to keep hold of the ball, the grass kept getting in our way. A pass that we could bank on reaching its target in Athens would arrive late or not at all on the thicker surface. Minnesota was pouncing on those passes and pounding them deep in our end. When we tried to dribble the grass would reach up and grab an ankle and the ball would get caught underneath us. Our engines couldn't seem to get out of first gear.
Three minutes into the match the Gophers hit a cross from their right wing that was met by a header at the back post but Ashley Baker got down and made a stellar save to keep the match scoreless. It was indicative of what the night would hold.
One scouting report said that Minnesota was the hardest working team in the country and twenty minutes into the match I had no reason to think otherwise. Every player on that team was a ball-winner. They're heading was as good as any team I've seen. They were all-out grinders that played a style based on territory and an uncanny willingness to chase. There wasn't much short passing. It was more about getting the ball forward, getting it behind us, and then working like mad to cause problems. It actually reminded me of a hockey team, which I found a little bit ironic, being in Minnesota and all.
By the middle of the period we knew we had to concede our style or we were never going to win that game. We occasionally mounted some dangerous attacks but by and large the majority of the half was played on our side of the field. (Incidentally, the stat sheet was more lopsided than the game itself as it claimed a 9-2 advantage in first half shots for the hosts. In actuality we took six shots during that half. I know because I watched the video and counted.) We decided to do our best to weather the storm until halftime and then make some adjustments. We managed to do both as the half ended scoreless.
(Note: There is a certain sensitivity about these post-game reports. Out of respect to our opponents I've got to stay a little bit vague, elst the Poet serves as a scouting report and that wouldn't go over very well. So when it comes to things such as specific systems and specific players, I'm going to bite my tongue a little bit. Consider this your blanket disclaimer for the life of this website.)
We switched our system at half-time. Equally important, we overhauled our style. The long and short of it was that we needed to just forget about possessing the ball because it wasn't going to work. Between the way our opponents crowded the middle of the park and the slower surface, there just wasn't any point in trying to keep the ball. There was no way for it to work. Plus, the way UM pressed up its defenders, there was room to play balls in behind them and that's what we needed to start doing. So basically we set out to play the way a team would play on a field full of standing water: don't bother passing, just lump it deep and try to free a forward into space. We needed to get the ball in the air and eliminate extra touches whenever possible. Dribbling was basically outlawed. We needed to get the ball forward and get it there quickly.
So with about four minutes of instruction, playing a system and style we'd never played or even discussed, we took the field in the second half and gave it a go. And wouldn't you know, it worked beautifully. The change in system took some steam out of the Gopher attack while the change in style breathed life into our own.
We fired out of the break and immediately jumped on the offensive. Lex's 25-yard strike off the crossbar was the most dangerous of the handful of early chances we created. More importantly, the clang of the ball off the bar literally changed the tone of the game. Lex's shot capped an avalanche of early pressure we'd been applying and announced that the Gophers no longer held a monopoly on momentum. Now we had two teams playing the same direct style and the game completely opened up. It went from a chance at one end to a chance at the other and back again. It reminded me a bit of the NBA All-Star game (provided the NBA players never actually made their shots). Most importantly, we were getting in behind them with some degree of regularity and it felt like eventually we would cash in on one of our chances.
Minnesota came frighteningly close to going ahead after fifteen minutes but in a whirlwind of soccer chaos that might best be described as the mother of all goalmouth scrambles, Baker made a big save and Torri made another before one of the Gophers bombed a sitter over the bar. They had three excellent chances in the span of four seconds but we had escaped.
As the half wore on we were getting tantalizingly close to delivering that one ball that would put us clear in behind our opponent. We twice thought our moment had arrived but both times fell victim to the offsides flag. Still, we were getting the delivery. UM's back line was living dangerously. It was only a matter of time before all the pieces fell into place. Then, in the 77thminute, Sooz volleyed a pass that split the Gopher defense and fell gloriously into the path of Meghan Gibbons who had timed her run just well enough to stay onsides. Okay, here's the running thing about Gibbons (I'd call it a running joke but there's really no joke to it): Meghan Gibbons has scored more goals into a completely empty net than any player in the history of college soccer – and she's only a sophomore. I don't know how she does it, but somehow she always ends up behind the goalkeeper with the ball at her feet. I'm at the point where I almost don't expect her to score any other way… which is why I wasn't too terribly excited to see her on a breakaway. I knew the defenders didn't have a chance to catch her, but that dang goalkeeper might pose be a problem. It's not that Meghan can't score when there's a goalkeeper in the net; it's just that I can't remember seeing her do it. So Meghan goes alone on goal, calmly steadies herself and then tries sliding her hot into the far post. The goalkeeper blocks it, but naturally the rebound ricochets back off Meghan and then in turn back behind the goalkeeper leaving Meghan standing with the ball at her feet, five yards from a completely empty net. Meghan doesn't miss from there. I mean let's face it, that's her spot. We call it the Gibbo Special. It was a carbon copy of a goal she scored against Kansas last fall and it gave us a 1-0 lead.
You may recall our woes on defensive corners. Well yeah, apparently they're not going away anytime soon. With just over five minutes to play, UM equalized from a corner kick and we were straight back to square one. Corner kick goals have been our Achilles leg since the season began and when we conceded yet another, I was curious how we'd respond. That goal had the potential to completely deflate us after a great half of soccer and that would have been no darn good for the Bulldogs.
Things got even hairier when Torri Allen was carted off with an injury in the game's final minute. In spite of all of our injury woes, center back is a place where we are, blessedly, a little bit over-staffed. We are lucky to have three excellent center backs and Jenna Buckley would serve as Torri's replacement to see us home. But Torri's injury would further complicate matters as we headed into our first overtime of 2011. Thankfully it wasn't a long one.
The Minnesota game included the debut of freshman Jenna Owens. J.O. was part of our injured blondes committee for a few weeks, but she was finally given the green light for the match with the Gophers. We knew J.O. had the potential to be one heckuva college soccer player and now some other people do, too. She had a strong all-around game and caused a lot of problems, but her shining moment came a minute and seventeen seconds into overtime when she sailed a left-footed cross smack on the head of Alexa Newfield who stood unmarked at the middle of the six-yard line. Lex snapped her header past the diving goalkeeper and just like that we had an important victory away from home against a very good team.
I'm glad we won. I really am. Heck, I'm thrilled beyond words that we won. But that was one of those games that was just a pleasure to be a part of. It was also one of those games that shaved another five years off my life. It was high-drama from beginning to end, particularly in the second half. Having watched the film I realized that match could very easily have been 5-5. I'd forgotten about how many fantastic saves Minnesota's keeper had made. I couldn't possibly have more respect for the Gophers. Those kids worked and worked and worked and had it not been for a few spectacular saves from Baker, they would have won. But Baker did her job and our goal-scorers did theirs and we won one helluva soccer game - one we desperately needed to win. I only wished that Jon could've been there to see it, especially considering the performance of his protg, Ashley Baker.
As I finished walking through the handshake line I crossed paths with Jenna Buckley who wryly smiled and said, "See. You should have put me in earlier." Jenna had been on the field for two minutes and ten seconds when Lex scored. To be fair, the girl is nothing if not efficient.
It's funny what winning can do for things like morale and confidence. The win over Minnesota rekindled both of those qualities in our camp. As a staff we were particularly happy with the way the players responded to the half-time makeover. We asked them to scrap everything we had done since August 4thand to completely change the way we played. They went out and did exactly what we asked of them and they did it beautifully. Thank God it actually worked.
So it's Saturday in Minneapolis. We've got 22 college girls in our charge. Is there any doubt about where we'll spend our off day? Of course not. We're going to the Mall of America – a four-story retail Mecca complete with bowling alley, ice rink and an indoor amusement park. The girls were downright giddy when they boarded the bus and I couldn't stop myself from thinking of the Brady Bunch movie: Put on your Sunday best, kids; we're going to Sears! And I couldn't help but wish to be a fly on the wall at some of their homes when their parents open next month's credit card statements. Good night!
There was actually one person steadfastly opposed to taking a team trip to the mall – Robin. Seems that when she was playing at Carolina they spent a mall Saturday between Friday-Sunday matches and on Sunday only managed a tie against Notre Dame. That had Steve, Jon and I in stitches because it's one more shining example of how Robin's reality is different from our own. If almost any other coach in the country tied Notre Dame after a day at the mall, they'd be taking their teams to a mall the day before every game including the home ones.
The Mall of America is immense. I can't think of any other word to describe it. It just goes up and on into forever. To what must surely be a relief to a lot of parents, most of the girls forewent the stores and spent their day on the amusement park rides. $32 for that all-day pass is a bargain considering the alternative. I was particularly pleased at the wealth of monkey spotting opportunities the mall offered. You can check out the pics on the Things My Phone Saw page.
Steve, Jon and I found two stores that piqued our interest. The first was a game shop for the intellectually ambitious called Marbles – The Brain Store. There was a wide selection of logic games and skill games and so forth and we were quickly approached by a salesman who was pushing the featured game – a hybrid of checkers played on a small round board with miniaturized, wooden, Incan totems. Okay, that's not exactly right, but it's as close as I can get to explaining a game I made no attempt to understand. So the salesman asks if any of us want to play and Steve jumps at the chance. Offhandedly I remarked, "I've got five dollars on Rainman." And I could see that salesman get just a little bit smug about my confidence in Steve.
Ten minutes later the salesman was gracious yet clearly humbled in defeat. You could see the loss had him rattled. Later we were telling Steve that the poor guy is probably ruined for that job now. I mean think about it… he plays that game every single day and probably wins every single time he plays. It's his thing, right? For all we know that game is all he has going for him. Then in walks this yahoo from Georgia who has never even seen the game before and WHAM! – winner, winner chicken dinner – slapped around on your home turf. That's just ouch. That poor fella probably went home that night questioning his entire existence, wondering where it all went wrong.
After Marbles we ducked into a magic store and caught a super sleight of hand performer who had the three of us stumped with his card tricks and powers of levitation. Plus he did that thing with the little red foam balls and if that doesn't make you happy, nothing will. But I was most impressed with the store's sales approach: if you buy one of the tricks from the show, the guy will take you into a private room and teach you how to perform the trick in five minutes. I mean that's just genius. It's the puppy-dog approach to magic and ironically, it made some of our money disappear. Money well spent I say!
But into each life some rain must fall and the lowlight of our mall excursion was seeing Chewy pushing Torri around in a wheelchair. That was all the crystal ball we needed to know that Torri wasn't going to be available for Sunday's tilt with Iowa State.
Torri and Chewy have one of my favorite relationships on the team. They play next to each other on our back line and last year they developed a tremendous bond. They can keep each other laughing for hours which inspired Steve to nickname them "The two old guys from the Muppet Show." They just zing one-liners in observation of everyone and everything. The only difference is that they don't need anyone else to hear them. They are content to exist in their own little cocoon observing the world at-large. For example, a few weeks ago we were rehearsing attacking corner kicks and there wasn't much for Chewy and Torri to do but stand about 35 yards from the goal and kill time amusing one another. So as they were quietly providing a running commentary, Lex was busy having an absolute nightmare as the ball-server. After she curled three out-of-bounds in succession, Steve yanked her from the job. As Lex dejectedly made her way into the 18, Torri and Chewy went to work…
Chewy: Wow… Lex got fired.
Torri: Gettin' the hook.
Chewy: Walk. Of. Shame.
It was thoroughly hilarious and a perfectly reasonable justification for Steve's Muppet reference. Telling the story now makes me wish I could have bugged that wheelchair. I would love to hear what a day at the mall sounds like with those two.
We capped off the day with a team dinner at a sports lounge that gave us a private room with a giant television to watch the Georgia / Boise State football game. Our arrival was a major pick-me-up for the lone (and very surprised) UGA fan seated at the mostly empty bar wearing a Georgia football jersey. When 30 Bulldogs paraded into that establishment, he was downright giddy to suddenly become part of the ruling party. Okay, so the game didn't go as well as we had hoped but it was still cool just to be a part of it. I don't know that I'll ever get over that part of coaching at a "major"… getting to watch your school play on national TV. It never gets old. There just wasn't a lot of that in the NAIA. Actually, there wasn't any of it. It's just genuinely uplifting to have something like that to rally around. There really is no substitute for school spirit.
Saturday was a great day but not really because of the mall and not just because Jon had recovered. Saturday was great because of the Friday night that bled into it. The team was still basking in the afterglow of our overtime win and excited about what this season still held in store for us. A day of just being teammates on a road trip was good for the soul. But there was still that matter about Sunday's game.
When we spoke to the team after the Minnesota match, we talked about the opportunity we had to get a sweep on the road and how all the good work that we had done on Friday could be quickly undone if we tanked in the weekend finale against Iowa State. We could feel good about half the job, but it was important to remember that we had only done half the job. We needed to leave town with a pair of wins, not just one of them.
After playing on UM's field I had a new respect for Iowa State. The Cyclones were obviously going to be faster and more athletic than I originally perceived. And they were going to work hard to boot. We were in for another grinder.
Sunday's match was not a pretty one. Most Sunday matches aren't. They're played on heavy legs in warmer weather in front of smaller crowds with little fanfare. This was a neutral site fixture with a 10:30 A.M. kick-off, further dimming the atmosphere. All that remained was two tired teams trying to win a game.
We had a pretty comfortable start to the first half. We enjoyed a little more time on the ball and found there were moments where we could actually string some passes together. In the 18thminute Iowa State cleared one of our corner kicks but the clearance fell to Chewy who dumped the ball along to Sooz on the left side. Sooz shook a defender then hooked a perfectly weighted pass in behind the Cyclone defenders and into the stride of Bailey Powell who one-timed her chance past the goalkeeper to stake us to a 1-0 lead. Because of her height, we bring Bay forward on most corner kicks. Because she's a defender, she's going to milk those moments for all they're worth. So as Iowa State cleared our initial effort, Bay loitered near the edge of the eighteen just in case something materialized. Fortunately something did and she was in the right place at the right time. The supermarket boy would have been very proud.
Iowa State nearly drew level ten minutes later but Ashley Baker's acrobatic save from point-blank range kept us in front and we kept the lead into the half.
As we were discussing our halftime adjustments, we became painfully aware of the acoustics of Minnesota's locker room situation. As Steve was talking to our team, through the ceiling vent I could hear the talk coming from the Cyclone locker room. We couldn't actually make out the words, but it was clear Iowa State's adjustments were going to be more emotional than tactical. They were getting an earful. Apparently they needed a wake-up call and man did they ever respond. Momentum had already swung in Iowa State's direction in the latter part of the first half and there was no sign of that changing in the first ten minutes of the second stanza.
They came out with renewed urgency and we were struggling to hold things together. But our backs stood strong in front of Baker and Jenna Buckley was having a command performance as a starter in the center of our defense. Our forwards were struggling to hold the ball and that kept us under stretches of relentless pressure.
I don't remember what happened exactly, but I remember there were just over thirteen minutes left on the clock and I said to Jon that Iowa State may have run out of gas. It looked like they, all at once, had hit the wall. And I couldn't have been happier about that.
Four minutes later Lex pushed a ball in behind the Iowa State defense that served as a starting gun for a three-way race between Ashley Miller, the Cyclone net-minder and a Cyclone center back. All parties involved were going to intersect near the top right corner of the Iowa State eighteen. Miller got there just in time to get a toe to the ball while miraculously avoiding the collision that left the goalkeeper and her teammate in a heap. Miller, the only one left standing, calmly surveyed the situation then used the outside of her right foot to pass the ball into the unguarded net. Game, set and match.
This is how you know your team is tired… Miller scored the tournament-clinching goal and didn't even move to celebrate. Didn't even raise an arm. Her teammates didn't mob her in so much as they slowly ambled towards her like old ladies filing into the salon. Some never even made it all the way to Miller, preferring to stop five or ten yards short and save their energy. It looked like Mills had done nothing more consequential than check out a library book. The goal sealed a rare and precious away sweep and a tired group of Bulldogs were ready to make tracks for Athens.
On the flight home Robin sat surrounded by the band members of Georgia Satellite (I got a little change in my pocket goin' jing-a-ling-a-ling). We were amazed that they didn't recognize her.
As for me, I spent some time on that flight reflecting on the weekend's matches and occasionally wondering if somewhere in Minneapolis a disheartened young man was shaking his head in disgust and muttering, "Flu shots? You asked her for a freaking flu shot?"
Bulldogs are at home this weekend. Mercer on Friday night, Georgia State on Sunday.
Go Dawgs!