One Year and Wake Forest
Thursday, April 21, 2011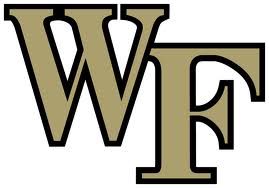 HAPPY BIRTHDAY to my best friend and the most talented person you've never heard of, Scott Arnold. But I have unshakeable faith that one day Scott will sit down and write the book that will cast him into the stratosphere of celebrity author status next to Augusten Burroughs and David Sedaris. Ask anyone who knows him. They'll tell you the exact same thing.
Speaking of famous writers, I am one now. Okay, that's not even close to being true, but I did have an article published in the latest edition of The Coaches Insider. If you're really bored, you can read the piece here. They liked it enough to invite me to write another one, so I got that goin' for me.
Seems I've fallen a little bit behind here at the Poet. Yep. May as well get used to that.
Last night Izzy is munching on some of those individually wrapped rolls of mozzarella cheese – each one about the size of my index finger. And on the wrapper of each one is a trivia question. Beth is reading them aloud. The question was, "How many cows does the NFL use to each year to produce its footballs?"
And immediately I realize this is going nowhere good.
I close my eyes and throw my head back in despair. You couldn't have skipped that question? Really? I'm silently praying that this is some type of trick question and the answer is 0 – as in the NFL has found some animal friendly synthetic way to produce footballs. It's my only hope. Izzy loves animals. Even cows. God knows I want her to love going to Bulldogs football games and this recent hobby of our is suddenly in imminent jeopardy. And I don't want to spend my Monday nights being chided by my little girl for supporting animal cruelty. So c'mon zero!!! Show me a goose egg!
Yeah. Notsomuch.
The answer is 3,000. 3,000 freaking cows to make footballs – each year. Even I found that to be a little excessive in a Joseph Stalin kinda way. Can't they use some of those balls twice and you know, save us 1500 cows per year?
So naturally Izzy is mortified and declares that she no longer likes football and that I shouldn't watch the NFL anymore because "they waste too many cows." Fantastic.
It's time for a long overdue word of congratulations to Danielle Johnson for once again earning herself a spot with New Jersey Sky Blue of the WPS. Really no surprise to anyone who knows her, but still a noteworthy accomplishment for one of the kindest souls to ever walk this earth. You know, Dee is not a star in the WPS, but I think she would be appreciated more if people knew that Sky Blue's left back is actually right footed. You could never tell that by watching her play. She's made her left foot as good as her right. And let that be a lesson to all the girls out there dreaming of one day playing professionally and thinking that you're working hard enough, because one day you may find yourself trying to take Dee's job. How hard are you really willing to work? How much time are you really willing to put in? Dee worked so hard that she made herself left footed just so she can play with and against the best players in the world. Yep. What did you do today?
When Dee was training in Athens, one day I set up a little technical challenge for her. I set Dee about 25 yards straight back behind a goal we had dragged out to midfield and set about eight yards in from the sideline. 25 yards to the other side of that goal I set up a mini-goal, 3' high by 4' wide. Just to paint the picture: you could draw a 50-yard straight line from Dee, through the center of the big goal and through the center of the small goal. Dee's challenge was to hit a flighted bending ball around the post of the big goal and into the little goal (mind you that the ball also had to stay in bounds during the entirety of its flight). In one round Dee nailed the first 12 and finished 16 for 18… with her left foot! It was absurd! You could take that big goal completely out of the picture and I doubt I could pot more than five with a straight inside of the foot pass. But dang! There she was, bending one ball after another around the big goal before skipping into the small goal on one hop. Try it some time. Let me know how you do.
I was hoping I'd get to see Dee when the Beat came to Atlanta, but unfortunately that match conflicted with our weekend at Wake Forest (notice that smooth segue?).
Last weekend some hellacious storms came tearing in from the west, raining tornadoes down on Mississippi and Alabama with Georgia and North Carolina in their crosshairs. And somehow, despite cutting a path that more or less paved their way, we managed to miss every bit of them.
We were scheduled to play Wake and NC State in a pair of abbreviated match-ups, but the anticipation of bad weather led to a change of plans. NC State was out of the picture. The Dawgs would take on Wake in a full ninety minute match beginning at 9 A.M.
Over the past decade Wake has put together one heckuva soccer program, advancing deep into the NCAA tournament and picking up some signature wins. This past fall the Demon Deacons even won the ACC Tournament - quite an impressive feat considering their neighbors from down the road in Chapel Hill. I was really excited to see how we would hold up against an ACC power. Heck, I was pretty excited just to watch them play.
Wake's stadium is a beautifully put together red brick facility that occupies one sideline. The way the field is framed by trees gives it an intimate atmosphere. The place just looks like college soccer. Built under the stadium are the locker rooms, and as the guests we were assigned the locker room for Wake's men's team. Hanging on the wall in there is a picture of their 1989 team, the only one to win the ACC Tournament. In that picture sporting a mullet that the entire 1980s would be proud of is none other than my boss, Steve Holeman. All our players took a peak at the man in his playing prime and I think it helped put everyone in a good mood to start out the morning.
Steve decided to try something different on this trip and take a really relaxed approach. Instead of having a pregame meeting in the locker room and then warming up, we just went straight onto the pitch and started the warm-up. When it was over he announced the starting line-up, offered almost no instruction and basically told the girls to go have fun. And that's what they did.
Possession has been a major focus for us since the day we got to Athens, but it never completely clicked with the team until the SEC tournament. Down in Orange Beach it was as if we discovered who we are and how good we can be when we pass the ball. It was like an awakening. That momentum carried over into the spring and ultimately peaked with our game against the Beat. I mean let's face it. When you can keep the ball from a professional team, it bodes well for your confidence. It also bodes pretty well for your results.
In the end we won 2-0. Wake had an early chance to go up 1-0 but their striker pulled her shot wide and that was their only really great look of the day. To be fair, we had a pretty good run of the park. We were patient. We kept the ball. We moved it from side to side and back again. And we looked comfortable doing it.
To my surprise, Wake was pretty direct once they took possession, mainly looking to pop balls in behind our defense for their excellent center forward to run onto. It was one of those balls that created their chance, but for the most part, they played a lot more hurried than we expected.
It was 0-0 at the half but we felt good about what we'd done. Wake had done a lot of chasing in the first stanza and we were hoping that would pay some dividends after the break.
Wake came out inspired to start the second half and had us pinned for the first five minutes. They had a pretty good look at the goal from a corner kick but missed the frame on a header from eight yards. Eventually we got hold of the ball and the game settled back into its first half rhythm.
In the 63rd minute Nikki Hill found herself with the ball and too much free time down our attacking left side. As she whooped in a hopeful serve, at least three of our coaches were muttering unhappily under our breaths about such a wishful cross. I hate when outside backs send in that serve just because they have some free time on their hands. It's a great way to simply concede possession for no reason whatsoever. Unless… Then Nikki's cross bounced in front of Carly who nudged it on to Eddy who was sneaking in behind her. Eddy smacked a first time volley over the keeper and we had a 1-0 lead. As the ball sailed into the goal the coaching staff went from Awww no Nikki to Great ball Nikki! Gotta be adaptable in this line of work, know what I'm sayin'?
Following the goal we settled right back in and did a good job of keeping the ball and staying patient. In the last ten minutes Wake changed into a 3-4-3 and threw bodies forward, hoping to drum up an equalizer. They put us under a few minutes of sustained pressure but were ultimately victimized by a pretty darn good counter attack.
I'm not sure who played the ball to spring Gibbo down the left flank, but Gibbo held off a defender near the corner of the 18, drove toward the endline and laced a low liner that found Chewy streaking in at the near post. Chewy redirected it through the keeper's legs to slam the door and cap off a 2-0 victory. Chewy had sprinted the better part of 80 yards to get on the end of that cross. It was an excellent way to conclude our spring season.
The Dawgs are idle until August 19 when we visit Furman to kick off our 2011 fall campaign. You know, it's been a year now since we first pulled into Athens. It seems like forever ago and yesterday that we said our goodbyes to some amazing people in Oxford and make tracks for the new world. Every once in a while I take a deep breath and reflect on my remarkable fortune. I mean holy smokes… I'm a coach at the University of Georgia. Beat that with a stick.