Furman and a lot of Purple
Sunday, August 21, 2011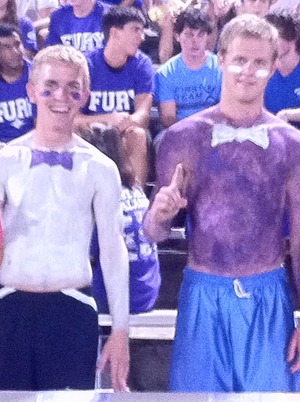 Honestly I've never seen anything like it. In 21 years – nothing like it. The slew of injuries we've sustained would seem a mathematically impossibility. Odder still, this epidemic seems to be targeting blondes; we lose one of them every second day… Eddy, Hartley, Owens, Hill… all bitten by the injury bug. As the saying goes around here, "Bad week to be a blonde." Our training staff has been working overtime on its overtime and was recently nominated for a telethon. Still, there's nothing we can do to change the past and no one is gonna feel sorry for us, so we decided we would just dig in and do our best and respond with an awful lot of hard work. And that's what we've done.
Last night the Dawgs kicked off the 2011 campaign with a 3-1 win at Furman. Furman has a beautiful soccer venue in the heart of campus that features seating on both sides of the pitch. The Palladins put 2500 purple-clad fans in those seats, the most spirited of which sat directly behind our bench and spent the evening zinging one-liners at our players and keeping our coaching staff laughing. Let it never be said that they were not an entertaining group.
We had heard that the match was going to be a mandatory part of Furman's freshman orientation and anticipated a large crowd, but 15 minutes before kick-off the stadium was still pretty empty. Then from the spectator entrance, just behind our goal, a sea of purple shirts flooded into the venue and I thought it would never end. It reminded me of Noah's ark – these purple people coming through the gate two by two. It was spectacular!
We got off to a nervous start and the first ten minutes were pretty haphazard. Slowly but surely we settled down and discovered the virtue of patience and started knocking the ball around a bit. Once we got into a passing rhythm the midfield opened up quite a bit and we started creating some legitimate chances. Let me take a moment to prognosticate for you as this paragraph is all you need to know about Georgia soccer this year. We have a style. We train this style every dang day. And when we have eleven players committed to playing this stye, we're really stinkin' good. But for whatever reason when we put on those uniforms, thee or four players forget everything we do in training and go rogue. And then we look just like pretty much every other team playing college soccer. But in those spurts where we get all eleven playing the way we're set up to play, it can really be a beautiful thing. So if you watch us play and we're playing well, it's because everyone is playing on the same page. If we're not playing well… well, I can pretty much assure you we're doing the opposite.
Our first great chance came from a corner kick that was met by a powerful header from Jamie Pollock. Jamie snapped that header with such authority that I stood in celebration only to realize that the ball actually went wide of the goal. From our angle it was an optical illusion of sorts, as I still don't know if the ball went wide right or wide left, just that it didn't go in.
The chances started coming with greater frequency but our near misses combined with some stellar goalkeeping began to remind me that the soccer gods love their practical jokes and that this game was setting us up to be the mark of a really good one. Scoring chances are all good and well but eventually you'd better cash in or you're going to end up on the wrong one of those statistical anomalies where you outshoot the opponent 18-1 and lose 1-0. I was getting a little bit edgy because this game had all the earmarks of soccer at its cruelest.
We finally cashed in from Pollock's 25-yard low screamer that skipped in past the outstretched hands of Furman's diving keeper in the 27th minute. I'm glad Pollock scored. She was a warrior for 90 minutes and an absolute monster in the air for us all night long. She deserved a goal – even retroactively speaking.
Ten minutes later we doubled the margin as Chika Ibiam, from the endline, neatly clipped a ball to the back post where Maddie Barker tucked in her first official goal as a Georgia Bulldog. Quite a story in that goal as the assist came from a player who, three months ago, was a member of the UGA women's soccer club with no intention of playing in the NCAA. And the goal-scorer? Well, as I mentioned last year, there is no one on this earth who takes more pride in being a Georgia Bulldog than Maddie. Just as Maddie was coming into her own last spring – and two days after she scored her first collegiate goal - she was felled by a knee injury that kept her sidelined for the remainder of the semester. Maddie spent the summer busting her tail to prepare for this season only to reinjure herself a week ago and her frustration overflowed. We planned to give Maddie limited minutes last night as a trial run, and man did that pan out well. She was on the field for all of three minutes before striking gold.
We began the second half with a 2-0 lead and nearly went up by a third as Sooz popped a volley behind Furman's right back and into the path of Lex who was streaking in from the left wing. It put Lex on a collision course with the goalkeeper who was charging off her goal-line. From the bench it was like watching two cars playing a game of chicken and knowing you're about to see a head-on disaster. The ball bounced once. Lex got there a second before the keeper. Fully aware that she was about to be annihilated, Lex jumped for the header and dangled defenseless in the air. As the ball looped toward the net, the goalkeeper's momentum never wavered and she crashed into Lex like a runaway wrecking ball. Both bodies fell to the grass and lay motionless. All that was missing was a small fire and a plume of smoke from the wreckage. The ball, practically an afterthought at this point, was cleared off the line by a Palladin defender. Thankfully both players got up on their own strength and carried on with playing.
Nicole Locandro put us up 3-0 in the 65th minute with a cannon from almost 30 yards. The goalkeeper got two hands to it, but the weight of the shot proved too much and it trickled across the line.
I give a lot of credit to the Palladins. Their spirit never broke and they fought hard until the final whistle. They seemed oddly reinvigorated by Nicole's goal and cut the lead to 3-1 with a nifty cross and finish combo in the 80th minute. Five minutes later they had another chance from a cross but the finishing header sailed over the crossbar and that was the last chance either side would see.
Funny thing about soccer… even when you win, it really sucks to give up the last goal of the game, especially if it spoils a shutout. Despite a convincing win our girls left the field disappointed about conceding the late goal. And if I'm being perfectly honest, I'm a little bit happy about that. For as much as I spent post-game trying to cheer up our players, I was secretly seething that we threw away the shutout. We played 75 very good minutes of soccer. Now we need to play 90.
Anyway, we're 1-0 and that's a far cry better than 0-1 so I'll take it. Next up is our home opener next Friday as the Texas Longhorns come to town. Texas is as good as any team in the nation so we'll need to produce one heck of an effort. Hope you can make it out to Athens for the 7 P.M. kick-off. If you do come out, do us a favor and wear red.
Thanks!