Truck Stop Jugglers
Sunday, March 27, 2011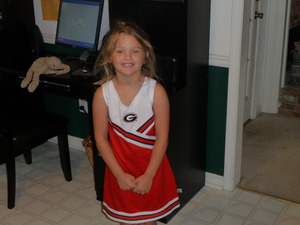 As you can see in the photo, the brainwashing of Izzy is nearly complete. If you ask her to spell Georgia, she does it in the same cadence as the Bulldog fans. She turned down a birthday party invitation to go watch the Gym Dogs. All that's left is to wean her off of that dang stuffed alligator she's so attached to. We may have to accidentally leave it at Chick Fil-A.
Believe it or not, I'm actually the idiot that bought that gator for her. It was an hour before her first visit to Athens and I wanted to have a present for her upon arrival and I knew she loved stuffed animals. I was scrambling through Wal-Mart and the dang thing was the first one I saw and it looked cute so I bought it for her without thinking and of course Izzy immediately fell in love with it. I don't think her affection was because it was an alligator, but because it was a gift from me. I really could have gotten her any animal. Heck, I probably would have given her a piece of PVC pipe and she would have been thrilled. But no, I had to go and get the kid a gator. Because it's not tough enough just to be the new kid in town. Nope. Be the new kid in Athens carrying around an alligator. Great way to make friends. By the time I realized my mistake we had reached a point of irreversible devotion. Fantastic.
Anyway, let's talk about March Madness. What an understatement. First there was the Rutgers v St. John's fiasco where three officials decided to clock out a few seconds early, because ya know, it was a week night. That was a pretty good indicator of how the rest of my March would go. Like every other self-respecting sports fan, I dutifully filled out my brackets, and before the Sweet 16 teams were finalized, I was in last place – in the world. It took all of three hours for my brackets to have more red Xs than the annual father-son tic-tac-toe tournament at the Politburo. I mean Morehead State? Really? But to be fair, that was hardly the root of my demise. Fact of the matter is that I'm just not very good at this prediction thing. I predicted Y2K would occur in June of 1998, so you see my point. I'm hoping next year will ring in the creation of the Bracket Quik-Pick at the Gas-n-Go and I'll be spared the humiliation. Pay a dollar and the computer randomly generates your brackets. Get all 63 games right plus the play-ins and the Mega-Plier and you win a dream date with Gene Keady and the DVD collection of Everybody Loves Raymond Season 1.
Speaking of predicitions…
I had to laugh at the beating Rex Ryan took from the talking heads at ESPN for predicting that the JETS would win the Super Bowl. Why you ask? No, not because JETS and Super Bowl almost never collide in the same sentence. But because of all the prognostication we've gotten from anyone who has shown his face on ESPN over the past ten years. Apparently you must be on the ESPN payroll to wax prophetic. Ten minutes before the Ryan segment aired a couple of suits were predicting the finishing order of the NFC West… a division that wouldn't play its first game for another five months... you know… if there was going to actually be a season! They were making predictions months before preseason had even begun for a sport that is currently engaged in a lockout. Is this really the right time for NFL predictions? Wasn't the Super Bowl like last week? But Rex… yesRex is the idiot. SportsCenter used to be a 'reporting' show that recapped the day's events and previewed upcoming games. Now it's 1/3 highlights and 2/3 call Ms. Cleo - because I'd rather listen to John Clayton's never-ending quest for an invitation to sit with the cool kids than see every great goal, check and save from a night in the NHL. But when an active head coach has the audacity to make a prediction, it's unprofessional. You see the irony of this one? And by the way, wasn't John Clayton the scientist on the Muppets?
But the capper to all this madness – the award winner for Head and Shoulders Above Absurd goes to Chad Ochocinco and his MLS tryout with the Kansas City Desperation. Have you seen the video of this? Well then don't. I mean, ugh. Just ugh. It's literally painful to watch. Carnival stunts aren't what our sport needs right now. Or ever. However, since what's done is done, I'm inclined to believe the NFL owes us one. How about a little quid-pro-quochocinco? My suggestion? David Beckham plays one game as punt returner for the Bengals and the fair-catch rule is suspended. Who's with me on this?
On the bright side, buried deep inside your newspaper occupying two column inches beneath the fold, Charlie Davies had a triumphant return to professional soccer by netting two for D.C. United the other night. How about we join the media in keeping that little secret to ourselves? Any other country in the world and that is front page news. In the U.S…. well, is anyone really surprised? Nah. Me neither.
Okay… The Dawgs travelled to Knoxville this weekend for a doubleheader of spring matches against Tennessee and UNC-G. That sounds a lot easier than you might expect. Let's rewind to Friday. For whatever reason, our bus company decides to make a late switch on our bus, so the bus that picks us up is low on gas. Thirty minutes north of Athens we pull over for fuel – something that never would have happened if not for the late vehicle switch. As he's gassing us up, our driver, Jeff, dutifully checks the tires and discovers that our rear left tire has a gash in it about 20 inches long, half an inch wide and deep enough to be a serious health risk. Our bus is grounded. We aren't going anywhere without a new tire. Fortunately we're already at a truck stop, so massive tires are practically in abundance. Unfortunately, we're fourth in line for service behind some 18-wheelers and being a Bulldog doesn't carry much weight here so we have t wait our turn.
Making lemonade out of our lemons, we decide to enjoy a beautiful day at Truckstop America. Some of the girls relaxed and caught some rays. A few studied. And some of us broke off into groups for a one-touch juggling competition. Let's be clear on this… the coaching staff was undefeated in this particular endeavor during the fall and much to the dismay of the players, we successfully retained our title once again . The trio of Pollock, Powell and Eddy came in a distant second. And if you were wondering how to bring a truck stop to a screeching halt, show up with twenty-some college girls. I saw one guy pumping gas for twenty straight minutes – and he was driving a Civic.
The unscheduled stop threw our ETA for a loop and by the time we got to Knoxville our 4 hour trip had taken 7 hours and I was ready for some shut-eye.
On Saturday we squared off with Tennessee at 10 A.M. and decided to experiment a little bit. We've been focusing a lot on possession this spring so we decided to stretch ourselves a little bit. So we put the team under a restriction. For the first five minutes we weren't allowed to score. All we were allowed to do was keep the ball.
This is not an uncommon restriction toward the end of a game in which you're absolutely clobbering an inferior opponent by seven or eight goals. To spare them on the scoreboard, a coach may institute some type of keep-away rule. But this was not some schmoe of a team. This was the Volunteers. And we weren't doing it at the end of the game, we were doing it right from the start. So how did it work?
Well, it actually worked way better than we anticipated. We started the game with a 16-pass run and for the vast majority of the first five minutes we played an exceptional game of keep-away. We took away the restriction after five minutes but our rhythm had been established and a great tone had been set and a few minutes later Ashley Miller took a pass from Pollock and drilled it into the upper corner from 22 yards to stake us to a 1-0 lead. And then, for whatever reason, we decided to stop doing what had made us successful and the game became fairly ragtag – which exactly what we said would happen if we stopped possessing the ball.
UT equalized from a corner five minutes later and then two minutes after that they went ahead 2-1 on another corner. That was all the scoring the game offered and we had suffered our first defeat of the spring. Tennessee worked hard, and fair play to them for the result. And frankly, a little kick in the backside may do us some good. Spring Break ended last Sunday and despite their physical presence in Athens, I'm not sure everyone actually made it back. Our heads haven't been exactly right since before the break. Training has been erratic. We've looked a little complacent and Tennessee made us pay for it.
The one truly bright spot for us was Ashley Miller who is just a joy to watch when she's on form. Miller is as smooth as they come and feels the game on an instinctive level. As coaches are wont to say, she just gets it. Miller's goal was a peach, but her entire body of work was equally alluring.
Miller's encore performance in the matinee against UNC-Greensboro was no less sensational. She danced through a trio of Spartan defenders before poking a shot past the goalkeeper to open the scoring. Nicole Locandro finished at the near post off a low cross from Holly Tomlinson to double our lead and we went into half-time up 2-0 and playing very well.
Injuries have left us a little thin up top, so as with Kennesaw State, Torri and Chewy saw some time as forwards. On the bus ride up I told Torri she might play a little up top and she said her dad would be excited, as Torri's parents were making the trip down from Virginia. Midway through the second half, Locadro's pass slipped Torri in behind the Greensboro defense. Torri outraced the field before side-stepping the keeper and passing into an empty net to cap off the scoring.
We felt a lot better about the way we played in the second match. We were a lot more patient and disciplined and kept the ball for long stretches. Most importantly, once we had the lead we didn't abandon our style. We won 3-0 and looked pretty good doing it.
On the bus ride home we watched the U.S. men square off with Argentina in the Meadowlands. Argentina's performance was simply sublime. It's one of those games where, if you didn't see it, I can't possibly convey how amazing it was to see a team so adept at passing and moving and keeping the ball in tight spaces. It really was an honor to watch, and I haven't said that very often in this lifetime.
The game was made even better by a gutty American comeback fueled by a youth movement to draw level and even create a couple of chances to go ahead. In the end the U.S. can draw satisfaction in a 1-1 tie with one of the world's very best teams.
Hey! Don't go yet! On Tuesday we're going to play against a professional team! Yep, Tuesday night at 7 P.M. the Atlanta Beat of the WPS is coming to Athens. Admission is free so you should come out and be loud and root for the Dawgs. Hope to see you there.