The Beat Monkeys
Wednesday, March 9, 2011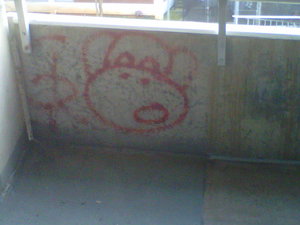 Today I asked Izzy what she learned about in school. She told me that her class was studying the middle ages. I'm big on history so I thought that was pretty cool. I asked for more detail. Well, apparently they talked a lot about a king named William the Carpenter. Yep.
I should have mentioned this a couple of entries ago, but a new coach has joined our staff. Athens native and all around good guy Jon Harvey is now the Georgia Bulldogs' goalkeeping coach. When Nooj left for UNC-G, we quickly poached Jon from his assistant coaching gig at North Georgia College and no one is more thankful for that than me. It'd been a long, long time since I did any goalkeeper training and I was coming perilously close to reassuming that role.
Shortly after Jon's arrival we introduced him to the Monkey of the Day theory. Like many upon the MOD introduction, Jon was initially skeptical. But monkeys won't be denied. On Jon's first day on staff he was walking through campus and sure enough, on the wall of the Continuing Education building, he saw a picture of a monkey on a palm tree. He looked in disbelief. Other sightings followed in short order. Jon is now a believer.
Personally, I still can't get over the MOD. I mean they really are everywhere. And sometimes, when I can't find them, it's like they find me. Last week we had a dinner at the Georgia Center which meant parking in the adjacent four-story garage. With the Gym Dogs hosting 'Bama that night and whatever else was going on, the garage was pretty darn packed. But in an otherwise full row of cars I found one empty space. As I turned into it, there on the wall in front of me, someone had spray painted a monkey. I was like, you've got to be kidding. If that thing was painted in any other spot in the garage I never would have seen it. Instead it was right there waiting for me. Good monkey.
During the NFL playoffs I met Kate and Kevin at the Blind Pig to catch the Eagles game. When you're with the Ks, it doesn't take long for the topic to get around to monkeys. They're big time MOD disciples. So we were wondering, why monkeys? Is there anything else that is prevalent enough to see each day yet only prevalent enough for you to notice once or twice a day and only if you're paying attention. Dogs, pigs, chickens and cows are too easy. Emus too rare. Are monkeys, in fact, the perfect animal?
It occurred to me that in each of the two previous days I had seen something regarding aliens – the outer space kind – and that perhaps aliens could rival monkeys. It seemed plausible. Then, seconds later, and this is no lie, I noticed a poster over Kate's shoulder and sure enough, there was an alien looking right back at me. Too weird. A minute later I got up and went to the bathroom. Know what poster was in there? Yep. A monkey.
Okay, I've gotten just a little off topic.
Jon was on board before our spring openers against South Carolina and FSU, so he already had a pair of shutouts under his belt as we headed into Saturday night's tilt against Kennesaw State. With games so few and far between in the spring, the girls look forward to any match against an outside opponent, but the Kennesaw match had an undeniable peripheral benefit – the chance to play in the home stadium of the WPS' Atlanta Beat.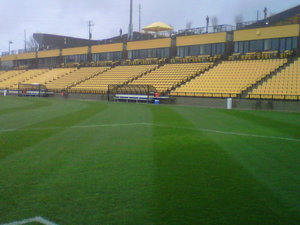 The Beat have an amazing venue that features 8,000 chair-back seats, a digital video board and one immaculately groomed playing surface. It's one of the nicest soccer venues in the country. Rains kept a lot of would-be spectators away, so it was like we had this giant stadium all to ourselves.
Unlike the abbreviated matches we played last weekend, this time we were going the distance, playing two 45-minute halves. However, exactly like last weekend, it took a few minutes for the Dawgs to come to life.
Kennesaw took it to us a little bit for the first five or ten minutes, but eventually we settled into a rhythm of passing and moving and once that happened, the chances started creating themselves. The first goal started with a goal kick from Baker that found Sooz at midfield. Sooz knocked it down to Eddy who found Gibbo down the right side. Gibbo beat her defender on the dribble and then laced a low driven cross that Lex took on the full volley, turning it off the back post and into the net.
Because injuries left us a little short on attackers, we got the chance to let some of our defenders run around up front. I don't care what level you coach at, it doesn't matter how long someone trains to play their assigned position, no matter how many practice sessions they endure or how many hours of film they suffer through, they all want to play somewhere else. Forwards want to be goalkeepers. Goalkeepers want to be field players. And defenders want to be forwards and get their chance at scoring goals. And every once in a while, dreams do come true.
Torri moved from center back to center forward and two minutes later doubled our lead by outracing the Kennesaw defense and neatly tucking away her breakaway chance. At that moment Torri was averaging 45 goals per game. (Think about it.)
One of our training topics in the week leading into the match was overlapping to get our outside backs into the attack, and that paid off handsomely with our third goal. As part of our defender relocation program, Chewy was moved from right back to left wing. With ball at her feet and Nikki, the left back, steaming past her down the sideline, Chewy spun and threaded a pass to her overlapping cohort. Nikki picked out Nicole Locandro with her cross that Locandro popped home at the near post and we went into the intermission with a 3-0 lead.
Once we decided to keep the ball we had a pretty stellar first half. The only notable failure was when I nearly took out the KSU coaching staff with a driven ball that had them employing Matrix-like evasion techniques. But that's another story.
The second half was much like the first. We survived KSU's initial five-minute burst and then settled into our style, keeping the ball, stringing together long runs of possession and then watching the chances create themselves. I don't like that it takes us so long to get going, but once we get there, it sure is pretty to watch.
We didn't add to our total in the second half. KSU's goalkeeper had a sensational performance to turn away chances from Lex, Nicole, Miller, Gibbo and Torri. We had one goal called back and hit the bar twice. It would have been nice to inflate the margin a little bit, but in the end it was a pretty convincing result. The shot total stood 17-6 in our favor and Baker was never tested, having to only make one pedestrian save. All in all, a good night's work the Bulldogs.