Separation Anxiety
Wednesday, September 1, 2010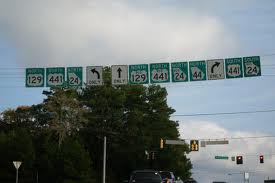 Today is a big day in the world of college soccer recruiting because on Sept. 1 the NCAA officially recognizes high school juniors as well, high school juniors. That means it becomes permissible to write/email your prospects. And for the prospects, it's a little like Christmas morning as they get to look under their tree (In this instance 'tree' is a metaphor for computer, IPhone, what-have-you) and see what Santa (college soccer coaches) have left for them. Pretty cool day if you ask me.
So much to my surprise, and I really can't express the vast extent of my surprise, SoccerPoet is off to one heckuva a start. We've had over 12,000 hits in the first four days and now count subscribers across the U.S. as well as England and Holland. Gotta be honest… I'm completely dumbstruck by the amount of traffic we're seeing here.
Perhaps the coolest part of this little lab monster is how many old friends have reached out to reconnect. Like my good friend and former roommate/golfing partner Scott in Bucklin, MO. Yeah he's a St. Louis Cardinals fan so we won't be speaking during the stretch run of the National League playoffs, but after that we'll be back to normal.
One of the very best players (and people) I've ever coached, Abby, holds the distinction of being the first person to email the site. If you followed my old journal then you'll remember me raving about the girl we all called Odie. Great to have you back, Odes!
A lot of the old players have found their way here which is fantastic! And the list goes on and on and I get happy just thinking about it.
This weekend the Dawgs are on the road for a pair of in-state contests. On Friday we travel down to Macon, once home to the greatest nickname in all of professional sports in its now defunct ECHL hockey team, the Macon Whoopee. It might surprise you to learn that Macon also has quite the rich musical past, claiming The Allman Brothers, two members of R.E.M., Little Richard, Jason Aldean, Otis Redding and Young Jeezy as native Maconites. To be fair, I have no idea who the last dude is but he was listed on Wikipedia so it must be true. I'm thinking he's friends with that Fresh Prince fellow.
Macon can also claim the worst game of college soccer I've ever seen, and assuredly one of the three worst ever played. It was 16 years ago. I was an assistant coach at an NAIA school and we were playing against another NAIA school and let's just say the talent pool on that field was too shallow to float an egg. My team was not-quite-average but their team was just plain bad. All of which wouldn't have been so terrible if the field wasn't the size of my driveway. It was 60 yards wide and 100 long so the ball was out of bounds more than it was in bounds. In retrospect I've dubbed this particular match 'The Festival of Throw-Ins.' I've never seen a game that comes close to matching that one for throw-ins taken. It was so bad that at some point I had my manager start keeping a running tally of throw-ins. There were sixty-some... in the second half! On the van ride home half of our kids had their arms packed in ice. The next day I nominated their sideline ball-shaggers for the Conference Team of the Week.
A couple of the guys from our men's team drove over to watch the match and at some point I lost my patience and told my boss I couldn't take it anymore. Then I walked over and sat with them in the bleachers. And just so you have some closure, we won 1-0. It was the only one-goal game that could've justified a mercy rule.
The game has changed a lot since then and anyone who was there that day can tell you that it's a very good thing.
It won't look anything like that on Friday. Mercer is not an NAIA team. They are a Division I team on the rise and let's face it, we're their game of the year. They've got the Georgia Bulldogs at home on a Friday night in Macon. That's going to make for one very inspired opponent. We've heard they're talented and athletic and that they are going to pressure like crazy. But to be fair, that also sounds a lot like the team they'll be playing.
We drive home Friday night and then Sunday hop back on the bus to Atlanta for a game with Georgia State. Georgia State is off to a sensational start as they've chalked up wins against Mercer and Jacksonville State. They'll square off with Georgia Southern on Friday night so hopefully that'll be a tight game and put some wear and tear on their legs. Because you know what, we'll be their game of the year, too.
Since we'll be doing so much travelling through The Peach State this weekend, I feel obliged to mention one of Georgia's unmistakable idiosyncrasies. If you ever drive here and get off the interstate you need to be prepared for this. It seems that the engineers who designed/named the state's roads suffered from some type of separation anxiety with their projects. So when one road ends and another begins, it doesn't get a new numerical designation. Instead, it just adds a new numerical designation the way a city bus adds passengers. So when Hwy. 24 ends at Hwy.129, it doesn't become Hwy. 129. Nope. It becomes Hwy. 24/129. And that's how it stays until it reaches Hwy. 441 at which the triumverate becomes Hwy. 24/129/441. You can follow this north and get on the Athens loop at which point they morph into Hwy. 24/129/441/10/8/78. And of course some of them are north and some are west. It's absolute madness! The road signs here look like Powerball tickets! The funniest thing is listening to the voice of your GPS telling you what ensemble of roads you're on. It's an entire dissertation. The poor guy is hoarse before he's done.
It's even like this in the more residential sections. For example, there's a street nearby called Cedar Shoals. I follow this road on my way to work. Eventually it ends at a T and you can only go right or left. At this point you are on the corner of Cedar Shoals and, you guessed it, Cedar Shoals.
Huh?
I've really never seen anything like it anywhere. If the ocean had that type of numbering system the Pilgrims would have landed on Fraggle Rock.
If you ever lose your way in Georgia and you ask someone how to get to a certain highway, say Highway 78, they won't just tell you how to get there. First they'll ask, "Where ya headed?" In early days as a displaced Yankee I thought they were just being nosy Southerners. Eventually I learned that I was far better off asking how to get to a town than how to get to a road. Always trust the southerners. Of this I learned.
Okay, today's Monkey of the Day is from America's Funniest Home Videos which I had on as background noise while I was grillin' up a big ol' salmon fillet. Just as I was sitting down, this little feller appeared on my TV.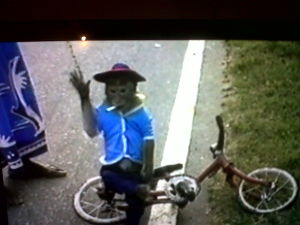 Got a comment about this blog? Contact me.