The Big Sigh
Wednesday, April 18, 2012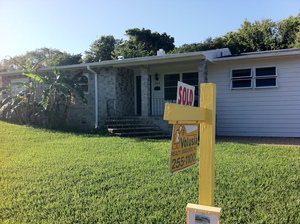 My best friend, Scott Arnold, recently told me that I was the second-most nostalgic person he knew, next to his brother. Okay, so I was obviously disturbed about the runner-up finish, but I decided that there was no shame in a silver medal for this particular event.
On Saturday morning I left Athens and headed 400 miles south to Daytona Beach to clear out the last few possessions collecting dust in the garage of a house I hadn't slept in since 2007. I had to figure out what I wanted to keep, what I could fit into my car, and what I'd have to leave behind. By Sunday night I was all packed up and all that was left was to close my eyes and go to sleep in my old bedroom… One. Last. Time.
On Monday morning I was signing the papers that officially closed the sale of the first house I ever owned, and with it, a chapter of my life. The original Casa Blank was under new ownership.
Okay, the house was no palace. It was more or less a glorified surf shack, a block and a half from the sands of Daytona Beach. But it was sturdy and spacious and all mine. It had hardwood floors and a two-car garage which at various stages doubled as a weight room, darts room and yes, a driving range. Ahhhh, the things you can get away with when you're single.
The back porch looked out into a tropical backyard with palm, orange, avocado, grapefruit and banana trees. In the six years I lived there, the orange trees never produced a single orange and I did everything but sing to them. On the day I left in 2007, the first orange finally appeared, and it was still way too small and green to even consider eating. Now those trees produce more oranges than an Indian River fruit stand. Naturally. So I helped myself to just one of them, trying to right a cosmic injustice. It was delicious. Of course it was.
Besides the palm trees, the banana trees were my favorites. Not because of the fruit; the squirrels always pilfered the bananas before they were edible. I loved the banana trees for purely aesthetic reasons. With those big long leafs drooping around, they just look so dang tropical. Stepping outside made me feel like a regular Jim Hawkins. So the banana trees and birds-of-paradise and aloe plants were scattered abundantly around the yard in my attempt to recreate Little Havana. Every time I stepped out of my house I wanted to be reminded that I was living at the beach. Of course a cool evening breeze and the sound of the ocean helped out with that.
One of my favorite hobbies was to wake up, make a cup of coffee, go out into the backyard and pick a grapefruit, then sit on the porch enjoying my breakfast with a little Jimmy Buffett playing softly in the background. I couldn't control what the rest of the day had in store, but I could sure as heck guarantee that it would start in peace. So I spent most mornings on the back porch, most nights on the front, in a hideous wooden rocker known as the thinking chair.
The thinking chair's frame is so thick and heavy, you would think it was carved for a Viking king. The original cushion had some atrocious orange, white and brown floral pattern that has since been recovered at least twice. But despite its appearance, the thinking chair is the most comfortable thing I've ever sat in. And legions of friends/neighbors/visitors would tell you the same. The cushions on that thing had to be nine-inches deep. It was like sitting in a cloud. This past weekend, at least seven different people asked if I was taking it with me. Regretfully, I was not.
That chair and that porch hold a lot of memories. My great friend and former roommate Scott Sappington (co-creator of the garage driving range) proposed to his girlfriend there. They are happily married with two kids and living in the Midwest. I sat in that chair through three hurricanes in 2004 – Charley, Frances and Jeanne – tucked against the wall and enjoying a stogie as the rains poured down and the world blew by. During the extended power outage from Charley, my house became a meeting point for the locals who had refused to evacuate. I met more of my neighbors in those few days than in all the other years combined.
It was so strange walking through that house, as empty and quiet as the day I moved in – just a big, hollow space waiting for someone to make something of it. It was sad to think about all the work that had been put into it, and all the people that had passed through. I took a lot of pride in making that place my own. I can tell you the story behind every screw, every fixture, every coat of paint. I can tell you about my first epic battle to change out a toilet; or when the garage fridge died with freezer full of (previously) frozen bait; or the time a legitimate world-class athlete helped to strip the wallpaper from the kitchen wall. That will always be my first house. It will forever be the place where I spent my thirties. But it's someone else's now, and despite my best efforts to prolong it, another chapter of my life has officially closed. Ya know... I really hope they keep that chair.
Second place?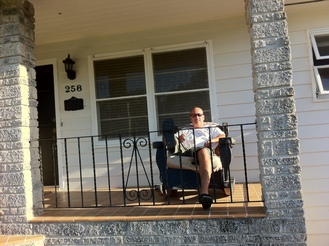 I don't reckon.