Holy Comebacks!
Wednesday, October 12, 2011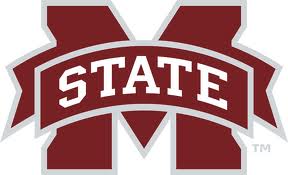 This week I spent $90 so Izzy can take ukulele lessons. So that's fabulous. I imagine the shine will be off that apple in a day and a half and nine years from now I'll be trying to sell a ukulele at a yard sale. Then again, the little monster has a habit of surprising me and she really is a born performer, so maybe this will be the start of her burgeoning career as a pop star. At least that's how she tells it.
I know the entries have fallen off lately but, on my honor, it's only because I'm swamped with the work that I'm actually paid to do. I got about halfway through an entry for the Florida/South Carolina weekend but couldn't bring 'er home. Can't pretend I even started anything about the Arkansas/LSU weekend which is a pity because I had plenty to say about that one. Tomorrow we head up to Vandy so let's just get to Friday night's game against Mississippi State and an experience I can only describe as surreal.
Mississippi State had taken a four-point haul in its previous SEC weekend that included a 2-0 stunner of Auburn. Watching the video it was clear that result was no fluke. MSU worked their tails off and deserved the points. They were playing with more spirit and belief than I'd seen in years and they were coming to Athens riding a wave of momentum. This had all types of potential to be a bad night for us. It ended up being a night that was more weird than anything else.
MSU nearly went ahead in the first minute as the Dawgs tried a little soccer suicide by passing the bal directly to their center forward. A thunderous desperation tackle by Jenna Buckley ended that threat, and everything was right as rain… for another four minutes. In the fifth minute, MSU scored on their first shot of the game and I'm pretty sure that it was the first touch of the match for the girl who did the scoring. In between those two moments we were actually playing pretty well. Playing well and trailing became the preeminent theme of the night for us. Going down a goal didn't noticeably affect us. We didn't sulk, didn't panic. We got right back to playing how we play - stringing passes and combining and creating good looks at goal, and we seemed to be getting a little bit better with each passing minute. I mean we were playing really well and doing it with a lot of energy and I'm sitting on the bench thinking it's only a matter of time until we score. And then it was 2-0. MSU had taken two shots and scored on both of them. And it was so strange because in terms of our passing and movement off the ball, we were having one of our best games of the year, but still, there we were, trailing by two.
Maybe because it was at night and maybe because the weather was the perfect type of crisp, but the whole evening seemed sorta dreamy. As I watched the game unfold and watched State pull further away, I was never really upset, and it wasn't because I had this steadfast belief that we would win the game. There wasn't a doubt in my mind that we were the better team and that we could mount a comeback, but soccer is a funny game and we were in a pretty big hole and Mississippi State was working really hard and their goalkeeper was having a epic night and let's be honest, things really weren't looking so good. I was wondering if maybe this just wasn't our night or if maybe Mississippi State was destined to have one of those magical, out-of-nowhere, fairytale years and we were just preordained to be a part of their story. But as the half wore on and we couldn't make a dent on the scoreboard, I was strangely at peace because I watched our kids play some absolutely beautiful soccer. I really didn't know what adjustments we could make because we were peppering their goal with one good chance after another and in a game of soccer, that's all you can really ask for. I figured we would pull one back by halftime, but when that didn't materialize we had to make peace with the fact that the second half was going to require an even greater level of urgency.
At halftime we said we're going to win the game and we laid out a plan to do it. Part A of that plan was to score in the first ten minutes. Didn't happen. Didn't happen in the second ten minutes either. Or the third for that matter. As a matter of fact, things went from really bad to perilously worse when MSU was awarded a penalty kick with 25 minutes left on the clock and promptly stretched the lead to 3-0. I remember thinking Wow, everything is really going right for them tonight. I hope they bought some Powerball tickets.
I didn't know if we could possibly play any better than we had been playing, but on the scoreboard we were being routed. It was around this time that I realized I was dreaming. I had to be. Have you ever been in a situation so colossally bizarre that you realize it can't possibly be happening and it suddenly occurs to you that you must be dreaming and so you slam on the brakes and pull yourself out of it? Well for a split second I genuinely wondered if I could pull myself out of this mess because there was just no way we could be losing this game and certainly not by three goals. On average, a soccer team scores once every nine shots. The stronger teams score once in seven. We had taken 24 shots in the first half alone! By this time the shot total favored us by a count of about 28-10… and we were losing 3-0??? No way. Can't happen. But sure enough, there we were having one of our best all-around performances of the year and trailing by three to Mississippi State. It was just so very peculiar. And I remember thinking that there's no way anyone who wasn't at this game will ever believe that we were the better team. They'd certainly never believe that we had actually played well.
I was wondering what I would say to the team if we lost. What was there to say? Hey, you played freaking great… sorry we lost by three goals. Everyone knows that soccer is a strange, strange game and that more often in soccer than any other sport the better team loses, but on this night the disconnect between what was happening on the field and the scoreboard was so vast that it would even be hard to convince a fellow coach that we had put on a strong performance.
A few weeks ago when we were down 2-0 to Mercer it was because they were outworking us with such gusto that by halftime even I was practically rooting for them. But that wasn't the case with State. Yes, they were working hard, but we certainly weren't being outworked. Our work rate was actually quite admirable. To be honest, we were playing some of our best soccer of the year and I was sitting there just enjoying watching us play. How are we losing this game by three goals???
The only thing we weren't doing well was finishing and at least some of that could be attributed to quality goalkeeping. Like I said, sometimes it just ain't your night. I was however hoping that because a PK had been awarded to State that one would also be coming our way, because in soccer, that's a fairly common dynamic. Not six minutes later…
In the 72ndminute, State was whistled for a handball in the box and Lex got us on the board with a PK. Our 32ndshot of the night had cut their lead to 3-1. By this time State's tank was pretty close to E. Their kids had spent a lot of the night chasing and it seemed to hit them all at once. The midfield had opened up considerably, which favored us, and the game evolved into one-way traffic headed at their goal. We'd been playing with four up front since the third goal and it wasn't causing us much trouble defensively. It was pretty simple to crack the code about how the last 17 minutes would play out: we were going to throw everything we had at them. State was going to hang on for dear life.
We came at them in wave after wave but the goals were mysteriously elusive. It was evident we would have enough good looks to tie or win the game; the question was would we actually capitalize on them. And that dang goalkeeper was making a career highlight film in one night.
We had to wait another ten minutes before we closed the gap further. Miller shook a defender on the endline before sliding a pass back to Owens at the corner of the eighteen. Owens faked once to free herself of a charging defender then smacked a low shot inside the near post to get us to 3-2. It was her first collegiate goal.
Owens goal brought us to within one and you could sense the energy in the stadium rise with the hope of salvation. Ten minutes earlier we were facing a horrible defeat. Now the impossible looked downright believable. We were staring at an eight minute game of beat-the-clock and the crowd ooooed and ahhhhed with every kick of the ball, every shift in momentum, every tackle, every shot at goal. It was a total emotional frenzy.
In the 96thminute, Jamie Pollock bent a sublime ball over the MSU defense and into the path of Meghan Gibbons. As Gibbo touched the ball past the charging goalkeeper she got absolutely clobbered. And from the category of things I think I've now only seen twice in 21 years of coaching: a third penalty kick. Lex stepped up and stuck her shot past the diving 'keeper and we had come all the way back to level the match at 3-3. The crowd went bananas! Crazy, right?
With two minutes left in regulation, we got a free kick deep in MSU territory near the sideline – for all intents and purposes, a corner kick. Lex served it in and Bailer Powell snapped a header that beat the goalkeeper and made tracks for the upper part of the net, but a State defender rose up like a Chinook salmon to head it out of danger, and we were headed to our fourth overtime of the year.
The first overtime came and went quietly and we were facing the final ten minutes. Miller had played an extraordinary game but she was spent, leaving us with a difficult choice: leave her on or pull her off. We left her on, hoping she could produce one singular piece of magic that might win the game.
MSU hadn't had a dangerous foray into our end since their penalty, but two minutes into the second stanza of OT, they dropped a ball in behind our defense that looked like all types of problems. Baker charged out and threw herself into a tackle thirty-five yards from our goal that probably saved the game. Baker's tackle set in motion a beautiful series of events: Locandro played a square pass to Chewy who drove a ball up the right sideline where it was flicked on by Sooz right to the feet of Lex. Lex ran at the MSU defense then slipped a perfectly weighted seam ball into the path of Miller, putting Mills 1v1 with the MSU 'keeper. With her first touch, Mills tucked her shot inside the near post and just like that, history was made. Georgia Soccer had achieved its 200thwin in program history thanks to the biggest comeback… also in program history… in a game that featured three penalties. MSU's 'keeper set a school record for saves (as did the Ole Miss 'keeper when we played them in 2010) and Lex set a Georgia record by taking 17 of our 42 shots. Wait a minute… One player took 17 freaking shots??? In one game??? Like I said, it was surreal.
We turned a three-point weekend into a six-point weekend on Sunday, dropping Ole Miss, 3-0, and playing well while doing it. Sooz and Gibbo scored in the first half. Gibbo's finish was another from her signature line of poaching as Maddie Barker's volley deflected neatly off the crossbar and landed precisely where Gibbo was standing, four feet off the goal-line. Gibbo tucked it in with her first touch, as she is prone to do when she's a yard and a half away from the goal. Nikki Hill collected her first collegiate goal early in the second half as she slammed home Lex's free-kick pass that had miraculously circumnavigated its way through seven sets of legs on its way across the 18. If you didn't know it was Nikki's first goal before it went in, her celebration pretty well gave it away. It was a stunning rendition of a little thing I like to call, The Butterfly Fancy. All in all, it was a good weekend to be a Dawg.