UNC-Greensboro and The Penguin
Monday, September 19, 2011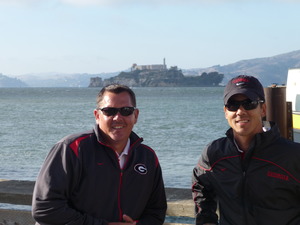 Last night Beth was working so Izzy and I were gonna have ourselves a Daddy Delight Dinner: thick ribeye steaks, steamed clams, and some grilled vegetables that we could throw out later. But first there was a little issue of math homework that needed tending to. Seeing Izzy's allergy to homework, it's fascinating that we're not blood relatives and I'm sure my parents are enjoying some sense of cosmic justice about that. Izzy is a Level Five expert at homework avoidance and I find myself trying to impart the same failed logic onto her that my parents tried imparting on me with the same disastrous results: If you didn't spend all this time trying not to do your homework, you'd be done by now. Yeah. Because that works.
Well, pretty early in my parenting journey in a desperate attempt to motivate Izzy to do some math, I reflexively turned to coaching… because this is healthy. I broke out my stopwatch and challenged her to finish her sheet of addition problems in ten minutes. I told her I didn't think she could do it. You'd have to be reeeeeallllyyyy smart to finish in ten minutes. (I may have also bribed her with the promise of a bowl of whipped cream.) Nine and a half minutes later – BAM! She was done. And wasn't I feeling like quite the problem-solver? I'm not so sure that the timing method would get Dr. Spock's seal of approval, but it gets the homework done and saves me the aggravation of arguing with a seven-year old, so as far as I can tell, it's a win-win. By the time she needs counseling she'll have graduated, right? In fairness, I try to use the math-for-time technique (which I'm pretty sure I invented) only as a last resort. Well yesterday was one of those days when Izzy's math just wasn't going to get done if I didn't turn it into a competition, so out came the watch. On the bright side, she finished 100 math problems in seven minutes. Unfortunately she got five wrong. When I saw that she got 7+3 wrong (I think), I said, "C'mon Iz, you know better than that. How did you get that wrong?"
She shook her head and said, "I just wasn't focused."
Huh?
That's when I began to wonder if Izzy wasn't spending a little too much time around our team. Did she really just say 'focused?' If she ever asks me to wrap her ankle before school, I'm banning her from the training room.
As for the Dawgs…
Our non-conference schedule concluded with a trip to visit our old friend Nooj at UNC-Greensboro. We knew Nooj's side would be ready to stand toe to toe with the Georgia Bulldogs. Some quote/unquote "mid-majors" fall to pieces when a BCS conference team walks onto the field. UNC-G? Notsomuch. There's nothing "mid" about the UNC-G soccer program and its storied history of success. The Spartans non-conference schedule has basically been a suicide mission as the defending Southern Conference champions have squared off with Duke, UNC, Wake Forest, Tennessee and Virginia Tech. They've seen some of the best soccer this country has to offer so as far as they were concerned, we were just the same Dawg with different fleas.
We knew we wouldn't face another coach who knew more about us than Nooj. He had either coached or helped recruit practically all of our players. He knows our system and our style as well as any coach ever will. He was familiar with every player we would put on the field and had surely passed that information onto his players. So neither tactics nor style was going to win that match for us; it was going to be all about winning our individual battles. And that's how we framed it for our team: Knowing that the kid you're up against knows more about you than you'll ever know about her, can you still look her in the eye and I say I'm gonna whoop you?
For the second match in a row we got off to a quick start and looked pretty sharp going forward. Ashley Miller got us on the board in the 8thminute. J.O., back to goal at the six, held off a defender and laid an inviting pass back to Mills who smacked a first-time shot through a crowd of defenders to put us up 1-0. Fourteen minutes later Maddy Barker got on the end of a big cross from Lex and banked her half-volley off the post to double our lead. And that's where the carnival began.
Have you been reading the Poet blogs lately? Specifically, have you read the last one? You know this thing we have about conceding a goal shortly after we score one? Yeah well we set a new benchmark for ineptitude by allowing the Spartans to answer our goal with one of their own a mere seventeen seconds later. And I'm pretty sure I had an aneurysm right there on the bench. Seventeen seconds? Do you know how many things you can't do in seventeen seconds? It takes me longer than that to get down and back from my mailbox. It takes longer to send a fax. It takes longer to eat a single Buffalo wing. Seventeen seconds! It's an infinitesimally small segment of time we're talking about here. And you know what? From the bench we could absolutely see it coming. It was like watching a car wreck develop and being helpless to prevent it.
Our celebration of Maddie's goal was textbook contentment. Our collective posture changed from determined to leisurely. Oh look at us. We're winning 2-0. Woo Hoo. Great news everybody! The game's over.
Except well, you know.
UNC-G tapped off the ball and the next time we touched it we were picking it out of our net. Six players could have prevented the goal. None of them did. Instead we mailed in the effort and Greensboro made us pay. I may be out of ways to explain this to our team and the fact that we can't learn our lesson has me completely perplexed. I mean how many times do you have to burn your hand on a hot stove before you stop putting your freaking hand on a hot stove? Exactly how many disasters does it take before you bridge that little disconnect?
You see the greater lesson here is not just that the margin on the scoreboard shrunk and it's not that we lost another freaking shutout. The real lesson here is how that goal changed the entire complexion of the game. We had UNCG under some heavily sustained pressure between our first goal and our second. Their spirit was wavering. When we went up by two we were looking at an opportunity to end the game by halftime. Instead we give up the goal and suddenly they are energized and rejuvenated and anything else that generally means a bigger problem than they were eighteen seconds earlier. They start playing with renewed spirit and now we have to withstand the storm for the next few minutes all because we didn't think it was important enough to rid them of their belief. Hey! Who wants to see if the stove is hot?
I gotta give Anson credit. Even when his team was the team, even when they were head and shoulders above the second best team, they didn't take their foot off the gas until their opponent was good and dead. I would wager that they went for the kill better than any team in the history of organized sport. They didn't know what it meant to ease up. They didn't just outscore opponents; they beat them into tiny clouds of demoralized dust. Yes they routinely smoked their outclassed opponents by a 9-0 score-line, and yes some of that can be attributed to a talent gap. But how many times does a team that can win by nine actually have the commitment to do so? More impressive still was the Tar Heels commitment to pounding one opponent after another by nine goals. You might think that after you rattle off seven straight wins by outscoring your opponents 56-0, your players might get a little bit satisfied or even bored and show some signs of human nature. But nope, not the Heels. When they played it was total bloodlust.
I remember watching the 1992 national final on television when the Tar heels clobbered Duke 9-1. Here's an interesting fact you may not know about that match: Duke scored first. Yep, Duke scored first on a brilliant diving header to take the lead. Moments later the Carolina massacre commenced. Once Carolina bagged the first they scored so many in succession that the UNC pep band literally couldn't keep up. UNC scored and the band dutifully began playing the Tar Heel fight song. Before the song had ended, UNC had scored again. The band still had to finish a few bars of the first rendition and then immediately begin the second one. Just moments later, another UNC goal beat the band to the end of its second rendition. The Heels went in for the kill with an urgency that would make a shark blush; and that was their defining quality.
Here's the thing… who in the world was ever going to come back from three goals down to beat a team with Lilly, Hamm, Venturini, etc? You know who? No one! Absolutely no one! And the Heels knew that! If there was ever a team that could afford to get a little comfortable with a three-goal lead, it was the UNC teams of the late 80s and early 90s. But they didn't. They beat dead horses with such fervor that it seems almost impossible to imagine. That 1992 team outscored its opponents 132-11! For every one goal they conceded they scored 12! Are you kidding me??? At that time it was practically a birth-rite for Carolina seniors to graduate with four national championship rings. I mean what did they really have left to prove? Not a darned thing. But they attacked every opponent like it was a matter of life and death and they beat those opponents until it was only a matter of death. When I look at a team like that and the bar it set for the psychology of competition, it dumbfounds me that any team could get complacent with just a two-goal lead and 70 minutes left to play. Are you feeling my pain here?
Okay, I'm a simple man and I don't have a lot of big thoughts but the whole competition thing always made perfect sense to me: Beat them down until they can't get back up because if you don't, you might lose. Was I the only person at school that day?
You know what this is like? It's like the old Batman show where the Penguin would capture Batman and Robin and instead of just, you know, killing them, he'd tie them to some type of elaborate conveyor belt-of-death and then leave the building, assuming that the Dynamic Duo would end up getting chopped into pieces by the giant band-saw. Of course the good guys would always escape in the nick of time and go on to save the day in a 2 v 12 battle royal. Penguin never learned his lesson either. I mean how many times do you let the enemy escape the newfangled death-trap before you disperse with all the drama and just shoot them? Hot stove, Penguin. Hot stove.
Anyway, UNC-G had brought the game to 2-1 and we had to start all over again. Meghan Gibbons had two brilliant assists on the night, and the first one was a one-time redirect of a long ball from Jenna Bukley that sent Torri Allen in on goal from 30 yards. Torri outraced a defender before side-footing a shot past the charging goalkeeper and we had reclaimed our two-goal lead five minutes before the break.
Torri's goal gave us a little breathing room but with our pattern of intermittent consciousness, who knew how long that would last? Calculating an emotional surge by the Spartans coming out of the intermission, we figured the result would likely be decided in the first ten minutes of the second half. If we could keep UNC-G off the board early, it was going to be difficult for them to erase our margin. The key was beating them to the punch and outmatching them emotionally in the opening minutes. We needed to reestablish the momentum wave we'd been riding when the first half expired.
Thankfully we came fast off the blocks and had several solid chances to stretch our lead. Jamie Pollock had a great chance from a corner kick but her shot was deflected off the line by a fortuitously positioned post player. Minutes later, Lex curled a shot from 22 yards that was earmarked for the upper corner of the far post but the Spartan goalkeeper made a sensational play to parry it over the bar. We finally broke through in the 82ndminute when Carli Shultis dispossessed one of the Spartans along the sideline in front of our bench. Shultis quickly shuffled the ball forward to Meghan Gibbons who ran through one tackle near midfield to start a fast break into the UNC-G goal-box. When she was eight yards from goal, Gibbons threaded a dazzling pass across the face of the goal to Sooz Dennis. Sooz outfought her defender for position and buried her chance into the side netting to close out the scoring.
One of the things you learn to lean on in coaching is the constants. Some players are thoroughly unpredictable from one match to the next and that's just maddening because none of us are fortune tellers. When you know what you're going to get from a player, it makes the job a lot easier. And with Sooz we know we're always going to get tireless work rate and infinite courage and a relentless commitment to the cause. You get eleven players that play with her conviction and you'll hardly lose anything, and even if you do, you'll walk away with a clear conscience.
Sooz has had plenty do with a lot of the goals we've scored this year, particularly in Minnesota, but that was her first time as the actual goal-scorer in 2011. It's nice to see a player who works so hard finally get a sliver of the spotlight pie. She's sure earned it.
The 4-1 win was a nice way to end our non-conference schedule. On Friday night an outstanding Florida Gators team comes to Athens to ring in SEC action. Should be an exciting one. Hope to see you out there!