Tiny Little Soccer Men (who sometimes lie)
Tuesday, November 29, 2011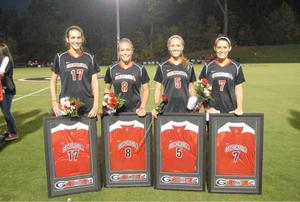 As our bus rolled back into Athens on a cold, gray and otherwise unremarkable afternoon, I took a deep breath and accepted the annual reality that another season had officially come and gone. Our three and a half month frenzy has, with neither notice nor fanfare, dissolved like a solitary snowflake, leaving behind nothing but the hollowness of a day without purpose. Inspiring, right?
It's my least favorite day of the year. Well, it's one of two, but both for the same reason. The other will be Tuesday, typically a training day while we're in season. And when 3:30 P.M. rolls around this Tuesday and the soccer complex isn't bustling with players scrambling to get on the field, it'll be the nail in this season's coffin. When it's time to do, do, do – I'll be sitting behind a desk doing nothing at all. Blah.
I'm guessing that most people measure a year from January 1 to December 31. Some may measure a year from one birthday to the next. I measure my years by the passing of a soccer season. The year starts on the day we open preseason and ends on this day. At the end of each season is the only time I really stop to consider that I'm another year older.
Steve Nugent has been kind enough to remind me that the Poet has been skinny on entries this fall. Yep. Sure has. But I promise I can do a better job if someone can just figure out a way to add six hours to each day. Time is a fleeting and precious commodity during the season. And many a Poet entry was started then scrapped and red-stamped as forever incomplete. (Case in point: this entry was started on Nov. 11. It's now Thanksgiving night and I'm in a hotel room in San Diego trying to polish it up.)
You know what eats up a huge chunk of my time? You really won't believe this. I certainly never imagined it, but I spend a solid 20 hours each week just on video projects. Isn't that just a little bit absurd? Each week I try to watch at least seven games: the two we played, three of our upcoming Friday opponent and two of our upcoming Sunday opponent. I also try to create 3 DVDs each week: a DVD that reviews the weekend performance of our defenders, and a scouting DVD of each of our upcoming opponents. And then of course there is the time it takes to actually meet with the defenders (at least twice each week) to show the DVDs. The only reason I tell you this is that the other day I was thinking about it and I wondered what in the world I did to fill up my days before I had such unabated access to video technology. Honestly, it's a little unnerving. I mean, what was that 20-hour block previously dedicated to? I clearly remember working a lot of long hours, but I really can't remember why. What the heck was I doing? Or more precisely, what the heck am I forgetting to do now and how important is it? I can't account for everything that video has nudged out of my weekly allotment of hours, but writing for the Poet is certainly high amongst the list of casualties.
But back to our story…
The final two weeks of the regular season saw us pass on one opportunity after another to cement a spot in the NCAA Tournament and actually win the SEC regular season title. Our fellow SEC schools did what they could to leave the door open for us, but we repeatedly refused to cross the threshold. Going in to the final three matches we figured that if we beat Alabama and either Tennessee or Auburn, we would be an NCAA lock. Then in succession we drew Auburn 0-0, drew Alabama 2-2, and didn't really bother showing up for a 2-0 loss to Tennessee. After an SEC Tournament quarterfinal loss to Florida, we found ourselves at the mercy of the math and the NCAA selection committee that would decide our postseason fate. It was looking an awful lot like November 2010.
Thankfully, this time around, things went our way on Selection Monday and we drew a date in Lawrence with the Kansas Jayhwaks. A computer model crunched the numbers and determined that we were the two most evenly matched opponents of all the first round match-ups. Me? By this time I was just worried about beating anybody because we hadn't scored a goal in the run of play since we left Lexington. The two goals against Alabama were the fortunate byproduct of hitting the same Crimson Tide defender in the arm twice with the ball. Two penalty kicks was all the offense we had managed in four games and that doesn't exactly inspire confidence.
In the first half of the Kansas match, neither team really got much going. It was more or less a stalemate mired in the middle third. But thankfully, like a long, lost friend, our attack resurfaced early in the second half and the game turned our way. In the aftermath of a free kick that was lobbed into the Kansa eighteen and subsequently cleared, Jenna Buckley dropped a perfectly weighted diagonal ball behind the Jayhawk defense and into the stride of Ashley Miller who was flying in at the back post. Miller volleyed us to a 1-0 lead with a clinical finish. A few minutes later Lex doubled the margin with one of her signature solo forays up the middle and a left-footed strike from twenty yards. Baker made a tremendous diving save in the final minute to preserve the shutout and we had advanced to the second round and a date with Duke in Durham. We left Lawrence in good spirits. Our offense had reemerged and our defense had turned in an outstanding lockdown performance. It was only the third time Kansas had been shut out in 2011. Alas, there wasn't much time to bask in our tournament victory as three days later we were on a bus to North Carolina to face the nation's #1 team.
I was happy to be playing Duke. It's rare that we get to play the role of underdog and that takes a lot of emotional pressure off the team. Okay, it didn't change the fact that we were playing the ACC champions and facing a formidable climb, but at least we weren't weighed down by a lot of outside expectations. So that's something.
When you're playing a team like Duke, Plan A is to win 1-0. Duke had only conceded three goals in ACC play, so scoring one was going to be enough of a chore. We didn't want to need a second. I was hoping that we got to halftime up 1-0 or level at 0-0.
After watching a few Duke games on video, we decided to tinker with our system to neutralize their wing play which was a substantial facet of their attack. So we did what coaches do, fooling around with miniature soccer figurines like a general would with toy soldiers, running down a series of if-then situations, trying to formulate a system that would give us the best chance of winning until we came up with something we liked.
When we were initially designing our system, we had an idea of how it was supposed to look and how it was supposed to affect the Blue Devils. Allegedly. We would do this, then they would do that. Then we would do this. And then they would do that. It was our "perfect world" scenario. It always is (our tiny little soccer men have never lost a game). As a coach you always have this idea of how it should work and why it should work and then the game actually starts and you hope like mad that life bends to meet your expectations. And of course, from time to time it blows up in your face and you wonder how in the heck it all went so horribly wrong and you go home and swat your little soccer men across the room. Regardless, I thought we put together a solid plan but we were still playing the #1 team in the country. As the saying goes, it looked good on paper.
Then the game began and on my honor I couldn't believe how perfectly our perfect-world plan was mirroring what was actually transpiring on the field. Fifteen minutes into the match Robin and I were saying, "Holy smokes, it's exactly like we drew it up." Our players were doing what we asked them to do and the Duke players were doing exactly what we hoped they would do in response. For forty-five minutes our little scheme worked beautifully. However…
There was still one caveat. Regardless of how well our toy soldiers gained and gave ground, we knew full well we were going to need a little bit of luck. Baker was going to have to make one or two big saves. Duke would have to muff a chance to finish. We'd have to pounce on a mis-clearance or a deflection or a rebound. Something. We didn't know what luck we would need, but we knew we'd need something. And of course we knew full well that we absolutely couldn't afford for our opponent to settle under a horseshoe. Duke getting lucky was the doomsday scenario. And wouldn't ya know…
With nine minutes left in the opening half, a Duke cross took a decidedly evil deflection off one of our defenders and careened past Baker to give the home side a 1-0 lead. This was bad. The one thing we absolutely didn't want to have to do was play from behind. And that's exactly what we had to do from that point forward.
We went into half-time still optimistic. We had created some chances of our own and even though we were down a goal, the nation's #1 team still hadn't scored on us. If the margin stayed at one going into the final 20 minutes, I thought we'd have a great chance to equalize.
In hindsight, there was one major flaw in our plan: it required Chewy and Nikki to do a whole heckuva lot of running. Now Chewy is fit, but Nikki is beyond fit. She's what we in the biz refer to as uber-fit. She is one of the fittest players I've ever even heard of, let alone coached. And when we saw Nikki getting tired, well… do you know why you first check the thickest piece of chicken on the grill? Because if that one is done, the others are too. Nikki was getting winded before halftime which I didn't even think was possible for her. Our thickest piece of chicken was close to done and that was going to be a problem.
A bigger problem was the aforementioned opponent that started the second half like they were shot out of a howitzer. Duke was inspired and relentless and came at us in wave after blue and white wave and the wing play we hoped to neutralize appeared in full bloom. Twenty-two minutes after the break the Blue Devils took their lead to two when a cross from the left wing was met by a convincing header at the back post. Seven minutes hence, Duke showed they could also be dangerous down the right side with a quality piece of combination play that culminated with an unstoppable finish that kissed the bottom of the crossbar. I'd say it was probably the best goal we conceded all year.
You know, there's only so much you can ask of a game, particularly a meaningful one on a big stage, and the only thing you can genuinely hope to do is leave the field with a clear conscience. Up to that point there was no doubt we could've done that. If the final whistle blew right then, we're leaving that field with our heads held high because we battled our tails off. Problem was, there were still eighteen minutes left on the clock and Duke was surfing down a pretty big wave of momentum while our players were staring at the end of their season. There was a standing invitation for the Dawgs to pack up camp and check out. And as everything was suddenly coming up Blue Devils, this had the potential to get real ugly real fast. As it turned out, this was going to be our biggest test of the night and there wasn't a thing in the world our tiny soccer men could do to help. We needed to dig in and dig in fast. Thankfully, we did exactly that.
Instead of laying down, we fought back with desperation and urgency and bombed forward at all costs and began taking back some territory. A laser of a free kick from Lex pinballed around the Duke eighteen before trickling to Owens who forced a fantastic save from the Duke netminder. From the ensuing corner kick, Nicole Locandro scorched a half-volley knuckler from 20 yards to bring us to 3-1 and I couldn't have been the only person flashing back to our match against Mississippi State and the three goals we scored in the final 18 minutes.
Thing is, Duke is a darn good team and darn good teams don't cave. As much as we worked for it, we couldn't manage to close the gap further. But our kids battled. Man, they battled. They fought with all they had for the rest of that match, right up to the point where the final whistle blew and ended our season.
If there's one thing that every one of my college soccer seasons as both a player and a coach have in common, it's that moment and how much it sucks. Because in that moment that lasts no longer than the shrill tweet of a referee's whistle, everything changes. Permanently. Forever.
Our team will never be exactly the same. There will never be Bailey Powell barking from center back; or Ashley Miller screwing opponents into ground on the dribble; or Jamie Pollock tirelessly chasing the ball from side to side, end to end. Will Jenna Buckley return? I don't know and I'm a little bit afraid to even ask her.
Those are just the seniors. Other players will also move on without Georgia Soccer. It happens to every team. You just don't know specifically which players. It happens to every team. It doesn't matter. Like I said, everything changes. The team will never be exactly the same.
It's been a strange year. If you're looking for landmarks, you'd have to start with Eddy's injury. It damaged her knee and threatened to take a lot of spirits along with it. Two days later we looked lost without her in a preseason scrimmage against Florida State and we were right back to Square One. Two weeks after that our morale was on life support as we were swept at home by Texas and Villanova, conceding six goals in the process. We hadn't quite hit rock bottom, but we were close enough to drag our toes on it as we headed west to Minnesota. It was there that everything changed. When we desperately needed a win against a very good team, the gods smiled down upon us and we found a way to grind one out. In her collegiate debut, Owens crossed to Lex in overtime and we collected the first of five miraculous finishes. When Lex's header crossed the line, we'd reached our second landmark.
Four times this year we won in sudden death overtime. Let me rephrase that: Four times we ended the game with a bench-clearing celebration. Do you know how patently absurd that is? Let me tell you, for a lot of college players, that's a career's worth. We did it in five-weeks. And Lex's goal with two minutes left at Kentucky can be counted among our cardiac finishes.
I think this season will be remembered as one of resilience, and no single match better exemplified that quality than our ridiculous comeback against Mississippi State. Trailing 3-0 with nineteen minutes to play and a seemingly impossible climb, this team never folded. The spirit never bent. Those players dug in like nothing I've ever seen and chased that game like their lives depended on it. And when Mills slotted home the overtime winner, well, it was just a little bit spectacular and, of course, very, very memorable.
We left some results on the table. Yes we did. That's the most frustrating part of almost every season –ceding control of your destiny. And there aren't many coaches/players/teams that finish a season not wishing they couldn't get at least one game back. But that's the beauty and the beast of college soccer: you don't get do-overs. You can only hope that the returning players learn from those missed opportunities and internalize the value of urgency every time they take the field for the remainder of their careers, and that they pass that urgency on to the younger players through some sort of fanatical osmosis. When a team genuinely internalizes life-or-death urgency as a standard part of its culture, that's when it contends for championships. I'll go to my grave believing that. Coincidentally, trying to convince our players to believe us is what makes that grave come speeding in from the other direction.
I'll miss this season. I'll miss those highlight reel finishes, especially when Kevin Copp's voice is attached to them. And I'll miss the seniors for sure… just real good kids who I looked forward to seeing every day. Playing for Georgia meant everything to them and you could really see that last Friday night.
So the earth has made one more loop around the sun and here I sit, trying hard to remember what purpose I'm supposed to be serving during this void between the end of the fall season and the start of the spring one. There's a hollowness that I can't possibly quantify. It's like there was this great, big, awesome party and all at once everyone else just vanished and the music stopped and I'm standing alone in that empty room looking at the decorations on the wall and the confetti on the floor wondering where the heck everyone went and if they'll be coming back.
Wow. This just sucks.
But to be fair, it really was one helluva party.