2015 Women's World Cup
Wednesday, June 24, 2015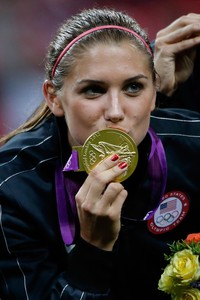 Do you find it strange that as the US Women's National Team has advanced to the World Cup quarter-final, that I actually feel sorta bad for them. Gone are the days when that team could do no wrong… or could be both sensational and anonymous. For the better part of two decades they performed in a sort of vacuum. The only people who cared, loved them unconditionally. It's been well documented, but this institution we know as the USWNT once won a World Cup in China and was greeted by two people when they arrived back in the US. That's right…. TWO! Back then, few people even knew we had a women's national team; fewer cared; and those who did care were 100% behind them. Now this team that has done nothing except get the results it needed, winning its group along the way… nothing but position itself for a strong run at a third World Cup title, is being pummeled by every columnist and blogger with a passing interest in women's soccer. The coach, Jill Ellis, is being ridiculed. Abby Wambach, a hero so many times to this team – a player who delivered one of the very best moments in the history of American sports – has been abandoned. Carli Lloyd, who has an incredible knack for scoring goals that win Olympic Gold medals, is being cast off as liability in midfield. Keyboards have become hammers and our national team has become the nail. Why is that?
Well for starters, there's this thing called the internet and it magnifies everything. Instead of moaning to a friend about our team's uninspired performance, now you can moan to all your friends and followers who can pass along your moan to their friends and followers and give it real legs. But isn't this what this team has always been working toward… to grow the game? To get people to care? And haven't they succeeded in remarkable fashion! Hasn't women's soccer exploded since the '91ers returned from China! Didn't another World Cup championship in '99 have all of us saying that we will have two fillings? With one shining moment after another, the USWNT has accomplished everything its pioneers had hoped. Most importantly, it got us to care. And now that's coming back to bite them.
This entity that is the USWNT has outgrown its bubble and become a victim of its own wonderful creation, inciting an interest that has vanquished the vacuum. They hoped we'd care. And now we do. The team has evolved. Now, players get paid and the team plays to packed stadiums. That's a good thing. But when people care, the microscope zooms in for a closer look. When people care, people expect. And from everything I've been reading about this World Cup, people expect more. So what exactly is it about this team that has seen them succeed while simultaneously seen them butchered in the media/social media? Why does it feel like so many opinion-makers are abandoning a perfectly good ship? Has the ghost of USWNT's past set the bar unreasonably high?
I confess, I'm no different; I'm just quieter. I've watched our games and each win has felt a little hollow. The important point we gained in drawing Sweden did nothing to boost my morale or optimism. Our performances haven't excited me. Okay, that's hardly the objective for this team. It's just that I'm hardly alone. It seems everyone is waiting for that dazzling breakout performance where the US carves up an (11-player) opponent with a relentless commitment to attack. (You know... the way we used to.)
By and large the critics fall into one of two camps: There are those who fault Jill Ellis and her 4-4-2 system, and those who fault Jill Ellis and her personnel selections. Both camps have made some valid points. As for me, I'm more interested in trying to decipher what our style is. We're clearly not a possession team. We're not a transition/counter attack team. We're not a wing play team (although we tend to do our best work when we get the ball wide down the left). We're not a direct team. We just seem to play some hybrid, hodgepodge style that can't be classified, and that's what puzzles me. How can we have this amazing collection of talent and send them to the World Cup with no definable style of play? I think that therein lies the foundation of the criticism: It just hasn't been much fun to watch us play soccer. Complicating matters is the fact that it has been fun to watch the soccer that our opponents have played against us, and that may be the real elephant in the room.
Australia and Sweden strung together some wonderful attacking combinations and runs of possession. The Nigerians had their moments too. Even Columbia, the so called David to our Goliath, was a delight to watch in the latter part of the first half. As a matter of fact, one of the best pieces of soccer in that match came from the Columbians in the second half when they were playing a man down. Surely I wasn't the only one watching those bits of brilliance and thinking, 'Why can't we do that?' Well, we can. It's not like we don't have the talent. It's just that we don't have any discernible style that seems to value one thing over another. A team's style tells you who they are. Without the blueprint, there's no identity. And as best I can tell right now, this team's identity is a photo of Alex Morgan.
I think a lot of fans were angered when the Australian soccer website said, 'The USA, well, they just aren't that good." But there is a big group of soccer people, myself included, who thought, 'Oh Crap! They're onto us!" You can't rightly blame the folks Down Under. All they did was pull back the Wizard's curtain. If you haven't read that post, check it out here. Believe me, it's not just sour Aussie grapes.
We've won and we've advanced. We've done that in large part through sheer athleticism and depth. We are bigger, stronger and faster and we grind teams down. When we bring on a sub, we don't get worse; we get different. Not many other teams can say that. And it hasn't hurt that two of our opponents whittled themselves down to ten players. Here's to hoping that trend continues! Our defense has been stellar and Julie Johnston's star is rising at breakneck speed. Hope Solo, when called upon, has cemented her status as the world's best between the pipes. Maybe that's enough. Maybe that's enough to grind out three more wins and another world championship and send the bartenders home happy.
So, in an effort to assuage my guilt, I'll take the 'I support the troops but not the war' stance. I believe in our team. I believe that there is still a heroic moment or two left in the tanks of Wambach and Lloyd. I believe that Megan Rapinoe is among the world's very best. I believe that Alex Morgan can turn a game on its ear as she did against Columbia. I believe that with or without a discernible style, we might still have enough weapons to win this thing.
We are who we are: a team that scratches out a way to score more goals than the opponent. Even if I'm not head over heels for the way we've been playing soccer, I'm committed to supporting these players because I owe them that much. Haven't they taught us, time and again, that betting against them is a really bad idea? I have no intention of abandoning ship. I owe this team and these players for all the times they've stood strong, done the heroic and raised my patriotic spirit to a better place. If we go on to win a World Cup, who am I to say we should have won it differently? At that point, all I'll be saying is, "U-S-A!"