Happy, Happy, Happy
Wednesday, September 11, 2013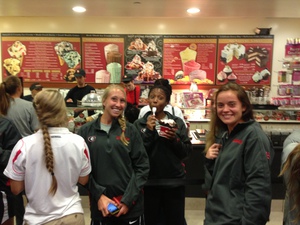 Well this week is getting away from me in a hurry, so I'm going to try to make up some ground to catch y'all up with the Georgia Bulldogs and other events that keep the world spinning. By in large it's been a week full of good news, so let's begin by saying Happy Birthday to Bella, Nikki, Torri, Gabby, TD, Jill, Kara and Angelica! Busy birthday month here in Athens.
Congrats to Coach Mark Richt and the Georgia Bulldogs for their AMAZING performance and convincing win over South Carolina!
I am delighted that the Philadelphia Eagles have pushed back their annual collapse until at least Week 2 of the NFL season by running up and down on the Redskins Monday night. Chip Kelly is suddenly the most popular man in the City of Brotherly Love. At least until next Sunday.
And how about a big WOO-HOO for the U.S. Men's National Team on its qualification for next summer's World Cup Finals in Brazil, a passage made even sweeter by the 2-0 victory over our neighbor and CONCACAF rival, Mexico!
As for the soccer-playing Georgia Bulldogs…
On Friday night we squared off with the Dolphins of Jacksonville University. I know I've said this before, but I absolutely love our Friday night home games! I love seeing the team march onto the pitch in their all black kits. The atmosphere is electric! 2,000 fans file in to watch us play a game of soccer. It's completely amazing!
We always have a U-9 or U-10 girls team with us during the announcement of the starting line-ups. Each girl accompanies a Bulldog out to the center circle when her name is called, and let me tell you, it is a BIG deal to those little girls. A night with the Georgia Bulldogs is the currency of fandom around here. Almost all of these girls show up with their faces painted in some form or fashion. Some just have the Georgia 'G' painted on a cheek, while others are a little more emphatic about their fanaticism and will have the name and # of their favorite Bulldog painted across their foreheads. Let's face it; these kids are invested!
Despite her injury last spring, Meghan Gibbons remains a fan favorite with these girls, and one of them had decorated her face with 'Meghan' and '#4' . So as the young girls are milling about before the game, waiting for our players to make their way out of the locker room, I said to this young girl, "You like Meghan, huh?"
Then this nine year-old looks at me with total conviction and self-assuredness and a touch of sass, then proudly proclaims, "Yes I do." Then she matter-of-factly announces, "She's going to be my babysitter." I was cracking up.
Anyhoo…
JU is a very solid team with lots of good-sized athletes and an uncommon system that we haven't encountered in quite some time. They play very well within that system and that caused us our fair share of frustration. Additionally, they've got a couple of very dangerous forwards up top that had me on edge all night long.
We were pretty dominant territorially and probably held 70% of the possession, but we couldn't quite find the final piece that actually puts the ball into the net. Andie Fontanetta created our best chance of the first half by doing what she does best, flying in on a tackle that sprung the ball from the foot of the Jacksonville center back and into the path of Bria Washington. Bria dribbled her way to the top of the 18 but got a little too far under the ball with her shot and it sailed just over the crossbar. Garcia came closest in the second half, hitting the post with one effort and the crossbar with another.
For all the possession we enjoyed, I never once felt safe. Every time the Dolphins crossed midfield I thought they were going to score. Thankfully our defenders did a bang up job of extinguishing any real threats before they actually became real threats, and we went into the overtime knotted at 0-0.
Nothing much seemed to be doing in the first overtime and I figured we were probably headed for a second overtime session and quite possibly a 0-0 tie. In a nothing-out-of-the-ordinary sequence, we were awarded a throw-in deep down our attacking right side. I looked at the scoreboard clock and saw there was exactly one minute left in the period. I remember thinking, very nonchalantly, maybe there's enough time for us to get one good chance.
Jacksonville managed to clear the ball to about the bottom of the center circle, but Torri Allen quickly dispossessed the Dolphin forward and the ball went straight back into the corner where the throw-in had originated. After a little bit of pinball between the teams, Marion Crowder played a square pass from the sideline to the corner of the eighteen and into the feet of Gabby Seiler. Seiler spun toward the middle of the field and then launched a left-footed bender that curled beautifully beyond the goalkeeper and into the back post. From our seat on the bench we had the perfect vantage point to track the flight of the ball and I gotta tell you, it was pretty darn cool. It was Gabby's first collegiate goal and although it won't be her last, it's one I'm sure she'll remember for many, many years. Not only did it produce the victory, it also clinched Steve's 200th win as a college coach. Not bad for your first goal, eh?
Incidentally, before the game I told Gabby she was going to score. I didn't say that to anyone else. Just Gabby. That makes me 3 for 3 this year. Don't believe me, eh? Well this time, I've got proof.
As a feature for our website, I was mic'd up for the game. You can
CLICK HERE
to take a listen and witness for yourself my psychic gift in action. I'm pretty sure that the man behind the project, Kevin Copp, has already been guaranteed an Emmy for his editing work.
This was a split weekend for us which means that on Saturday morning, we piled onto a bus and made tracks for Greensboro, NC for a Sunday match-up with our old friends Nooj, Harv and their UNC-G Spartans. We got off the bus at UNCG and went directly into a light training session, then back to our hotel to watch the first half of the football team's game with South Carolina. Our planning was spectacular, as we made the entire trip from the hotel to our dinner restaurant during the halftime break and then picked up where we left off. We enjoyed a delicious dinner while watching the Dawgs put together a fantastic performance that included a game-ending, eight-minute drive to close out the Gamecocks. It was a long, slow, exclamation point and a joy to watch.
On Sunday morning we had a late breakfast then gave the team our scouting report of the Spartans and before we knew it, it was back on the bus to UNCG to get our game on. The coaches were a little concerned that between Friday night's overtime match and the Saturday travel, we might have some heavy legs on a hot Sunday afternoon. And we did. Don't get me wrong; we played well. As a matter of fact, it was probably our best all-around performance so far, but by the end, we had some girls running around on spaghetti legs, and no one's legs were more rubbery than those of Maddy Barker. By the game's end, Maddy was completely gassed, and to be fair, she sure earned it. Thankfully, her goal in the 58
th
minute was all we would need for a second straight 1-0 win.
To celebrate our weekend sweep, we surprised the team with a pit stop at the Cold Stone in Greenville, SC. Coincidentally, it was in Greenville where our bus began experiencing mechanical issues. So as we pulled into Cold Stone, a new bus was already en route to come get us. A short time later, we were moving stuff from one bus to the other and then back on our way. And in case you were wondering, no one gets too upset about switching busses when the replacement bus looks like this: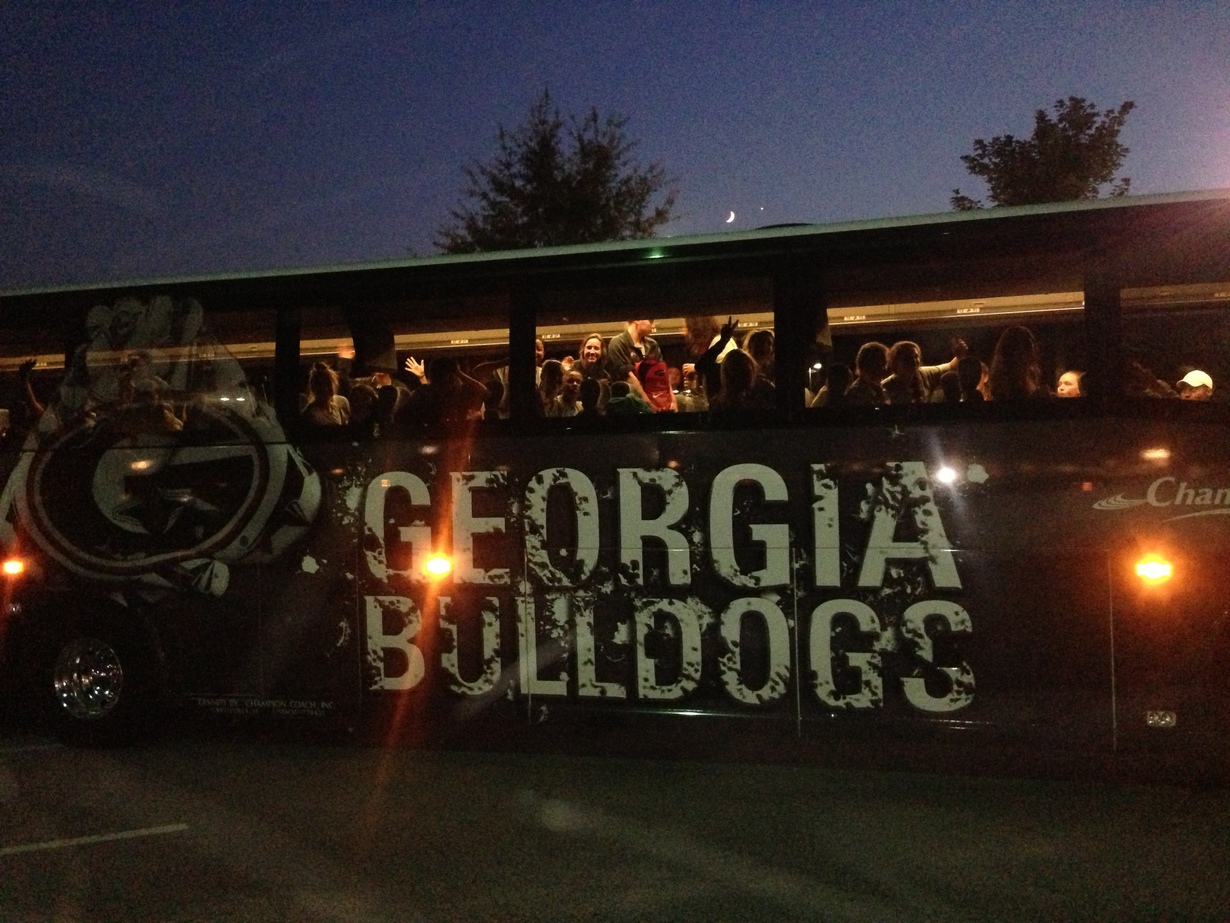 In the words of Phil Robertson: Happy, Happy, Happy.