The Game Ball
Monday, September 2, 2013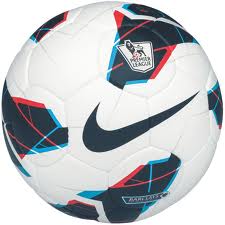 Izzy is now a full-fledged fourth grader which is obviously fantastic. The academic work is significantly more advanced than it was a year ago, and I'm excited to see her try to tackle some more difficult subjects. One of the subjects her class is currently exploring is the elements, and of course that goes hand in hand with the periodic table. To help the students get excited about the periodic table (Yay Science!), the teacher introduced them to the Element Song (Yay music!).
Apparently this marriage of science and music is a double-edged sword, as my kid is now addicted to the most annoying song ever recorded in the history of recording devices. Don't believe me? Think you're a tough guy? Okay, here's a challenge: Click the link and listen to the
Element Song
five times in succession. Go ahead, I'll wait.
Now, tell me that isn't the answer to water-boarding. I have a whole new vision of what hell is and it's me sitting in a small, windowless room listening to that song over and over and over again, which incidentally, is what Izzy made me do the other night.
There I was, kicked back on the deck, listening to a little Jimmy Buffett, occasionally paying attention to the meat on the grill, when Izzy decided to visit me and play the Element Song about nine times in a row. Honest to God I love my kid more than life itself, but to preserve my sanity and her physical well-being, I had to banish her from the deck. Let me just say that this is an issue that will certainly be addressed on parent-teacher conference day.
It was home opener weekend for the Dawgs as we got to christen the Turner Soccer Stadium for the 2013 season with a Friday night tilt against the Mercer Bears. We didn't square off with Mercer in 2012, but our matches against them in 2010 and 2011 were a pretty good microcosm of the competitive immaturity that plagued our side. We've had a bad habit of making our effort match the profile of the opponent. If we were playing a high-profile school, we'd give a high-profile effort. If our opponent's university wasn't such a prolific brand, well, our effort reflected that. And it drove our coaching staff bonkers.
In the '10 and '11 matches with Mercer, we went into halftime feeling like we had been outworked for no other reason than the complacency of facing an opponent that was something less than a big name. We'd warn our players that they'd better be ready to go because it was the game of the year for Mercer, and then we'd take the field and get the snot knocked out of us for 45 minutes. Then we'd have to have some type of halftime come-to-Jesus to wake our players, and then we'd scramble like crazy to salvage the result. These are the things that take years off our lives.
We ended up winning both of those games, both in overtime. In 2010 we trailed 2-0 at the break before tying the game in the final three minutes to force the extra period. In 2011 we went to the intermission level at 1-1 before eventually winning 2-1 on a golden goal. This year we were hoping that we could assert ourselves much earlier. And praise be, we did.
I'm always going to be among our biggest critics, because let's face it, that's who coaches are, but to be fair, we came out of the gate on fire Friday night. We showed an urgency to eliminate a threat, and we went right after the Bears. Finally.
During the pre-game warm-up I walked up to Garcia and said, "Congratulations on your goal tonight." Then I meandered over to Crowder and said the same thing. The girls both laughed, but I think there's something to planting a seed of success in an athlete's brain right before the competition. When either of those girls got her chance to score, I wanted that goal to be a foregone conclusion. Wouldn't ya know…
Marion Crowder got us on the board in the 27
th
minute as she received a ball on the left wing and then darted to the inside and through the heart of the Mercer defense before depositing her shot just inside the post. It was Crowder's first goal of her collegiate career and I'm pretty sure there will be a few more behind it.
If there was a negative to our performance, it was that we didn't maintain our level of execution in the latter stages of the half. Mercer began to steal back the momentum and nearly equalized about 10 minutes later from a corner, but Torri Allen did an excellent Kristine Lilly impersonation to head the ball out of harm's way.
We started the second half the way we started the first and took the game by the scruff. Gabby Seiler caused the opponent all types of fits on Friday, and five minutes into the second stanza, one of her forays into the Mercer penalty box earned us a penalty kick which Nicole Locandro fired home to double our lead.
Eighteen minutes later, Maddy Barker's corner kick was greeted by the authoritative header of Rachael Garcia to stretch our lead to three and bolster my street credit as a prophet.
A few days before the game, Maddy had mentioned to Coach Holeman that she and Garcia had connected on quite a few of those set pieces when they were high school teammates. When they were subbed off a few minutes after the goal, Maddy told me the same story. I told her I already knew because Rachael had passed me a note in home room. Tee-Hee.
With the three-goal lead we did a good job of closing the door on the Mercer attack and felt good about securing a hard-fought 3-0 win.
In college soccer, with the Friday / Sunday schedule, you'll hear a lot of talk about 'Sunday teams.' You see, a lot of physical and emotional energy gets invested into the Friday night matches. You haven't had a game in five days; you're under the lights; the air is cooler and the crowds are bigger and all in all, there are a lot of extrinsic factors that contribute to an energized performance. On Sunday afternoons… notsomuch.
On Sunday afternoons your still feeling some of the physical effects of the Friday match; plus it's hotter and the crowds are smaller and the energy level often pales to the Friday night game. It's a quick turnaround and the teams that can consistently rise, emotionally, to the Sunday contests are what we call 'Sunday teams.' Sunday teams grind. And Sunday teams win.
After the Mercer match, Steve challenged the players to show that we could be a Sunday team. We knew we'd be facing a very good Furman side and we didn't need to help their cause by showing up flat. We needed to regroup and re-elevate and reproduce our Friday night urgency. We needed to make the game important for no other reason than that's what great teams do.
Sunday started out bright and sunny and otherwise normal, but a sudden and strange confluence of events grabbed hold of the afternoon.
Before we stepped onto the field, we were warned of thunderstorms in the area that were headed our way. Weather being what it is, you've got no choice but to go about your business until it actually reveals itself. Which it eventually did.
Shortly after we began our warm-up, the thunder bumpers began rolling in from the west and the sky started to turn a nasty shade of gray. The storm was still some miles away, so we went ahead as we normally would. Half the group went with Robin to hit some shots; the other half came with me to do some possession. A minute later, I noticed members of our training staff sprinting past our possession grid to the corner of the field under our scoreboard. I could see a man there lying on the ground just outside the fence. Dr. Ron Elliott was already on the scene administering care. Something bad was happening.
At this time I'd like to introduce you to Wayne. Before yesterday I didn't know his last name, I only knew that he is older, probably retired, and that he is Georgia Soccer's biggest fan. He was there on the first day of preseason in 2010 and on that day, when I walked out to the field with the team, I was surprised by this stranger addressing me by name and wishing me luck. I thanked him and went on my way without ever giving it a second thought. I didn't really plan on seeing him again, and I couldn't have possibly been more wrong about that.
As it turns out, Wayne is actually a regular at all of our home games and many of our practices. It is not uncommon for him to be standing outside of the office when we take the field for practice. He clips out the articles from the local newspapers when the girls are mentioned. If a player is mentioned, she gets one of the clippings. He knows every player by name and he even shows up to our spring practices. On game days, Wayne is there an hour before kick-off.
Wayne has never asked us for a thing. Not once. Not a hat or a t-shirt; not even an orange slice. He supports the team without condition. Whether we are winning or losing, Wayne will be right there rooting for us.
On game days, Wayne stands at the fence just behind our bench at the base of Holeman Hill. That was one more reason for me to suspect that it was the top of Wayne's head that I was seeing from 40 yards away. As it turns out, it was. Wayne was down.
Now we're starting to hear some low rumbles of thunder; word has gotten around to the girls that it is Wayne on the ground; the sports medicine staff is running to and fro with water bottles and med kits; a team of EMTs is wheeling a stretcher across the field; some of the girls are in tears and oh yeah, there's a game we're supposed to be playing sometime soon.
Moments later we're called off the field. It hasn't started raining yet, but there's been lightning reported six miles away, so we've got to make tracks back inside the soccer complex. Ten minutes later the EMTs are wheeling Wayne past the office window and into the ambulance parked just outside. I want to say something before they whisk him away, but the ambulance doors shut just as I arrive. I jump up on the back bumper and wave. Wayne smiles and gives me a thumbs up.
The start time gets pushed back by two full hours. Just before we take the field for the second time, we call the girls together to talk about the adjustments they'll need to make on the wet field. Then we decide that the best thing we could possibly do on that Sunday is to win the game, sign the game ball and give it to Wayne. For all intents and purposes, that's when the game was won. Right then we were a Sunday team.
We came out of the locker room inspired (which was excellent news for the thousand or so fans that stuck around through the long delay). When the whistle blew to start the game, that's exactly how we played. We created some very good chances right off the bat, but it was Maddy Barker who got us on the board in the 21
st
minute. Maddy got hold of the ball on the left wing and angled her dribble at the heart of the goal before pushing the ball wide of the outside defender and sliding a low shot just inside the far post. It was Maddy's first of the year, but not her last of the day.
We kept pressing but Furman stood tough and we were unable to extend our lead before the half. Ten minutes into the second half, Maddy won a tackle at the top of Furman's penalty box and then curled a left footer past a diving goalkeeper to cap off the day's scoring.
As much as we would've liked a more convincing score-line, there was no doubting the effort the girls put forth and the amount of chances that were created. Furman is a quality side and picked to win its conference. We weren't perfect, but we put on a very good performance. We showed what a Sunday team is supposed to look like. I think our biggest fan would have been pleased.
After the game the players all signed the game ball, and a couple of them drove by the hospital to present it to Wayne. He said he would cherish it forever.
Let's hope that forever is a long, long time.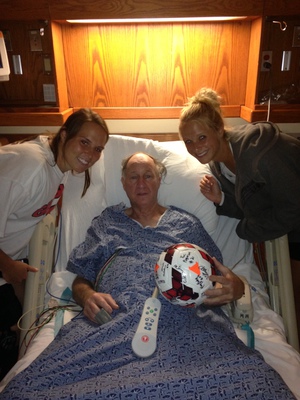 If you liked this blog, I hope you'll consider buying my book, Soccer iQ. Just click on the link below to get started.