Divas and Cheaters
Wednesday, October 6, 2010
It's been a while since we led with the Monkey of the Day. This one comes from a bag that appeared in our training room.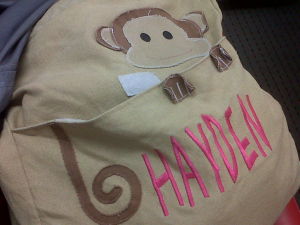 Tomorrow the Dawgs take the show on the road for the first time in a few weeks as we head west to Oxford, MS for a duel with the Rebs of Ole Miss. Yeah, there will be some undeniable subplots in play this weekend, but we're going to do our best to ignore them and focus on playing the best game we can play and letting things fall where they may. But before we get into all that, there's some catching up to do.
On Sunday the Dawgs desperately needed and thankfully got three points out of our match against the Vanderbilt Commodores. The match was nationally televised on ESPNU. It's always a big deal for the players when the Worldwide Leader in Sports makes an appearance.
At noon we put on a clinic for about 120 Brownies and Girl Scouts which was just spectacular. I'm not sure how the whole Girl Scout branch of our armed forces works, but somehow their participation in our event earned them a badge. I'm guessing it's a little tougher to become a Navy Seal, but probably not much.
I love when we get to work with the young-ins, because oh my, the things that come out of their mouths. Completely priceless. For example, part of their badge-earning was to learn a little bit about the keeping of statistics. This will come in handy when it's cookie-selling time. So Robin was explaining to them that the most obvious statistic that is kept is the score. Then she asked the girls to name other statistics that might be kept. Their answers? Aggression. Hard Work. Flexibility.
Okay, so they weren't exactly hitting the nail on the head but I liked where their heads were at. So to help them along Robin asked, "What's it called when the goalkeeper goes the whole game without giving up a goal?"
"Cheating!"
Ha! You just can't make this stuff up.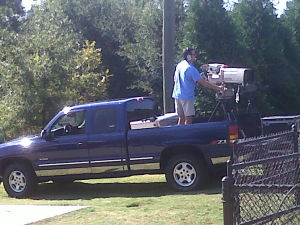 When ESPN comes to town, it's really quite a production. They roll in with some real big trucks and cameras and wires and chords and a cherry-picker that reaches the sky and lots of men lugging around big pieces of equipment. I got into the office around 8:30 on Sunday morning and the crew was already busy setting up. I gotta tell ya, it's pretty cool when you pull up to the office and the ESPN worker bees are already in action. It makes that day seem just a wee bit more… special.
We couldn't have dialed up a more perfect day for our guests. The sun was shining bright but the temp stayed in the low 70s. It was one of those days that players dream of because it feels like you could play forever.
Vandy came in on a bit of a slide, most notably because they hadn't scored a goal in four games, going 0-3-1 in that stretch. The 'Dores have been hammered by the absence of some key personnel and that goalless drought can be traced directly back to those absences. Vanderbilt's top weapon over the past few years is Molly Kinsella who had some injuries to deal with, but she's been on the mend and we didn't know how much of her we'd see on Sunday but if she chose to sit it out we weren't going to mind. Her twin sister causes enough problems on her own and as far as we knew her health was just dandy.
As for the game… well you've heard me on several occasions mention a game of two halves. Well, this was a weekend of two games. For as physically combative as the Kentucky match was, the Vandy game was disturbingly relaxed and peaceful. There weren't many bone-crunching tackles. I don't recall any bad fouls. Heck, there were only two fouls in the first half and only six over the entire 90 minutes. It felt a little bit like an intra-squad scrimmage… in the spring. Just two teams out there playing soccer. Ten minutes in I felt like ordering an iced-tea.
The game did feature one notable anomaly – the Dawgs took an early lead, something that hasn't happened since Stanford. In the 15thminute Traci Dreesen curled a flawless pass over Vandy's left back and dead into the stride of Marah Falle. Marah didn't have any teammates supporting her so as two Vandy defenders closed down on her, from 20 yards she lifted a delightful chip over the goalkeeper to put us up 1-0. It was Marah's second goal of the year. Want to know the other one? Yep. Stanford.
So the best I can deduce, Marah is a goal-scoring diva, finicky and unflappable, picking her moments with a discerning prejudice for dramatic panache. She's scored twice: against the #1 team in the nation, and on national television. Really? I mean why buy scratch off tickets every week when you can hit the Powerball a few times a year, right?
Okay, before I mislead you any further and we have one very distrsught player... Marah is anything but a diva. She's super, super nice and kind and modest and very unassuming. She works hard - always, and she cares a whole lot about her teammates. She's one of those people who you just can't imagine someone not liking. I can't imagine Marah ever having an enemy. And she just happens to have a knack for scoring some timely goals. So good for her!
We couldn't pad our lead but not for a lack of chances. Lex had a clean look at a 12 yard volley that she sizzled just wide, and early in the second half Vandy's goalkeeper did well to snuff out her breakaway. Simmo nearly gave us a cushion but her header from a corner kick was cleared off the line by a Vandy defender.
There was one other strange reoccurrence that I've never seen in 35 years of soccer. Vandy's shots had this wild predilection for hitting our defenders in the arm when they were standing inside the 18. First it was Nicole who stepped out to pressure a shooter who was squaring up on a ball that had set itself with an inviting bounce. Nicole was maybe five yards away, jumping and spinning, when the attacker smacked a full volley into her triceps.
About ten minutes later we had the same situation from a wider angle but our defender had actually spun around and the ball hit her in the back as well as the back of her arm.
Well, Vandy wanted the first call, and they reeeeaaaalllly wanted the second one, but the referee waved play on as he certainly should have. However, the protests, as they often do, set the table for an incident in the second half. Replace Nicole with Pollock and you have an almost identical situation. The kid blasts a shot that Pollock couldn't have avoided if she was standing thirty feet further away. The ball pings off her arm which was tucked against her body and the referee couldn't possibly have blown the whistle any faster. Penalty kick. And Vandy's scoreless drought was 12 yards away from its untimely conclusion.
The shooter went to Baker's left… a few inches too much so as it turns out, and her effort ricocheted off the post and out of danger. Baker guessed correctly and I thought she had actually gotten a glove to it but that wasn't the case. But I tell you what… based on the video, had that ball been on frame I think Baker makes the save. I'm glad I don't know that for certain, but she sure did play it well.
In the end we played some good soccer and as much as I would have liked the goals-for column to have swelled a little, I was also very happy to see that we could make Marah's goal stand up for 75 minutes against a good team. Baker went the whole game without giving up a goal.
Cheater.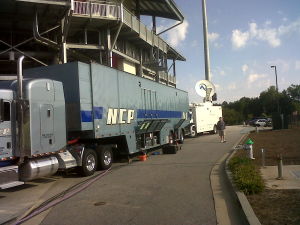 The Splits
Saturday, October 2, 2010
So Friday night was interesting. The Dawgs had a bit of a knock-down, drag-out with the Kentucky Wildcats. In the end the best we could manage was a 1-1 draw. You know, as the game was being played I wasn't exactly thrilled with the way we were performing. Not that we were awful… just thought we looked a little lackluster. But now having had the chance to watch the video, as it turns out, we were actually pretty darn good. As a matter of fact, in terms of moving the ball and playing with urgency, it may have been our best performance of the year. I was as surprised as anyone, but when you see it on the big screen, there's evidence that we can do some pretty good stuff.
What the video doesn't adequately capture is the mood of the game and that's what made this one different. It was far and away our most physical game of the year and Kentucky was far and away the chippiest opponent we've faced. They've got a couple of players that like to stir the pot and that gave Friday's game its edge.
We were pretty proud of putting together consecutive shutouts to open SEC play, including a 110-minute whitewash of Arkansas. Well Kentucky didn't take long to stomp out that small fire as they opened the scoring in the 11thminute. Okay, giving up any goal is going to irritate me, but my degrees of irritation are directly proportional to certain external factors. To begin with, I can't stand giving up the game's first goal. The job of our defense is to give our team a chance to win. When the opponent scores first all we've given our attackers is a hole to climb out of. Also, I get particularly agitated by goals that are generated from a pass that splits a pair of defenders and that's what gave the Wildcats the early lead. It wasn't the most cosmetic attack, but in the end Chewy got caught one step too wide and the ball pinballed its way into the seam between her and Torri. We have a book of defending here at Georgia. Literally. It's called How We Defend and at the top of our list of commandments is that We Don't Get Split. Never. Not Ever. Well, now you know why. The most dangerous pass in soccer is one that splits a pair of defenders and of the nine goals we've conceded, 3 of them (Duke, Santa Clara and Kentucky) have been the result of a ball that splits us. To be fair, one of our forwards was more to blame for the Santa Clara split, but it bears mentioning because it ended up in our net anyway. Bad things happen when you get split. That's just how it is.
Despite dropping the early goal we continued to press UK and in the 39thminute Alexa Newfield equalized. Locandro held the ball back to goal at the top of the Wildcat 18 and laid a soft and inviting pass back directly into Newfield's stride. From 25 yards Newfield smacked a low, blistering tracer rocket that sped into the Kentucky goal and we went to the half level at 1-1.
There's a bit of a pattern emerging in our games. We keep the ball very well in the first half and we use 18 players or so to do it. But it's not until that second half rolls around that you really notice the effects. It's sorta like a soccer grenade. In the second stanza the opponent doesn't have quite the legs or the spirit to chase with the same vigor as when the game began. We keep doing the same things, but at times it just gets a lot easier. The opponent's pressure decreases, the size of passing lanes increase, and we normally have rested legs running our races. The second half of the UK match was a pretty good example. The second half started and we were just plain good. We were pinging the ball around with impunity and creating a lot of chances. We had a glorious chance to take the lead in the first few minutes but Eddy's shot from six yards was deflected by the keeper onto the bar and out of play. It was a heckuva save by the keeper, but man would I like to have a do-over on that one.
The majority of the second half looked pretty good for the Dawgs. We didn't give up possession cheaply and we occasionally opened up their defense to create a decent chance. It's just that lately we haven't been too clinical about finishing those suckers.
Kentucky's attack sprung to life in the final ten minutes and they had two good chances, the better of which was turned off the line by Torri Allen. Torri is a freshman whose improvement since the first day of camp has been astonishing. Last night I'd reckon she was one of our two best players.
Every Tuesday or Wednesday night I meet with the defenders and we go over some video clips of our weekend matches. No player has endured more 'teaching moments' than Torri. The toughest clips for her to watch were from our weekend in California. In each of the two games there was one moment where the opponent's attack had advanced beyond Torri, meaning that they had the ball between Torri and our goal. In both those instances Torri suffered from a not uncommon ailment among young defenders – instead of sprinting back into the play she became a fixated spectator coasting back toward our goal area. So I pointed those moments out and told her that jogging was unacceptable. And to hammer home the point we took her out of the starting line-up for the Charleston match. The reason I tell you that is to tell you this…
In the first half against Kentucky there was an almost identical situation. Torri was caught out about 40 yards in front of our goal as the ball got played into a UK attacker in a higher position. The attacker combined a teammate in behind our defense and the kid was going to have a great look at goal. Except this time Torri didn't spectate. This time she immediately turned and sprinted and a few seconds later she dismantled a UK breakaway opportunity inside our 18. It was amazing to see how quickly Torri ran her down. Torri has explosive pace but without the work rate reflex it wouldn't have mattered. With the work rate, well, let's just say in that moment it mattered a lot.
So anyway, we dodged a late bullet and headed to overtime knotted at 0-0. OT couldn't produce a winner and in the end we settled for a frustrating 1-1 tie. Two consecutive draws means we desperately need to take three points in tomorrow's match against Vandy. Florida and South Carolina are inching away from us and we need a win to keep pace. Such is life in the SEC.
Oh The Irony
Monday, September 27, 2010
I used Saturday night to watch the video of Arkansas v Tennessee to prepare for Sunday's match with the Razorbacks. About 20 minutes into the video I was thinking, Wow, they're gonna cause us a lot of problems. They had a couple of dynamic attackers that I was particularly worried about. When those players can receive the ball and face up, it creates a lot of havoc because Arkansas loves to interchange positions as they go forward. There's no straight up and down. It's a lot of overlapping and slashing runs across defensive zones and that stuff forces defenders to make decisions and communicate. And the more you force defenders to do those two things, the more likely the defenders are to eventually botch something.
One of the things I try to do when a game ends is remember my pregame speech and compare it to what actually transpired on the field. Sometimes the key points are embarrassingly wrong. Other times they look like prophecy. Today would fall into the latter category... sort of.
The theme of today's pregame speech was "no do-overs." We haven't exactly lit the world on fire as a Sunday team and only performing once a week won't win you an SEC championship. I wanted the girls to understand that if we didn't come to play and this game got away from us, we didn't get a second bite of the apple. You get what you get. That's just how it is. In the SEC everyone has the same 11 games. Everyone plays everyone. But only once. And the team that gets it done more often than the others gets to call itself the SEC Champion. Excuses don't matter. Only results.
The point I was trying to make is that if we came out flat and lost, in the end it might cost us the SEC title. We had to prove that our ability to perform won't be dictated by something as trivial as a calendar. We had to come out fast and play like champions because every Friday and Sunday we are literally playing for a championship. No do-overs.
So… how'd it work out?
Well let me say this… If you took goal-scoring out of the equation we could not have asked for a better first half performance than the one we put on against Arkansas today. There were times where I would just sit back and think, "Holy smokes we're on fire!" That's rare in coaching because as coaches you're forever searching for total and unblemished perfection. And no, we weren't getting that. But what we were getting was some top-shelf movement of the ball and chances at goal. As far as what we did before we got into the final 20 yards, well, it was pretty darn spectacular. So no, we weren't flat. The shot total for the half was 13-1 in our favor. Sometimes a shot total doesn't really reflect what was actually happening on the field. Not the case in this particular instance.
In a couple of recent entries I've mentioned 'a game of two halves.' Today fell into that category also, but not based on momentum or territorial dominance. Today the two halves were dictated by Mother Nature. There was the first half - played on a more or less normal field. And there was the second half which looked a lot like the last 30 minutes of the Poseidon Adventure. Except wetter.
Last night we got a lot of rain here in Athens but the field held up pretty darn well. There was one rough patch, a coffin-sized puddle down our attacking right side in the first half that would kill the ball, but other than that the field played pretty much as it normally does. But the moment we kicked off the rain came in again. It was more or less a glorified drizzle at first and didn't affect the conditions too much, but in the final ten minutes of the half it shifted into high gear and began to take its toll. The field had reached its saturation point before the game and now began to hold copious amounts of water. The rain never abated and by the time the second half started there was standing water all over the pitch. That's all fine and dandy when you're playing U-12 soccer and it's more cute and comical than anything, but when your job security is predicated on wins and losses, the last thing you want to see when you're playing so well is a swamp growing out of your field. But sometimes that's just how it goes.
The Razorbacks did a better job than we did of adjusting to the conditions to start the half. They played very direct right out of the chute while we tried to maintain our style for the opening minutes. The result was Arkansas' two best chances of the match and two strong saves from Baker. After that, mainly through trial and error, our style sort of evolved into a direct brand of play. Once we started accepting the things we could not change and making adjustments to the now ankle-deep water, we got better and took back control of the match.
Okay, the next hour or so is a little blurry because of lightning delays. We were called off of the field in the 67thminute. Then we were called back on to resume play. But before play could resume lighting struck again and we were sent back to the dressing room. Forty minutes later we were summoned onto the field again, only to be sent back inside once more.
The field could have been deemed unplayable to start the second half. By the time the first lightning delay was called it certainly should have been. I'm not sure of the definition of unplayable. I don't know that there is one officially. But when it is impossible to pass a ball along the ground over five yards, I think that's a decent indicator that it's time to pack up shop and call it a day. But in all fairness, what do I know? It's not like I've been in soccer for 35 years. Oh. Wait.
When the field gets saturated like that, as a coach all you're thinking is that one goal wins it. The obvious problem is actually manufacturing that one goal. Creativity had become obsolete. The only things that mattered were being first to the ball and trying to kick it up and out of the marsh.
Anyway, the powers-that-be (who I can assure you are not insurance actuaries) eventually decided that the weather was right for us to continue.So while the heavens thundered, we were game on.
We took advantage of the lightning delay to revamp our style of play. Now… I want you to think about all you've read over the past few entries. Think about everything that we train and we value. Now think about throwing all of that in the trash and telling a lot of very high-level players this: Stop passing the darn ball. Don't even bother. Just kick it high and long toward their goal and run after it. Because that's all that was left to do.
There was absolutely no value in trying to pass the ball on the ground. It was like trying to play in a tide pool on Myrtle Beach. The only way for the ball to get anywhere was for it to get up and off the ground. The closer you hit it to the opponent's goal the better. It was that mind-numbingly simple. But when you're playing in ankle deep water in water-logged shoes trying to kick a water-logged ball, that's also a lot easier said than done.
The second half wasn't soccer. I don't know what sport it was but it certainly wasn't soccer. Regardless, we still dominated territorially. We had a few close calls but most of what happened on the field was just downright silly. When an unpressured player runs right past her own dribble because the ball has stopped dead in a quagmire, there's a real problem. And that was happening everywhere. We were constantly screaming at our players not to dribble, not to even take a prep touch unless absolutely necessary because no matter how appealing it looked the field would inevitably reach up and grab the ball. Open space in front of a ball carrier was like a carnival game that seems so inviting, so very easy to beat, but in the end proves invincible.
We got better at this non-soccer soccer thing. After the lightning break I don't think Baker had to make a save (I could be wrong there). But with the exception of a couple of forays into our defensive third, the rest of the match was more or less played in the Arkansas end.
Hats off to the Razorbacks. They defended with everything they had and their goalkeeper made three fantastic stops coming off her line to blow-up 1v1 chances.
We kept getting close. We kept putting in dangerous serves and finding dangerous seams. But seeing so many great chances die in the slop was getting so very frustrating. Every time we had a 'this could be the one' moment, a patch of water would palm the ball and we'd have to start all over again. It was just plain maddening.
90 minutes produced no winner nor did 20 minutes of overtime. What we were left with was a nil-nil draw, a shot advantage of 22-5… and no do-over.
When the match ended there was no one on this planet I wasn't mad at. If Mickey Mouse had wandered into my office I would have swatted him with a broom. I'm not really sure why. Can't be mad at the girls. They played their hearts out. I guess that was the problem. There was really no one to be angry at so I decided to spread my anger out across Planet Earth. It was one of those afternoons when I really wish a mime had come to my front door. Climb that rope now, Sucker!
There are so many 'if onlys' from this match. If only our shots had hit the other side of the bar. If only the field stayed dry. But you know what. None of those matter. It's the SEC. Regardless of the conditions, you either get it done or you don't. Being the better side just isn't enough. You have to find a way to win. No do-overs.
SEC Opener v LSU
Saturday, September 25, 2010
It is with a heavy heart and great restraint that I regretfully celebrate the Phillies sweep of the Atlanta Braves this week. As a Phillies fan who lives in Georgia, I can assure you that I was disappointed more than most that our 11 game winning streak and our white-hot play of late had to fall upon the good people of Atlanta. I assure you I take no joy from going up 6.5 games in the NL East and must assume that poor officiating and perhaps a grander MLB conspiracy were to blame for the out-of-this-world pitching performances by Halladay, Oswalt and Hamels. I think I speak for all of Philadelphia when I say I sincerely hope this never happens again until the playoffs.
On the brighter side, should this coaching thing not work out, I am happy to announce that my financial future has been secured. Since becoming an employee of Georgia I've received several email notifications each day that someone in Africa, typically the relative of a recently deposed, deceased and excessively wealthy government official, has several million dollars stashed away for me. I'm not certain how I've developed this kinship with the good people of Mozambique, but I must be living right because I literally have close to a billion dollars in assets in my junk mail folder. I keep them there so no one will find them. I figure they will come in handy when I apply for my next mortgage. Can't wait to see the loan officers face when I break that out.
Thanks for all the feedback regarding the Monkey of the Day! Apparently we are making believers out of quite a few of you in Poetland. Today's Monkey of the Day is a guest submission from the Nooj. Enjoy.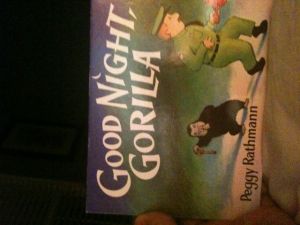 Last night began SEC play which in these parts is a really big deal. Our conference opener was against the defending SEC West champions LSU and there's a little bit of history between the programs. I've heard tales about some extracurriculars occurring in and around previous matches between the Dawgs and the Tigers, but how much of those are urban legend I don't know. What I do know is that LSU put a 6-0 smackdown on UGA last year and that's just downright unacceptable… at least if you're cheerin' for the Dawgs.
Last week didn't end so hot and that means this week didn't start out great either. In the second half of last Friday's win over Charleston, striker Alexa Newfield sustained a pretty good injury and was doubtful for LSU. About twenty minutes later center-back Bailey Powell sustained a more serious injury and we knew she wouldn't be available for LSU. Then on Wednesday, midfielder Laura Eddy came down with a nasty illness and we didn't plan on having her services for LSU either. Forward, defender and midfielder. Perfect.
Okay, we're a good team and we have enough depth that the three injuries didn't induce widespread panic, but for Pete's sake, if you gave an opposing coach the chance to pick five of our players to be unavailable for a match, there's a pretty good chance that those three are gonna make the list. I've coached teams where an injury to a single player would get me curled up in a tight ball in the corner of a small, dark closet sucking my thumb between stanzas of Swing Low Sweet Chariot - but not this time. Honestly, by the way the players and coaches reacted, you'da never known anyone was even gone. We just picked up and carried on with our business. Looking back it really is quite strange, but everyone was completely unfazed. But it also makes perfect sense. Any success we've had this year comes back to one word: TEAM. We're not a team with a star. We're a team full of non-stars. We don't depend on one person to score goals, one person to set them up and one person to stop them. We're a total socialist soccer movement. Everything we have we've earned together.
At this point I should introduce you to Traci Dreesen. Traci is an uber-technical player. I mean, she's just plain gifted on the ball. She's one of those players that can change direction on a pinhead and distribute with any surface of either foot. She's got a great soccer mind and understands how to break pressure. But Traci is also pretty quiet. As a person and also as a player – she just doesn't make a lot of noise. She shines whenever we do possession exercises because she almost never loses the ball, but she also never really imposes herself on a combative exercise. For two months I've heard people tell me she's the fastest player on our team but on my honor I couldn't tell you if she's slow or fast. She's just kinda there.
So Traci got a lot of minutes last week against Charleston and played very, very well. If she could replicate that performance then we had solved the problem of missing Eddy.
Jenna Buckley has been in and out of our line-up as a center back but with the exception of one tactical error that helped lead to Duke's goal (Jenna's mistake was just one in a chain of small yet cataclysmic decisions our players made that led to that goal), she hasn't put a foot wrong. Sometimes she starts. Some games she hasn't played at all. But here's the thing about Jenna… she's as smart as they come. Seriously, she's got a brain that one day the Smithsonian will come looking for. And she uses that brain to maximize her abilities and minimize her weaknesses. She's smart enough to know what she's good at and what she's not good at and she constantly gives herself the best chance of being successful. Jenna's one of the very few players who I've ever coached who you can see has thought it through before she takes the field. I don't just mean in games. I mean like every day. She's paid attention. She's figured out what we're looking for and she's figured out how she can deliver it. And if Jenna could just keep doing that, then we solved the problem of missing Bailey.
Lex is a special player. No one who has seen her play will debate you on that. But because we've spread the goals around and because we have so many good strikers waiting in the wings, her absence didn't alarm anyone. No one's absence alarmed anyone. Imagine that. Imagine that 30% of your starting field players are unavailable but no one gets ruffled. If you think that's pretty commonplace then you're clearly not doing this for a living. But we have that luxury.
The good news is that by the time the game rolled around, Lex and Eddy were both cleared to play. Bailey was still a no-go and Eddy was still weak, but Lex was more or less full go. We had the green light to start Lex and Eddy which would have a lot of coaches dancing a jig, but we didn't start either of them. Against the reigning Western Division champs and the team that had whooped us 6-0 last year, we started neither of them. Why? We didn't feel we had to.
So the game kicks off and we're just flat out hummin'. We've spent a good bit of the past two weeks focusing on keeping the ball and staying composed and not giving it away cheaply. More often than not, if we give it away cheaply it's because we're impatient or uncomposed or both. But we talk about it and we work on it and we get better at it and the result is what happened last night.
We moved the ball around very well. Dressen was flawless as a center midfielder, linking side to side and front to back and consistently moving the ball to the non-crowded side of the field. And when she got the ball under duress, she solved the pressure and kept the ball for us. Pollock was playing next to her and that's a good combo. Pollock just keeps improving. Her understanding of her role gets better each week and you can see it translate into how she moves off the ball and with what she does once she's on it. Plus she's just a total ditch-diggin' ball-winner.
Jenna's insertion into the backline was seamless. If you had never seen us play you never would have guessed that Jenna wasn't our regular center back. Her positioning was stellar as were her decisions on the ball. She kept things simple and defended well and that's a pretty good job description for a center back.
We nearly opened the scoring in the fifth minute when Kelly Corliss's corner kick dropped into a gap between the LSU defenders and onto the foot of a streaking Jamie Pollock. Pollock's first-time volley breezed over the crossbar and LSU dodged a bullet, but it was a good sign for us.
We gave LSU some problems in the first half, but the major damage was done by our ability and willingness to keep the ball. LSU did a lot of chasing in the first half. If you've been following these entries then you know where I'm headed with this. But the bottom line is that we have a bottomless supply of players who can pass the ball and we keep bringing them into the game on fresh legs and our opponents can't go quite as deep and it takes a physical toll.
Steve's been getting a lot of questions lately about why we have so much trouble scoring in the first half. Going into Friday night we had scored 22 goals and 17 had come after the intermission. A lot of people are interpreting that to mean we're a slow-starting team. That's not the case. At least not always. Steve had a fantastic reply. He said that's like asking a boxer why all of his knockouts come after the 6thround. A lot of damage can be done in rounds one through five. All those jabs set up the knockout blow. Point being, despite our performance and a 9-2 shots on goal advantage, we went to half-time knotted at 0-0.
LSU was the better team out of the gate for the second stanza and for the first five minutes we couldn't cross midfield. Every time we won the ball we found a way to give it back to them and although their pressure wasn't producing any real opportunities, if something didn't change we were going to be staring at a 1-0 deficit.
Finally, almost exactly five minutes after the half began, we possessed the ball out of our end and created a decent chance at goal. From that point forward the game was more or less ours. Once we crossed midfield it was like we had entered some magic land where we could keep the ball for as long as we liked. It was like the festival of passes. We continually broke pressure, switched fields and kept the Tigers on the run. And it was a lot of fun to watch.
We really could not have asked for a much better 45 minutes than Friday night's second half. Sure we possessed the heck out of the ball, but when there were openings to go forward, well forward we went.
Okay, so one of the not-so-funny running jokes in our camp has been our ineptitude at converting on corner kicks. We have a set group of personnel who devote time to rehearsing these things and they were about ten more failed chances away from starting their own 12-Step program…
Hi I'm Jill and I can't score on a corner kick.
Hi Jill!
Heading into LSU our corner kick specialists were anointed the "0 for 54 club" or the "0 for non-conference club," - take your pick. Well the first six corner kicks against LSU did nothing to change that, but in the 67thminute Corliss took matters into her own hands and curled her kick perilously into the near post. The Tiger's keeper got a paw to it but a wee nudge from Marah was enough to put her off and the shot deflected off the keeper's hand and into the goal. It was a long time coming and good enough to stand up as the game-winner and now we have a great new stat for corner kicks: We're 1 for 7 in SEC matches. In political parlance, the spin doctors would refer to that as 'moving the goal posts.'
One more thing I should mention… I've become a little distraught about our inability to keep opponents out of our goal. After all, that's a pretty large part of my job description. If we win I'm going to be happy, but I'm never going to be totally satisfied if we give up a goal. The real kick in the groin was conceding to Charleston with 17 seconds to play last week. Shutouts are like trophies for a defense and I was aggravated that we gave one away so cheaply. So on Tuesday I met with the defenders and I told them a story I read from Lou Holtz many, many years ago.
Holtz said that scoring points is great, but the pride of a team comes from its defense. And he's right. Think about it. You may think it's great to be a bully and go invade someone else's house, but what you're going to be most proud of is your ability to protect what's yours. It's the same in soccer. I love being a soccer bully. I love scoring enough goals to break an opponent's spirit. But I'm much more proud of my team's ability to defend its own net.
There's one other thing… I believe it is the first job of the defense to give our team a chance to win. When we score it should be the first goal of the game. If we concede first, well then the attackers have to make up for our goof before they can even worry about actually winning the game. If we tie 0-0 I like to think, Ya know what, the defense gave you 110 minutes to win the game and that's gotta be enough to get it done.
Anyway, I got all the defenders together and told them that. I told them that we need to start making shutouts a priority. And it's the funniest thing, but sometimes before your dreams will materialize, you have to just say them out loud. Sometimes that's all you have to do. Now you may think it doesn't make a difference but I will argue that you're wrong. Because watching the Dawgs in the last 20 minutes of that game I could see that keeping a clean-sheet was a big priority. Those players were determined to keep the opponent at zero and they sure as heck did. It was a job well done.
So yes, when it was over, I was happy that we played very well and won. But more importantly, I was at peace because we notched a shutout against a very dangerous team.
This job is one you take home at night. It has to be and that's just how it is and that's never going to change. When you have a night like we did last night, taking your job home isn't the worst thing in the world. But what I wish you could experience is what it felt like this morning when I woke up. The sense of peace and serenity that enveloped my body and soul is something that could never be explained. It was as if all was right with the world.
Good Passers Gone Bad
Monday, September 20, 2010
Happy Belated Birthday Katmo!
Have you ever started cleaning, like, just intending to straighten up your room a little bit, maybe put some socks in their designated drawer, just to feel like you're taking on some semblance of responsibility before you move onto doing something enjoyable with your day, and then the next thing you know it's a few hours later and you're scrubbing the tile grout with a tooth brush, you can see your reflection in the dresser, your kitchen floor is shinier than the first period ice at the Wachovia Center and your house smells like it was disinfected by the Lemon Pledge Hazmat Team? Ever get carried away like that? Yeah, that's pretty much what creating this website has been like. All I wanted to do was put away some socks and next thing you know – BAM! – Lemon Pledge. Point being, I'm in a lot deeper than I ever thought I'd be.
It's weird. With my last blog I didn't often have access to stats about the amount of hits the site was getting so I didn't stress about the timeliness of posting new material. Heck, if we're splittin' hairs here, I wasn't all that concerned about the quality of the material either. Now that I have access to that statistical information with one click of a mouse, well, now it seems I've painted myself into a nice little corner of obligation. If you've never done something like this, let me tell you, it's a little awe inducing. The moment when you realize a few thousand people are reading what you write, well, I can't really explain it other than to say my hobby has elbowed its way into a bigger chunk of my daily time pie.
Let me ask you this… do you own a Finnish flag? Have you ever owned a Finnish flag? Do you even know of someone who does? Of course not. So the other day Steve was saying to Robin how nice it would be to have a Finnish flag. Robin responded that she actually had one. Naturally. Why? Because Robin's a superstar and she played against Finland. And thus we have another entry in the things that Steve and Dan can't say but Robin can.
Hey, while you're here, check out Joe Doiron on the Things I Dig page in the Tunes category. His song 'Picture This' won the Grand Prize in the Nashville Songwriters Competition, so he's sort of a big deal.
Monkey of the Day sightings have been occurring with alarming consistency. Today Scott Sappington submitted his recent encounter and it has inspired me to introduce the Monkey of the Year Contest. My panel of judges will select a winner around Christmas and yes, there will be some type of prize at stake. To be honest, I really don't know how you can top Scott's entry without incurring serious bodily harm but if you got the gumption, I look forward to seeing your entry (which will most likely be forwarded to me by your widow).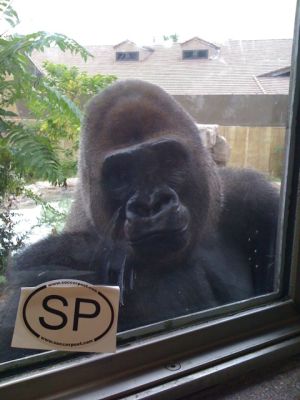 Okay… onto soccer.
It was a one-game weekend for the Dawgs as we played host to the College of Charleston Cougars on Friday night. My good friends John Mark and Candace made the drive up from Daytona Beach to catch the game, a sure-fire indicator that the team I am coaching would play pretty poorly. That's just how it's been for the past 20 years. I get so excited to show off my team to a visiting friend or relative and then my team kindly responds with a stinker.
To be fair, part of our stinker was Cougar induced. C of C had a great game plan and they executed it well. And hats off to them for coming to Athens and playing to win and not building an 11-person bunker. Nope, they did quite the opposite. The Cougars often played in a 3-4-3 and jammed up our center midfielders so tightly that they rarely had the chance to play forward in the first half. They were rewarded with the first real chance of the night and probably should have carved out a 1-0 lead. Fortunately for us the striker misfired and hit a pretty tame roller into Baker for an easy save.
After the Santa Clara debacle I met with the corps of defenders and we watched a lot of video. One of the main topics we covered was being more patient and composed with the ball at our feet. We didn't have to panic when pressure was ten yards away. And we didn't have to turn every free kick into a 50-50 ball sixty yards down the field. We were allowed to keep some of those.
One of the things coaching has taught me is that when you have a team of players who are serious about improving, and when those players put trust in their coach, they will often think in absolutes. They bank on their coaches to have the answers so when we give them an answer, they expect that answer to be the right answer to all of the questions. So I began the meeting by warning them about absolutes and urging them not to think in absolutes. I wanted them to think about a balance between keeping the ball and going forward. Ya see, I had this exact same meeting with another team about six years ago. We talked about not giving up the ball so easily. We talked about being patient and making the other team chase and not taking so many risks with the ball. And the next night we put on a display of passing that may never be surpassed in college soccer. Our opponent (who wasn't very strong) just couldn't get the ball from us. The problem was that we didn't actually go anywhere. It was like watching Italy against Italy in the group stage. It was basically a 90 minute game of keep-away and one of the most boring soccer matches ever played. In the end we won 1-0 against a team we were four goals better than. And that night is when I added the note about 'thinking in absolutes' into my little 'Coaching as a Career' handbook. So on this night I spoke of balance.
How'd we do?
Well, if we made a scale of 1-10 and taking way too many risks was a 10 and not taking any risks was a 1 and a perfect balance was a 5, I'd say we came in somewhere between a 3.5 and 4. Yes we could have been a little more aggressive but that's okay. It'll come. What we did show was a marked improvement in our composure with the ball and that's going to make us better. So the problem wasn't our decision making, it was our technical execution of connecting a pass. And not just from the defenders. It was an epidemic. We just couldn't get the ball from Point A to Point B.
The upside was that even though we gave the ball away entirely too easily, there was often a run of 5,6, or 7 good passes leading up to the botched pass. Fortunately the Cougars didn't know exactly which pass would be the awful one, so they had to chase them all. And all that chasing began to add up.
As has often been the case this year, our depth carried us.
In hindsight the coaches have come to believe that the trip to the west coast took a little heavier toll on the players than we thought it would. The best evidence of that for me was when Steve made an observation with about ten minutes left in the first half. We had already gone deep into the bench because a lot of our starters just weren't on their game, and Steve said, "All the players who didn't play last weekend are our best players tonight." And I thought, Holy cow, he's right. The players who saw a lot of minutes in Palo Alto, their legs just looked dead. Their minds wanted to do the right things but their legs just couldn't get the job done.
Thankfully our bench holds a lot of very good soccer players waiting for their chance. On Friday night, Simmo and Traci got a lot of minutes in the center of midfield and changed the game for us.
We went to half-time tied at 0-0 and looking uninspired. We made one tactical adjustment at half-time and then we basically laid it out on the table for the girls… "Look, if you want to play in November, you have got to find a way to win this game. If we're sitting at home during the NCAA tournament, you're going to look back at this game as the reason why."
Ever heard the soccer expression, 'It was a game of two halves'? Well, games like this are the reason for a saying like that. For as bad as we were in the first half, in the second half we just sorta caught fire. It may have been the sense of desperation about getting into the NCAA tournament. It may have been all the good passes before the bad passes that had taken their toll on the Cougars' legs. Probably it was a combination of both. Whatever it was, it worked. The second half looked nothing like the first. Allow me to illustrate this to you.
On Sunday I broke down the video of the match. I was particularly interested in one very subjective yet critically important category: Giving the ball away cheaply. I took note of every time we had clear possession of the ball yet did not connect on a pass we should have and were perfectly capable of completing. I didn't include things like clearances because there is definitely a time and a place for them. I didn't include crosses into the box. I didn't include those difficult final passes that require a player to thread the needle to play a teammate in behind the defense. And I didn't include any time we simply lost the ball going 1v1. Every time I marked a bad pass it was because it was just that – a really bad pass.
I've never seen a study on this category, but my guess is that on average a good team will give it away cheaply between 15 and 20 times during the course of a half. Between 10 and 15 is very good. Less than 10 is fantastic. More than 20 is horrendous and by any measure unacceptable. Want to take a guess at how many times the #21 team in the nation gave the ball away cheaply in the first half?
Try 40!
40 stinkin' times we had the ball and just flat out gave it to the opponent. IN. ONE. HALF!
Are you serious? Are you freaking serious?
The best coach I've ever known is a guy named Graham Ramsey. The man has forgotten more about soccer than I'll ever know. Anyway, when he was coaching us in college he would chart the passing percentage for every player in every game (the amount of passes you successfully completed divided by the total number of times you passed the ball). He expected the forwards to be above 70 percent, the midfielders above 80, and the defenders above 90. And if your passing percentage was below 50%, Graham said you were playing for the other team. Think about it. Makes sense, right?
Well no wonder we couldn't score a first half goal. Charleston was playing with like 18 players. Okay, I didn't do everyone's passing percentage. I actually didn't do anyone's. All I know is that we gave the ball up 40 times and those were just the no-brainer type passes. We also gave up plenty of the ones that are supposed to be risky. So percentage or no percentage, 40 is a bad, bad number. But like I said, the second half was a different story.
Know how many times we gave it away cheaply in the second half? Go on. Take a guess.
Seven! Yep, seven. That's better than great. That's freaking phenomenal! In the first half we had 8 bad giveaways in the first six minutes. In the second half we didn't give it away cheaply until the 12thminute and then not again until the 24thminute. And when you're putting up numbers like that, you're probably playing some pretty good soccer. We definitely were.
Because Charleston now had to earn the ball back from us, they were doing a lot more chasing. The more you chase, the more energy you expend, the harder it becomes to chase and the easier it becomes for your opponent to keep the ball and thus starts a nasty cycle. Then when your team wins the ball you're less likely to get involved in the attack because you need to rest. This is how Stanford grinds its opponents down. The more you can keep an opponent chasing, the less dangerous they are going to be when they take possession.
The one problem we were still having was getting in behind them so we decided to stick Nikki Hill up on the wing and try to get her into some foot races. It was a good move and a few well placed balls from Simmo and Corless over the top had Nikki wreaking havoc with a tired defense. Nikki's mad sprints in behind started to pull apart their shape and we were quickly becoming more of a threat to score goals.
In the 64thminute Shultis turned the corner on the right side and fired a low pass to Locandro who stood seven yards from goal. Locandro steered a one-time finish just inside the far post and we had ourselves the lead and a lot of momentum.
The chances kept coming but we weren't cashing in so it's stayed at 1-0 until the final five minutes. (Big 5 junkies get out your pencils.) With five minutes left we put Gibbo in up front. Gibbo has an amazing knack for scoring late goals so as she was taking her place on the field I said to Robin, "C'mon Gibbo. Go score a goal. You're the closer."
Locandro's pass split a pair of defenders and found Gibbo in stride. Gibbo's first touch evaded the charging keeper and she calmly potted her shot into an open net and we had a 2-0 lead. Gibbo had literally been on the field for 22 seconds.
Three minutes later from the top corner of the 18, Hooker cut her dribble back onto her left foot to shake a defender then bent a shot high into the near post and we had a 3-0 lead.
I think I only have one real superstition and that's to not count any chickens before they've hatched. I know better. On my honor I believe that the gods of soccer are acutely aware of the pea-headed things that come out of my mouth and when I tempt fate they always, always, ALWAYS make me pay. You would think that I'd have learned my lesson by now. Apparently not. Because with 30 seconds left and Charleston about to take a throw-in just on our side of midfield, I said, "Sure'd be nice to get a shutout for a change."
I had the presence of mind to think about not saying it, but because sometimes I'm stupid I said it anyway. 10 seconds later the ball was in our 18 and a comedy of errors was in progress. Goalkeeper Ashley Baker somehow put herself into a situation where she was chasing the ball around our 18 from one Cougar to another. Remember the scene in Rocky II when Balboa is trying to catch the chicken? Yeah. Looked kinda like that. It was so bad yet so comical that as it was happening, even as I knew how it would end, I couldn't stop myself from laughing.
And then they scored. We blew the shutout with 17 seconds left in the game. And I stopped laughing. Fantastic.
Anyway, it was a game that offered something for everyone. I laughed, I cried, I learned. You know how that goes.
Hope you can make it out this Friday night as SEC play opens when we welcome LSU to Athens. Go Dawgs Sick 'Em!
10 In The East
Sunday, September 19, 2010
I'm starting this entry on Sept. 15, 2010. Sorry it's a little tardy. The trip to California has popped a spring in my body clock and for the past two days I've been mostly sleeping or, when my eyes were open, just mostly asleep. Beginning with our 10:25 P.M. return flight out of San Jose (that's 1:25 A.M. in the east), I got 3 hours of good-for-little plane sleep. We touched down at the ATL at 6 A.M. then got on the bus to Athens. On the bus I stayed awake playing Name that 80s Tune with DJ Nooj, arrived in Athens around 7:30 A.M. I finally got home at 8 and promptly fell asleep for the next five hours. Woke up a little past 1 P.M. and just could not shake out the cobwebs and went back to bed from 5-10 P.M. When I woke from that little slice of heaven I figured there was no way I'd fall asleep again. Except in reality, I still couldn't escape the fog and fell back asleep around 1:15 A.M., then up at 5:30 A.M. to get ready for our 7 A.M. training. Made it until about 4 o'clock this afternoon and then took another 3 hour haymaker. And now here I am at a little past midnight and if it not for clocks, I would have no idea what time it is, what day it is, or what meal is supposed to be next. Point is, I don't feel tardy.
As for our trip…
The flight to San Fran was delightful. The plane came equipped with TV/Game monitors on every seat back, so the Dawgs had a rousing game of mile-high trivia where our Sports Info Officer Kate, a dark horse entry, just completely dominated. A little competition was a big help in passing the four hour flight I can assure you. Then Corliss and Eddy introduced me to a brain-teaser website called www.sporcle.com. And thus another hour dissipated. To be fair, the last thing I need in my life is something that will suck me in. That's why I do my best to avoid the TV shows that most people love. When I find a show that grabs me, I become a devotee pretty quickly. I'll start planning my week around it and I just don't have the time to take on a new hobby. That's why I'm thankful the West Wing isn't in reruns on Bravo any more. I've watched every episode of that show enough times that I feel qualified to submit my name as an at-large bid in the federal line of succession. Unfortunately, I'm a sucker for brain games and I can see a good bit of my future devoted to Sporcle.
Moving right along…
We met our bus driver, Jim, at the San Fran airport and the man was just phenomenal. Jim was a large and jolly fellow who reminded me of those little guys in that Disney movie... I think one was a candlestick… and they went around singing that song 'Be Our Guest, Be Our Guest…" Know what I'm getting' at there? MaybeBeauty and the Beast? Cut me some slack I'm tired. Anyway, back to Jim. Jim is a very proud resident host of Northern California and the whole team took to him right off the bat. I knew I'd like him when after 15 minutes we pulled over for lunch at the brass ring of fast food joints, In N Out Burger. Want to see a happy Poet? Throw a double-double with fries my way. I was so hungry I had two of them, which we promptly dubbed 'the quad.' And oh yeah, a chocolate shake for good measure. (Just now beginning to see why I'm feeling so crappy.)
In N Out came into my life in tenth grade when I somehow inherited an In N Out t-shirt. I had no idea that there actually was such a place, only that I had acquired a very cool shirt. But in the end, I guess it was prophecy. I loved the shirt and it was one of the very few material possessions that miraculously remained with me through college, unlike those super cool Dead or Alive CDs. But I never had the actual In N Out experience until 1995 when I was visiting San Diego and realized that my favorite t-shirt came from a real place. One time was all it took. One bite and I was hooked. I don't know why their burgers are so good, only that they are, and that whenever I get out west, if I see an In N Out, they're getting some of my money and I couldn't be happier about the transaction.
Okay, so while Robin, our trainer, Mandy, and I indulged in burger heaven, Steve and most of the players had lunch at a Panerathat was across the parking lot. Panera or In and Out? I don't even really see a choice there but whatever. Steve's absence was the genesis for a little wager. Steve is fascinated by a lot of things, but as far as I can tell, none more than time zones. He loves translating the time of any new time zone we visit into Eastern Standard, or visa versa. For example, in the weeks leading up to our Stanford match, he regularly mentioned that we would be playing at, "10 o'clock our time." Having travelled extensively with my boss, I knew his affection for Time Zone Math (TZM). So I proposed an over-under for the entire weekend. I said he would make at least seven references to TZM. Robin couldn't resist and predicted nine references for the weekend. Well, Robin was right. Sort of. Steve did make nine references to Eastern Time. By dinner. When we got back to Athens the count was 21 or 22. Like I said, the man loves his time zones.
We had a light training at Stanford on Thursday afternoon where we inducted our equipment manager Olivia West into our coaches One-Touch juggling troupe. One-Touch juggling is something the coaches do to pass the time while the players are warming up. The best part about it is that we always end up doubled over in fits of laughter. Steve and I are charter members from our days in Oxford. In Athens we added Robin. Nooj gave it a shot but apparently we weren't satisfied with his performance and banished him. As he tells it, he's been excommunicated from the group. I don't remember it happening exactly that way but how often do you get to use 'excommunicated' in conversation? That's reason enough to keep him out. So Liv joined us and now Robin suspects that we're covertly auditioning Liv as her potential replacement.
Our preparation for Stanford focused on how we dealt with their backs when they had possession. If you like a team that passes the ball and you haven't seen Stanford play, well, you should. They keep the ball better than any team I've ever seen. And I mean EVER. We had two videos of their recent matches and one was against Duke – a fine team by any measure. Stanford tapped off to start the game and proceeded to string 22 consecutive passes together before Duke even touched the ball. Scary, right? Tell me about it. In the second half they scored a goal that was the end-product of a 14 pass run. A lot of teams never string 14 consecutive passes in a game against a bad opponent. Stanford did it against freaking Duke. Ummm Hello.
The bottom line is that they're very good and all of their players are technical enough to solve pressure so if you're not smart about how you press, you're gonna end up doing a lot of chasing. And even if you are smart about it, you're still going to chase more than you like. So we developed a game plan to try to minimize the damage that all their possession would do to us. Then we loaded up the bus and concluded our day with dinner at the Cheesecake Factory. (There really is something to this Division I thing.)
I don't do this intentionally, but there are certain moments where I can't help but remember my roots, coaching at and against small schools that most folks have never heard of and playing in front of 23 fans on a field that I mowed and lined and did neither very well. Kicking off against Stanford, the #2 team in the country, on an absolutely perfect Friday night in front of 1200-plus in Northern California was decidedly one of those How Did I Get Here moments.
(Okay, it's now Sept. 19 and I promise I'm hurrying to get this entry finished.)
So the game kicked off and Stanford did what Stanford does best – pass the ball. Our organization was good enough to keep them from being too dangerous too often. And regardless of who devised our game plan or how well we executed it, we knew that we would need to dodge some bullets. You can translate that last sentence into us coaches praying that our goalkeeper would have a banner night. Thankfully she did. Baker made two huge first half saves, one from point-blank range and another to stymie a breakaway. When The Cardinal finally put one past Baker, Chewy was there to clear it off the line. Yes, we dodged some bullets.
Stanford hasn't lost at home in three years so I'm sure most people were surprised to see the Dawgs jump out in front in the 12thminute. Corliss curled in an early cross that skipped across the penalty spot. Marah outdueled her defender and lobbed a volley over the charging keeper. Marah's shot got a lot of air underneath it and took an eternity to come back to earth. It took so long in fact that three times during its flight I said, "Get down ball!" It was difficult to tell from our angle, but it looked like it had a chance. If I tilted my head just right it appeared as if the ball had a shot at coming down under the bar, which it most certainly did. Dawgs up 1-0.
At first I thought Marah may have gotten a little bit lucky. But then I watched the video and sure enough, Marah did exactly as she wanted. Okay, maybe she didn't plan on the ball coming down with stardust, but she most definitely intended to lob that ball over the keeper. It was her first goal of the year and we couldn't have been happier about her timing. We had a lead on Stanford. Who knew?
Stanford is a sensational team but Marah's goal calmed our nerves and we began to realize that the Cardinal wasn't the only team that could pass the ball for long stretches. That first half saw some of the best soccer we've played all year and we got to the break up 1-0.
We held the lead until the 88thminute when Stanford equalized with a very well-placed bender from 25 yards that negated Marah's goal. 12 minutes later we were in overtime.
The strangest thing happened in the first overtime. After 2 or 3 minutes Stanford suddenly looked very un-Stanford-like. They started just clearing balls in situations that they would normally pass their way out of. Their off-the-ball movement ground to a halt. And I'm thinking, Holy smokes! They're done! I half expected to hear harps and see a bright white light. The Cardinal seemed to have run out of gas and as if someone had flipped a switch we suddenly had the run of the park. I was pretty sure there were now only two realistic outcomes: either we win or it ends as a 1-1 draw, and to be honest, I liked our chances.
One of the things we talked about on Thursday was the importance of not giving the ball away cheaply. We knew Stanford was good enough without us helping them. It was critical that we didn't give them more of the ball than they earned because we knew it might take a while to get it back.
So one of the Cardinal defenders launches a fairly aimless clearance that we clean up and start to ping around about 40 yards out in front of our goal. We string four passes together and then one of our passes, completely unpressured, badly misses its mark and goes out for a Stanford throw-in. This is the definition of giving it away cheaply and that was the last time we would ever have possession of the ball.
Stanford swung the ball into their central players, both of whom narrowly escaped thundering tackles from Sooz, and moved the ball to the other side. We managed toe-poke the ball over the opposite sideline for another throw-in. That throw-in set up a cross into an unmarked striker whose header from seven yards took a most unfortunate bounce off our defender's hip, wrong-footing Baker, and merrily bounding its way across the goal line with about forty seconds left in the first OT. Game over.
It was a heart-breaking and somewhat anti-climactic way to end a pretty entertaining game. It was a fair result, but the game deserved a better finish. But apparently the soccer gods had other things to tend to. After all, it was already after midnight in the east

Saturday was my birthday and was highlighted by a visit from my best friend Scott who made the drive down from Berkeley. Of the things I am most thankful for in my life, and there are many, my 30-year friendship with Scott is right there at the top of the list. Mark my word on this… one day he will write a book and it will be a best seller and it will be the funniest thing you've ever read. Think hetero Augusten Burroughs if Burroughs was, ya know, a whole lot funnier.
On Sunday we faced #9 Santa Clara. It's strange to think that you could be emotionally catatonic heading into a match against a perennial national power and a program that can lay claim to one of the few national championship trophies not residing in Chapel Hill, but sure enough, the Dawgs were F-L-A-T flat.
We expended a lot of emotional and physical energy against Stanford and it's hard to recover from that, especially on a Sunday in a relatively empty stadium. Well, if you ever make a list of teams you don't want to be flat against, you'd want to include Santa Clara. Just sayin'.
The long and short of it is that they were very good and we just plain stunk. Remember a few paragraphs ago when I talked about not giving the ball away cheaply? Apparently our players didn't remember either. Our passing was horrendous. I mean we couldn't hit water from the beach. I don't know why, but a lot of very good soccer players simply couldn't execute a 15 yard pass. And to be quite frank, we had a couple of players who just didn't show up. After the match I made the comment that we started the game playing 9 against 11 and I stand by that. Some players just didn't seem interested.
Baker played well again between the pipes and we got lucky that a Santa Clara attacker drilled a rebound chance off the crossbar from 3 yards off the line. We had a couple of good looks at their goal in the first half, but when our passing didn't let us down, our finishing did.
Okay, so if our first half was graded an F, the second half had to be a G or H. And holy cow did Santa Clara look good! I mean they ran the show and in the 63rdminute they had a kid get free down the left side, whip in a low cross that was finished at the near post. It was a quality goal and one they wholly deserved.
As for the Dawgs… well, as bad as we had been we were still only down by one which was at least a glimmer of hope. With nine minutes left Corliss drove in a free kick from 40 yards. Pollock went up for a brave header that she flicked past the fists of the charging goalkeeper and because sometimes the soccer gods are kind, we were knotted at 1-1.
That's how the game finished and we got out of the weekend with a win and a tie against two superb teams.
The mood after the match was very subdued. The girls knew that our emotional unpredictability was revealing itself as a habit. And they are smart enough to know that an emotional problem is a lot harder to fix than a soccer one. Regardless of the circumstance, we have got to find a way to be better – consistently better. We can't stash away our best performances and only reveal them when the game has an 'event' attached to it. Nobody gets to only play under the lights on Friday nights against marquee opponents in front of 1500 fans. Even Les Mis does matinees. To win in the SEC you have to grind it out on some very hot Sundays in front of small crowds after a long couple days of travel. If you can't do that, you ain't winnin' trophies. We've got to find a way to dig a little deeper just because there's a game to win and not because we might look cool doing it.
After the match we had a bunch of time to kill before our flight so Jim drove us up to Fisherman's Wharf in San Fran and we spent a couple hours being tourists. For as great as our job is, the really fun part is getting to experience a lot of things that the typical college student might not, and a trip to Pier 39 with a team full of college soccer players definitely qualifies.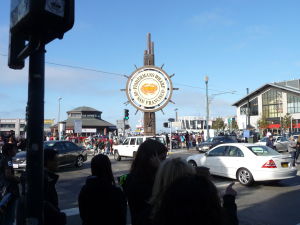 Pier 39 is a tourist Mecca bustling with foot traffic and offers a view of Alcatraz and lot of other very cool distractions. One of my favorites is the "Bush Man." He's a black fellow with long dreadlocks and a sharp tongue that sits propped up against a trash bin, obscuring himself with a bush limb in each hand, then startling unsuspecting passersby with a well-time scream. People will line the sidewalk near him to watch as he puts a jolt into pedestrians. He's carved out a pretty neat niche market for donations, mainly because spectators get to feel as if they are in on the joke. I've seen reports that for his services (which include photo opps) the Bush Man rakes in over $60,000 a year, which unfortunately in the Bay Area, probably still puts him below the poverty line. Regardless, only in America can someone make that kind of money doing what the Bush Man does.
There were plenty of other talented street performers to amuse us and they were all very happy to pose for a picture in exchange for a small donation. Steve, Nooj and I also visited a couple of interesting shops. In one we were entertained by a magician and in another we got hooked up to portable electric stim machines for massages. Have you tried these things? Oh they are fantastic! And the muscle spasms they induce make for great comedy. I was in tears watching Nooj's head twitch from the jolts of electric coursing through his spinal column.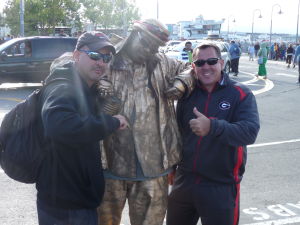 The massage shop was amazing. There wasn't a product in there I didn't want to buy. Everything in the place is designed to make your body feel spectacular. Once in a blue moon I'll wander into a store that makes me wish I was a wealthy man. This was one of those shops.
You can't get seafood any fresher than they serve on the wharf, so my crab sandwich was also fantastic. But the unparalleled highlight of the trip came just before we boarded the bus when Maddie, Bay and Woody danced to Beyonce's 'Single Ladies' to the delight of a crowd of spectators. And yes, we have video!
After that it was just one long trip home, a lot of very tired people, some fantastic memories and hopes for a better result next Friday.
Redemption Song
Sunday, September 5, 2010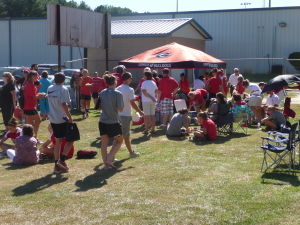 Today's Monkey of the Day was mailed in by subscriber Reggie and it's a beaut! You can see his contribution on the Things My Phone Saw page. Thanks Reg!
Friday was a good night for SEC soccer. The Dawgs survived the Mercer mayhem; Kentucky upended Virginia Tech; Arkansas topped Miami; and Auburn upset Florida State. Good for the SEC!
There are days when, even four hours before kick-off, you know your team is going to play well. When one of those days settles upon you, life is just a giant ice cream sundae. Today was a heapin' helpin' of Rocky Road.
While I was off recruiting yesterday, Steve surprised the team by announcing that instead of our normal 22-person travel party, we would be taking everyone on the trip to Georgia State. It was a smart move and the timing couldn't have been better. Friday night a lot of pointed questions were asked and answered. That makes Saturday a day of healing. And when Saturday is a day of healing, Sunday typically becomes a day of celebration. That's exactly what happened.
Disappointed with our Friday performance, the players did a little soul searching and committed to righting our ship. And you could see the effect before the bus even started to roll. There was a positive vibe that was impossible to miss. It was like the senior class trip to Six Flags. The players wanted to make amends for our Mercer disaster, and they wanted to do it together, as a team, as a family, with everyone being a part of it. I couldn't tell you how long it would last, but on this day, our collective head was on straight.
There was a sense of rededication in our camp. Nooj reinforced it on the bus by having each player jot down three personal goals for the Georgia State game on index cards. The cards were then collected and redistributed randomly to teammates who read aloud the goals of whichever player's card had ended up in their hands. It's a very cool exercise and the girls did an excellent job with it. What excited me was how some of the players took ownership of their shortcomings on Friday night and commited to not repeatng the same mistakes.
Yes, Mercer still made it into our pregame speeches. Steve mentioned that if the players wanted a do-over, Georgia State was as close as we could get – an in-state school (that went to OT with Mercer themselves) who would have us penciled in as their game of the year. Beat the Dawgs and no matter what else happens with your season, you'll always have that milestone moment.
Ironically, the worst thing that happened to Georgia State was also the worst thing that happened to us – namely Mercer. Had Mercer not pushed us to the limit we might not have been quite so fired up for the Panthers. But Mercer had pushed us. And yes, we were fired up. And Georgia State was in the wrong place at the wrong time.
On my honor I would have bet you my house that we were going to be fantastic today. And had you taken that bet, I would still be a proud home-owner.
The whistle blew and our energy level was off the charts. We swarmed. Our pressure immediately caused them problems. Miller and Lex both had clean looks from 18 yards in the first three minutes but sailed their shots just wide. Regardless, it was clear that on this day we would generate our fair share of scoring chances and that we wouldn't wait 'til the second half to get our pistons firing.
The biggest problem we encountered was, oddly enough, the game ball – the same one that was used in the World Cup that all the players were moaning about. Now we know why. When that ball went into the air it was pretty much a circus for us. It would take off like a helium balloon and then suddenly dip. This team has some of the best headers I've ever coached. So it goes without saying that they are pretty darn good at judging the flight of a ball. But when Pollock jumps for a header that clears her by three feet, something is clearly amiss. Eddy, another very strong header, poised herself for an unchallenged punt and ended up taking the ball off her nose. And our back four… well they spent the better part of the first half watching every Georgia State long ball fly over them because the ball carried so much farther than the balls we typically train and play with. This was a legitimate concern because the Panthers game plan centered around banging the ball over the top. They had a bona fide flyer up front and she was getting dangerously close to getting onto the end of one of those home run passes.
It took us a little while but we made the adjustments. Once we got the heading thing sorted out, there wasn't much that was going to stop us today. I don't know how else to put it, but we were just sharp.
I don't like singling out players, but Ashley Miller was superb as our attacking center mid. She's so soccer savvy. With her back to goal and a defender right up her rear, she has an uncanny ability to peel herself away from pressure and find the next pass. A lot of players can find an open seam when it's sitting there in front of them like a canyon. But Miller can see the seam before it opens and weight a pass that casually rolls through the spot where just a second earlier a defender had stood. She can play with any surface and thread passes through traffic as well as anyone I know. These are excellent qualities in a playmaker, and today Miller was an exceptional playmaker.
Nicole Locandro had an interesting Friday night. She was a charter member of our missing persons club in the first half. Then she scored 34 seconds into the second half and went on to have a sensational performance the rest of the way. After the game I pulled her aside and said that although it might be difficult for her to understand this yet, even as a freshman she is a critical piece of our team. I told her that she needed to understand her value and how we couldn't afford for her to make her arrival after 45 minutes were already in the books. So one of her goals for today's game was to play with intensity right from the start. She can now, with a clear conscience, cross that off her to-do list. Mission accomplished.
In the 25thminute Nicole cleaned up the pieces of a Pollock tackle near the center circle, took two long dribbles and from 30 yards cracked a low shot that skipped just inside the post to stake us to a 1-0 lead. Life was good. Life was very, very good.
Of course, into each life some rain must fall.
Two minutes later the Panthers answered with a spectacular finish. Their right wing darted into our penalty area to get under a long cross from the far side. She timed her run perfectly, won her race, and with the outside of her laces gently flicked a full volley past Baker to bring the score level.
The goal gave Georgia State a burst of energy, but unlike Friday night, this time I was genuinely not bothered. Maybe it was the postcard weather. Maybe it was the Reggae Festival just beyond the stadium. Whatever it was, I couldn't have been more relaxed about a 1-1 game.
Yes they scored a great goal, but it was their only chance to that point and we were just playing too darn well. Honestly, I was enjoying the show. It was a beautiful day, the Dawgs looked fantastic, and even Georgia State had scored a world-class goal. We had hit the bar, forced some great saves, had one cleared off the line and had a goal called back for reasons that will forever defy explanation (although the A.R. insists it was offsides). Regardless, there was no way we were losing this game.
In the 42ndminute Gibbo took a feed from Eddy that left her standing in the Panther goal box, about 15 yards out, and just wide of the left post. Her first touch deadened the ball underneath her – hardly ideal. To strike it with the laces or the inside of her foot would have required another preparation touch and by then her window to shoot would have closed. Instead Gibbo cleverly let herself fall away from the ball while simultaneously jamming a toe-banger into the far side netting. It was a renaissance goal - crafty and pragmatic - a goal-scorer's goal all the way. And it got us to half-time with a 2-1 lead.
At the break we made a point to the backs about dropping off a little further than normal to account for the flight of the lighter ball. Other than that it was pretty much, 'keep doing what you're doing and let's finish them off.'
The Panthers were the more energetic side to open the second stanza, but we survived their initial burst and took hold of the ball and the game fell into the familiar rhythm of the first half, with the Dawgs keeping hold of possession and probing for chinks in the Panther defense.
In the 58thminute Miller picked out Locandro with a low cross and Nicole calmly potted it to stretch our lead to two. And for all intents and purposes, that was the death rattle. That goal deflated the Panthers' will to fight and we more or less had a stranglehold on the remainder of the match.
As has been a critical component of our early success, again today our depth reaped huge dividends. The Panthers could compete when their first eleven was matched up with ours. But we kept bringing the fresh legs and the level never dipped and when a team can grind away at you like that, it's difficult to maintain the fight.
Gibbo struck again in the 68thminute and then completed the hat-trick in the 73rd. We coasted the rest of the way into a comfortable 5-1 win. (And for those of you scoring at home, 3 of the game's 6 goals were Big 5 material.)
It was a lovely afternoon made even lovelier by the parade of Bulldog parents who set up a tailgate tent for a delicious post-game meal (special thanks to whoever brought the brownies J). Good soccer, good food and a win for the Dawgs. That's my kinda Sunday.
Incidentally… if you haven't done this yet, you should visit www.georgiadogs.com and check out some of the stuff we're doing. Kevin Kopp does an amazing job piecing together video for the website, and as the talent in front of the camera, the guy is top-shelf. Today's game also debuted a live blog where fans could send in questions and comments in real-time and get answers from our S.I.D. Kate Burkholder. A bunch of folks participated and it was pretty cool to check out the interaction. I think Kate had it easy today as the Atlanta location made it convenient for our fans to see the game for themselves. I have a feeling she'll be a lot busier next weekend when the Dawgs travel to Palo Alto to square off with the 2009 national runner-up Stanford on Friday, then clash with the nation's #8 team Santa Clara on Sunday.
So log on and interact. All the cool kids are doin' it.
Got a comment about this blog? Contact me.
Lessons for Free
Saturday, September 4, 2010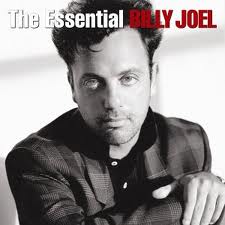 Today's Monkey of the Day goes to the Piano Man from Oyster Bay, Long Island... Billy Joel. On my pre-dawn drive to Atlanta I heard We Didn't Start the Fire, which incidentally holds the world record for most non-repeating lyrics in a song. Here are a few of them:
Buddy Holly, Ben Hur, Space MONKEY, mafia…
Now, if I could only get him to subscribe.
Okay. Onto our show….
Here's the thing… I don't like being a public figure. Yeah, strange thing coming from a guy who keeps a blog. But if I could blog in anonymity, I most certainly would. Point being, in the world of college sports, that's one thing about soccer… we're not real high profile. We're certainly not SEC football high profile. So I like that. Plus, I enjoy the relative obscurity of being an assistant, so I like that too. Steve's the one with the photo opps and media obligations and that's exactly how I like it. Besides, he's good at it. I mean look at the man – he still can pass for 25. Plus he's an eloquent speaker. Looks and oratory - it's a winning combination. He's TV friendly. Me? Notsomuch.
If it was up to me I would just sorta exist in a little bubble coaching my team and not dealing too much with life beyond that. I don't like being 'known.' I'm not comfortable in any environment where people know who I am but I don't know who they are. On Game Night inside a soccer stadium that's fine. It's just everywhere else that I get a little freaked out.
So what got me going about this? Well, the past 24 hours. It includes last night's near upset at the hands of Mercer then a quick turnaround (I'm talking like 5 A.M. quick) to check out some games at the Atlanta Cup as part of my recruiting responsibilities. Naturally a coach wears his colors when he's out recruiting. You gotta represent. And I'm proud to don my red and black. But you see,
those colors mean one thing in New Jersey or Vegas or Houston or San Diego. In Atlanta on the other hand, it's a whole different level. Talk about a lot of people knowing who you are when you don't know who they are… yeah, a recruiting tournament in Atlanta would qualify.
You gotta remember, these people are passionate about UGA. They're invested. Plenty of them are proudly wearing their colors. They are Georgia fans and Georgia graduates and they expect us to uphold a seriously high standard. And if we don't? Well, they're not going to be shy about espousing their opinions.
They may not even know my name, but they sure as heck know I'm an assistant for the Bulldogs. When they see me approach, they tug the sleeve of the person in the folding chair next to them. When I walk behind a row of parents, a vapor of whispers trails me. And that feels a lot like living under a microscope.
Last night the Dawgs were fortunate to leave Macon, GA with win #3. We were down 2-0 at the half, tied it with less than 3 minutes to play, and then won it in the second overtime.
Going back to preseason, Mercer was the first opponent we faced that doesn't have what you might call a high profile. So far we've played schools called Duke, Kansas, Utah and Florida State. Three are named after entire states, and well Duke is just Duke. Point being, everyone has heard of all four. Mercer's reputation just isn't as large. And we knew that could pose a problem for us if our players didn't come out of the gate focused and intense. Naturally they didn't.
We tried every way imaginable to get one message across to our players: This was Mercer's game of the year. If we didn't show up, we were gonna get stung.
Yeah, not our first day on the job, ya see?
Fair play to the Bears. The whistle blew and they just plain outworked us. We were lazy and careless and made mistakes that are beneath the talent level of those who made them. We couldn't turn the volume up past seven. And Mercer made us pay.
They scored in the 25thminute and we saw it coming. I was hoping that might be the wake-up call we needed but, ya know… naaaaah.
In previous entries I've celebrated our depth. Well last night our depth was no better than our shallows. Instead of playing with an enthusiasm to change the game, our reserves were as flat and disinterested as our first eleven. We were a top-to-bottom disaster.
So instead of us answering, Mercer doubled their lead in the 42ndminute and you know what? We saw that one coming, too. We were sloppy, sloppy, sloppy. And they made us pay.
The one thing our depth did provide was some rested legs. And more importantly, many of the starters were given extra time on the sideline to quietly reflect on the game that they were badly botching. The shot total at the end of the half was 6-5 for Mercer. No disrespect to the Bears, but we took nine first-half shots against Duke and they're going to be a Top 10 or 15 team. That we only mustered five against Mercer was not only a testament to their effort, but also an indictment of our own.
How can I say this??? Hmmm…. Let's just say that tactics weren't high on the half-time agenda. Fire-starting was. Affecting an attitude adjustment – that got top billing. So we dug into the girls about their first-half effort and about the responsibility of wearing that Bulldog jersey. Win or lose, our university deserved better.
So we left the half-time huddle and I thought we did a good job of getting our point across. But here's the thing… you just don't know. Until the second half kicks off and you can see what actually transpires, as a coach, all you can do is sit there and hope and pray that the players deliver.
Here's the rub. No matter what we said at half-time, the fact of the matter is that in the first half we just weren't dangerous. I expected our energy level would rise, but I really didn't know if that would be enough. It just seemed like it wasn't our night.
As a coach, when you're down 2-0, you're not hoping to score three second-half goals. You're hoping for two. Get two and then win it in overtime. If you happen to get the third in regulation, well then you're just livin' right. We've proven that we can get goals in bunches, so the one glimmer of hope was that two goals was not an unreachable summit.
There was one phrase that I was certain would be making its way through the coaching staffs of both teams: 'early goal.' We knew if we got one, the tide would swing in our favor and we could effectively ride a momentum avalanche. Having been on the other side of this same coin, I would wager that the Mercer coaches were thinking that if they could avoid giving away an early goal, their chances of hanging on 'til the end were substantially better. And if they didn't, well, that could mean big problems.
Sometimes a soccer game is described as a 'game of two halves.' This game warrants exactly that description. Mercer was the better team in the first half. The Dawgs snatched that title away in the opening seconds of the second half and never gave it back.
A desperate and inspired Georgia team got out of the blocks before the referee's whistle to commence the half had fully faded into the night. Pollock's entry pass into their 18, intended for Lex, was toe-poked by a Mercer defender directly into the path of Nicole Locandro. Locandro's first touch of the half zipped past their goalkeeper and cut the Bears lead to 2-1.
34 seconds had elapsed.
We played downhill for almost the entirety of the second stanza. Mercer was in preservation mode and was content to lump the ball long to relieve pressure and I sure as heck couldn't blame them. We kept coming in wave after wave, had several near misses in large part due to the play of their goalkeeper, and with three minutes remaining we were still in search of the equalizer.
We threw bodies forward. We kept dumping the ball into dangerous places, but the Mercer defenders always seemed to be a hair quicker in getting to it. The crowd of 700 got louder with each narrow escape, urging their Bears to the finish line, hoping to be a part of the moment when David slayed Goliath. Then finally…
Locandro got hold of a ball about 25 yards out in front of the Mercer goal. She spun to her right then feathered a pass that sprung Lex in behind on the left side. Lex exploded past the defender with her first touch then calmly slid her shot past the charging goalkeeper to level the game at 2-2 with 2:39 left in regulation. We had clawed back and with overtime on the horizon, we had bought ourselves 22 minutes to finish the job.
The first overtime session passed without incident but I think a neutral soccer person would have surmised that by that point there were only two likely, if not solely possible, outcomes – either Georgia would win or it would finish as a 2-2 draw. We were pressing for the winner. Mercer was hanging on for dear life.
In the sixth minute of the second OT, Pollock did what Pollock does best. She battled. Down in the corner on our attacking left side, Pollock outfought a pair of opponents then smacked a heavy cross that cleared the goalkeeper and landed in the bread-basket of Alex Hooker who ran it into the goal from a yard off the line.
The next second was among the longest I've known. I was waiting for some bizarre decision to nullify the goal. I think we all were. I was certain the ref would conjure up a handball or we'd be flagged for offsides. But the flag stayed down. And that was that. And as if someone had flipped a switch, that stadium, all at once, got eerily quiet. 700 fans just went dead silent.
Maybe there was some confusion because the finish was a little bit unorthodox. Most goals don't look like that. Normally an OT win commands a bench-clearing pitch invasion. But even our own players just kinda meandered their way over to Hooker. It was a really odd moment. No one seemed to know what to do. You'd never have known that we just came from 2-0 down to win 3-2 in double overtime.
After the match we reminded the players about the bulls-eye on their backs, especially against our in-state competitors. We reminded them that urgency cannot be dictated by the reputation of our opponent. I reminded them of two lines from my pregame speech:
Do not wait to be inspired.
Do not wait for the spirit to move you.
But we had waited, and it almost cost us dearly. And to make sure the point got hammered home that our first half effort was in fact lacking, Steve read out the shot total. From half-time on the shot total favored Georgia by a 17-1 margin. It's not like we became more talented players in the second half. Nope. We just decided to play like it mattered.
Our hope is, and we expressed this to the team, that we learned the lesson without paying the price. As our bus-driver Mickey keenly observed, "That one was for free."
Last night taught me that we have to mature as competitors. Our effort thus far has been directly proportional to the reputation of our opponent. That means we're measuring ourselves against the wrong standard. We need to measure ourselves against our own standards. And we need to start each game with much greater urgency. If we don't, we're going to be in for a season of unfulfilled potential.
And just in case you're keeping track... four of tonight's five goals are 'Big 5' qualifiers. I asked Steve and he assures me that equals 80%.
So I got home around 1 A.M., jumped into bed and got up four hours later to prepare for my trip to Atlanta. It was a long, long day.
Plenty of people at the tournament commented about last night's game, and that's what got me to thinking about my affinity for keeping a low profile. Because as uncomfortable as I was nodding about last night's win, the one thought that kept popping into my head was... What if we lost?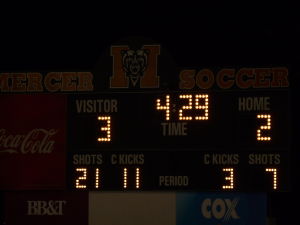 Got a comment about this blog? Contact me.
Things We Can't Say...
Friday, September 3, 2010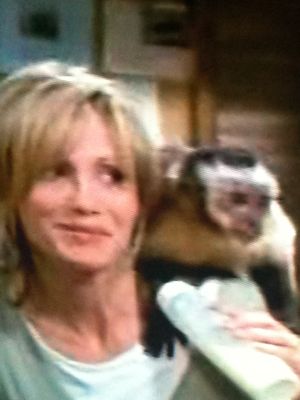 This entry was actually written on Aug. 31.
Came home from the office early this evening and took from my fridge the Teriyaki chicken I've had marinating since Sunday. Wanted to let it settle to room temperature before sticking it on the grill (little grilling tip for you right there). So I set it on the counter and figured I'd kill 20 minutes on the sofa. Well, seems I was asleep before Tony Kornheiser could say the 'I' in PTI. I was literally asleep 5 seconds after I laid down on that couch. Woke up two hours and fifteen minutes later. This being at work at 6 A.M. thing just ain't right.
Today's Monkey of the Day comes from my co-worker Robin Confer who was fleet-fingered enough to snap a pic of her television. It's our first Guest Monkey.
It's funny. When you think of all the labels one can assign to Robin, My Co-Worker won't crack the Top 100. Robin's accomplishments in soccer more or less put her in a different galaxy.
One of the things I was looking forward to at UGA was the chance to work with the staff of coaches who were staying on board, namely Steve Nugent - a friend from my earliest NAIA years, and Robin – one of the true legends of women's college soccer.
Here's the thing… Robin is very modest. If you didn't know her list of accomplishments, she'd never be the one to tell you. But anyone who's been in this game for a few years does know her. Or at least of her. Robin cannot escape her soccer fame.
There was a time when you could catch kick-off of an afternoon soccer match at UNC, see the Heels score a half-dozen goals and still be out of there in time to grab your dry cleaning and pick up the kids from school. Robin was one of the reasons your kids weren't left standing on the curb.
Whenever Steve Holeman, Robin and I are introduced to a visitor on campus, Steve likes to joke that between us we have three national championships. Which is true. Robin has three rings while Steve and I… well, you can do the math. And if not for an unfortunate own-goal by a teammate, Steve might have had to amend his joke from 'three national championships' to 'four.'
Just a quick review… my co-worker scored 77 goals as a four-year starter for UNC. As a senior she was the National Player of the Year (for those of you who may be new to this, think Heisman Trophy) and a First Team All-American. Her #7 jersey was retired by the Heels. She has represented the United States at the U-16, U-18, U-20 and full national team levels. She played professionally in the WUSA for Boston. You can see her in soccer videos. You can read about her in soccer books. You can probably find a poster of her on EBAY. And even now at the tender age of, oh, let's just call it 29, when she laces 'em up at our training sessions, she can still shred our entire team including her fellow coaches. Even in retirement she is perhaps the fittest person on our roster and just because she's got a few free minutes each week, she runs marathons. Let's face it, the girl is Luh-Jit!
Okay, so Robin's reputation as a soccer player precedes her. But that hardly defines her. She also happens to be a really warm-hearted, genuine person and someone I thoroughly enjoy seeing every day. And she's really good at her job.
Working with Robin has put everything into a new perspective for me. To give you an example, today one of the girls came out for some extra training, mainly to work on her 1v1 moves, and Robin and I were there to help. So I'm telling the player about something I noticed about her dribbling from this past weekend's games. Then after about 60 seconds of me rambling, the light bulb finally went on and I was like, "Why are you listening to me? Why am I even talking when we've got one of the best 1v1 players of all-time standing right here?" Next to Robin I have absolutely no street credit. So I left.
This summer Steve and I realized that working with Robin is great for balancing our egos. It began when UNC notified Robin that because of the amount of jerseys the program has retired, they needed to start recycling numbers and were taking her #7 out of retirement. Well Robin was happy to oblige UNC, but she wasn't exactly thrilled that her number was being taken out of retirement. That inspired Steve and I to create a running list of things Robin can say but we can't and never will. "They unretired my jersey" is at the top of that list.
"I only scored once for the U.S." Yep. That's on the list. Probably my favorite.
This summer during soccer camp the U.S. played its World Cup match against Ghana. Just before kick-off our coaching staff realized that in the hustle and bustle of a camp week, none of us had worn our national team jerseys to show our patriotism. We were all a little irritated with our own forgetfulness. Robin toyed with the idea of going home to get hers and Steve and I were thinking that maybe we should do the same. A second or two later we had our little Ah-Ha moment. Steve and I were talking about the national team jerseys that we bought at like Dick's Sports. Robin was talking about her actual national team jersey. On the back of the shirts that Steve and I own, the nameplate reads "Donovan." On the back of Robin's jersey it says, "Confer." These are the moments that remind us who's really in charge around here.
Once Robin was telling me about a girl from another sport at another university who had won two national championships. I asked Robin if she made fun of her.
The really cool thing is that in the unlikely event that working with a legend starts to get a little bit lost on you, there's always another story to be told. My new favorite came to light last week. Like most of Robin's stories, this one just sorta started as an ill-timed hiccup then quickly snowballed until she had no choice but to see it through to the end.
It started out when I jokingly said that I would score nine goals in some fictitious game. Robin countered that she had once scored ten. And she immediately regretted saying it. But we pressed for details so she begrudgingly continued.
Okay kids, gather round for Uncle Poet's story time.
During her senior year of high school Robin was 10 goals shy of breaking the Florida state record for career goals. So on a day when her team was about to face a rather weak opponent, Robin's coach asks her if she wants to just break the record that day.
Yeah. Just let that sink in for a second.
So… you only need ten goals. Why not get them all… In. This. One. Game.
Three hat-tricks. Plus one. No biggie.
Huh?
That the coach even considered this a possibility should be enough absurdity to last a soccer lifetime. That Robin decided that she would go out and actually score ten times, well, that's the difference between fact and fiction. Fiction has to be believable.
If you don't understand the preposterousness of even suggesting this, then I'm guessing you're new to this sport. Asking someone to score 10 goals in a game is like asking a baseball player to hit seven home runs... in six at-bats. It's patently absurd. Honestly, I don't know that I've ever coached a player who even took ten shots in a game.
A high school game in Florida is 80 minutes long. A player would have to score a goal every 8 minutes to reach this feat. And keep in mind there are 21 other people on the field who, you know, also want the ball and at least 11 of them will try to take it from you.
Sure enough, Robin does as promised. She scores her 10 goals and breaks the record. She tries to cushion her achievement by reminding us that the other team was just really bad. "Everything I shot at the goal went in. It was ridiculous. We won 16-0."
As Steve and I are processing this - the way you might process the morning after the night you spent in your hot tub with the aliens who had landed their spaceship in your backyard – a thought occurs to me. So I say, "Robin, isn't there a ten-goal mercy rule in Florida?"
Here's the thing. Robin was hesitant about telling this story in the first place because, like I said, she's exceptionally modest. But it was one of those moments where your mouth gets out in front of your brain and before you know it, the horse has left the barn. Given the chance to do it over I was already certain that Robin would have never let this topic surface.
When I mentioned the mercy rule she about choked.
"Well… there is," she said, realizing… accepting… lamenting that another horse was headed out the door.
"But you have to play the whole first half," she said.
Silence as Steve and I put the pieces together in our heads.
Eyes shifting as we try to reconcile that what we think we heard is actually what was said.
Then astonished resolution. Peaceful acceptance. Amazement.
"Wait a minute. You scored ten goals… IN THE FIRST HALF!?!"
Robin wishing she could vanish from that chair in my office and really looking forward to the end of this discussion.
"I told you they were REALLY BAD."
"You scored a goal every four minutes???"
"You don't understand how bad this team was."
Yes, one more story that Steve and I can never tell. Ladies and gentleman… introducing my co-worker and one of the legends of college soccer… Robin Confer!
Got a comment about this blog? Contact me.
Separation Anxiety
Wednesday, September 1, 2010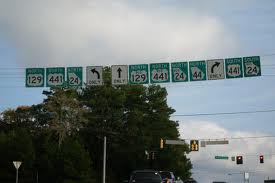 Today is a big day in the world of college soccer recruiting because on Sept. 1 the NCAA officially recognizes high school juniors as well, high school juniors. That means it becomes permissible to write/email your prospects. And for the prospects, it's a little like Christmas morning as they get to look under their tree (In this instance 'tree' is a metaphor for computer, IPhone, what-have-you) and see what Santa (college soccer coaches) have left for them. Pretty cool day if you ask me.
So much to my surprise, and I really can't express the vast extent of my surprise, SoccerPoet is off to one heckuva a start. We've had over 12,000 hits in the first four days and now count subscribers across the U.S. as well as England and Holland. Gotta be honest… I'm completely dumbstruck by the amount of traffic we're seeing here.
Perhaps the coolest part of this little lab monster is how many old friends have reached out to reconnect. Like my good friend and former roommate/golfing partner Scott in Bucklin, MO. Yeah he's a St. Louis Cardinals fan so we won't be speaking during the stretch run of the National League playoffs, but after that we'll be back to normal.
One of the very best players (and people) I've ever coached, Abby, holds the distinction of being the first person to email the site. If you followed my old journal then you'll remember me raving about the girl we all called Odie. Great to have you back, Odes!
A lot of the old players have found their way here which is fantastic! And the list goes on and on and I get happy just thinking about it.
This weekend the Dawgs are on the road for a pair of in-state contests. On Friday we travel down to Macon, once home to the greatest nickname in all of professional sports in its now defunct ECHL hockey team, the Macon Whoopee. It might surprise you to learn that Macon also has quite the rich musical past, claiming The Allman Brothers, two members of R.E.M., Little Richard, Jason Aldean, Otis Redding and Young Jeezy as native Maconites. To be fair, I have no idea who the last dude is but he was listed on Wikipedia so it must be true. I'm thinking he's friends with that Fresh Prince fellow.
Macon can also claim the worst game of college soccer I've ever seen, and assuredly one of the three worst ever played. It was 16 years ago. I was an assistant coach at an NAIA school and we were playing against another NAIA school and let's just say the talent pool on that field was too shallow to float an egg. My team was not-quite-average but their team was just plain bad. All of which wouldn't have been so terrible if the field wasn't the size of my driveway. It was 60 yards wide and 100 long so the ball was out of bounds more than it was in bounds. In retrospect I've dubbed this particular match 'The Festival of Throw-Ins.' I've never seen a game that comes close to matching that one for throw-ins taken. It was so bad that at some point I had my manager start keeping a running tally of throw-ins. There were sixty-some... in the second half! On the van ride home half of our kids had their arms packed in ice. The next day I nominated their sideline ball-shaggers for the Conference Team of the Week.
A couple of the guys from our men's team drove over to watch the match and at some point I lost my patience and told my boss I couldn't take it anymore. Then I walked over and sat with them in the bleachers. And just so you have some closure, we won 1-0. It was the only one-goal game that could've justified a mercy rule.
The game has changed a lot since then and anyone who was there that day can tell you that it's a very good thing.
It won't look anything like that on Friday. Mercer is not an NAIA team. They are a Division I team on the rise and let's face it, we're their game of the year. They've got the Georgia Bulldogs at home on a Friday night in Macon. That's going to make for one very inspired opponent. We've heard they're talented and athletic and that they are going to pressure like crazy. But to be fair, that also sounds a lot like the team they'll be playing.
We drive home Friday night and then Sunday hop back on the bus to Atlanta for a game with Georgia State. Georgia State is off to a sensational start as they've chalked up wins against Mercer and Jacksonville State. They'll square off with Georgia Southern on Friday night so hopefully that'll be a tight game and put some wear and tear on their legs. Because you know what, we'll be their game of the year, too.
Since we'll be doing so much travelling through The Peach State this weekend, I feel obliged to mention one of Georgia's unmistakable idiosyncrasies. If you ever drive here and get off the interstate you need to be prepared for this. It seems that the engineers who designed/named the state's roads suffered from some type of separation anxiety with their projects. So when one road ends and another begins, it doesn't get a new numerical designation. Instead, it just adds a new numerical designation the way a city bus adds passengers. So when Hwy. 24 ends at Hwy.129, it doesn't become Hwy. 129. Nope. It becomes Hwy. 24/129. And that's how it stays until it reaches Hwy. 441 at which the triumverate becomes Hwy. 24/129/441. You can follow this north and get on the Athens loop at which point they morph into Hwy. 24/129/441/10/8/78. And of course some of them are north and some are west. It's absolute madness! The road signs here look like Powerball tickets! The funniest thing is listening to the voice of your GPS telling you what ensemble of roads you're on. It's an entire dissertation. The poor guy is hoarse before he's done.
It's even like this in the more residential sections. For example, there's a street nearby called Cedar Shoals. I follow this road on my way to work. Eventually it ends at a T and you can only go right or left. At this point you are on the corner of Cedar Shoals and, you guessed it, Cedar Shoals.
Huh?
I've really never seen anything like it anywhere. If the ocean had that type of numbering system the Pilgrims would have landed on Fraggle Rock.
If you ever lose your way in Georgia and you ask someone how to get to a certain highway, say Highway 78, they won't just tell you how to get there. First they'll ask, "Where ya headed?" In early days as a displaced Yankee I thought they were just being nosy Southerners. Eventually I learned that I was far better off asking how to get to a town than how to get to a road. Always trust the southerners. Of this I learned.
Okay, today's Monkey of the Day is from America's Funniest Home Videos which I had on as background noise while I was grillin' up a big ol' salmon fillet. Just as I was sitting down, this little feller appeared on my TV.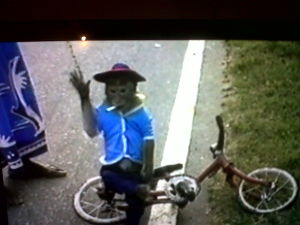 Got a comment about this blog? Contact me.
Urgency
Sunday, August 29, 2010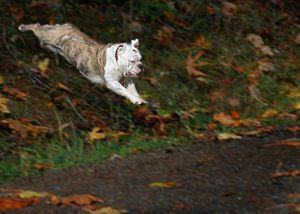 When I woke this morning there were certain things I'd never expect to happen. Like me running a four minute mile (or a 5, 6 or 7 minute mile for that matter). I never would have expected to see a hummingbird play the oboe and I certainly never ever imagined that we would hang five goals on a Big 12 team. But sure enough, the Dawgs put on a pretty convincing performance to beat Kansas 5-0.
Before the game I spoke to the team about how flat we looked coming out of the gate on Friday night. Sure we got it together in the second half, but champions don't just play 45 minutes. Champions play all 90 minutes and they play them all with urgency. In a game which the stadium lights would not shine, where the temperatures would climb higher and the attendance would stoop lower, we needed to show that we didn't need bells and whistles to inspire us to go after our opponent. We have to answer to a standard that is our own and that standard must be practically unreachable. We needed to prove to ourselves that we could dictate the terms of the game simply because we demand it of ourselves.
And yes, we most certainly did.
The tone was set in the first ten seconds when Lex and Corliss double-teamed a Kansas attacker right in front of our bench. Lex thundered in on a tackle and then Kelly finished the girl off. A few moments later Pollock got stuck in at midfield and the message was clear: The Dawgs were hungry today.
Territorially, and the stat sheet will back me up on this, we were very dominant. We outshot the Jayhawks 12-2 in the first half, 14-1 in the second, and didn't concede a shot until after the midway point of the first half. When you're having that kind of day, all you hope for is that the finishing shows up – and it did.
Ashley Miller netted her first of the season in the 21stminute to get us on the board. Sooz got her second goal of the weekend fifteen minutes later to double our lead going into the half.
We played well in the first half, the scoreboard showed it, and the girls knew it. And all that can cause some problems. At half-time we stressed returning to the field with urgency and a drive to finish off our opponent. Sooz bagged her second of the day in the 55thminute to stake us a three-goal lead and that was more or less end-of-story time. Freshman Meghan Gibbons scored the first two goals of her college career in the game's final ten minutes to close out the scoring.
As coaches, if there's a reason to complain, we're going to find it and magnify it. But today we just didn't have a lot to complain about. It was our best outing of the year and again our depth proved to be a tremendous asset. To put it in perspective, Gibbo, our 7thforward of the day, scored a pair of goals, and she earned them both. Overall we used 22 players (including 7 defenders) and the flow of the game never really changed. When you're getting that type of output, the opponent never gets a chance to breathe. We have an assembly line of fresh legs and every one of them has talent. When you're up against that there's an excellent chance that you're in for a really long day.
In the long term, our depth begets confidence. The experience the players are gaining is giving them confidence in their own abilities. The success they are having is giving their teammates confidence in them. So when we face some adversity, as we inevitably will, we will be prepared to overcome without much damage to our rhythm.
When we went up by three with 35 minutes remaining, my final concern was keeping the shutout. In games like this it's pretty common for defenders to get greedy and start ignoring their defensive responsibilities or to simply fall asleep at the switch. I've pretty well anointed Bailey (a.k.a. Bay) as the commandant of the Back 4 so when I want to get a message to the defenders, Bay is my mouthpiece. So I put her in charge of keeping us alert and intense at the back and she did a fine job. As matter of fact, all of our defenders were pretty stellar today. I really don't know how else to put it. It was just a really good day.
Our next match is Friday at Mercer – our first road match. Then we're on the road again Sunday in Hotlanta against Georgia State. Hope to see you there!
Okay, so far today there's been no monkey to speak of, but yesterday's Monkey of the Day came about thirty seconds after I flicked on the TV to a Frasier rerun. I don't really know what the episode was about, but one of the very first lines of dialogue I heard was Frasier making one of his uber-intellectual jokes about a species of flower that he said is often confused with the Chimp Pansie. And yes, that totally counts.
Got a comment about this blog? Contact me.
On The Board
Friday, August 27, 2010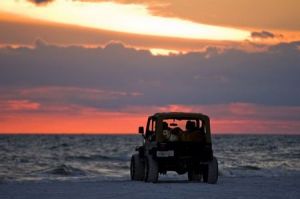 The drive home on Friday night is so much more enjoyable after a win. Sincerely. Top down, cool breeze and the feeling of satisfaction from a job well done. It's a little slice of heaven I tell ya.
Tonight was our first win of the season and for Steve and me, our first as coaches at Georgia. And from the moment we potted our third goal, my life has been the most wonderful and relaxing thing a coach could hope for. I'd guess that 90% of the games I've been involved with since moving to Division I have been decided by one-goal, so there's no peace until the final whistle. Two-goal leads are rare and prone to disappearing so they don't offer much solace until the final two minutes or so. But when you take a three-goal lead, and you score all three goals in the second half and your team is showing no signs of breaking down, well then you can sorta relax a little and enjoy the view.
This feeling reminds me of Nuke LaLoosh's first interview in Bull Durham when he tells the reporter that, "Winning… it's like so much better than losing." Sounds silly, but there's some real wisdom in those words.
We heard the Utes would be big and athletic, and they were as advertised. I just think the Dawgs were a little better technically and our ability to connect wore them down one pass at a time. By design the Utes want to knock the ball around and possess, but our press forced them to abandon that style pretty early and they fell into a pattern of banging it long to relieve pressure. It's difficult to build when you're constantly forced into lumping it long.
Although we controlled most of the first half, we weren't pleased with our performance. We weren't sharp. We lacked energy and bite. And for whatever reason we kept donating the ball back to them for no real good reason. We took some shots from absurd distances and we hit some very long services that could be labeled hopeful at best. When their two very sizeable center backs get factored into the equation, hopeful becomes a euphemism.
We made two significant adjustments at the break. First we asked our wingers to start serving low crosses as opposed to lobbing them in high as the first half was basically heading practice for the central defenders. And then we talked about stepping up our urgency and our speed of play. We needed to keep the ball on the deck and play at a faster pace. Despite being lackluster in the final third, our passing was wearing them down and by the end of the first half the Utes looked a little gassed. Steve told the team that if we got the first one, numbers 2 and 3 would follow.
As I mentioned, we scored three second-half goals. Know how I know that the players were tuned in at the half? All three goals were one-time volleys from low crosses. Nice adjustment, right?
And some good news for the long-term prospects of Bulldog soccer… two of our three goals and all three of those assists went to freshmen. Five minutes into the second half Nicole Locandro volleyed home our first goal from a Carly Shultis cross. In the 77thminute Alexa Newfield nabbed the second from Locandro's cross, and sophomore Sooz Dennis volleyed home Newfield's cross about forty-seconds later to round out the scoring. That's when my night got a lot better.
Okay, those of you who followed my previous blog have heard me make mention of a little phenomenon that in soccer circles is known as the Big 5. The Big 5 premise refers to the five-minute windows when a spectacularly high percentage of goals are scored. I'm not sure of the latest data, but when I was first introduced to the Big 5 years ago, the studied data revealed that nearly 70% of goals are scored in the first or last five minutes of a half, or within five minutes of a preceding goal.
I actually charted a World Cup (either '98 or '02… can't remember) to see how the Big 5 fared at the highest level. I don't know why I thought it would be any different because it wasn't. And when I charted the goals from some of my previous college seasons I found that the Big 5 also held true.
So just before we were about to kick-off the second half Steve remarked to us coaches, "Let's get a Big 5 goal." From his mouth to God's ears. And of course our third goal was also Big 5 material. Do some quick math and you'll see that 66% of last night's goals were Big 5 qualifiers. Spooky, right?
We needed a win and we desperately needed to get on the scoreboard. Mission accomplished.
Incidentally, Friday's Monkey of the Day came from the Larry's Subs that is next door to Jason's deli where we have our pregame meals. Larry's logo? A gorilla. If there's one thing more reliable than the Big 5, it's the Monkey of the Day.
On Sunday we square off with a very good Kansas team coached by our good friend and all-around great guy Mark Francis. Steve and I will also get to have a little reunion with Brittany King, one of our two sensational center-backs from last year's Ole Miss side. BK transferred to Kansas shortly after we resigned and she'll be making the trip with the Jayhawks.
Kick-off is at 1:30. Hope to see you there… in red of course!
Got a comment about this blog? Contact me.