980 Minutes
Tuesday, October 1, 2013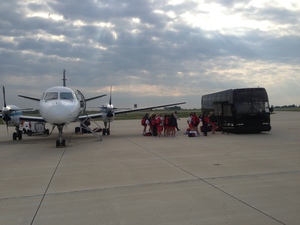 On Saturday morning we took our three points and skedaddled out of Columbia on a charter flight to Lexington for a Sunday match against the Kentucky Wildcats. There's a lot I love about charter flights, but the way that the plane parks about 30 feet from the bus we have to board is near the top of the list.

Jill Maloney is one of our goalkeepers and she certainly leads a life less ordinary. In addition to traipsing across the Atlantic Ocean every few weeks to represent Ireland at the U-20 level, Jill has also written a book, been an NFL Pass, Punt and Kick finalist, and was a nationally ranked Monopoly player (who knew, right?). She also has an IQ that dwarfs 99% of Americans, so her sense of humor is on a slightly different plane than most people.

Anyway, so our bus is rolling through Kentucky when Jill and Kevin Copp delight us with this exchange:

Jill: We're in Kentucky! We have to eat at a KFC! It's a bucket list thing… And it literally comes in a bucket!
Kevin: Yeah, except here it's just called FC.

Ah yes. It's the little things really. Speaking of food…

I had survived two gluten free travel days, but our lunch stop at a little sub shop was a bit more challenging. Sub shops aren't big on gluten free options. Something about the bread, I reckon. It was not my favorite meal of the trip as I was relegated to scraping the meat and cheese off my roll. Wasn't a whole lot of meat to work with. As it turns out, when it comes to subs, the bread is a pretty important part of actually filling you up. By the time dinner came around that night I was ready to eat my arm.

And oh yeah… From the files of what-a-small-world… we ran into the UAB women's soccer team in that very restaurant, as they had stopped off on their way to play the Thundering Herd of Marshall University. We both have a lot of Atlanta-based players on our rosters, so it was a reunion of sorts.

A few weeks ago I wrote an entry called Hero Hawk about an experience we had down in Texas where our trainer, Hawk, had to administer care to a diabetic woman who had passed out in front of a shopping center store. What I didn't tell you was that when we were exiting the airport at the end of that trip, we encountered a woman bleeding profusely at the bottom of the escalator. It seemed like Hawk was a medical emergency magnet. The good news for everyone else was who crossed our path was that Emily was coming off maternity leave two days later to resume her role as our trainer.

Then, a week later, Wayne went down before our match with Furman and we were already thinking what a strange year we're having. I hadn't encountered three non-soccer medical emergencies in my entire career, and suddenly we had three in a week.

Well wouldn't you know… On Saturday night, we're eating at a Texas Roadhouse when a woman passes out right in the doorway to the private room where our team had been seated. This time it was Emily's turn to serve as the heroic first responder and she handled the situation like a true pro, keeping everyone calm and administering care and getting the woman back to consciousness.

Four of these things in a month? Like I said, strange year.

As for the Kentucky Wildcats…

This was a tough weekend to prepare for because we were facing two opponents with very different styles, and both of them are very good at what they do. On the bright side, UK plays very much like we do. They're patient. They like to get the ball on the ground and string some passes together. They are the closest thing we have to a twin in the SEC, so we felt a little more comfortable seeing as how we train against ourselves four days a week. (Wow. I really hope that last sentence made sense to you.)

To accommodate the television coverage, the start time was pushed back to 6:30 P.M., and the weather was cool and overcast, so it wouldn't be a 'typical' Sunday game in the SEC. Still, it was in fact a Sunday game and if there is one thing this league has taught me, it's that it's really difficult to win on the road on Sundays. Especially against a very good team.

As for the game… we expected it to be very even, and it was pretty much a dead heat. Both sides had some runs of momentum, but legitimate scoring chances were few and… well, they were just few.

Our best attacking stretch came early in the second half, but the only real chance we had was Gabby Seiler's shot from the top of the 18 that hit the crossbar.

Okay… I started writing this entry like five days ago so the statute of limitations has well since expired. During the fall, because the schedule is so full-speed ahead, if a project falls behind schedule, that's usually the end of it. It's sorta like dropping your keys over the side of the boat. Those suckers ain't gonna resurface.

But this one is a little different because I actually feel obliged to write about the UK match if for no other reason than we lost. I don't want to be the guy who only has something to say when things turn out well. So I plan on giving Kentucky equal time. Sort of.

Here's the thing… we had some technical difficulties producing a DVD of the match so I never reviewed it on video (another project that has slipped to the ocean floor), and my memory of a match pretty well resets itself as soon as we play the next one, which we have. My point is this, I really don't remember much about the Kentucky game other than what I saw on the highlight package, so I'm relegated to providing the seriously abbreviated version.

I remember it was a heckuva game against a heckuva team. Both teams had about an equal share of the ball and neither team produced an abundance of scoring opportunities. It was more or less a midfield slugfest. Our best run of play was the first fifteen minutes after halftime as we managed some sustained pressure. The best of our chances came from the foot of Gabby Seiler from 18 yards that the UK 'keeper managed to momentarily pin against the underside of the crossbar before pouncing on the rebound.

There was very little separating the two teams… save for one moment. One of UK's attackers gobbled up a failed clearance, carved herself a window to shoot, and slotted a shot just inside the post to Woody's left. It was the game's only goal, but it was enough to end our 9-game win streak as well as one other streak that I had been reluctant to mention. It was the first goal we had given up during the run of play all season. Texas scored on a free kick and a corner kick. Charleston netted a penalty. No one else had scored until that goal in the 71st minute. We had opened the season with 980 scoreless minutes in the run of play. It might not be a record for some teams, but it is surely a record as far as my career is concerned.
And since I've got to scoot out of town to recruit on Monday, let me save myself the stress of another uncompleted project by adding that we also lost to Alabama, 3-2, on Friday night.

Congrats to the UGA football team and coach Mark Richt on another amazing victory in Knoxville! Go Dawgs!

I apologize for the haphazard nature of this entry. I'll try to do better next time.