Soccer iQ - An NSCAA Soccer Journal Top 5 Book of the Year!
Monday, November 30, -1
Soccer iQ - The first great book for soccer PLAYERS

Do you want to be a smarter soccer player? Then read on.
I've written a book for you. It's easy to read. The chapters are short. And best of all, it will immediately make you a better, smarter soccer player.
I've spent the past 22 years cataloging the most common tactical mistakes in youth, high school and college soccer. Soccer iQ addresses these mistakes. Each chapter presents a situation, tells you the mistake most players make in that situation, and then gives you a better solution. If you think that this book won't help you, let me tell you why it will…
Soccer iQ is filled with the same things we teach at the University of Georgia where our roster includes a lot of players with the words "national team" on their resumes. If they can make these mistakes, there's a pretty good chance that you can, too. Right?
Look, this book isn't for everyone. If you're not genuinely interested in becoming a better player, then save your money. But if you are serious about improving, this is going to be the best ten bucks you'll ever spend on soccer.
Read Soccer iQ and learn about: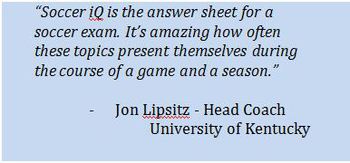 The 3-Step Rule

The Impossible Pass

Judging Headers

The World's Dumbest Foul

The value of the toe ball

Playing from a spot

And many, many more
There is also a bonus chapter on recruiting! Learn how to get and keep yourself on the radars of your top universities while avoiding the mistakes that will make a coach cross you off his list.
Do you want to improve? Do you want to be a smarter player? Do you want to win more games?
Then click the picture above to order today!
Soccer iQ - Don't just play the game. THINK IT!