Paperbacks
Shutout Pizza
Smarter Soccer Defending for Players And Coaches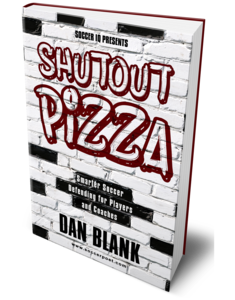 From the best-selling author of Soccer iQ comes the book that started the movement to celebrate team defending. Shutout Pizza is dedicated to teaching and organizing a back four. (WARNING: This is not a goalkeeping book.).

Coach Dan Blank led the Southeastern Conference's best defense at two different universities in consecutive years. It began with a handbook he created for his defenders that ensured everyone was on the same page. Shutout Pizza is a vastly expanded version of that handbook. It introduces the governing principles that guided the SEC's best defenses, and covers a broad spectrum of scenarios that commonly occur during matches.

Shutout Pizza is packed with diagrams that will help the reader visualize the concepts discussed in the text, and includes several of most effective drills for training these concepts. This is an excellent book for coaches and players who want to defend more effectively.