Biographies
Recommended Biography Reads
There are certain people (and one horse) who achieve at such a remarkably high level that it doesn't make sense not to read about them. Here are a few remarkable stories from the biographical genre.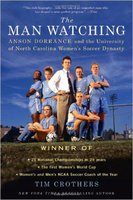 The Man Watching by Tim Crothers
A Biography of Anson Dorrance, the Unlikely Architect of the Greatest College Sports Dynasty Ever.

This is an in depth look at the history of UNC women's soccer team and the unlikely character who made it into the gold standard for college athletics. I absolutely love this book. Just a heads up - there's a lot of R-rated language in this one.