The Sunset in My Mind
Saturday, March 21, 2020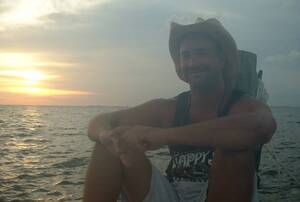 As you've probably noticed, these blog entries aren't always about soccer. If you're here for something soccer, this is not the entry for you.
I'm a to-do list guy. When we were first sent home from work, I saw a window of opportunity that was irresistible. This is officially, My Time! I've got things that have needed doing for literally years, and now I have the time to knock those suckers out. So I made nine to-do lists, each covering its own category (University, Home and Yard, Creative Projects, etc.), and I've been grinding things out at breakneck speed. I don't know that I've ever been so productive.
Anyhoo, probably the longest-tenured member of my unfinished projects is this blog entry. It will give me indescribable satisfaction to hit 'Post' and be done with it. I look forward to the moment I can scratch it from my list.
Now, with that out of the way, let's proceed.
I think a lot. A lot. That's not to say I'm any more thoughtful than the next guy, because in many ways, I'm less so. What I'm saying is that I've been accused, on more than one occasion, of living in my head. I get that. I'll get into a contemplative state and just ruminate for hours. This was never more prevalent or enjoyable than on fall Friday nights during my time in Athens, GA. If we won a game, I'd sit out on the deck that overlooked the back yard, crack a Corona with salt and lime, light a cigar and hit shuffle on my Key West playlist and just… think. And I would be totally at peace.
It was then, way back in 2013, that I decided to write this entry. Specifically, I remember receiving a congratulatory, post-game text from Kentucky's then-coach, Jon Lipsitz, and wanting to share my sense of unmitigated contentment with the world. I jotted down my favorites from that playlist onto a piece of paper – a paper I've carried with me for seven years now, for the day when I would eventually sit down and write this sucker. With the weather turning warmer and a pandemic running amok, many of us are drowning in free time, a fair bit of isolation, and from what I can tell, beer. Generally speaking, it might do us all a bit of good to sit outside and contemplate life and love and what it all means.
If that sounds like something you might enjoy, I'd like to share some of my playlist favorites. All of these songs bring me a sense of peace and gratitude. Most remind me of the kind embrace of a warm ocean breeze and an island sunset. And quite possibly a Corona. With salt and lime.
To make your life easier, I've gone and created a YouTube playlist, just in case you have an inkling to play along with the home game.
If you know me, you won't be surprised that this playlist is heavy on Jimmy Buffett, but not mainstream songs of the Margaritaville and Cheeseburger in Paradise ilk. These are the songs you probably don't know if you're not a hardcore parrothead, but they're easy to fall in love with. I'm a big fan of words, and no one can string them together like Jimmy.
Anyway, when I'm living in my head, this is where I go. Hope to see you there sometime. Believe me, it's beautiful.
Click here to listen on YouTube.
Nautical Wheelers – Jimmy Buffett
A nice way to ease into an island of your own. This tune just melts away stress.
Favorite line: Everyone here is just more than content, to be livin' and dyin' in three-quarter time.
Land of Sea and Sun – Baha Men
Songs don't get any more peaceful than this one.
Floridays – Jimmy Buffett
Sometimes Jimmy just really gets on a roll with his lyrics, and this is a textbook example. A word salad of brilliance.
Favorite line: Hard to pick just one but I'll go with, "On the corner of walk and don't walk, somewhere on US 1.'
Into the Mystic – Van Morrison
A cocktail of mellow and uplifting.
African Friend – Jimmy Buffett
A ballad about a crazy, one-night friendship between two hustlers in Haiti.
Favorite line: As the purple ink dried on his passport.
Hearts Content – Brandi Carlisle
Like many, I first heard this song while watching the movie Safe Haven. I'm not sure if it's a love song or a break-up song, but it's just beautiful.
Tin Cup Chalice – Jimmy Buffett
One of my two favorite Buffett songs, and the live version on my playlist is better than the studio one. No song better captures the whole laid-back Buffett-vibe of oysters, beer, sunsets, etc.
Favorite line: I wanna go back, to the island, where the shrimp boats tie up to the pilin's.

Remember When – Alan Jackson
No better song to make you reflect back on the life you've lived.
Favorite Line: Remember when… thirty seemed so old. (I do remember that and... UGH!)

Trip Around the Sun – Jimmy Buffett and Martina McBride
When I took a big gamble and pushed all my chips in on a new life in Oxford, MS, I rented a room from the assistant tennis coach, Whitt Taber. Whitt and I got along famously and I consider him one of my best friends. Anyway, Whitt had a really cool way of immortalizing his dearest friends. Each one would sign and donate a framed, black and white photo. Many would put some type of quote on their pics, and Whitt would hang the photos on his 'Wall of Fame.' I chose a pic that was taken of me in Costa Rica, and chose a quote from this song that summed up the tumult of my gamble…
Favorite line: Only time will tell if it was time well spent.
Manana – Jimmy Buffett
I moved from Florida to Mississippi, and that first winter hit me hard. Really hard. There's no way to convey how desperately I missed the ocean, the beach and a basically endless summer. If you've ever felt that way, you'll understand.
Favorite line: Tried and tried but I don't understand / Never seems to work out the way I had it planned.
The Life – Kenny Chesney
A super cool story-ballad about a mover-and-shaker who gets a dose of perspective from a local fisherman.
Favorite line: So many to choose from but I'm going with, "He said Gracias Senor, when I paid him too much for, all of the snapper he had."
It's My Job – Jimmy Buffett
Bit of a counterpoint to The Life, but I absolutely love this song. I could pen an entire entry as to how this song has paralleled my life. There's one verse that I really related to during my stress-riddled time in Athens, and that's where I'm pulling my favorite line.
Favorite line: It's my job, to be worried half to death, and that's the thing people respect in me.
Son of a Sailor – Jimmy Buffett
Classic Buffett tune about a man who has committed to a life at sea. The sound of the harbor master's bell – just a brilliant touch.
Favorite line: Read dozens of books about heroes and crooks and I've learned much from both of their styles.
Whatever It Is – Zac Brown Band
I loved this song from the first very first note.
Favorite line: She's everything I wanted to say to a woman but couldn't find the words to say.
Cowboy in the Jungle – Jimmy Buffett
I've never heard this song on the radio and I'm happy about that, because it's one I never want to grow tired of. Again, this is Buffett at his wordy best. Just a crazy collection of amazing lyrics. Starts with a tale of a gringo in South America and comes back around to the weekend warriors who avalanche upon Key West.
Favorite line: And their husbands quack about fishin', as they slug those rum drinks down / Discussin' who caught what and who sat on his butt, but it's the only game in town.
In This Life – Israel Kamakawiwo'ole
Not really a beachy feel, but an angelic tune nonetheless. Besides, somebody would surely be outraged if no Iz songs made the list.
Pacing the Cage – Jimmy Buffett
Another one I've never caught on the radio, and again I'm happy about it. Jimmy has said that he's not a great singer but he's a very good songwriter. Nowhere is that truer than in this beautiful ballad about being caught in society's hamster wheel.
Favorite Line: I've proved who I am so many times, the magnetic strip's worn thin.
Tryin' to Reason with the Hurricane Season – Jimmy Buffett
We're finishing strong with my other choice for best Buffett song. This soothing ballad romanticizes the calm before the storm as Floridians resign themselves to their fates and wait on whatever hurricane is about to roll over them. If you want to kick back with a beer and a cigar and visit the sunset in your mind, this is the song for you.
Bonus tip: The live version in my playlist is way better then the studio version.
Favorite line: Sure could use a Bloody Mary, so I stumbled over to Louie's Backyard. (Louie's Backyard is a Key West restaurant and bar away from the crush of Duvall Street, known for its outstanding Bloody Marys and sunsets. Studio version lyric is: "Sure could use a Bloody Mary, so I stumbled next door to the bar.")
So there you have it. Eighteen songs – roughly an hour's worth of a musical sunset. Hope you enjoy it. Thanks for indulging me. Stay safe.