Two in Minnesota
Thursday, September 8, 2011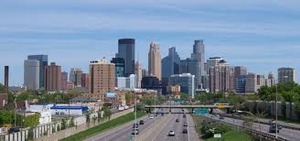 "Winning solves a lot of problems."
-Everyone who has ever coached
After a spectacularly bad weekend at home, the Dawgs took the show on the road to Minneapolis for a four-team tournament at the University of Minnesota. The trip held all types of potential – both bad and good. We were going to open against the hosts on Friday night, and the Golden Gophers are a very strong program. If we took a third straight defeat, we were going to be contending with some morale issues. A win on the other hand would be a tremendous boost for our spirits and set us up for an away sweep – something that is much easier said than done. So at 6 A.M. Thursday we set off for the ATL and a flight for the Land of 10,000 Lakes.
We got a light training session in on the practice field on Thursday afternoon and realized that the grass up north wasn't going to do us any favors. It was longer than the Bermuda we play on, but more than that, it had a spongy thickness that tended to swallow the ball – sorta like playing on flypaper. So we spent some of training trying to adjust to the new surface, and not doing it all that well I might add. Still, it was nice to have a day to prepare on the new pitch and after a while we felt we could possibly maintain the style of soccer we wanted to play.
That night we had a team dinner at Macaroni Grill, a nice but otherwise innocuous event had it not been for the two casualties that meal may or may not have claimed. Two hours later Jon Harvey was sick as a dog. The next morning at breakfast, Robin, who had sampled Jon's plate, wasn't looking too much better. Thankfully, if we had to take on more casualties, it was the coaches and not the players. We're running too low on them as it is.
Friday was a long hotel day as we counted down the hours to kick-off against Minnesota. I was bored enough to join Mandy on a trip to a Cub Foods pharmacy to pick up some medicine – just for the thirty minute change of scenery. I saw the bus pull up outside and was like Field Trip! I'm outta here!
Initially we went to the wrong Cub Foods location (naturally) before getting the navigation sorted out and reaching our actual target. That is typically how these field trips go which is one more reason why I never pay attention to the route we take to anywhere. Bailey Powell came along as well which proved to be the real highlight of the trip once we arrived at our intended destination. As we walked into the supermarket, Bailey caught the eye of a young male clerk who immediately came down with a very bad schoolboy case of love at first sight. The kid was star-struck enough to look like he'd never even seen a girl before. His eyes got wide as flapjacks and I half expected him to pass out. As we strolled by his cigarette kiosk, he couldn't have been more ecstatic about having the honor of pointing us toward the pharmacy. But he was also desperate to prolong the moment with Bay. So in what I'm certain must have been some type of panicked say-anything-but-say-it-now verbal upchuck, he asked Bay was interested in the special they were having on flu shots.
Huh?
Holy crash and burn. Flu shots? Really? The cigarette kid was asking about flu shots? Ahhhh…. young love gone awry.
I couldn't help but feel for the boy but my word, flu shots? Not really sweep-her-off-her-feet material, ya know?
We politely declined but as we passed by I noticed the boy was suddenly tethered to Bailey by some twenty feet of invisible rope. It reminded me of Deadliest Catch when they throw the hook overboard and snag the trap line. It looked like the boy was literally yanked from behind his counter and was being towed in Bailey's wake. Mandy and I had a good laugh at Bay's hold on the smitten young man. Unfortunately for his sake, Bay hadn't even noticed. That moment made the whole excursion worthwhile.
After a late lunch, Steve and I went on to the stadium to scout the Iowa State v Wisconsin-Milwaukee match. The match seemed exceptionally slow and we began to wonder how big of an affect the longer grass was actually having. Those players didn't look any less athletic than ours, but the game surely lacked the pace we were accustomed to watching. And we still hadn't set foot on the game field where the grass was potentially longer than on the practice surface. We began discussing the possibility of having to play a more direct style of soccer.
At half-time our bus rolled up and we shifted our focus onto the game at hand against Minnesota. In my pregame remarks I reminded the team of how blessed we were to have opportunities like these; that our university flew us halfway across the country just to play some soccer and that we got to do that surrounded by our best friends. And I reminded them that these days won't last forever and that they'd surely miss them when they had gone, so we needed to make the most of these opportunities we'd been given.
Minnesota is a strong program from the Big 10 and we were expecting Big 10 type players – namely blue-collar, corn-fed kids who would run and work all game long. And that's precisely what we got – a whole roster full of grinders.
Our style of play fits SEC field surfaces. Likewise, Minnesota's style fits their surface. And in the beginning, their style was killing ours. As we tried to keep hold of the ball, the grass kept getting in our way. A pass that we could bank on reaching its target in Athens would arrive late or not at all on the thicker surface. Minnesota was pouncing on those passes and pounding them deep in our end. When we tried to dribble the grass would reach up and grab an ankle and the ball would get caught underneath us. Our engines couldn't seem to get out of first gear.
Three minutes into the match the Gophers hit a cross from their right wing that was met by a header at the back post but Ashley Baker got down and made a stellar save to keep the match scoreless. It was indicative of what the night would hold.
One scouting report said that Minnesota was the hardest working team in the country and twenty minutes into the match I had no reason to think otherwise. Every player on that team was a ball-winner. They're heading was as good as any team I've seen. They were all-out grinders that played a style based on territory and an uncanny willingness to chase. There wasn't much short passing. It was more about getting the ball forward, getting it behind us, and then working like mad to cause problems. It actually reminded me of a hockey team, which I found a little bit ironic, being in Minnesota and all.
By the middle of the period we knew we had to concede our style or we were never going to win that game. We occasionally mounted some dangerous attacks but by and large the majority of the half was played on our side of the field. (Incidentally, the stat sheet was more lopsided than the game itself as it claimed a 9-2 advantage in first half shots for the hosts. In actuality we took six shots during that half. I know because I watched the video and counted.) We decided to do our best to weather the storm until halftime and then make some adjustments. We managed to do both as the half ended scoreless.
(Note: There is a certain sensitivity about these post-game reports. Out of respect to our opponents I've got to stay a little bit vague, elst the Poet serves as a scouting report and that wouldn't go over very well. So when it comes to things such as specific systems and specific players, I'm going to bite my tongue a little bit. Consider this your blanket disclaimer for the life of this website.)
We switched our system at half-time. Equally important, we overhauled our style. The long and short of it was that we needed to just forget about possessing the ball because it wasn't going to work. Between the way our opponents crowded the middle of the park and the slower surface, there just wasn't any point in trying to keep the ball. There was no way for it to work. Plus, the way UM pressed up its defenders, there was room to play balls in behind them and that's what we needed to start doing. So basically we set out to play the way a team would play on a field full of standing water: don't bother passing, just lump it deep and try to free a forward into space. We needed to get the ball in the air and eliminate extra touches whenever possible. Dribbling was basically outlawed. We needed to get the ball forward and get it there quickly.
So with about four minutes of instruction, playing a system and style we'd never played or even discussed, we took the field in the second half and gave it a go. And wouldn't you know, it worked beautifully. The change in system took some steam out of the Gopher attack while the change in style breathed life into our own.
We fired out of the break and immediately jumped on the offensive. Lex's 25-yard strike off the crossbar was the most dangerous of the handful of early chances we created. More importantly, the clang of the ball off the bar literally changed the tone of the game. Lex's shot capped an avalanche of early pressure we'd been applying and announced that the Gophers no longer held a monopoly on momentum. Now we had two teams playing the same direct style and the game completely opened up. It went from a chance at one end to a chance at the other and back again. It reminded me a bit of the NBA All-Star game (provided the NBA players never actually made their shots). Most importantly, we were getting in behind them with some degree of regularity and it felt like eventually we would cash in on one of our chances.
Minnesota came frighteningly close to going ahead after fifteen minutes but in a whirlwind of soccer chaos that might best be described as the mother of all goalmouth scrambles, Baker made a big save and Torri made another before one of the Gophers bombed a sitter over the bar. They had three excellent chances in the span of four seconds but we had escaped.
As the half wore on we were getting tantalizingly close to delivering that one ball that would put us clear in behind our opponent. We twice thought our moment had arrived but both times fell victim to the offsides flag. Still, we were getting the delivery. UM's back line was living dangerously. It was only a matter of time before all the pieces fell into place. Then, in the 77thminute, Sooz volleyed a pass that split the Gopher defense and fell gloriously into the path of Meghan Gibbons who had timed her run just well enough to stay onsides. Okay, here's the running thing about Gibbons (I'd call it a running joke but there's really no joke to it): Meghan Gibbons has scored more goals into a completely empty net than any player in the history of college soccer – and she's only a sophomore. I don't know how she does it, but somehow she always ends up behind the goalkeeper with the ball at her feet. I'm at the point where I almost don't expect her to score any other way… which is why I wasn't too terribly excited to see her on a breakaway. I knew the defenders didn't have a chance to catch her, but that dang goalkeeper might pose be a problem. It's not that Meghan can't score when there's a goalkeeper in the net; it's just that I can't remember seeing her do it. So Meghan goes alone on goal, calmly steadies herself and then tries sliding her hot into the far post. The goalkeeper blocks it, but naturally the rebound ricochets back off Meghan and then in turn back behind the goalkeeper leaving Meghan standing with the ball at her feet, five yards from a completely empty net. Meghan doesn't miss from there. I mean let's face it, that's her spot. We call it the Gibbo Special. It was a carbon copy of a goal she scored against Kansas last fall and it gave us a 1-0 lead.
You may recall our woes on defensive corners. Well yeah, apparently they're not going away anytime soon. With just over five minutes to play, UM equalized from a corner kick and we were straight back to square one. Corner kick goals have been our Achilles leg since the season began and when we conceded yet another, I was curious how we'd respond. That goal had the potential to completely deflate us after a great half of soccer and that would have been no darn good for the Bulldogs.
Things got even hairier when Torri Allen was carted off with an injury in the game's final minute. In spite of all of our injury woes, center back is a place where we are, blessedly, a little bit over-staffed. We are lucky to have three excellent center backs and Jenna Buckley would serve as Torri's replacement to see us home. But Torri's injury would further complicate matters as we headed into our first overtime of 2011. Thankfully it wasn't a long one.
The Minnesota game included the debut of freshman Jenna Owens. J.O. was part of our injured blondes committee for a few weeks, but she was finally given the green light for the match with the Gophers. We knew J.O. had the potential to be one heckuva college soccer player and now some other people do, too. She had a strong all-around game and caused a lot of problems, but her shining moment came a minute and seventeen seconds into overtime when she sailed a left-footed cross smack on the head of Alexa Newfield who stood unmarked at the middle of the six-yard line. Lex snapped her header past the diving goalkeeper and just like that we had an important victory away from home against a very good team.
I'm glad we won. I really am. Heck, I'm thrilled beyond words that we won. But that was one of those games that was just a pleasure to be a part of. It was also one of those games that shaved another five years off my life. It was high-drama from beginning to end, particularly in the second half. Having watched the film I realized that match could very easily have been 5-5. I'd forgotten about how many fantastic saves Minnesota's keeper had made. I couldn't possibly have more respect for the Gophers. Those kids worked and worked and worked and had it not been for a few spectacular saves from Baker, they would have won. But Baker did her job and our goal-scorers did theirs and we won one helluva soccer game - one we desperately needed to win. I only wished that Jon could've been there to see it, especially considering the performance of his protg, Ashley Baker.
As I finished walking through the handshake line I crossed paths with Jenna Buckley who wryly smiled and said, "See. You should have put me in earlier." Jenna had been on the field for two minutes and ten seconds when Lex scored. To be fair, the girl is nothing if not efficient.
It's funny what winning can do for things like morale and confidence. The win over Minnesota rekindled both of those qualities in our camp. As a staff we were particularly happy with the way the players responded to the half-time makeover. We asked them to scrap everything we had done since August 4thand to completely change the way we played. They went out and did exactly what we asked of them and they did it beautifully. Thank God it actually worked.
So it's Saturday in Minneapolis. We've got 22 college girls in our charge. Is there any doubt about where we'll spend our off day? Of course not. We're going to the Mall of America – a four-story retail Mecca complete with bowling alley, ice rink and an indoor amusement park. The girls were downright giddy when they boarded the bus and I couldn't stop myself from thinking of the Brady Bunch movie: Put on your Sunday best, kids; we're going to Sears! And I couldn't help but wish to be a fly on the wall at some of their homes when their parents open next month's credit card statements. Good night!
There was actually one person steadfastly opposed to taking a team trip to the mall – Robin. Seems that when she was playing at Carolina they spent a mall Saturday between Friday-Sunday matches and on Sunday only managed a tie against Notre Dame. That had Steve, Jon and I in stitches because it's one more shining example of how Robin's reality is different from our own. If almost any other coach in the country tied Notre Dame after a day at the mall, they'd be taking their teams to a mall the day before every game including the home ones.
The Mall of America is immense. I can't think of any other word to describe it. It just goes up and on into forever. To what must surely be a relief to a lot of parents, most of the girls forewent the stores and spent their day on the amusement park rides. $32 for that all-day pass is a bargain considering the alternative. I was particularly pleased at the wealth of monkey spotting opportunities the mall offered. You can check out the pics on the Things My Phone Saw page.
Steve, Jon and I found two stores that piqued our interest. The first was a game shop for the intellectually ambitious called Marbles – The Brain Store. There was a wide selection of logic games and skill games and so forth and we were quickly approached by a salesman who was pushing the featured game – a hybrid of checkers played on a small round board with miniaturized, wooden, Incan totems. Okay, that's not exactly right, but it's as close as I can get to explaining a game I made no attempt to understand. So the salesman asks if any of us want to play and Steve jumps at the chance. Offhandedly I remarked, "I've got five dollars on Rainman." And I could see that salesman get just a little bit smug about my confidence in Steve.
Ten minutes later the salesman was gracious yet clearly humbled in defeat. You could see the loss had him rattled. Later we were telling Steve that the poor guy is probably ruined for that job now. I mean think about it… he plays that game every single day and probably wins every single time he plays. It's his thing, right? For all we know that game is all he has going for him. Then in walks this yahoo from Georgia who has never even seen the game before and WHAM! – winner, winner chicken dinner – slapped around on your home turf. That's just ouch. That poor fella probably went home that night questioning his entire existence, wondering where it all went wrong.
After Marbles we ducked into a magic store and caught a super sleight of hand performer who had the three of us stumped with his card tricks and powers of levitation. Plus he did that thing with the little red foam balls and if that doesn't make you happy, nothing will. But I was most impressed with the store's sales approach: if you buy one of the tricks from the show, the guy will take you into a private room and teach you how to perform the trick in five minutes. I mean that's just genius. It's the puppy-dog approach to magic and ironically, it made some of our money disappear. Money well spent I say!
But into each life some rain must fall and the lowlight of our mall excursion was seeing Chewy pushing Torri around in a wheelchair. That was all the crystal ball we needed to know that Torri wasn't going to be available for Sunday's tilt with Iowa State.
Torri and Chewy have one of my favorite relationships on the team. They play next to each other on our back line and last year they developed a tremendous bond. They can keep each other laughing for hours which inspired Steve to nickname them "The two old guys from the Muppet Show." They just zing one-liners in observation of everyone and everything. The only difference is that they don't need anyone else to hear them. They are content to exist in their own little cocoon observing the world at-large. For example, a few weeks ago we were rehearsing attacking corner kicks and there wasn't much for Chewy and Torri to do but stand about 35 yards from the goal and kill time amusing one another. So as they were quietly providing a running commentary, Lex was busy having an absolute nightmare as the ball-server. After she curled three out-of-bounds in succession, Steve yanked her from the job. As Lex dejectedly made her way into the 18, Torri and Chewy went to work…
Chewy: Wow… Lex got fired.
Torri: Gettin' the hook.
Chewy: Walk. Of. Shame.
It was thoroughly hilarious and a perfectly reasonable justification for Steve's Muppet reference. Telling the story now makes me wish I could have bugged that wheelchair. I would love to hear what a day at the mall sounds like with those two.
We capped off the day with a team dinner at a sports lounge that gave us a private room with a giant television to watch the Georgia / Boise State football game. Our arrival was a major pick-me-up for the lone (and very surprised) UGA fan seated at the mostly empty bar wearing a Georgia football jersey. When 30 Bulldogs paraded into that establishment, he was downright giddy to suddenly become part of the ruling party. Okay, so the game didn't go as well as we had hoped but it was still cool just to be a part of it. I don't know that I'll ever get over that part of coaching at a "major"… getting to watch your school play on national TV. It never gets old. There just wasn't a lot of that in the NAIA. Actually, there wasn't any of it. It's just genuinely uplifting to have something like that to rally around. There really is no substitute for school spirit.
Saturday was a great day but not really because of the mall and not just because Jon had recovered. Saturday was great because of the Friday night that bled into it. The team was still basking in the afterglow of our overtime win and excited about what this season still held in store for us. A day of just being teammates on a road trip was good for the soul. But there was still that matter about Sunday's game.
When we spoke to the team after the Minnesota match, we talked about the opportunity we had to get a sweep on the road and how all the good work that we had done on Friday could be quickly undone if we tanked in the weekend finale against Iowa State. We could feel good about half the job, but it was important to remember that we had only done half the job. We needed to leave town with a pair of wins, not just one of them.
After playing on UM's field I had a new respect for Iowa State. The Cyclones were obviously going to be faster and more athletic than I originally perceived. And they were going to work hard to boot. We were in for another grinder.
Sunday's match was not a pretty one. Most Sunday matches aren't. They're played on heavy legs in warmer weather in front of smaller crowds with little fanfare. This was a neutral site fixture with a 10:30 A.M. kick-off, further dimming the atmosphere. All that remained was two tired teams trying to win a game.
We had a pretty comfortable start to the first half. We enjoyed a little more time on the ball and found there were moments where we could actually string some passes together. In the 18thminute Iowa State cleared one of our corner kicks but the clearance fell to Chewy who dumped the ball along to Sooz on the left side. Sooz shook a defender then hooked a perfectly weighted pass in behind the Cyclone defenders and into the stride of Bailey Powell who one-timed her chance past the goalkeeper to stake us to a 1-0 lead. Because of her height, we bring Bay forward on most corner kicks. Because she's a defender, she's going to milk those moments for all they're worth. So as Iowa State cleared our initial effort, Bay loitered near the edge of the eighteen just in case something materialized. Fortunately something did and she was in the right place at the right time. The supermarket boy would have been very proud.
Iowa State nearly drew level ten minutes later but Ashley Baker's acrobatic save from point-blank range kept us in front and we kept the lead into the half.
As we were discussing our halftime adjustments, we became painfully aware of the acoustics of Minnesota's locker room situation. As Steve was talking to our team, through the ceiling vent I could hear the talk coming from the Cyclone locker room. We couldn't actually make out the words, but it was clear Iowa State's adjustments were going to be more emotional than tactical. They were getting an earful. Apparently they needed a wake-up call and man did they ever respond. Momentum had already swung in Iowa State's direction in the latter part of the first half and there was no sign of that changing in the first ten minutes of the second stanza.
They came out with renewed urgency and we were struggling to hold things together. But our backs stood strong in front of Baker and Jenna Buckley was having a command performance as a starter in the center of our defense. Our forwards were struggling to hold the ball and that kept us under stretches of relentless pressure.
I don't remember what happened exactly, but I remember there were just over thirteen minutes left on the clock and I said to Jon that Iowa State may have run out of gas. It looked like they, all at once, had hit the wall. And I couldn't have been happier about that.
Four minutes later Lex pushed a ball in behind the Iowa State defense that served as a starting gun for a three-way race between Ashley Miller, the Cyclone net-minder and a Cyclone center back. All parties involved were going to intersect near the top right corner of the Iowa State eighteen. Miller got there just in time to get a toe to the ball while miraculously avoiding the collision that left the goalkeeper and her teammate in a heap. Miller, the only one left standing, calmly surveyed the situation then used the outside of her right foot to pass the ball into the unguarded net. Game, set and match.
This is how you know your team is tired… Miller scored the tournament-clinching goal and didn't even move to celebrate. Didn't even raise an arm. Her teammates didn't mob her in so much as they slowly ambled towards her like old ladies filing into the salon. Some never even made it all the way to Miller, preferring to stop five or ten yards short and save their energy. It looked like Mills had done nothing more consequential than check out a library book. The goal sealed a rare and precious away sweep and a tired group of Bulldogs were ready to make tracks for Athens.
On the flight home Robin sat surrounded by the band members of Georgia Satellite (I got a little change in my pocket goin' jing-a-ling-a-ling). We were amazed that they didn't recognize her.
As for me, I spent some time on that flight reflecting on the weekend's matches and occasionally wondering if somewhere in Minneapolis a disheartened young man was shaking his head in disgust and muttering, "Flu shots? You asked her for a freaking flu shot?"
Bulldogs are at home this weekend. Mercer on Friday night, Georgia State on Sunday.
Go Dawgs!
Ptooooey!
Monday, August 29, 2011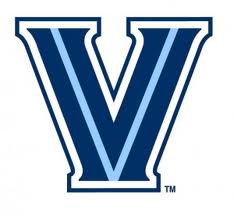 So I've had better weekends.
And you?
If you were one of the thousands victimized by Hurricane Irene, you have my sympathies. Otherwise you absolutely do not.
The Dawgs dropped a pair of matches this weekend – at home no less – and gave up three goals in each defeat. So yeah, as far as days go when I wouldn't mind being hit by a truck, today qualifies.
I'm sick over it. This weekend is going to be a tough one to shake. Usually after we play I'll go to SoccerTimes.com and check the national scoreboard and get my results fix, but I couldn't bring myself to do it this weekend. I didn't want to see how everyone else did. I didn't want to see who won. And I sure as heck didn't want to read our score on there. I just wanted sit in my chair and stare at the ceiling.
Usually when I write for the Poet I'll go into some detail about our matches, but tonight I don't feel much like regurgitating the play-by-play recaps (although I actually do feel like regurgitating). So here's the Cliff's Notes version on our weekend.
Texas – very athletic team full of big strong kids that fought hard. By the time the game had ended I thought we had gotten run over. Then on Saturday I watched the film and discovered that we played pretty well and actually had more of the game than they did, and a heckuva lot more than I thought we did. The Longhorns scrapped hard and capitalized on three set pieces to earn the victory. As for us, well, we were pretty good in the middle 84 yards of the field. It was the 18 yards on either end where we struggled. And that's a real bad soccer problem to have. Regardless, when a team comes to your house and hangs three on you, all you can do is stand up to face the music and say we got beat.
If the Texas game was demoralizing, the loss to Villanova was utterly agonizing. Lex headed home Sooz's cross to stake us to a 1-0 lead. Fifty-five seconds later we gave it right back as the Wildcats drew level on a scramble in the box following a corner kick. That goal was eerily similar to one Texas scored and I was cursing our luck on defensive corner kicks. But my agitation was premature. Because about ten minutes later they scored again off a post-corner-kick scramble. Buckley cleared their initial header off the goal-line but only as far as the opportunistic attacker who volleyed it home for the 2-1 lead which they took into the half.
I was scratching my head at half-time. As far as I could tell we were pretty much dismantling our opponent. We had the run of the park in midfield and it seemed that 'Nova had spent most of the first 45 minutes chasing and chasing and chasing. How are we losing this game? It didn't seem possible.
We began the second half with more urgency and desperation and created four stellar chances in the first ten minutes. But Sooz hit the bar; Pollock hit the bar; Lex fired high from 12 yards and Maddie never got her foot on a ball that bounced just in front of the goal line. Still, we were pretty well humming and it looked like an equalizer was inevitable. Much to my surprise, instead of knotting things at 2-2, we got countered and were looking at a 3-1 hole. Fanfreakingtastic.
Pollock got one back for us with just over five to go as she bombed a left-footed missile into the upper far post, but that was all we could manage before time expired on us.
Losing is no fun at any level for anyone. But losing as a coach is especially sickening. I hadn't lost a game by three goals in a long, long time. Conceding three in consecutive matches is horrifying. If you're going to give away three goals every time you take the field then you're asking your attack to produce at least four. And that just ain't very realistic. Not on a regular basis.
Five of the six we gave up were from set pieces and three of those were off corner kicks. That's just mind-boggling. It makes me think of those days down on the Seaside boardwalk, strolling by the criers running the carnival games – "Step right up! Throw a ball, win a prize. Every throw's a winner!" That's what it's like for us right now. Take a corner kick, win a prize! Every corner kick is a winner!
Ptooooey!
This is a stressful time for a coach, because everyone looks to you for answers. And you better come up with some real fast. So that's what we spent today trying to do – figure out some answers. On Friday we'll be up in Minnesota where we'll see if we got it right.
Furman and a lot of Purple
Sunday, August 21, 2011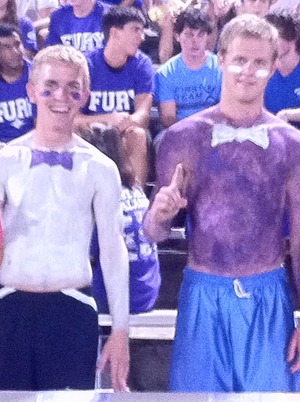 Honestly I've never seen anything like it. In 21 years – nothing like it. The slew of injuries we've sustained would seem a mathematically impossibility. Odder still, this epidemic seems to be targeting blondes; we lose one of them every second day… Eddy, Hartley, Owens, Hill… all bitten by the injury bug. As the saying goes around here, "Bad week to be a blonde." Our training staff has been working overtime on its overtime and was recently nominated for a telethon. Still, there's nothing we can do to change the past and no one is gonna feel sorry for us, so we decided we would just dig in and do our best and respond with an awful lot of hard work. And that's what we've done.
Last night the Dawgs kicked off the 2011 campaign with a 3-1 win at Furman. Furman has a beautiful soccer venue in the heart of campus that features seating on both sides of the pitch. The Palladins put 2500 purple-clad fans in those seats, the most spirited of which sat directly behind our bench and spent the evening zinging one-liners at our players and keeping our coaching staff laughing. Let it never be said that they were not an entertaining group.
We had heard that the match was going to be a mandatory part of Furman's freshman orientation and anticipated a large crowd, but 15 minutes before kick-off the stadium was still pretty empty. Then from the spectator entrance, just behind our goal, a sea of purple shirts flooded into the venue and I thought it would never end. It reminded me of Noah's ark – these purple people coming through the gate two by two. It was spectacular!
We got off to a nervous start and the first ten minutes were pretty haphazard. Slowly but surely we settled down and discovered the virtue of patience and started knocking the ball around a bit. Once we got into a passing rhythm the midfield opened up quite a bit and we started creating some legitimate chances. Let me take a moment to prognosticate for you as this paragraph is all you need to know about Georgia soccer this year. We have a style. We train this style every dang day. And when we have eleven players committed to playing this stye, we're really stinkin' good. But for whatever reason when we put on those uniforms, thee or four players forget everything we do in training and go rogue. And then we look just like pretty much every other team playing college soccer. But in those spurts where we get all eleven playing the way we're set up to play, it can really be a beautiful thing. So if you watch us play and we're playing well, it's because everyone is playing on the same page. If we're not playing well… well, I can pretty much assure you we're doing the opposite.
Our first great chance came from a corner kick that was met by a powerful header from Jamie Pollock. Jamie snapped that header with such authority that I stood in celebration only to realize that the ball actually went wide of the goal. From our angle it was an optical illusion of sorts, as I still don't know if the ball went wide right or wide left, just that it didn't go in.
The chances started coming with greater frequency but our near misses combined with some stellar goalkeeping began to remind me that the soccer gods love their practical jokes and that this game was setting us up to be the mark of a really good one. Scoring chances are all good and well but eventually you'd better cash in or you're going to end up on the wrong one of those statistical anomalies where you outshoot the opponent 18-1 and lose 1-0. I was getting a little bit edgy because this game had all the earmarks of soccer at its cruelest.
We finally cashed in from Pollock's 25-yard low screamer that skipped in past the outstretched hands of Furman's diving keeper in the 27th minute. I'm glad Pollock scored. She was a warrior for 90 minutes and an absolute monster in the air for us all night long. She deserved a goal – even retroactively speaking.
Ten minutes later we doubled the margin as Chika Ibiam, from the endline, neatly clipped a ball to the back post where Maddie Barker tucked in her first official goal as a Georgia Bulldog. Quite a story in that goal as the assist came from a player who, three months ago, was a member of the UGA women's soccer club with no intention of playing in the NCAA. And the goal-scorer? Well, as I mentioned last year, there is no one on this earth who takes more pride in being a Georgia Bulldog than Maddie. Just as Maddie was coming into her own last spring – and two days after she scored her first collegiate goal - she was felled by a knee injury that kept her sidelined for the remainder of the semester. Maddie spent the summer busting her tail to prepare for this season only to reinjure herself a week ago and her frustration overflowed. We planned to give Maddie limited minutes last night as a trial run, and man did that pan out well. She was on the field for all of three minutes before striking gold.
We began the second half with a 2-0 lead and nearly went up by a third as Sooz popped a volley behind Furman's right back and into the path of Lex who was streaking in from the left wing. It put Lex on a collision course with the goalkeeper who was charging off her goal-line. From the bench it was like watching two cars playing a game of chicken and knowing you're about to see a head-on disaster. The ball bounced once. Lex got there a second before the keeper. Fully aware that she was about to be annihilated, Lex jumped for the header and dangled defenseless in the air. As the ball looped toward the net, the goalkeeper's momentum never wavered and she crashed into Lex like a runaway wrecking ball. Both bodies fell to the grass and lay motionless. All that was missing was a small fire and a plume of smoke from the wreckage. The ball, practically an afterthought at this point, was cleared off the line by a Palladin defender. Thankfully both players got up on their own strength and carried on with playing.
Nicole Locandro put us up 3-0 in the 65th minute with a cannon from almost 30 yards. The goalkeeper got two hands to it, but the weight of the shot proved too much and it trickled across the line.
I give a lot of credit to the Palladins. Their spirit never broke and they fought hard until the final whistle. They seemed oddly reinvigorated by Nicole's goal and cut the lead to 3-1 with a nifty cross and finish combo in the 80th minute. Five minutes later they had another chance from a cross but the finishing header sailed over the crossbar and that was the last chance either side would see.
Funny thing about soccer… even when you win, it really sucks to give up the last goal of the game, especially if it spoils a shutout. Despite a convincing win our girls left the field disappointed about conceding the late goal. And if I'm being perfectly honest, I'm a little bit happy about that. For as much as I spent post-game trying to cheer up our players, I was secretly seething that we threw away the shutout. We played 75 very good minutes of soccer. Now we need to play 90.
Anyway, we're 1-0 and that's a far cry better than 0-1 so I'll take it. Next up is our home opener next Friday as the Texas Longhorns come to town. Texas is as good as any team in the nation so we'll need to produce one heck of an effort. Hope you can make it out to Athens for the 7 P.M. kick-off. If you do come out, do us a favor and wear red.
Thanks!
Just Ugh.
Sunday, August 14, 2011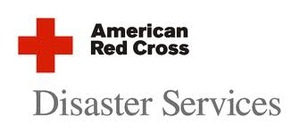 So this afternoon we finished training with a fitness exercise that involved the players running around the outside of the field. As they turned the corner nearest the Turner Soccer Center they passed a line of 13 college girls in white socks, black shorts and red shirts bearing the 'Georgia Soccer' brand. A gaggle of soccer groupies, you ask? Oh no. No, no, no I'm afraid not. That battalion of onlookers is the ever-expanding manifestation of our injured reserve. Thirteen! Thirteen freaking injured players! It's just absurd. And here's the kicker - four of them have… wait for it…. shoulder injuries. Huh??? In my 20 years of coaching prior to this one, I honestly can't recall a single serious shoulder injury to a field player. Somehow we've accumulated four of them in 11 days. Bizarre.
We expect nine of our baker's dozen to return to action in the next few days and weeks. Coming into camp we knew that two of our freshmen, Bella Hartley and Ansley Morgan, would be medical redshirts and miss the entire 2011 campaign. Carly Shultis' ankle makes her a question mark for this fall. And if you haven't already read it online, Laura Eddy tore her ACL with two minutes to go in Tuesday night's training session.
Eddy's injury was just heartbreaking. She went down with a scream and then the next thing out of her mouth was a prolonged and sorrowful, "Nooooooooooooooo." When I heard that… well, I didn't need a doctor to examine her. She wasn't yelling because of the pain. That was Eddy yelling at the gods because she knew her season was over; the emotional pain trumping the physical one. She just knew. A split second after that awful popping sound Eddy knew all that hard work she had put in over the past eight months just got flushed down the toilet – at least for this year. All of that work, all of those miles, all of those weights and push-ups and pull-ups and box-jumps, all of that commitment, all of those hours - all of that disappointment whittled down to one agonizing two-letter word filling the night sky: No.
The rest of training – the final 120 seconds - was an exercise in going through the motions. Everyone was completely detached from the activity. Sure, bodies chased a ball, but hearts and minds had made an early exit.
Eddy would have to start all over again. It was devastating. And I actually had to remind myself that as impossible as it seemed, somehow it actually hurt her worse than it hurt me. If you don't know what Eddy's been through… what Eddy has put herself through… then it might seem like just another women's soccer another player falling victim to another ACL. But that's hardly the case.
Here's the thing about Laura Eddy – she's the kind of kid you just want to root for. She's got a gift, a really big one, yet she's modest and unsatisfied and determined. She's a warm and wonderful teammate with an easy smile who never has a bad thing to say about anyone or anything. She's polite and genuine. She's one of those people who will go through life with no enemies. And oh yeah, she just keeps getting better at soccer. She's a sponge for coaching. When a coach gives Eddy a correction, it doesn't take her three days or three games or three weeks to get the hang of it. The change is immediate. The new habit just magically happens and the old habit ceases to be.
Eddy is so determined to be the best player she can be that she doesn't really work on her weaknesses in so much as she vaporizes them. For example, in April I was recruiting in Florida when I got a text from Eddy that said she wanted to be on the national team. Implied in that message was a request for help in getting her there. So I asked her if she could juggle to 50 on her left foot only. She said she didn't think so. So I replied, "When you can juggle to 50 on your left foot, I'll get interested." Two hours later I got the following text: Done. What's next?
Honestly, it was more impressive than it was surprising. I've been playing this game since… well for a long freaking time and I have never even juggled to 20 solely on my left foot. It took Eddy all of two hours to rise to my challenge and that included the time it took her to drive to the park and put on her boots. But that's just Eddy's M.O. - Tell me what I'm not good at so I can go fix it. Then, like a retriever that never tires of playing fetch, Eddy quickly returns, begging to be sent on her way again. When Eddy went away for Christmas break in 2010, long balls were considered 'in need of improvement.' So was shooting from distance. When we kicked off our first session of spring training it was obvious that those problems had been summarily squashed. It was like they had never even existed.
Last spring Eddy and I sat down and I identified three areas that I thought were holding her back a bit if she wanted to play for the United States: she was a little too conservative about going forward with her distribution; she wasn't a great 1v1 attacker; and she was a little too light. So how did she respond?
Well, over the past three months she put on seven pounds of solid muscle and was banging teammates around during preseason. Being light was no longer an issue. And those other two areas? Let's just say we crossed them off the list, too. Until her knee exploded, Eddy wasn't just playing on another level – she was playing on a whole other planet! And it was impossible to miss. To see a kid who worked that hard reaping the benefits of that work was inspiring because that's the way the world is supposed to work. That's how we're told it works. That's how it works in the movies, right? Eddy's rise is also one of those beautiful subplots that you would never know if you weren't a part of our team. If you just showed up and watched a game this fall you might have thought, Wow that #14 is really good! But you would never know how hard she worked to get there. You would have no idea how much it meant to her to get that good.
When I went to bed that night Eddy got injured, I stared straight up at the ceiling for what must have been two hours. I'm sure I wasn't the only one. And although I was fully aware of how big of an impact Eddy's injury could potentially have on our team, that didn't really concern me. I wasn't sad that we had lost Eddy the player. But I was devastated for Laura the person. I couldn't shake the feeling that she deserved much, much better.
So we'll carry on without Eddy's services for this campaign. Hopefully her teammates are fast healers because we're running low on bodies, there's no vacancy in the training room and our training staff is one misplaced roll of pre-wrap shy of a nervous breakdown. It'll be a sight for sore eyes when Miller, Locandro, Barker, Shultis, McHugh, Owens, etc. return to the field.
Incidentally, on Friday we drove down to Tallahassee and scrimmaged Florida State. I love that we use our preseason match to face such excellent competition. FSU won 2-0 but more important than the result, we got a really good look at some areas we need to address as the season begins in earnest this Friday night when we travel to Furman.
Incidentally, if you're one of those irksome people that insist on attackers heaingd the ball back in the direction that the cross came from, you should check out FSU's first goal – a snap header from the penalty spot. I don't think too many coaches would try to correct that piece of finishing.
Thanks for reading. Hope to see you at our home opener against Texas!
Action for Ace
Friday, July 22, 2011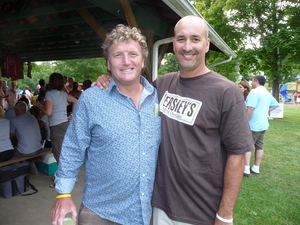 On the eve of our biggest camp of the summer, I jumped on a plane for Pittsburgh, rented a car and made the drive to Bethany, WV – population: one and a half pages of a phone book.
Bethany is dead in the summer. It's a small and quiet town even when the college is in session, but in July, you could pretty much sun bathe in the middle of Main Street without a care in the world. Bethany's not going to be on anyone's list of vacation destinations. There's just not a lot there. The busiest intersection doesn't even have a stop light (you'd have to drive eight miles to see one of those). It's in the business district, which consists of two general stores, side by side and one of them out of business, which sit across the street from Chuck's Bison Inn which closes its doors during the summer recess. So in case you're checking your math, there are basically 3 businesses and two of them aren't even open. And that's it.
Yeah, a block up the hill is the post-office. But with the advent of email, college kids aren't much for being pen-pals these days. Anyway, like I was saying, Bethany is a small town. People don't just go there. Especially not in the summer. There's usually no reason.
Way back in the winter of 1985 I took a recruiting trip to Bethany and immediately fell in love with the place. I got to play some indoor with the college guys and showed well enough to get the attention of the assistant coach, Paul 'Ace' Hayward. He sold me on the idea of coming to Bethany and winning a national title. That was enough to convince me of what I already knew; that when August rolled around, I was going to be a Bison.
I played for God-only-knows how many coaches in my soccer life. And I more or less liked them all. But Ace was the one I wanted to kill for. When I took the field, I would break bones to please that guy. He was my coaching soul mate. He knew I had a lot of aggression and he knew what buttons to push to get it out of me. I loved playing for Ace. It was my favorite time as a soccer player.
In 2006, during one of my previous blog lives, reflecting on our time together, I wrote this:
Ace is one of the most likeable people you could ever hope to meet. I don't know how old he is, but he's really just a kid. He's a human cartoon, with a barrel chest and a big, bushy blonde mop of hair and a high pitch voice. Like many others, Ace came from a big city (Toronto) and fell in love with this tiny little town and its soccer program and stuck around for years after he graduated. He is the heartbeat of the alumni soccer association… I loved playing for Ace. At the age of seventeen I wanted to be Ace. He was far and away the best coach I ever had. But more than anything, Ace knew how to push buttons, particularly mine. Let's face it, I'm not all that hard to figure out anyway. The Dan Blank instruction manual is about half a page, double-spaced. It was even smaller when I was seventeen years old. It didn't take a whole lot of advanced psychology to get me in a frenzy. But Ace did it better than anyone else ever had. He had me figured out to a tee and he loved it. So did I. He had, at his disposal, a human wrecking ball that would act on command. I had a coach who didn't try to stifle my aggression. Heck, he tried to make it reproduce. Ace knew he could get me riled and he totally abused the privilege. There were times he would flirt with my girlfriend just to get me bent. And once I tried to fight him because he was wearing a tee-shirt from the team that had knocked us out of the NCAA tournament.
I remember one training session in particular from my freshman year. It was a fitness day and we were getting absolutely worked. At one point we had to do as many push-ups as possible in a minute. Now I was never Mr. Push-Ups in the first place, but I was killing myself to crank out my best effort. I had gotten to twenty or twenty-five, and just for a second I paused at the top for a quick rest. Ace saw me and started screaming, "Blank's being lazy! Don't be like Danny Blank!"
Oh my God I wanted to punch the guy in the head. But even more than that, I wanted to work twice as hard. I never wanted Ace to think of me as lazy. On game days I wanted to kill for that man. It took eighteen years to realize this, but I was always fighting for his approval.
Bethany Soccer may have the strongest alumni association in all of college soccer. On our alumni weekend we don't have an alumni game; we have an alumni tournament – two of them actually – an under-35 and an over-35. Typically over 120 former soccer players appear each spring to lace 'em up and tell war stories about how good we really were. And Ace is the reason for that. For a quarter of a century he has been the common thread holding it all together, arranging all the gatherings, keeping everyone in the loop, keeping Bethany Soccer important to all of us. He's the great connector. He counts friends on every team that has ever played for the college, even those teams that played a decade before he had ever heard the word Bethany. And his circle of friends reaches well beyond that. He's got a charisma that pulls people in. Soccer campers, business people, college presidents… Mia Hamm… they all call Ace a friend… because people just gravitate to him. It's really quite absurd.
The thing about Ace is that he is always giving. And I do mean always. The guy is like Santa Claus. Every time he reaches into his pocket it seems he pulls out something to give to someone. I cannot possibly overstate how much this man gives and gives and gives. It's clearly his favorite thing and on my honor I've never seen anyone better at it. About nine years ago he started a clothing line and he made (and still makes) really cool gear. But those of us who know him thought from the beginning it would be a disaster simply because Ace would never sell something to someone when he could just give it to them instead. In my own closet there are five of his t-shirts and 3 of his hats and he still has never asked me for a dime. And when I tried shopping on his website, the damn shopping-cart function was disabled. It's literally impossible to give this man money. His entire existence is predicated on the solitary principle of making other people happier than they were ten seconds ago. How many people have you met in your life like that? I know exactly how many I've met and I can count them on one finger. And those of us lucky enough to be a part of Bethany Soccer and the Bethany Soccer Alumni Association know how much better our lives are because of the man we call Ace.
Despite his Canadian roots, Ace's inner compass always pointed south toward the beach. When people talk about Ace, the word 'soul' inevitably makes it into the conversation. And Ace certainly has a surfer's soul. He digs white sand and salt air and a mellow sunset and afternoons mingling barefoot with the locals. On the beaches of Anna Maria Island is where his heart is content. It's the perfect place for a guy who just wants to find peace. It's where about two years ago his son, Jackson Kai, was born. That boy is the apple of Ace's eye.
In 2007 Ace was diagnosed with cancer. The surgeons removed a grapefruit sized tumor from his abdomen. They thought they got it all. They didn't. So through the years Ace has battled cancer and chemo, fighting like hell through both of them. Still, the cancer remains. Now it's called Stage 4. You don't need a single day of Med School to know that that's no damn good. No. Not good at all.
A few weeks back a movement began called Action for Ace, part reunion, part fundraiser. Ace was all in favor of the reunion but not surprisingly, wanted no part of a fundraiser. So thankfully the organizers didn't give him a choice. Bill Denniston, Ace's lifelong friend and teammate and currently the men's coach at Robert Morris University, ran point on this whole project and when Ace wavered, Billy simply said, "Shut up and show up." So Ace did. Along with 220 others.
People flocked to Bethany like a gold rush. Friends he hadn't seen since high school made the drive down from Toronto. His roommate from the Tampa Bay Rowdies who he hadn't seen in 25 years was there. From all directions they came. From California and Florida and New Hampshire. Friends and family flooded this tiny town for no other reason than to show their support. Naturally, as gathering are wont to do in Bethany, it turned into one helluva party.
Time stands still in Bethany. The place never seems to change. Well almost. In 1986 you could by a thick, delicious, fresh cut deli sandwich at Chambers General Store for $1.00. In 2006 you still could. But now that same sandwich costs $1.25. I was mortified to learn that prices had gone up 25% in just 5 years.
Our reunion was a lot like other BASA weekends, just without the soccer. There was a lot of reconnecting with old friends. There was a lot of laughter. There was a lot of beer.
On Saturday morning we stuck about 80 hackers into golf carts and did our best to kill a perfectly good golf course. I golfed with Jack Shafer and his wife Megan, and Eduardo (Ed of Spain) Ibanez. Let me be perfectly frank about this – we're no darn good. But we had a blast being that way. The highlight of our lowlights was Eduardo's attempt at a tee-shot that sent a ten-inch divot fifteen yards down the tee-box with the tee still in it. I've never seen anything even close to that. We had Eddie pose with his divot for a photo like he had landed a trophy trout.
That night we held a picnic down in Bethany Park next to the baseball field. No, it's not a baseball stadium. It's a field. No lights and a set of aluminum bleachers that can seat about thirty. That's life in small town Division III athletics. Food was served. Joe Doiron wrote a beautiful song and sang it to the masses. It put lumps in throats and tears in eyes. There was an auction – a really good one. People made donations. All in all, the weekend raised $30,000.
I said good-bye to my friends around 2 A.M. and headed back to the airport for my 6 A.M. flight, figuring I might catch some sleep at the gate. I didn't. I needed to get back for camp but my head was anywhere but Athens, GA and the litany of phone calls and emails I was about to get about what size sheets the campers would need to bring and which kid wanted to switch roommates. As much fun as we had, there was always that thing lingering beneath our every thought. We were there to celebrate… but that worked better in theory than practice. I spent the better part of five years at Bethany as a student. In the past two decades I've probably been back 30 times. But this is the first time I ever left feeling like an adult. It's hard to stomach this, but play time really is over. We're not kids any more... and this time I mean it. We're real-world people dealing with real-world problems. And none bigger than this.
It's funny, these things that can give you perspective. The things that have been stressing me out lately… after this past weekend… they just don't matter anymore. The people who want money from me? Here. Take it. If that's what you need to be whole, then help yourself. I look at my wife and my little girl and this very cool life I get to lead earning a living doing what I love, and I remember how truly terrific I have it.
One of Ace's old college friends couldn't make it back, but she sent an email. I don't think anyone could ever sum up Paul Hayward better than this:
Paul, you have such a unique soul. You hold no grudges or hatred against anyone, even someone who may have hurt you. Some people may think you have your head in the clouds but you know it's easier to see the SUN that way!!! Here's to you as you are embraced by so many that love you this weekend in a place that you helped make so special for me and so many others just by being yourself,….a kind, sweet, happy, peaceful man who just wants to have fun in life. Thank you for so many wonderful memories.
I'm going to send some money Ace's way tonight. I hope you will, too. When you finally meet the man, you'll be glad you did.
Learn more about Ace and send your donations here.
I was also going to direct you to his website to buy some very cool gear. But wouldn't you know… the shopping cart isn't working.
Pe.Ace.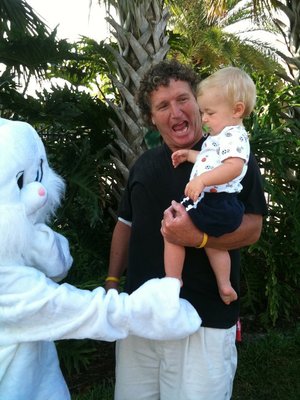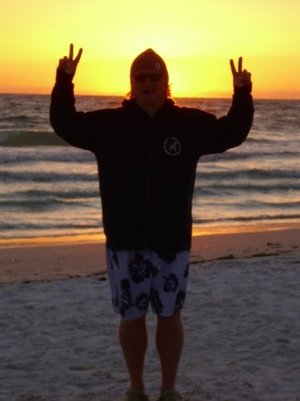 Glory Glory, HALLELUJAH!
Monday, July 11, 2011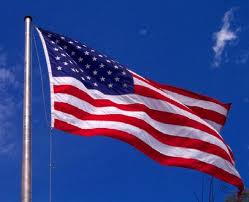 "The difference between fiction and non-fiction is that fiction has to be believable."
So yes, it was going to take something just a little bit special to lure the Poet from his indefinite impasse. The American Idol finale couldn't do it. The Biggest Loser finale didn't do it. Cam Newton going pro (again) didn't do it. The death and disposal of Osama Bin Laden came close, but then again, hadn't he consumed enough of our time? But yesterday I witnessed something remarkable and it's not necessarily that I can't stop thinking about it; it's that I don't want to.
On the strength of Abby Wambach's goal in extra time of extra time to salvage our World Cup life, the U.S. Women's National Team wrote a script that no screenwriter would ever have the nerve to consider. It was Indiana Jones escaping the jungle after being run over by the giant rock. It was, in a word – unbelievable.
To be perfectly blunt, I'm not a fan of the soccer we've been playing lately. It's pretty unimaginative and we have some curious desire to repeatedly donate the ball to the opposition. There is no definitive style to speak of. Yes, there is a high ceiling for improvement as far as all that goes. And for years, nay decades, we have been criticized for winning games on athleticism, not talent. And in large part we have. But yesterday's result did not come down to athleticism. Remember, for the game's final sixty minutes, we had one less athlete on the field. What the result did come down to is that singular reason, that gift passed down from our forefathers, that convinces people from all around the world to pack up their belongings and leave their homes to start a new life on our shores – the American spirit; that nonsensical notion we all hold so dear that against all odds we can and will conquer the most unconquerable obstacles. It is why they call us arrogant Americans, because we walk this earth as if we have some divine right to believe that we can do the impossible.
That quarter-final, in my eyes, was actually two games. The first game ended with the referee's comedy of errors that included a bogus penalty kick; the accompanying bogus red card that whittled us down to a ten-player team; the undoing of a phenomenal save of aforementioned kick thus leading to a bogus yellow card; and the retaking of that kick to level the score at 1-1. At that point the second game began and it was no longer about soccer technique or tactics or even athleticism. At that point the game became Brazil's national soccer team against the American will.
And how fantastic it was to hear the cat-calls every time the world's best player – Marta – touched the ball! How inspiring it was to hear a stadium full of Germans chanting USA! USA! Surely I was not the only one reminded of Rocky Balboa battling the big Russian at the end of Rocky IV. Above all, it was the resilient and reckless charge up the steepest mountain to right a horrific injustice that defines this script.
Okay, so I'll say it… the radical change of fortune to misfortune, the extra helping of heartbreak – it couldn't have happened to a more deserving team. I'm glad it happened. Yes, I'm thrilled that we won. But I am over the moon that we did to the Brazilians who have no one to blame but their Brazilian selves. And how great that in the end, the it was the Brazilians that tripped over their own Brazilian-ness. First Erika with that disgraceful dive… well not really a dive… more like a nap-time lay-down… that blessed us with just enough bonus time. And Christiane, with the ball at her feet and the chance to run out the clock in the American end, tried a senseless and risky pass that was intercepted and then not touched by another Brazilian until there was the need to pick it out of their net. So for Erika disgracing herself and our game on worldwide television, and for Christiane not knowing when enough is enough, I say Ha stinking Ha with a little bit of Tee Hee Hee thrown in for good measure.
If I had her address I would send Erika an email. It would say, "You are the reason that Americans don't like soccer. You just lost the World Cup." And of course, "Thank you." And yes, "Tee Hee."
The game had so many talking points it's easy to gloss over the fantastic play of Hope Solo, even when penalties weren't being fired her direction (she faced seven of them). It's easy to forget and almost impossible to imagine the contribution of the American defense, particularly when we switched to three at the back, to keep us within striking distance. If you've never played, you can't possibly understand the difficulty of that particular task.
But in the end, this game's iconic moment was Abby Wambach planting her header into the vacant Brazilian goal to resuscitate us when it seemed there was nothing left to do but go gently into the light.
Ya know, there's just something about this team. I don't mean this specific and current group of players. I mean the entity that is the U.S. Women's National Team. Somehow they keep finding ways to draw this country back in, reminding us how glorious and empowering it feels to wrap ourselves in the American flag and shout from the rooftops. Time and again they deliver on the biggest stages, and that legacy, that responsibility, gets passed down from one team to the next. I loved how in her post-game interview, Wambach referred to 'all those players that had gone before' her. It was a nod to those pioneers who gave this sport legs and its athletes opportunities that players would have never even imagined 30 years ago. It began with the 1991 team that took the "world's game" and beat the world over the head with it. Then the '96 team followed in kind with a dramatic thriller to win Olympic gold. Then the '99 team that rose to all unreasonable expectations to not only win the World Cup, but to make sure people were in the seats to watch them do it. Then two more Olympic gold medals, both in dramatic fashion. And now this.
Part of their appeal goes beyond our patriotism though. Part of what attracts us to them goes beyond what they do on the field, because they don't use that celebrity to play the jackass off of it. Part of why we like them is for the things they don't do. They don't bathe in their egos. They don't turn up in the police blotter or the tabloids or Court TV. They deflect individual praise onto their teammates as if by reflex. In short, they are very convincing in the role of role model. There's something we crave from our gold-standard athletes, and quite frankly, too often those athletes leave us disappointed. But what our soul searches for – heroes really – has been embodied by this team since the day it was formed.
Much like Team USA in the 1980 Olympics, the signature win really isn't the money win. There's still work to be done. And I really hope they do it. I really hope they go all the way and win the whole damn thing. For if they do, they will close the chapter on the 1999 team and all those who follow will have a new standard against which to measure themselves. And then finally, Mia Hamm will have a chance to rest.
In the Team Room at Ole Miss we had a mural – a ceiling to floor, black and white photograph. In the foreground is the slightly blurred image of a player, her shoes two feet above the grass, who has just scored what surely must have been an important goal. In the background, her teammates and fans have risen in celebration, some of them captured in midair by a fortuitous photographer. It's a moment of pure ecstasy.
When we were designing that room in the spring of '09, Ellen Lord and I knew we wanted that photo to be the centerpiece, but we didn't know what catch phrase to put on it. Eventually it was not the goal-scorer that got our attention; it was those fans and teammates celebrating with her. It was how in that one moment in time a player took so many people to a better place with one swing of her foot. It is a gift. No, not just a gift, but the best gift an athlete is given – that chance to inspire people, to reward them for their investment, to move them out of their world and into her own better world for just a few seconds. And suddenly our catch phrase just popped out: This Is Why.
This Is Why. That gift is an athlete's reward for doing all the hard work, all the sprints, for playing through pain and through rain and for never giving up even when dying seemed like a perfectly reasonable alternative. That one moment… that one chance to move those people is why you do all that.
Shortly after the USA beat Brazil, Ellen wrote me this very simple message: Now that is why.
Amen.
One Year and Wake Forest
Thursday, April 21, 2011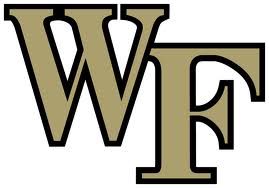 HAPPY BIRTHDAY to my best friend and the most talented person you've never heard of, Scott Arnold. But I have unshakeable faith that one day Scott will sit down and write the book that will cast him into the stratosphere of celebrity author status next to Augusten Burroughs and David Sedaris. Ask anyone who knows him. They'll tell you the exact same thing.
Speaking of famous writers, I am one now. Okay, that's not even close to being true, but I did have an article published in the latest edition of The Coaches Insider. If you're really bored, you can read the piece here. They liked it enough to invite me to write another one, so I got that goin' for me.
Seems I've fallen a little bit behind here at the Poet. Yep. May as well get used to that.
Last night Izzy is munching on some of those individually wrapped rolls of mozzarella cheese – each one about the size of my index finger. And on the wrapper of each one is a trivia question. Beth is reading them aloud. The question was, "How many cows does the NFL use to each year to produce its footballs?"
And immediately I realize this is going nowhere good.
I close my eyes and throw my head back in despair. You couldn't have skipped that question? Really? I'm silently praying that this is some type of trick question and the answer is 0 – as in the NFL has found some animal friendly synthetic way to produce footballs. It's my only hope. Izzy loves animals. Even cows. God knows I want her to love going to Bulldogs football games and this recent hobby of our is suddenly in imminent jeopardy. And I don't want to spend my Monday nights being chided by my little girl for supporting animal cruelty. So c'mon zero!!! Show me a goose egg!
Yeah. Notsomuch.
The answer is 3,000. 3,000 freaking cows to make footballs – each year. Even I found that to be a little excessive in a Joseph Stalin kinda way. Can't they use some of those balls twice and you know, save us 1500 cows per year?
So naturally Izzy is mortified and declares that she no longer likes football and that I shouldn't watch the NFL anymore because "they waste too many cows." Fantastic.
It's time for a long overdue word of congratulations to Danielle Johnson for once again earning herself a spot with New Jersey Sky Blue of the WPS. Really no surprise to anyone who knows her, but still a noteworthy accomplishment for one of the kindest souls to ever walk this earth. You know, Dee is not a star in the WPS, but I think she would be appreciated more if people knew that Sky Blue's left back is actually right footed. You could never tell that by watching her play. She's made her left foot as good as her right. And let that be a lesson to all the girls out there dreaming of one day playing professionally and thinking that you're working hard enough, because one day you may find yourself trying to take Dee's job. How hard are you really willing to work? How much time are you really willing to put in? Dee worked so hard that she made herself left footed just so she can play with and against the best players in the world. Yep. What did you do today?
When Dee was training in Athens, one day I set up a little technical challenge for her. I set Dee about 25 yards straight back behind a goal we had dragged out to midfield and set about eight yards in from the sideline. 25 yards to the other side of that goal I set up a mini-goal, 3' high by 4' wide. Just to paint the picture: you could draw a 50-yard straight line from Dee, through the center of the big goal and through the center of the small goal. Dee's challenge was to hit a flighted bending ball around the post of the big goal and into the little goal (mind you that the ball also had to stay in bounds during the entirety of its flight). In one round Dee nailed the first 12 and finished 16 for 18… with her left foot! It was absurd! You could take that big goal completely out of the picture and I doubt I could pot more than five with a straight inside of the foot pass. But dang! There she was, bending one ball after another around the big goal before skipping into the small goal on one hop. Try it some time. Let me know how you do.
I was hoping I'd get to see Dee when the Beat came to Atlanta, but unfortunately that match conflicted with our weekend at Wake Forest (notice that smooth segue?).
Last weekend some hellacious storms came tearing in from the west, raining tornadoes down on Mississippi and Alabama with Georgia and North Carolina in their crosshairs. And somehow, despite cutting a path that more or less paved their way, we managed to miss every bit of them.
We were scheduled to play Wake and NC State in a pair of abbreviated match-ups, but the anticipation of bad weather led to a change of plans. NC State was out of the picture. The Dawgs would take on Wake in a full ninety minute match beginning at 9 A.M.
Over the past decade Wake has put together one heckuva soccer program, advancing deep into the NCAA tournament and picking up some signature wins. This past fall the Demon Deacons even won the ACC Tournament - quite an impressive feat considering their neighbors from down the road in Chapel Hill. I was really excited to see how we would hold up against an ACC power. Heck, I was pretty excited just to watch them play.
Wake's stadium is a beautifully put together red brick facility that occupies one sideline. The way the field is framed by trees gives it an intimate atmosphere. The place just looks like college soccer. Built under the stadium are the locker rooms, and as the guests we were assigned the locker room for Wake's men's team. Hanging on the wall in there is a picture of their 1989 team, the only one to win the ACC Tournament. In that picture sporting a mullet that the entire 1980s would be proud of is none other than my boss, Steve Holeman. All our players took a peak at the man in his playing prime and I think it helped put everyone in a good mood to start out the morning.
Steve decided to try something different on this trip and take a really relaxed approach. Instead of having a pregame meeting in the locker room and then warming up, we just went straight onto the pitch and started the warm-up. When it was over he announced the starting line-up, offered almost no instruction and basically told the girls to go have fun. And that's what they did.
Possession has been a major focus for us since the day we got to Athens, but it never completely clicked with the team until the SEC tournament. Down in Orange Beach it was as if we discovered who we are and how good we can be when we pass the ball. It was like an awakening. That momentum carried over into the spring and ultimately peaked with our game against the Beat. I mean let's face it. When you can keep the ball from a professional team, it bodes well for your confidence. It also bodes pretty well for your results.
In the end we won 2-0. Wake had an early chance to go up 1-0 but their striker pulled her shot wide and that was their only really great look of the day. To be fair, we had a pretty good run of the park. We were patient. We kept the ball. We moved it from side to side and back again. And we looked comfortable doing it.
To my surprise, Wake was pretty direct once they took possession, mainly looking to pop balls in behind our defense for their excellent center forward to run onto. It was one of those balls that created their chance, but for the most part, they played a lot more hurried than we expected.
It was 0-0 at the half but we felt good about what we'd done. Wake had done a lot of chasing in the first stanza and we were hoping that would pay some dividends after the break.
Wake came out inspired to start the second half and had us pinned for the first five minutes. They had a pretty good look at the goal from a corner kick but missed the frame on a header from eight yards. Eventually we got hold of the ball and the game settled back into its first half rhythm.
In the 63rd minute Nikki Hill found herself with the ball and too much free time down our attacking left side. As she whooped in a hopeful serve, at least three of our coaches were muttering unhappily under our breaths about such a wishful cross. I hate when outside backs send in that serve just because they have some free time on their hands. It's a great way to simply concede possession for no reason whatsoever. Unless… Then Nikki's cross bounced in front of Carly who nudged it on to Eddy who was sneaking in behind her. Eddy smacked a first time volley over the keeper and we had a 1-0 lead. As the ball sailed into the goal the coaching staff went from Awww no Nikki to Great ball Nikki! Gotta be adaptable in this line of work, know what I'm sayin'?
Following the goal we settled right back in and did a good job of keeping the ball and staying patient. In the last ten minutes Wake changed into a 3-4-3 and threw bodies forward, hoping to drum up an equalizer. They put us under a few minutes of sustained pressure but were ultimately victimized by a pretty darn good counter attack.
I'm not sure who played the ball to spring Gibbo down the left flank, but Gibbo held off a defender near the corner of the 18, drove toward the endline and laced a low liner that found Chewy streaking in at the near post. Chewy redirected it through the keeper's legs to slam the door and cap off a 2-0 victory. Chewy had sprinted the better part of 80 yards to get on the end of that cross. It was an excellent way to conclude our spring season.
The Dawgs are idle until August 19 when we visit Furman to kick off our 2011 fall campaign. You know, it's been a year now since we first pulled into Athens. It seems like forever ago and yesterday that we said our goodbyes to some amazing people in Oxford and make tracks for the new world. Every once in a while I take a deep breath and reflect on my remarkable fortune. I mean holy smokes… I'm a coach at the University of Georgia. Beat that with a stick.
5 Days In The Life
Tuesday, April 12, 2011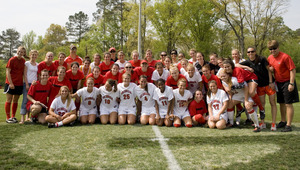 THURSDAY
Okay, this monkey thing has gotten entirely out of control. I know I don't post a daily monkey despite a title to the contrary, but believe you me, the pictures folder on my PC has more monkeys than a Lewis Leakey biography. They're coming in from everywhere. My sense of monkey consciousness has become so deep, so finely tuned that it's downright scary. Plus we have an army of monkey hunting enthusiasts here in Athens, and when they see a monkey, it comes directly to me via MMS. I've become the hub of our monkey wheel. And that's just with the visual monkeys. Since my introduction to the M.O.D., I've been literally astonished by the amount of monkey references I hear on radio and TV. How did it take so long for me to realize this? I musta been going through life with blinders.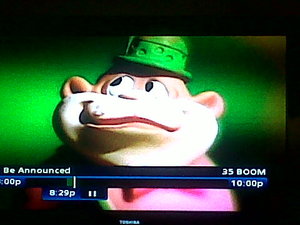 The other night at 8:30 P.M. I got a text from Jon Harvey who was concerned because he hadn't yet had his daily monkey sighting. I wrote back telling him to turn on the Cartoon Network. About ninety seconds later he sent me this picture. Yeah, the Cartoon Network is a bit of a gimme, but desperate times….
Jon's text reminded me that I too had been monkeyless for the day, but I was busy writing and forgot all about it. Plus, I never panic. I don't know the last time I turned on the TV for more than 30 minutes without a monkey reference. Honestly, and I don't know I this is just sort of cosmic monkey timing I've been blessed with, but I usually get a monkey within the first four minutes of turning on the television set. That's no lie. It's pretty frightening really. Anyway, Beth had DVR'ed American Idol that night so we sat down around ten to watch it. It was Elton John night and James Durbin performed Saturday Night's Alright For Fightin'. Listen to that song for 20 seconds. Then believe.
A couple of nights later we rented two movies. On Friday night we watched Step Brothers. Sure enough, there's a monkey reference. The next night it was The Fighter and even I was astonished when Mark Wahlberg says, "…you attacked him like a silverback gorilla." That's not just a monkey. That's an Academy Award-winning monkey!
Since we were talking about American Idol I'm going to interrupt this entry to vent. Between the end of the last paragraph and the start of this one, I watched tonight's elimination round only to see Pia sent walking. Are you kidding me! Freaking Pia??? Isn't she, you know, the best singer? And by best I mean better than everyone else? Okay, so Pia's immensely talented and beautiful and I'm sure she'll land on her feet. That's dandy. But what about me? What about my needs? I'm invested in this stinkin' show now and this is completely unacceptable. I'm devastated. And I'm not sure why but I suddenly have this remarkable urge to beat the spray tan right off of Ryan Seacrest. Am I alone on this one?
Okay, since I'm rambling… are you interested in sharing my latest addiction? I recommend you say no, especially if you consider yourself to be 1. Competitive 2. Intelligent (and stuff) and 3. A Computer Owner. Back at Ole Miss, our other coach on staff, Ellen, stumbled onto a game called Word Bubbles at www.lumosity.com(it's tabbed as a Flexibility game). In short, you are given a 3-letter prefix and then must come up with as many words as you can that start with that prefix. BUT! (There's always a but, right?) You can only use three words from each word length. So let's say you're given the prefix SCA. You type in R (Scar), M (Scam), B (Scab). You've closed out the 4-letter column. You create words from 4-13 letters (words with more than 13 letters fall into the 13 column). Each round is one minute long. To have perfect round you must create 30 words. There are three rounds to a game. Make sense? Well you'll have to trust me; it's easy to get compulsive about this game, especially when you're a competitor surrounded by like-minded souls.
So back to Ole Miss… At first all three of us would just plod along racking up scores that peaked around 2600 and feeling pretty good about it. Then one weekend Ellen breaks 3000. And now it's on. Steve soon chalks up 3500 and now I'm like the odd man out and that was unacceptable. I needed my own little piece of Word Bubbles glory. That's right about when I started throwing around the term 'addiction.' Word Bubbles was consuming entirely too much of my time and energy and I was on the short end anyway so I made an agreement with myself. I would be the first of our crew to break 4000. Then I would never play that stinking game again. And I did. I broke 4000 and quit cold turkey. I was walking away with a clear conscience – going out on top – and suddenly I had a lot more free time. Well, a week or so later Steve has not only broken 4000; he's also beaten my score. But I was fine with that. I had officially retired. I really had. Or so I thought.
So for about a year I stayed away. But the thought that Rain Man had bested me in a word game was eating away at my insides. It was a festering wound that would not heal until I conquered Steve's score (4200) – convincingly. It was an itch I refused to scratch. It took discipline but I stayed away. Then a month or so ago, Ellen posts a picture on her Facebook page. She had reached previously uncharted territory by scoring a perfect round - 30 words / 1800 points. None of us had ever mined perfection. It was the proverbial last straw. I was back to the bottom of the pile. I could no longer stay away. I went back to work.
After much ill-advised dedication to Word Bubbles, I am proud to announce once again my re-retirement.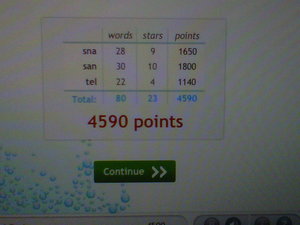 I have put up a score I am convinced will stand up for quite some time, and as a bonus, it included a perfect round. At this point I feel compelled to mention that I cannot type. Yes, that probably sounds strange coming from a blogger, but honestly, I'm 100%, two-finger hunt and peck – a severe handicap in Word Bubbles and if you must know, a handicap my cohorts do not share. As a celebration of my triumphant re-retirement, I invite you to send in a pic of your Word Bubbles scores that top 4000 points. But I warn you, you're going down the rabbit hole. It's okay though. I'm developing a 12-step program, so maybe I'll see you in rehab. Cool?
Tomorrow is a big day so I need to go to bed.
FRIDAY
Today was 'Golf For Kicks', the annual fundraising golf tournament for UGA Soccer. 22 foursomes hit the beautiful UGA links under sunny skies. Robin and Jon organized this from top to bottom and it went off seamlessly. Goal Club president Jim Turner was not only a major contributor in putting this together,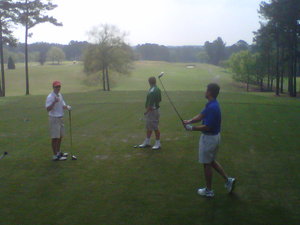 but he was also rode shotgun in my golf cart. Our compliance guy Eric Baumgartner and Steve rounded out our foursome.
Like any painfully average golfer, there's only one shot I really care about – the first one off the tee. That's the one shot where a whole bunch of people not in your foursome will watch you hit. And if you flub it, you're going to hear about it for weeks. Thankfully my drive was long and straight-ish and enough to keep the peanut gallery at bay. I could golf the remainder of my round in peace.
The first time I golfed in a scramble was circa 1995 in Fort Lauderdale as a part of college soccer's Senior Bowl festivities. By the way, the Senior Bowl was one of the best events in all of college soccer and if anyone ever wants to revive it, you've got my support. Anyhoo… so I'm with my old boss from Wheeling Jesuit, Jimmy Regan, who's pretty decent with his clubs, but he's no scratch golfer. We're paired with a couple of guys who actually took pride in their golf game and had visions of winning the event. Jimmy thought it best to break the news before the round got under way. He said, "I'm sorry to tell you this, but I'm petty average and he (me) is worse. You guys may as well just enjoy the round because we ain't winning anything."
Their initial disappointment was soon mollified by the amusement of watching me try to get my club to actually make contact with the ball, which was about a one in four occurrence. On the fifth hole I was certain that I smashed my drive. Finally! It was a watershed moment. It made a loud noise on contact and left my club-face so quickly that neither Jimmy nor I could track it. There we were, looking in earnest at the great expanse of the fairway, trying to locate my drive. "You see it, Jimmy?"
"Nope. I lost it."
Then one of the other guys calmly walks up with club in hand, and without saying a word, points to a spot in the ground where my tee had previously stood. There was my ball, 2/3 of it buried beneath the turf. I had somehow managed to hammer the ball straight into the ground. All four of us fell over laughing. It was at that point that those guys realized Jimmy hadn't been kidding about our chances of winning anything and flagged down the beer cart.
In addition to the buried ball, there's one other reason I remember that event. The rules dictated that you had to use at least one drive from every member of the foursome. When I hit a shot on 16 that was good only to the point that it made forward progress and stayed in bounds, they felt obligated to use it. It was the only shot I contributed to our foursome the entire day. I tell you that story to tell you this one…
Today we used at least one of my shots on 8 of the first nine holes. Don't know exactly what happened out there, but for some strange reason I resembled a golfer. Of course when we made the turn I regressed into my natural existence as a total hack, but I'll always have that front nine.
We finished a respectable six under. Yes, that was about nine shots out of the money but not a bad effort overall.
SATURDAY
Today was our alumni match and accompanying festivities. There really hadn't been an all out effort to put together an alumni event in the history of UGA soccer, and again it was Robin who made all the wheels go round.
We planned a 10 A.M. kick-off for the match between the current players and their predecessors. Well, having been around college soccer for some time now, I can tell you it was no surprise when at 9:50 A.M., only one of the alums was actually on the field. Steph Ransom, the one true legend of UGA soccer, was short about ten teammates as game time approached. This is how alumni games go. Included in the list of factors that annually favor the active team is a good night's sleep – or any sleep at all for that matter. Thankfully the alums did eventually straggle their way into the stadium and we had ourselves a pretty darn good game.
Our alumni team is no second-rate squad. For starters, most of them are under 25. Three of them are pros. Five of the girls just finished their eligibility in Novemember and still come out and play on a fairly regular basis. I'll spare you the play-by-play (although there was probably a live feed on all-white-kit), but some fabulous goals were scored and the current Bulldogs defeated the Legends by a score of 4-2.
Alumni games are as memorable for their follies as they are for any flickering moments of brilliance. And no folly was quite so spectacular as Alex Thomas getting sat down by a Gibbo fake. As she fell to the ground for no really good reason, players from both sides were gasping for air between belly laughs. That little maneuver earned Alex the game's MVP Award.
The match was followed by a BBQ out on the practice pitch for players, friends and families, and later that night the alums all gathered at the Foundry for dinner and some very cool retro highlight videos. I love alums.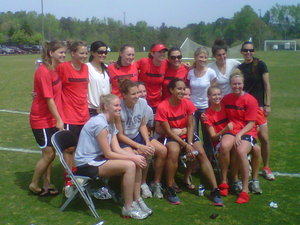 I love the perspective they gain the moment their careers end and in the years that follow. That's when they genuinely digest how much their college soccer careers meant to them. And when they take a moment to verbalize that, well, that's when you wish every current player could be there to hear it.
I should also point out that on Saturday we were introduced to someone who apparently has a laundry list of phobias. Phobia #1: Afraid of being buried alive. Any idea what Phobia #2 is? Sure enough… a fear of monkeys. No kidding.
SUNDAY
Spent the morning prettying up the lawn. Had to break out the mower for the first time in 2011. I enjoy yard work, but I gotta tell you, my passion for the task wanes considerably when it's 80+ degrees and I'm not the one who owns the yard. Still, there is pride to be taken in a job well done and the lawn now looks pretty darn stellar.
Sunday's highlight was our Over 35 league 7-a-side match. Steve and I are on the same team along with Steph Ransom and assorted others. If you ever have the chance to catch any of our games, do something else instead. Trust me on this. Geriatric soccer is not meant to be seen.
I try to keep these matches in perspective. It's a way to have a little fun, play a little ball, get some desperately needed cardiovascular exercise and meet some people I wouldn't otherwise meet. I don't take it too seriously and my #1 goal is to leave the park uninjured. I compete under the motto of We All Have To Work on Monday. But not everyone shares my view.
Everywhere I've ever lived there are people who approach these games like it's their stinkin' World Cup. They'll cheap shot any opponent who runs by them and argue every call from the referee. These are the people I fear because I'm at a point in my life where it's just not worth it. I want to enjoy myself and then leave the field in one piece. These weekend hacks usually share two traits: they're pretty bad soccer players and they're always on the other team. So when Steve pointed out that our opponents actually had legit uniforms with their names screened on the back, well, it didn't bode well. As for us… we're wearing lime green t-shirts and we have one sub and one soccer ball between us.
Anyway, the game starts and after about 45 seconds I'm already half-gassed. And oh yeah, I'm playing center back – the position I seek out specifically because it involves the least amount of running. I used to be able to play this game at full speed for 120 minutes. How can I possibly be tired already? This is humiliating! One stinkin' sub?
Anyone familiar with our sport knows that there is a clear difference between being fit - and being soccer fit. Anyone familiar with me knows that I am neither. I get it. But I can manage a decent bike ride or 20 minutes on a treadmill with relative ease. But in soccer, where you are constantly changing speeds and directions, well, those variables will gang up on you in a hurry.
I'm smart enough to know to pace myself. I'm so good at it that anyone inclined to watch me could make a pretty good case that soccer doesn't actually involve exercise. But I'm also dumb enough to occasionally get caught up in the moment and go bombing forward on an ill-advised mad dash for glory, which I did about fifteen minutes into the match. Keep in mind that this a 7-a-side field, so it's only about 70 yards long, and I received the ball about 25 yards in front of our goal. The point is, even at a sprint, I didn't have very far to go.
So I start bringing the ball forward at a casual dribble, looking for passing options. As the opposing players move to cut off my passing options, a gaping hole opens up right down the center of their defensive shape. Next thing I know I'm going full speed at the defense, all the while the little voice in my head is telling me to abort this suicide mission because I'm about to crash the entire system. I get to the last defender, fake a shot with my right and cut it back to my left – a clear sign that rationale thought has abandoned me. I hit a weak shot with my left that, of all things, gets blocked by a defender. If it goes out of bounds or the keeper saves it, the play stops and I'm off the hook. A blocked shot is the worst possible outcome. It is my doomsday scenario. Since the ball is still bouncing around in their goal area and I'm in the vicinity, the smart thing to do is to chase, chase, chase.
Huh?
Yep. There I go, running around like an idiot pressuring enough defenders to eventually force a corner. I don't remember exactly what took place. I may have blacked out. It was all sort of a blur – the ball pin-balling around and me in hot pursuit. I remember seeing knees and grass. From the time I took that initial shot to the time the ball went over the endline probably took a grand total of seven seconds. But it nearly killed me. My skin was on fire and my mouth was drier than attic insulation. I was dizzy, my knees were wobbly and I thought my heart was going to explode. I heard a voice telling me to go into the light. I waved on our one sub and then staggered back to our bench to feel much shame and then hopefully die.
Whatever happened to me? When did this soccer thing get to be so difficult? When did my legs completely seize up? I remember when the physical part of this game was a breeze. Once upon a time, there was this magical place called The Past, where I could run – really run – up and down a soccer field for 120 minutes and absolutely love doing it. And my hips… back then they, you know, turned. Now I'm like the Tin Man with a heart condition (ironic, right?). I run 5 yards that way and 4 yards back this way and I start scanning the complex for a paramedic.
Anyway, that was about where I peaked. In the second half I just couldn't run. My tank was on 'E'. Even when I told myself I need to start working harder, I just couldn't. My legs refused to move. I did so little work in the second half that I never even subbed out. I didn't have to. I didn't run enough to be tired. Now that's setting a pretty high bar for laziness.
Steve didn't fare much better. As he said after the match, "I think that may be the worst game of soccer I've played since I was born." Yes, we were that bad. And we lost 6-3. To their credit, despite their fancy uniforms our opponents were not hacks at all. Just a better team than we were. And by better I clearly mean younger.
MONDAY
Today was Staff Appreciation Day. The title is a topic we will assuredly revisit. It started out with a fairly posh Athletic Department breakfast at the Georgia Center. Following breakfast our entire department was broken into groups. Each group was assigned to a community service venue to do volunteer work. My group was assigned the North Georgia Food Bank.
I didn't know anything about how a food bank worked, but I was under the impression that we would be stocking shelves in the warehouse. I was all for it. I was happy to get in a couple of hours of contributing to the greater good. As it turned out, our job had nothing to do with stocking a warehouse. Nope. As it turns out, the Food Bank has a big, fat yard and we were assigned to do some landscaping. More accurately, we were tasked with clearing an overgrown gulley that was about seven yards wide and 75 yards long and a wonderful habitat for snakes. Our tools? Yeah… sickles.
Really?
People still use sickles?
Yep, there were the seven of us under another scorching sun, swatting at giant swaths of head high saw grass and assorted other species of trees, shrubs and weeds like a prison work crew. Staff appreciation? We were on the danged chain gang.
Eventually we did complete our task and felt good about our work. Jim, the guy who runs the Food Bank is a super nice and he was awful appreciative of the job we did. Personally, I was plumb exhausted. I musta swung that sickle 500 times. My shirt was drenched in sweat and my shoes were soaked from the swamp water at the bottom of that gulley.
Then it was back to the office to plan the afternoon training session.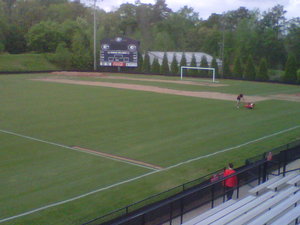 Upon my arrival I saw that the landscapers had already begun tearing up our game field. We're replacing it with brand new turf and a major upgrade from our drainage system which I think may have been no drainage system whatsoever. Regardless, come August our pitch is going to be as pretty as any in the land.
Monday's training session was fantastic! The girls competed hard and worked their tails off. We've got a couple of games on Saturday and this is our last full week of training until August, so everyone is trying to squeeze the orange for every last drop of juice. When everyone is working that hard, a coach goes home feeling really good.
On Monday night Beth and I watched a DVR episode of Always Sunny in Philadelphia. Charlie and Dee are desperately trying to match the taste of the mystery meat they stole from Frank. Searching for exotic meats, Charlie suggests monkeys because, "Monkeys are nature's humans."
Yep.
The Beat
Tuesday, April 5, 2011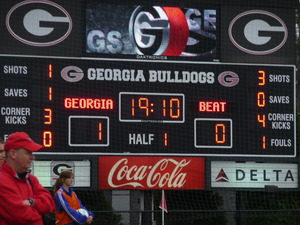 So the Atlanta Beat came to Athens last night (at the time of this writing, last night has faded into last week). It's not every day that you get to square off with a full-fledged professional team, so even for a spring game, and as much as we didn't want to admit it, it was kind of a big deal. I mean, how do you not get just a little bit star-struck when Ms. All-Everything, Heather Mitts, is in your backyard? We're only human. It was a gorgeous night for soccer and all signs pointed to a memorable event. The day's only downer was that Izzy had come down sick and wouldn't be there to meet some phenomenal role models.
As you might expect from a pro team, the Beat have some talent... Like two-time Olympic gold medalist Heather Mitts for example, and her gold medaling teammates Carli Lloyd and Kat Whitehill, not to mention fellow National Team member U.S. Lori Chalupny and uber-athlete and collegiate All-American, India Trotter. That's just the start of a pretty deep cast. The Beat were 5-0 against college teams this spring and hadn't conceded a goal. They defeated UNC 3-0 and the Heels didn't even record a shot until the 85thminute. Let's just say we were looking at an uphill battle.
Okay, a little comedy you just can't get from the box score. Capitalizing on the fame of our visitors, the Home Team from 960 The Ref - the local sports-talk radio show - broadcasted live from our press box in the hours leading up to the game. They included a live interview segment with Steve, which I sincerely hope you heard, as he did a bang-up job discussing the world's best players and addressed a host of other topics. Then, because there was still plenty of air to fill, our opportunistic sports marketing staff started poaching the Beat's players for interviews. It's not every day you get the chance to interview some gold medalists, so you gotta strike when the iron is hot, right? Well, apparently protocol dictates that when you interview a professional player, you first get it cleared with through the appropriate channels - namely their coach. Our people, me included, did not. Ummm… Yeah. Our bad. For us it was just a carnival of star power and we wanted to enjoy it while we could. Was that wrong?
While his team went into the locker room to, you know, focus on the match, the Beat's coach, a very likeable and accomplished Aussie named James Galanis, stood gathering his thoughts out on the empty pitch, fifty yards from the fence-line in front of the grandstand. (Keep in mind that there was music blasting over the PA system, so on the field, there's no way to hear someone who is more than 15 yards away from you.) Anyway, in the solitude of the deserted stadium, Coach Galanis is dialed in to the game at hand, reviewing his notes, thinking through what he's going to say to his team in pre-game. That's right about when the circus began.
Galanis sees Keely Dowling and Lauren Sesselmann marching their way up to the press box for a heretofore unscheduled and unapproved pregame interview. He didn't say anything, because with the distance between the parties and the music blaring, let's face it, there wasn't any point to it. He just intimated his displeasure by checking his watch, dismissed the distraction, then refocused on his notes. Five minutes later, with Dowling and Sesselmann on the air and Coach Galanis still wandering the field, starting center back, Kat Whitehill, strolls by - headed for where else? The press box, naturally. Galanis, growing a bit more visibly agitated, again checks his watch. A disapproving shake of his head followed by a heavy sigh tells me he is wondering what in the world his players could possibly be thinking this close to game-time. Now, while the Beat are supposed to be in the locker room focusing on the match, we've got Dowling and Sesselmann on the air, Whitehill actually waiting in queue, an irritated coach wandering the field, and whataya know…. here comes Heather Mitts bopping her way to the press box. The Beat may have had more players in our press box than in their locker room. It was fantastic!
The cavalcade of stars was lovely, but there was still the matter of the game we were about to play against a very strong opponent. We didn't bother with a scouting report for this match. I mean what were we really going to say? These three players have played in two Olympics and two World Cups, but these two only played in one World Cup? So we decided to just worry about ourselves. We've been focusing a lot on possession this spring and it's been paying off so there didn't seem to be much point in changing. It doesn't matter who the opponent is, if you play quick and simple, you'll be difficult to beat. At least that was our logic.
Before each game the players gather in the video room and wait for the coaches to address them. Waiting for them on the white-board at the front of the room were these pearls of wisdom:
No one can outrun a moving ball
Keep the ball
Make them chase
Don't abandon our style
By the time the coaches got into the room, someone had done some editing and changed 'style' to 'SWAG.' I liked that. I like it a lot.
Steve made a great point in pre-game. As a matter of fact, it was the only point that really mattered. He told the girls not to wait to start playing. He said, "Let's not come in here at half-time and realize we can actually play with that team. Let's not wait to realize that we're a good team, too. Let's go after them right from the start." As far as I was concerned, that was the most important message our players would hear.
Then I got my chance to speak. I was a little worried about our nerves. If it was a big deal to the coaches, then it was an enormous deal to the players. Heck, half our kids want to play for the Beat after graduation. So I talked about what a great opportunity we had. For one of the very few times in their careers, our players got to play a game they weren't expected to win. We had nothing to lose, and that gave us the freedom to play with a little reckless abandon. If we lose, who cares? But let's take advantage of this chance we've been given.
Then I asked the girls to take a few seconds and think about the end of the game, and what words they wanted to use to describe their performance. I told them that this was a fantastic opportunity, but they needed to leave the field with a clear conscience about the amount of effort and courage and aggression they brought to the field. They didn't have to worry about what the Atlanta Beat thought about them. They just had to be square with themselves.
It's funny, but when you stand at the front of that room, you can see which players are actually digesting your words. Their heads will nod, just ever so slightly, without them even realizing it. As much as you'd like to, you're not going to hit home with everyone. But if you pay attention, you can do a decent job of predicting who was tuned in. And most of our girls definitely were. I thought we might have a pretty good night. Then, well, the game actually began.
Like any coach in this situation, I was desperately hoping we wouldn't concede an early goal. The game wasn't twenty seconds old when the Beat picked off a lazy pass in our defensive third and promptly pinged it off the bar. Baker had gotten a mitt to it or we would have been down a goal before the last note of the national anthem had wafted out of the park.
For the first ten minutes it seemed to rain Beat corner kicks. We were a nervous lot and some normally dependable players were having some abnormally bad first touches. Those were typically followed in short order by a Beat shot that was either saved by Baker or block over the endline by one of our defenders. It wasn't looking too promising for the Dawgs. For the Beat it looked like an excellent night to practice their attacking corners.
Fair play to our girls – regardless of the pressure we were under, we didn't panic and we didn't abandon ship. We stuck to our style and got the ball on the deck and started to move the game into the Beat end of the park. Then, in the fifteenth minute – a most remarkable sight! Ashley Miller is first to a loose ball and absolutely crushes it into the upper right corner from 23 yards! It was our first shot of the match. It was our first of anything that even resembled an attack. And it was sensational! And better yet, it completely changed the game.
Do you remember Rocky? The first one? Remember round one? Rocky's face is absorbing jab after jab after jab as Apollo dances around the ring, stinging him at will? Rocky can't land a single punch – not one. He throws a couple of wishful haymakers that catch nothing but air. Meanwhile Apollo is methodically pummeling Rocky's face with a series of combinations and all signs point to a bad, bad night for the challenger. Then, out of nowhere, Rocky connects with a roundhouse left that knocks the champ to the canvas. And in one of my all time favorite cinematic moments, as the champ gathers himself, we hear that ominous bell - a bell that signals not only a shift in momentum, but also a seismic shift in possibility. That bell tells us that everything has changed; that the challenger is for real – and that it's time to fasten our seatbelts. When Miller's shot – the first punch we had thrown – screamed into the net, I swear to you I heard that bell.
Suddenly we weren't playing against professionals. Suddenly our opponent was something we see all the time - a team full of good players. And we can play against a team full of good players. And for stretches we played them beautifully. After Miller's goal, the game moved into the Atlanta end and that's where it stayed for much longer than I ever imagined. Eddie, Miller and Pollock were magic in the middle of the park – escaping pressure, keeping the ball and spraying it around the pitch. The Beat weren't helping their own cause as we caught them offsides five times coming out of their end in the first half an hour. Whenever it looked like they were about to build something, our defenders would put on the brakes and their forwards would run offsides, sometimes by as much as ten yards. To be honest, we were playing a heckuva game.
For a week I've been trying to figure out how to address this next issue. Frankly, it's the main reason this entry has taken so long to write. My better angels have told me to ignore it and take it on the chin like a man. But I have also been schooled as a journalist, and as such it would be remiss/irresponsible of me to omit what was by all accounts the game's pivotal turning point. So here's how it went down.
Before the match, the Beat asked for a couple of concessions. The first was that we play with their balls – the ones that are WPS league issue. Sure thing, we said. The other concession we agreed to was that the game clock would count up, from 0:00 to 45:00 in the first half, and from 45:00 to 90:00 in the second. We couldn't possibly see the harm in this. And that's why you should be happy we're coaches and not air traffic controllers.
The head coaches met with the three officials to agree to terms. The clock would count up. It would not stop for anything – not goals or injuries. Not anything. When the clock hit 45:00, the half would be over. No stoppage time. These are the facts and as Don King would say, they are irrefutable and incontrovertible.
The major difference in this clock counting thing is that pretty much every scoreboard in the country, including ours, is wired so that when the clock winds down to 00:00, a buzzer automatically sounds. That doesn't happen when the clock is counting up.
What is also without debate is the position of the ball when the clock reaches 45:00. It is outside of our 18. There's a great view of it on our match video. What the video doesn't show is our staff of coaches yelling to the ref that the half is over, and her acknowledging our shouts with a talk-to-the-hand wave.
At roughly 45:12, the Beat tapped in at the back post to bring them level at 1-1. It was, conveniently, the last touch of the half as the ref whistled time.
As you might imagine, we were incensed. As if we didn't have a big enough challenge, you're going to actually give a handout to the professionals? In our park? Are you serious? We argued our case but the referee kept pointing at her watch and saying, "Forty-five." Because you know, saying "forty-five" matters. I'd really thought I'd seen every possible mistake a referee could make. But in my 35 years as both a player and coach, I have never seen a ref screw up half-time. With the advent of scoreboards I didn't even think it was possible. But there it was, right in front of me. Half-time had been botched.
Before the second half starts, Steve gets with Coach Galanis and together they approach the referee and tell her what everyone in the stadium already knows - that the goal was scored well after time had expired and should not have counted. The problem now is that if you take the goal off the board, the referee might look bad. So let's not worry about doing, you know, the right thing – the thing that should have been done in the first place. Let's not correct a perfectly correctable mistake. No, no, no. First things first. Let's make sure we save face. Because that's what's important.
The goal stood. Naturally. We started the half at 1-1.
The second half was practically a mirror image of the first. As was the case in the first half, Atlanta stormed out in the early going and had us pinned for the first ten minutes. We almost scored another sizzler against the run of play as Lex's bomb from 30 yards beat the keeper but not the crossbar and we remained even at 1-1. In the 60thminute the Beat finally capitalized on a corner kick as Chalupny volleyed home from 18 yards to pull them ahead 2-1. Then we settled into a comfortable rhythm and had our fair share of the ball and territory and put together a succession of chances in the game's final ten minutes. Unfortunately we never did find the late equalizer and fell by a 2-1 final.
It was a bittersweet night. The girls played well and they knew it. As a matter of fact, they had a ball. And why not? As far as anyone in our camp was concerned, we played a pro team to a 1-1 draw and looked good doing it. That's something to hang your hat on.
GTV interviewed Miller after the game and since I was in the vicinity I made a point of eavesdropping. Miller had played an absolute burner of a match, even if she hadn't scored that ridiculous goal. But she had done that too, and that made her an easy choice for the cameras. Miller went right back to the pregame talk. She explained, "We said before the game that we wanted to leave here with our heads held high and be proud of ourselves and we did that." See that? I knew they were paying attention. I love it when that happens.
After the game the Beat players stuck around to sign some autographs.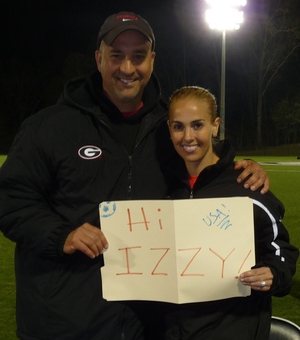 Because I had a heartbroken little girl at home, I decided to take advantage of my position and get my kid a really cool souvenir. Heather Mitts is as classy as they come (and not just because she got engaged to a Philadelphia Eagle). When I told her how upset Izzy was about missing the game, she told me to let her know when I bring Izzy to a Beat game. She'd be happy to meet her. Don't for a second believe that we won't be taking her up on that offer.
Truck Stop Jugglers
Sunday, March 27, 2011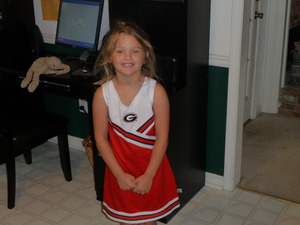 As you can see in the photo, the brainwashing of Izzy is nearly complete. If you ask her to spell Georgia, she does it in the same cadence as the Bulldog fans. She turned down a birthday party invitation to go watch the Gym Dogs. All that's left is to wean her off of that dang stuffed alligator she's so attached to. We may have to accidentally leave it at Chick Fil-A.
Believe it or not, I'm actually the idiot that bought that gator for her. It was an hour before her first visit to Athens and I wanted to have a present for her upon arrival and I knew she loved stuffed animals. I was scrambling through Wal-Mart and the dang thing was the first one I saw and it looked cute so I bought it for her without thinking and of course Izzy immediately fell in love with it. I don't think her affection was because it was an alligator, but because it was a gift from me. I really could have gotten her any animal. Heck, I probably would have given her a piece of PVC pipe and she would have been thrilled. But no, I had to go and get the kid a gator. Because it's not tough enough just to be the new kid in town. Nope. Be the new kid in Athens carrying around an alligator. Great way to make friends. By the time I realized my mistake we had reached a point of irreversible devotion. Fantastic.
Anyway, let's talk about March Madness. What an understatement. First there was the Rutgers v St. John's fiasco where three officials decided to clock out a few seconds early, because ya know, it was a week night. That was a pretty good indicator of how the rest of my March would go. Like every other self-respecting sports fan, I dutifully filled out my brackets, and before the Sweet 16 teams were finalized, I was in last place – in the world. It took all of three hours for my brackets to have more red Xs than the annual father-son tic-tac-toe tournament at the Politburo. I mean Morehead State? Really? But to be fair, that was hardly the root of my demise. Fact of the matter is that I'm just not very good at this prediction thing. I predicted Y2K would occur in June of 1998, so you see my point. I'm hoping next year will ring in the creation of the Bracket Quik-Pick at the Gas-n-Go and I'll be spared the humiliation. Pay a dollar and the computer randomly generates your brackets. Get all 63 games right plus the play-ins and the Mega-Plier and you win a dream date with Gene Keady and the DVD collection of Everybody Loves Raymond Season 1.
Speaking of predicitions…
I had to laugh at the beating Rex Ryan took from the talking heads at ESPN for predicting that the JETS would win the Super Bowl. Why you ask? No, not because JETS and Super Bowl almost never collide in the same sentence. But because of all the prognostication we've gotten from anyone who has shown his face on ESPN over the past ten years. Apparently you must be on the ESPN payroll to wax prophetic. Ten minutes before the Ryan segment aired a couple of suits were predicting the finishing order of the NFC West… a division that wouldn't play its first game for another five months... you know… if there was going to actually be a season! They were making predictions months before preseason had even begun for a sport that is currently engaged in a lockout. Is this really the right time for NFL predictions? Wasn't the Super Bowl like last week? But Rex… yesRex is the idiot. SportsCenter used to be a 'reporting' show that recapped the day's events and previewed upcoming games. Now it's 1/3 highlights and 2/3 call Ms. Cleo - because I'd rather listen to John Clayton's never-ending quest for an invitation to sit with the cool kids than see every great goal, check and save from a night in the NHL. But when an active head coach has the audacity to make a prediction, it's unprofessional. You see the irony of this one? And by the way, wasn't John Clayton the scientist on the Muppets?
But the capper to all this madness – the award winner for Head and Shoulders Above Absurd goes to Chad Ochocinco and his MLS tryout with the Kansas City Desperation. Have you seen the video of this? Well then don't. I mean, ugh. Just ugh. It's literally painful to watch. Carnival stunts aren't what our sport needs right now. Or ever. However, since what's done is done, I'm inclined to believe the NFL owes us one. How about a little quid-pro-quochocinco? My suggestion? David Beckham plays one game as punt returner for the Bengals and the fair-catch rule is suspended. Who's with me on this?
On the bright side, buried deep inside your newspaper occupying two column inches beneath the fold, Charlie Davies had a triumphant return to professional soccer by netting two for D.C. United the other night. How about we join the media in keeping that little secret to ourselves? Any other country in the world and that is front page news. In the U.S…. well, is anyone really surprised? Nah. Me neither.
Okay… The Dawgs travelled to Knoxville this weekend for a doubleheader of spring matches against Tennessee and UNC-G. That sounds a lot easier than you might expect. Let's rewind to Friday. For whatever reason, our bus company decides to make a late switch on our bus, so the bus that picks us up is low on gas. Thirty minutes north of Athens we pull over for fuel – something that never would have happened if not for the late vehicle switch. As he's gassing us up, our driver, Jeff, dutifully checks the tires and discovers that our rear left tire has a gash in it about 20 inches long, half an inch wide and deep enough to be a serious health risk. Our bus is grounded. We aren't going anywhere without a new tire. Fortunately we're already at a truck stop, so massive tires are practically in abundance. Unfortunately, we're fourth in line for service behind some 18-wheelers and being a Bulldog doesn't carry much weight here so we have t wait our turn.
Making lemonade out of our lemons, we decide to enjoy a beautiful day at Truckstop America. Some of the girls relaxed and caught some rays. A few studied. And some of us broke off into groups for a one-touch juggling competition. Let's be clear on this… the coaching staff was undefeated in this particular endeavor during the fall and much to the dismay of the players, we successfully retained our title once again . The trio of Pollock, Powell and Eddy came in a distant second. And if you were wondering how to bring a truck stop to a screeching halt, show up with twenty-some college girls. I saw one guy pumping gas for twenty straight minutes – and he was driving a Civic.
The unscheduled stop threw our ETA for a loop and by the time we got to Knoxville our 4 hour trip had taken 7 hours and I was ready for some shut-eye.
On Saturday we squared off with Tennessee at 10 A.M. and decided to experiment a little bit. We've been focusing a lot on possession this spring so we decided to stretch ourselves a little bit. So we put the team under a restriction. For the first five minutes we weren't allowed to score. All we were allowed to do was keep the ball.
This is not an uncommon restriction toward the end of a game in which you're absolutely clobbering an inferior opponent by seven or eight goals. To spare them on the scoreboard, a coach may institute some type of keep-away rule. But this was not some schmoe of a team. This was the Volunteers. And we weren't doing it at the end of the game, we were doing it right from the start. So how did it work?
Well, it actually worked way better than we anticipated. We started the game with a 16-pass run and for the vast majority of the first five minutes we played an exceptional game of keep-away. We took away the restriction after five minutes but our rhythm had been established and a great tone had been set and a few minutes later Ashley Miller took a pass from Pollock and drilled it into the upper corner from 22 yards to stake us to a 1-0 lead. And then, for whatever reason, we decided to stop doing what had made us successful and the game became fairly ragtag – which exactly what we said would happen if we stopped possessing the ball.
UT equalized from a corner five minutes later and then two minutes after that they went ahead 2-1 on another corner. That was all the scoring the game offered and we had suffered our first defeat of the spring. Tennessee worked hard, and fair play to them for the result. And frankly, a little kick in the backside may do us some good. Spring Break ended last Sunday and despite their physical presence in Athens, I'm not sure everyone actually made it back. Our heads haven't been exactly right since before the break. Training has been erratic. We've looked a little complacent and Tennessee made us pay for it.
The one truly bright spot for us was Ashley Miller who is just a joy to watch when she's on form. Miller is as smooth as they come and feels the game on an instinctive level. As coaches are wont to say, she just gets it. Miller's goal was a peach, but her entire body of work was equally alluring.
Miller's encore performance in the matinee against UNC-Greensboro was no less sensational. She danced through a trio of Spartan defenders before poking a shot past the goalkeeper to open the scoring. Nicole Locandro finished at the near post off a low cross from Holly Tomlinson to double our lead and we went into half-time up 2-0 and playing very well.
Injuries have left us a little thin up top, so as with Kennesaw State, Torri and Chewy saw some time as forwards. On the bus ride up I told Torri she might play a little up top and she said her dad would be excited, as Torri's parents were making the trip down from Virginia. Midway through the second half, Locadro's pass slipped Torri in behind the Greensboro defense. Torri outraced the field before side-stepping the keeper and passing into an empty net to cap off the scoring.
We felt a lot better about the way we played in the second match. We were a lot more patient and disciplined and kept the ball for long stretches. Most importantly, once we had the lead we didn't abandon our style. We won 3-0 and looked pretty good doing it.
On the bus ride home we watched the U.S. men square off with Argentina in the Meadowlands. Argentina's performance was simply sublime. It's one of those games where, if you didn't see it, I can't possibly convey how amazing it was to see a team so adept at passing and moving and keeping the ball in tight spaces. It really was an honor to watch, and I haven't said that very often in this lifetime.
The game was made even better by a gutty American comeback fueled by a youth movement to draw level and even create a couple of chances to go ahead. In the end the U.S. can draw satisfaction in a 1-1 tie with one of the world's very best teams.
Hey! Don't go yet! On Tuesday we're going to play against a professional team! Yep, Tuesday night at 7 P.M. the Atlanta Beat of the WPS is coming to Athens. Admission is free so you should come out and be loud and root for the Dawgs. Hope to see you there.
March Gladness
Tuesday, March 15, 2011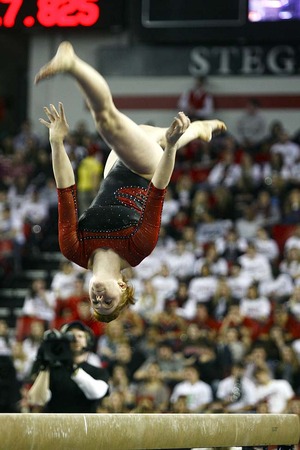 Congrats to the Georgia Bulldogs for getting a bid to March Madness! We're probably the only bubble team that would be a top four seed if the basketball games were five minutes shorter. Hopefully we'll continue our run of great starts and add a dash of close-the-door finishes. Women's basketball is also dancing, so congrats to them, too! And while we're at it, congrats to our softball and women's swimming teams which are both ranked #1 in the nation. I guess the equestrian team isn't really pulling its weight these days as they only check in at the nation's #2 spot. Men's tennis is ranked 9thwhile their female counterparts are ranked 11th. And the uber-dynasty that is the Georgia Gym Dogs rounds things out with the #8 national ranking. All in all, not a bad week for the Dawgs.
Izzy is a HUGE fan of the Gym Dogs, so I've been to a few of their meets and I gotta tell you, I'm completely blown away. I mean it's just completely amazing! Talk about a show! When those girls come out of the tunnel through the smoke and the music is blasting and the lights are flashing and the student section is going bananas, well, it's downright electric! It's more than enough to give a soccer coach chill-bumps. And that's all before their bodies start hurtling through Stegeman Coliseum like shiny red kernels of human popcorn.
I'm absolutely fascinated by the Gym Dogs. At Georgia they are total rock stars. I mean I knew nothing about gymnastics aside from that Olympic girl Mary Lou Hoo who vaulted over Mount Krumpet or something. Now I'm an avid counter, in hundredths of a point increments, and a hawk for deductions in the opponent's routines. And to be fair, I sometimes find myself secretly hoping an opponent will… you know… fall. Okay, okay. Don't judge. I'm not looking for injuries. Just deductions. It's all about deductions you see.
It took a few meets for me to figure out this newfound fascination, and then one night, as Cassidy McComb was blasting off the vault like NASA had launched her, it finally occurred to me… these girls are the closest thing I've ever seen to super heroes. I mean think about it. They're freakishly strong – they can all lift like 72 times their own body weight; they can do more pull-ups than I can do toe-taps; they can climb pretty much any wall that isn't coated in butter; and best of all, they can jump as if immune to gravity. And oh yeah, they're completely fearless. I mean think about the pure absurdity of some of their exercises. Okay, I nominate the balance beam. On my honor I couldn't walk from one end of that thing to the other without falling. Meanwhile, these girls just jump right up, do a complete back-flip and land right where they started. That thing isn't made out of goose down you know. It takes some serious courage to give that one a whirl. What prize nutter came up with that idea? If a coach ever told me to do a flip and land on an elevated piece of wood the size of bread loaf I would respond with a convincing, "I don't reckon." But these amazing, shiny, monkey-people do all that and more.
Can you imagine what it's like to be a gymnast? They can be standing in line at the AM/PM and just do a back-flip without thinking twice about it. How cool is that! If I could do what they do I don't know that I would ever just walk anywhere. I would totally abuse my powers. Want to watch me do front handsprings across this row of desks? Hold my Coke. I'd sleep on light poles and do somersaults over parked cars. I'd hang from ceiling fans like a bat. I'd be a total menace to society. Ah… If I only had the power of the Gym Dog.
As for Izzy, well, I think she just likes the costumes.
In other news… I've picked the top three for American Idol so you can just stop watching for a few weeks. The three finalists will be Casey, Jacob and Pia, with Casey edging out Pia in the finale.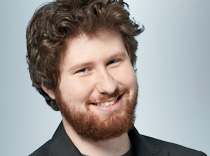 There is so much talent on that show this year it's spectacular. James Durbin is my dark horse pick. I'm also holding out hope for our Georgia Peach, Lauren, but I fear that she may be just a bit outmatched in a field so deep. Pity. (Get it? About the peach???)
And when I start talking about American Idol and making peach pit jokes it means I'm tired and getting punchy so let's just call it a night.
Go Dawgs!
The Beat Monkeys
Wednesday, March 9, 2011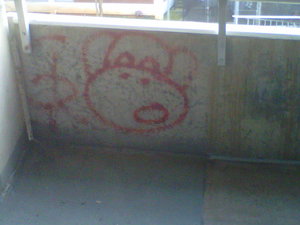 Today I asked Izzy what she learned about in school. She told me that her class was studying the middle ages. I'm big on history so I thought that was pretty cool. I asked for more detail. Well, apparently they talked a lot about a king named William the Carpenter. Yep.
I should have mentioned this a couple of entries ago, but a new coach has joined our staff. Athens native and all around good guy Jon Harvey is now the Georgia Bulldogs' goalkeeping coach. When Nooj left for UNC-G, we quickly poached Jon from his assistant coaching gig at North Georgia College and no one is more thankful for that than me. It'd been a long, long time since I did any goalkeeper training and I was coming perilously close to reassuming that role.
Shortly after Jon's arrival we introduced him to the Monkey of the Day theory. Like many upon the MOD introduction, Jon was initially skeptical. But monkeys won't be denied. On Jon's first day on staff he was walking through campus and sure enough, on the wall of the Continuing Education building, he saw a picture of a monkey on a palm tree. He looked in disbelief. Other sightings followed in short order. Jon is now a believer.
Personally, I still can't get over the MOD. I mean they really are everywhere. And sometimes, when I can't find them, it's like they find me. Last week we had a dinner at the Georgia Center which meant parking in the adjacent four-story garage. With the Gym Dogs hosting 'Bama that night and whatever else was going on, the garage was pretty darn packed. But in an otherwise full row of cars I found one empty space. As I turned into it, there on the wall in front of me, someone had spray painted a monkey. I was like, you've got to be kidding. If that thing was painted in any other spot in the garage I never would have seen it. Instead it was right there waiting for me. Good monkey.
During the NFL playoffs I met Kate and Kevin at the Blind Pig to catch the Eagles game. When you're with the Ks, it doesn't take long for the topic to get around to monkeys. They're big time MOD disciples. So we were wondering, why monkeys? Is there anything else that is prevalent enough to see each day yet only prevalent enough for you to notice once or twice a day and only if you're paying attention. Dogs, pigs, chickens and cows are too easy. Emus too rare. Are monkeys, in fact, the perfect animal?
It occurred to me that in each of the two previous days I had seen something regarding aliens – the outer space kind – and that perhaps aliens could rival monkeys. It seemed plausible. Then, seconds later, and this is no lie, I noticed a poster over Kate's shoulder and sure enough, there was an alien looking right back at me. Too weird. A minute later I got up and went to the bathroom. Know what poster was in there? Yep. A monkey.
Okay, I've gotten just a little off topic.
Jon was on board before our spring openers against South Carolina and FSU, so he already had a pair of shutouts under his belt as we headed into Saturday night's tilt against Kennesaw State. With games so few and far between in the spring, the girls look forward to any match against an outside opponent, but the Kennesaw match had an undeniable peripheral benefit – the chance to play in the home stadium of the WPS' Atlanta Beat.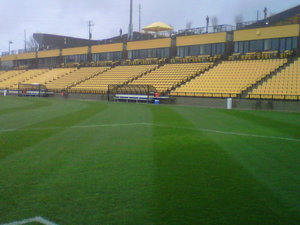 The Beat have an amazing venue that features 8,000 chair-back seats, a digital video board and one immaculately groomed playing surface. It's one of the nicest soccer venues in the country. Rains kept a lot of would-be spectators away, so it was like we had this giant stadium all to ourselves.
Unlike the abbreviated matches we played last weekend, this time we were going the distance, playing two 45-minute halves. However, exactly like last weekend, it took a few minutes for the Dawgs to come to life.
Kennesaw took it to us a little bit for the first five or ten minutes, but eventually we settled into a rhythm of passing and moving and once that happened, the chances started creating themselves. The first goal started with a goal kick from Baker that found Sooz at midfield. Sooz knocked it down to Eddy who found Gibbo down the right side. Gibbo beat her defender on the dribble and then laced a low driven cross that Lex took on the full volley, turning it off the back post and into the net.
Because injuries left us a little short on attackers, we got the chance to let some of our defenders run around up front. I don't care what level you coach at, it doesn't matter how long someone trains to play their assigned position, no matter how many practice sessions they endure or how many hours of film they suffer through, they all want to play somewhere else. Forwards want to be goalkeepers. Goalkeepers want to be field players. And defenders want to be forwards and get their chance at scoring goals. And every once in a while, dreams do come true.
Torri moved from center back to center forward and two minutes later doubled our lead by outracing the Kennesaw defense and neatly tucking away her breakaway chance. At that moment Torri was averaging 45 goals per game. (Think about it.)
One of our training topics in the week leading into the match was overlapping to get our outside backs into the attack, and that paid off handsomely with our third goal. As part of our defender relocation program, Chewy was moved from right back to left wing. With ball at her feet and Nikki, the left back, steaming past her down the sideline, Chewy spun and threaded a pass to her overlapping cohort. Nikki picked out Nicole Locandro with her cross that Locandro popped home at the near post and we went into the intermission with a 3-0 lead.
Once we decided to keep the ball we had a pretty stellar first half. The only notable failure was when I nearly took out the KSU coaching staff with a driven ball that had them employing Matrix-like evasion techniques. But that's another story.
The second half was much like the first. We survived KSU's initial five-minute burst and then settled into our style, keeping the ball, stringing together long runs of possession and then watching the chances create themselves. I don't like that it takes us so long to get going, but once we get there, it sure is pretty to watch.
We didn't add to our total in the second half. KSU's goalkeeper had a sensational performance to turn away chances from Lex, Nicole, Miller, Gibbo and Torri. We had one goal called back and hit the bar twice. It would have been nice to inflate the margin a little bit, but in the end it was a pretty convincing result. The shot total stood 17-6 in our favor and Baker was never tested, having to only make one pedestrian save. All in all, a good night's work the Bulldogs.