Catching Up
Slacker, thy name is Poet.
Yeah, yeah – I get it. Bad me. Bad, bad me! But before I stumble into my own defense, let's first get a big shout out to the Nugents, Steve and Jana, who just grew their family by one with the addition of Connor Jack this past Tuesday. Woo Hoo! Connor Jack checked in at a happy, healthy 6.5 lbs. Been quite a week for Steve because about 48 hours before CJ's arrival, Nooj was embarking on his quest to run the Athens Half Marathon, a feat that he accomplished in a fashionable 2:34 (h:m). Sometimes a picture is worth a thousand words. Sometimes it's worth just a little bit more. How much did crossing that finish line mean to the Noojer? You tell me.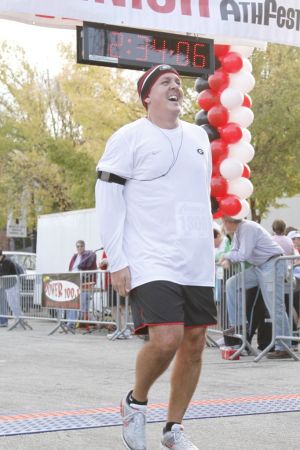 And just in case you still doubt the super-human life force that is Robin Confer, she completed her 13.1 miles in an hour and 36 minutes.
Now back to our story...
Every year one SEC team sorta draws the short straw and ends up traveling for 5 straight weeks; 6 if you make the SEC tournament; 7 should you make the NCAAs and 8 should you advance past the first weekend and so on. This year that team is us. We've logged a lot of miles over the past five weeks and hopefully we'll log many more.
To be honest, it's exhausting. I thought that maybe I was just being lazy, so when I put it out there two weeks ago that I had stopped unpacking my suitcase I was surprised to hear that the three other coaches, the trainer and our video manager were all doing the same. We launder the clothes that need it. Everything else stays put in the suitcase that I no longer even bother trying to hide. It just sits there in the middle of the bedroom floor waiting for its next call to action. Which happens to be tomorrow.
Tomorrow we leave for the SEC Tournament in Orange Beach, AL. Steve, Mandy and the players are flying. Robin, me and the rest of the support staff will be aboard a sleeper bus that will meet the group at the Pensacola Airport around noon. On Wednesday night we face Auburn in our first round match.
Point is, time to write has been nearly impossible to find. Put it this way... ever needed a tooth extracted? Like really badly? Like when it's an abscess and it wakes you in the middle of the night like a lightning bolt exploding in your molar time after time after time without mercy testing the bounds of your sanity? You know those days when you know that tooth absolutely must come out right stinkin' now? Yeah, I had that night last Wednesday (and Thursday and Friday, etc.) but didn't have the time to do anything about it except be mean and bitter and in agony. Finally got that sucker yanked today - Hallelujah! Talk about making time for me! I've never looked so forward to having a surgeon sawing away in my mouth. So I'm not even sure I've been medically cleared to write this entry. But I'm going to fight through it. Gonna tough it out. Gonna type through the pain.
Friday night was absolutely insane for the SEC, particularly for the west. In the east, Florida met South Carolina with the winner earning the title of SEC champs – Florida won 1-0. But in the west it was abacus madness. Going into the night four teams – Auburn, Alabama, LSU, Ole Miss – had a chance to win at least a share of the west crown, while Auburn (the points leader heading into the night) and company also faced the possibility of not even reaching Orange Beach. The top four spots were mathematically settled going into the night. Those slots would be occupied Florida, South Carolina, Georgia and Tennessee although not necessarily in that order. The next four spots would be decided on Friday with the titillating possibility of a four-way tie for the final two spots. And it all came down to 17 seconds.
'Bama was 17 seconds away from an up[set that would have guaranteed LSU a share of the west title and left Auburn at home during the SEC tournament. But Auburn found the miracle equalizer and then finished off the Tide in overtime. So instead of potentially winning the west, 'Bama misses the Orange Beach party and LSU finishes second in the west behind champions Auburn. Kentucky needed a win to get in and they produced a shocking score-line, dropping Vandy 6-1 in Lexington. Vandy needed help to stay afloat and they got it in a big way when Mississippi State stunned Ole Miss 2-1 in Starkville. Insane night, indeed.
As for the Dawgs… I am so far behind I'll never be able to give you the detail from our last however many matches. Even if I had the time, I could hardly remember the details, so I'm just going to try to catch you up with one swing of the bat. When last we left the Dawgs were on a bus to Gainesville…
Well, we were 8 minutes away from a sweep for the ages. After a 1-0 win at South Carolina, the Dawgs jumped out to an early lead on Florida when Laura Eddy picked off a backpass, dribbled around the Gator's goalkeeper and slid the ball into an empty net. We knew it would be difficult to make one goal stand up, so we were pulling our hair out over our near misses. We had three superb chances to extend our lead but the finishing failed us. I knew we were creating chances and having the better of the run of play, but I was surprised to look up at the scoreboard during the second half and see that we held a 12-5 lead in shots. But Florida is a good team and they got the equalizer on a tremendous individual effort to knot it at 1-1 with eight minutes left. UF had a chance to win it in regulation when they were awarded a PK n the 86thminute, but Ashley Baker snuffed out the chance and we stayed level at ones. We looked the better side in overtime and in a moment that bore an eerie resemblance to Stanford, I figured that we had worn them down. But we gave a ball away cheaply coming out of our own end and that same ball took a remarkable flight high into the far-post netting to give UF the win.
We got home late that night… around 1 a.m. if memory serves me.
On Wednesday at 1 P.M. we were on a bus to Tuscaloosa for a Thursday match against the Crimson Tide. It gave me the chance to visit some friends in Birmingham and I had my first dining experience at a P.F. Chang's. (Yes. My first time. I'm that guy.) I assure you it won't be my last.
Thursday morning I got on the bus with four of the girls who needed to take exams under the supervision of an Alabama proctor. It's a pretty cool system here in the SEC and players taking exams on enemy soil is actually pretty common. While the girls were busy trying to regurgitate all the info they had memorized at breakfast, I had the opportunity to stroll around campus for a little while and snap some photos.
Okay, if you ever visit the University of Alabama, there's only one name you really ought to know – Paul 'Bear' Bryant. I don't know if, legally speaking, you could have more things named after one person on one campus without naming the entire university after him. I mean the man has five, count 'em five buildings, a street and a pretty darn big football stadium named after him. You should make sure you visit them all after your tour of the Paul Bear Bryant museum.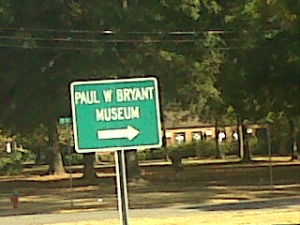 There you may run into the Crimson Tide athletes who were recognized for their achievements in the classroom by being presented with the Paul Bear Bryant Award. And trust me, it goes on and on and on.
As for the game… well, Robin and I were worried. The girls looked tired at the hotel that morning. They looked tired in their warm-up. Before the starting line-ups we literally begged them to summons the energy to come out and play with passion and urgency because it just didn't look like it was gonna happen. But then the game started and… Holy Smokes! Sometimes a team just has one of those nights where everything seems to click. That was the night we were having. As soon as the game kicked off we established a wonderful passing rhythm and we knew that if we could maintain that type of movement and discipline, we were going to cause problems.
Lex scored in the fourth minute. Gibbo added to it in the 43rdminute and we went into the break up 2-0. Even though we were up two goals, I was worried, because let's face it, that's more or less what I'm paid to do and to be fair, I'm almost overqualified to do it. It was Bama's Senior Night and even people who know very little about soccer still seem to know about the precariousness of a two-goal lead. If we didn't fire out of the locker room, the game would set itself nicely for the 'miracle' comeback. As we walked out to the field I muttered to myself, "Next goal wins."
In the fiftieth minute Marah played a beautiful ball into Miller's path behind the 'Bama defense. Miller side-stepped the keeper and was summarily fouled and we were given our first PK of the year. Lex stepped up and buried it and the Dawgs left Tuscaloosa with a 3-0 win. (All three goals were Big 5 qualifiers). The Bear would not approve.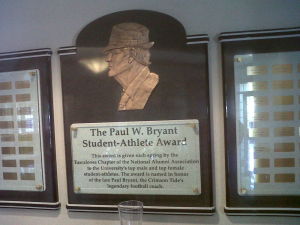 It was 'split weekend' for the SEC, which means that every team plays home and away. The split weekend ensures that every team has a 6-5 or 5-6 mix of home and away games. Long story. Ask me sometime. Point is, we got to play the next one at home against Auburn.
Sunday was Senior Day and that's pretty much what we looked like, a bunch of seniors… as in citizens. We looked flat to start and never really got the spark we needed. We lost 2-1 with Sooz getting our goal. It was a fair result and it scared me because the team we put on the field looked like a team that was at best uninspired and at worst, exhausted. That was bad news because we knew we wouldn't be playing another game in Athens.
Four days later we were back on the road to Knoxville for a reenactment of the Auburn game. We were flat and listless and any other words that mean the opposite of lively and dynamic. Gibbo scored a nice goal to get us out front but the result was the same, a 2-1 loss for the Dawgs.
So we finished the regular season fourth in the SEC which coincidentally equates to fourth in the SEC east. Looking back it's not really the losses that get my 'if only' nerve twitching. It's the ties. It's the ties in those games where we clearly had enough great chances to win the game. But that's the thing about college soccer. You gotta take care of business when business comes knockin'. There's no do-overs. That's why, when it's time to put that jersey on and represent your university, you've got to find a way to dig deep and play with fire and fight and urgency – to play like your life depends on it - because it's a one chance deal. You gotta get it done even when you might not be feeling it. And the best teams… well, the best teams are filled with players who understand that before they graduate.
Hope to see you in Orange Beach! Now I'm gonna go have myself an ice cream dinner (Sometimes the silver lining is right there in your freezer).